A Friendship Baked in the Great British Bake Off Tent
"You need a bowl or a whisk, and one of your baking friends will get it for you. You know those trenches in the war? It's kind of like that."
Every week, The Friendship Files features a conversation between The Atlantic's Julie Beck and two or more friends, exploring the history and significance of their relationship.
This week she talks with two former contestants on the U.K. reality show The Great British Bake Off (known in the U.S. as The Great British Baking Show) who forged an intergenerational friendship during the competition. They discuss the shared love of motorcycles that brought them together, the games they played during downtime on set, and how they stay close with each other as well as all the other bakers from their season.
The Friends:

Selasi Gbormittah, 33, a banker who lives in London
Val Stones, 68, a (semi) retired teacher who lives in Somerset
This interview has been edited and condensed for clarity.
---
Julie Beck: When did you first meet? Was it when filming started?
Selasi Gbormittah:  We met in January 2016.
Val Stones: We happened to be on the same technical challenge, didn't we?
Selasi: Yeah. For Bake Off auditions, it's usually done in groups. I think it was on my final technical interview. I was hungover; it was my 30th birthday and I was in Prague. I caught an early flight and came back to the U.K., and had to bake my challenges to take with me. And that's where I met Val for the first time. Actually, Val and Kate [Barmby, another contestant].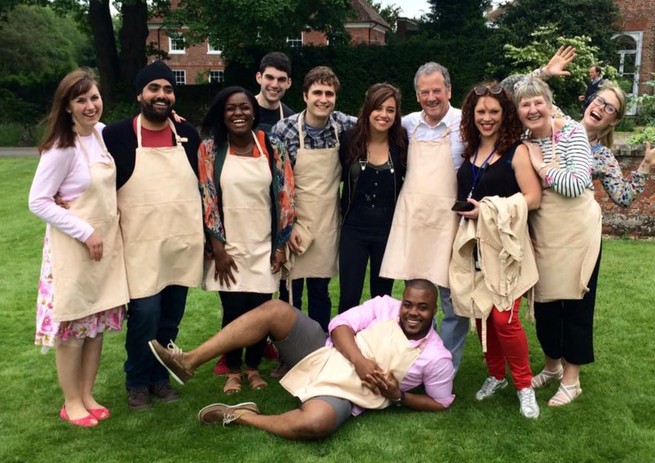 Val: There was Lee [Banfield], Kate, myself, and you. I could spot this very tall young man and I thought, He's bound to get in. I said to Lee, "If you and I get in, we're the two old ones and he's going to be the young one."
Selasi: I'll pay you later, Val. Thanks.
Beck: So you come in and they have you do a technical challenge the way it would be in the show?
Selasi: Exactly like that. They basically make it as real as possible, just to make sure that you can cope with the pressure, because it's not easy, baking in the tent. You're doing your daytime job and you are having to write recipes and practice while being filmed at the same time, while competing with 11 other people who are equally as good as you. It gets really tough. But I think everyone who makes it on the show deserves to be on there, because they've worked their ass off. I don't know if I can say ass.
Beck:  You can, it's okay. That's one of the lower-tier ones.
Selasi: Okay. Lower-tier swear words. This is the thing I always tell people: It's one of the best shows, because you go on there, and you're competing for a bunch of flowers and of course the cake stand. And of course huge opportunities after, because it opens a lot of doors for all the bakers. But everyone is very, very friendly and helping each other, and it doesn't actually feel like a competition. It ends up feeling like a group of friends, baking together in the same kitchen and just having fun.
Val: I remember I was doing my gingerbread [on the show], and it collapsed. I'm going "Ahhh!" and I think it was you who said, "I've got some glitter." You threw some glitter over to me and put icing sugar and glitter all over it and we just kept it going. And that's what bakers do. You shout out that you need a bowl or a whisk, and one of your baking friends will get it for you. You know those trenches in the war? It's kind of like that.
Selasi: She's going war story on you now.
Val: I'm not that old. You do—you look after each other, you protect each other's backs, and it makes for a long-standing friendship.
Beck: I think a lot of Americans, myself included, really love the show because it seems so much friendlier than American reality shows.
Selasi: I've heard that before. American reality shows, they'll literally stab you and push you under a bus at the same time.
Beck: I don't know if you've seen American cooking shows, but there's actually one where the whole point is to sabotage the other chefs. It's called Cutthroat Kitchen.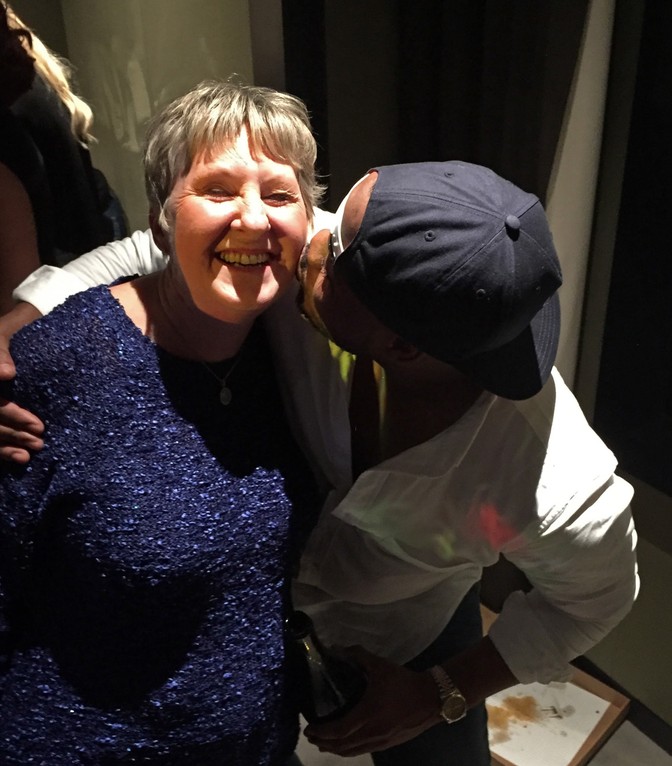 Val: My sister lives in New York, so for the past 10 years I've been watching American cooking programs when I'm over there. They record them for me. I think what it is, is they offer large sums of money. We don't get offered any money. It's a bunch of flowers and the kudos of winning. If they put a hundred thousand pounds on it, you might start thinking, Well, I'm not going to help him. And that doesn't happen on Bake Off, does it, Sel?
Selasi: Nah. Because there's no money, no one is stabbing each other. And if I'll be honest with you, if you did win a lump sum, I still don't think it'd be like that, because—no offense to the Americans—but I think it's an English thing where we're nice. We like competition, but we're still polite.
Even still today, everyone's very helpful when you're having some sort of breakdown or issue, anything. Everyone steps in. And Val is always the one who gives the experienced speech about—
Val: I'm the grandma of the group.
Selasi: It's always with words of wisdom, because you've lived it, so you know how it is. Everyone's from different backgrounds, and there are huge age gaps, but we all managed to get along because of one thing, and that's baking.
Val: When we met for the first time at the hotel, that was the moment that you knew who the other bakers were. We had no idea who had been picked until folks started walking in the doors.
Beck: Do you remember your first impressions of each other?
Selasi: I was very late, so they're all thinking, Who's this guy who is late? He's gonna be a problem. I turned up really late on my motorbike. I was soaking wet and I just smiled. I don't think I even apologized. I just said, "Hey, I'm here for the baking show." And everyone looked at me like, Who the hell is this?
Val: You walked in in your gear and I remember thinking, Ah, it's that young man that I saw. And I realized, Gosh, he's gonna be real trouble, that one. But I was so pleased to see you.
Beck: What was the vibe like on set? Was there time for hanging out and getting to know one another, or was it all stress all the time?
Selasi:  There was always time. From day one, that's when the friendship began. It's two days of baking, so we arrive on the evening before the first day and then we all catch up on what's been going on in the week. When we arrived at the hotel, we all had dinner together, we just got to know each other. And then on the first day of baking we wake up, we get ready, we get on the same bus. No one's quiet or got their game face on. If anything, we're quite playful and loud—like schoolkids going on a field trip.
And then we go in the tent and we bake and then after we bake the challenge, we go into a green room and we catch up there. We sing, we eat, and then we go back in. So there's always time. Even during competitions, we used to just chat and sometimes get told off for being too playful.
Beck: By who? The producer?
Val: The tent police.
We were up at 5 o'clock, on the bus at 6 o'clock, on the set at 7 o'clock checking your ingredients, and we would bake often till half past 9 o'clock at night. We were never allowed out of sight of anyone. We were either in the tent or in the green room, for nine to 12 hours a day. You're very close to each other.
It is stressful. We used to have downtime, playing stupid games. Each week we'd bring board games. We would do karaoke. You name it, we tried it.
Selasi: It was a good thing no one brought Monopoly, because that would have ruined the entire friendship.
Val: I did something on my last day. We were running out of ideas, so I brought my shopping list from 1972, and I had people guessing how much things cost in 1972. It wasn't very entertaining, but it passes the time a little.
Selasi: We have a video, which obviously we're not showing anyone, of our karaoke sessions and our amazing voices. What was the song—Bon Jovi, "Always."
Val: You were singing to a vase.
Beck: Val, do you have a go-to karaoke song too?
Val: I do like cheering, but everybody knows I'm busted out of tune.
Beck: Do you remember how you two, specifically, became friends?
Selasi: During downtime or when we were at the hotel I used to talk to Val a lot, and in the green room. I think our common interests came into play, because I found out that Val loved motorbikes.
Val: I had a motorbike license before Selasi.
Selasi: I think that's when the friendship really began. Also because I love whiskey—Val brought me two tiny bottles of whiskey from a distillery onto the set for me, which I still haven't drank. They're still at home.
Val: I've got some more samples for you, but you're gonna have to come over here to drink them.
Also, people don't know, but I had an accident about seven or eight months before I entered Bake Off and I broke both sides of my body. I find it really hard carrying heavy things, and Selasi was always there— "Come on, I'll carry your bags." I felt, My goodness, he's been brought up properly. He's a nice young man. What do you call me, Selasi?
Selasi: My favorite OAP.
Beck: What is OAP?
Selasi: Old Age Pensioner.
Val: A person who is past 60 and getting retirement pension.
Selasi: That's the term in the U.K.
Val: I'm his favorite OAP. And I've always said that Selasi is my favorite adopted son.
Also we've got the same stupid sense of humor. I can say things and I know Selasi won't take offense, and vice versa. But he watches his swearing with me, just like he would his grandma.
Selasi: It's not my fault. I work in a bank, so we're used to shouting.
I remember one thing Val did for the friendship was, because she knew I'm basically addicted to—it's not weed or cocaine, so don't worry—it's Haribo.
Val: Candy.
Beck: Oh, the gummy bears.
Selasi: I've got a major addiction to them. So during one of the filmings, Val brought me a massive box-load of Haribos. And she just won me over at that point. I'm keeping you forever.
Val: I come over to America twice a year, and I always bring back some different Haribos that I might find on my travels. I've limited it a little bit because we're concerned it's not gonna do you good, having all this sugar.
Selasi: No, my dentist is gonna kill me.
Beck: After the season wrapped up filming and you guys went home, how did your friendship progress after that?
Val: We have a very strong WhatsApp group, so we continued to chat. I've got this kind of mothering instinct for all the bakers, but particularly for Selasi.
Selasi: Because I'm the troublesome one, that's why. She wants to make sure I'm behaving.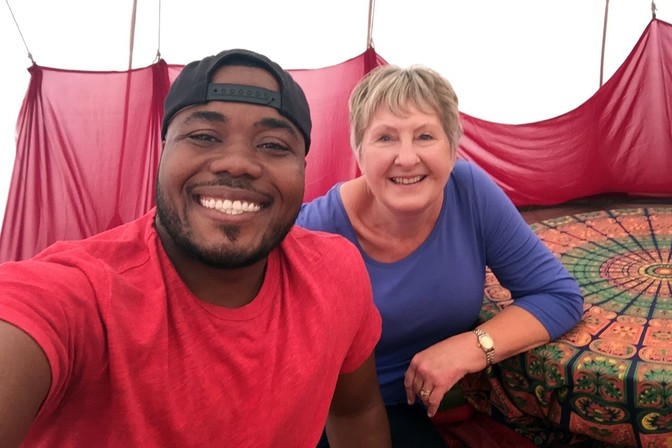 Val: I often think about Selasi and worry about him. I watch how the banks are going and I'll email him and say, "Are you all right? Your bank's not closing?" And when you did your patisserie course, I was really proud that you worked so hard for it.
Selasi: I spent eight months this year in Switzerland just studying patisserie.
Val: I kept looking at photographs that Selasi put on Instagram and thinking, Oh, that's going to be really bad, he's leaning over. I'll be reminding Selasi to stand properly and stretch out his back.
Selasi:  Val is really good about making sure I'm okay and that everyone else is okay and just updating us on what she's up to. She's very busy. She's nonstop. We have to make sure that she's not overworking herself, because at the end of the day she's retired.
Val: They all treat me like the aged grandma. I'm, like, 22 in the head and 68 in the body. I've always been active. I would never retire as such. So I still teach. I do baking classes and I work for a company that sells houses. And we do food festivals.
Beck: I know you guys are kind of far apart geographically, but do you ever visit each other?
Val: Of course, it may be difficult this year because it was a very intensive course, wasn't it, Selasi? You didn't have much time to come home. Last year we met twice. And we all did Candice [Brown]'s wedding in the summer, in France, who won [our season of Bake Off]. Selasi, because he was already in Europe, came on his motorbike. You made chocolates, and we all made wedding cakes.
Beck: You all made wedding cakes?
Val: Yes.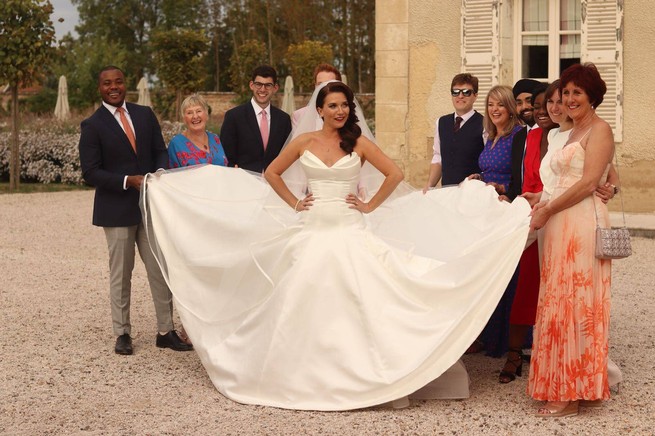 Beck: That's a lot of wedding cakes.
Val: She had 11 wedding cakes.
Selasi: I didn't do a wedding cake, because I was coming on the motorbike. Logistically, it wouldn't work. So I made chocolate pralines.
Val: They were delicious.
Selasi: And then Val, she has this habit, bless her—if you want one thing, Val will give you four. She's always giving, giving, giving—that's the nature of Val. I think you made little cakes, and then what was the big one?
Val: I used Candice's grandma's Christmas-cake recipe. I said, "Your grandma is with you, because I've made her cake." And I modeled a bride-and-groom pug dog for the top. We all stayed in one house, all the bakers. They were consoling me because the cakes traveled in the hold of the airplane and when I unwrapped them they were a little bit battered. Everyone said, "No, no, no, come on, we can do this." And it was just like being back in the tent again: everybody helping each other. We are like a family.
We had to squish up, double up in some of the rooms, but it was brilliant. We're thinking about maybe doing it again this year. It's hard to plan. But we try really hard. And I know I've always got a bed in your spare room, Selasi.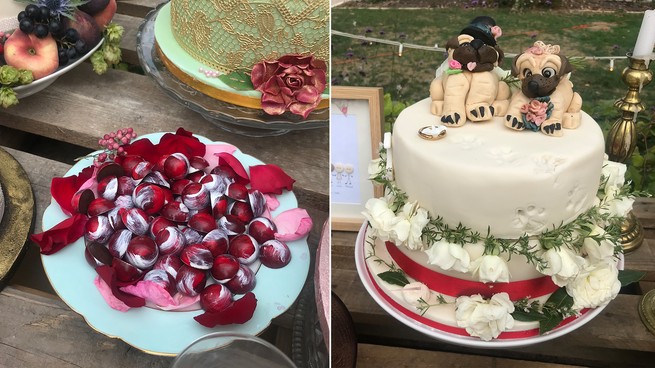 Selasi: I need to cut you a key, actually.
Beck: Selasi, do you have other friends who are Val's age, and Val, do you have other friends who are Selasi's age?
Selasi: No, actually. I was gonna say some of my work colleagues, but I don't really talk to them outside of work as I do with Val.
Val: Because I work as a teacher, I'm about young people all the time, which is lovely. Most of the people I work with are in their 30s. I tend to just enjoy the company of younger people. It keeps you young. It really does.
Beck: It seems like it's pretty rare these days, to have close relationships with people of another generation outside of your family. What do you think your friendship has brought to your lives that you don't get from your other friendships with people your own age?
Selasi: Most of the time it's the voice of reason. Because when you're young, you can fall into a trap thinking, Oh, nothing's going to work for me. But when you have someone like Val who's lived in a different generation—she knows life's basically repeating itself. What happened to our parents is gonna happen to us is gonna happen to our kids. Having Val, I see a different side of things, because her life experience is also different from my parents' life experience or my grandma's life experience.
Val: There are things that you might not want to tell your mum that you could tell me.
Selasi: Exactly.
Val: I'm not a replacement mom, and it's not an Oedipus thing, nothing like that. Honestly. There's a saying that if you want to ask somebody a question, ask the person with the grayest hair, because they will probably give you a proper answer. I always say to all the bakers, there isn't much I haven't experienced, so I'm always here for everybody.
The reason I like Selasi is: being around young people—listening to them, knowing what makes them tick—gives you an insight into the beat of life now. It stops me getting older far before I need to.
---
If you or someone you know should be featured on The Friendship Files, get in touch at friendshipfiles@theatlantic.com, and tell us a bit about what makes the friendship unique.