Dear Therapist: My Sister Is a Mess and I Don't Know How to Help Her
My younger sister is constantly anxious whenever she comes to visit, and I want to help without completely draining myself.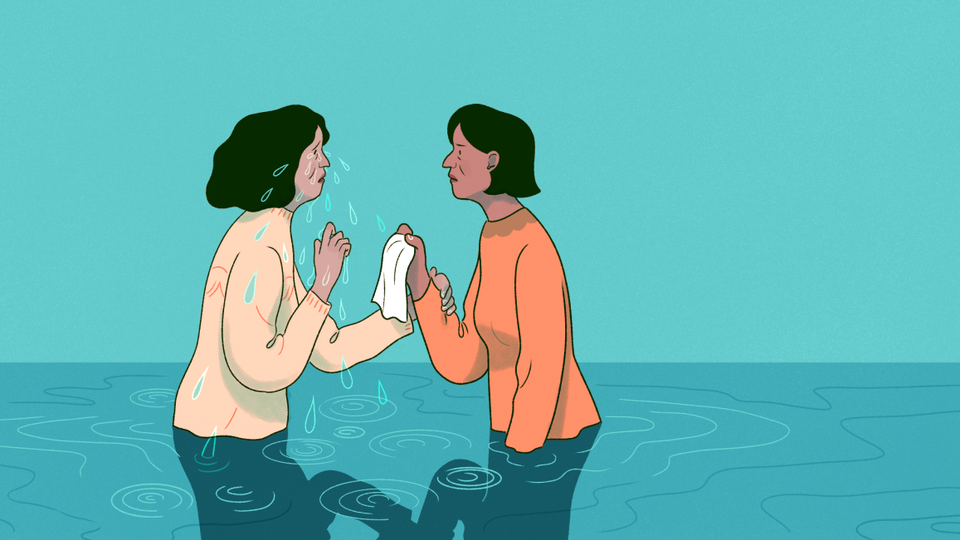 Dear Therapist,
My younger sister and I are very close. We had a rough childhood, we're only 13 months apart, and she's always been my favorite person to be around—when things are going well. But she also has some anxiety issues that drive me crazy. She just left after visiting my city, and I'm still trying to unclench. "Lost" earphones (that are always in her bag) mean being drawn into a frantic search that involves me calling my husband at work to make sure he didn't "do something" with them. A change in plans while she's out doing tourist things means a phone call to me while I'm working so I can plot a new subway course for her. A hotel hold fee on her credit card means another phone call to help figure it out, even after the hotel has reassured her it will be refunded. And she never seems to be having a good time, which breaks my heart.
So, two questions. First, how can I help her? I've casually talked to her about therapy and how much it helped me process some childhood stuff, but she thinks therapy is just about assigning blame and "stirring things up" (I've told her that hasn't been my experience) and believes people should just "power through" their problems.
Second, how do I protect myself from the craziness this causes? When we were younger it was fine, but now that I have a family, I'm more aware of how exhausted and irritable it makes me and how focused I am on her to the exclusion of everybody else.
I love my sister and I really want to enjoy our relationship again, but it's very painful to watch her like this, and hard to deal with.
Anonymous
New York
---
Dear Anonymous,
I'll start with your second question about how you can help yourself, because helping yourself will help both of you. I know it seems as if your sister is creating all of this chaos, but you may not realize that you're both participating in this dance together.
Of course, it's painful to love somebody deeply and watch her suffer, so it's natural that you want to alleviate your sister's suffering—whether that suffering is her generalized anxiety or a specific incident that incites it. The only problem is, the way you've been trying to calm her down doesn't help your sister learn to deal with her anxiety in a productive way. Instead, it reinforces her belief that she can't manage basic life situations without your intervention. Every time you "rescue" her, your action sends the message that she needs to be rescued, much in the way that parents who rescue their children without letting them struggle through something they're capable of doing inadvertently raise people who grow up to believe that they're helpless.
Which brings me back to the dance. I imagine that when you drop everything to help your sister, you believe that you're doing so for her benefit. But despite how frustrated you get, you may also be doing it for yours. You can't be "drawn in" to something unless you agree—consciously or not—to be drawn in to it. I'd encourage you to try to understand more about why you feel compelled to get involved in her momentary crises instead of saying "Sorry, I don't know where your earphones are. See you at dinner," or "I'm in the middle of work right now, but I'm sure the hotel can help you figure this out."
Close your eyes for a second and imagine saying something like that to your sister. Now notice what happens in your body. Maybe you feel lighter, relieved—at least at first. And then maybe you feel anxious, guilty, and worried about your sister and how abandoned she'll feel. Does that remind you of how you felt as a child when your sister needed you? With siblings growing up in difficult households, one often takes on the role of the strong one who seems to manage the turmoil more easily than the other. But both suffer in their own ways. As the older sibling, you may have distracted yourself from your own pain by focusing on protecting your sister from hers. And now, as an adult, you might continue to feel responsible for her well-being. Sometimes we carry our childhood roles into adulthood without realizing it, even though those roles have become outdated. Your sister may have needed protection growing up, but so did you. The difference now is that you're starting to see this second part—that you, too, need to protect yourself. On some level you know—because you suggested that she seek therapy—that your sister's suffering is hers to fix. And so is yours.
You can start by responding differently to your sister's anxiety. Instead of meeting her where her anxiety is—with the earphones or subway map or hotel charge—you can kindly answer her question and then get back to whatever you were doing. If you find that she continues to demand more from you if you don't call your husband or speak with the hotel staff, you can choose not to answer the phone or reply to the text the next time she's out while you're working. It will help if before her next trip, you let her know that you believe she's fully capable of handling these kinds of issues and that in order to enjoy your visits together, which you very much look forward to, you're going to be leaving these types of things to her.
You can also revisit the therapy suggestion by pointing out that she's not, in fact, "powering through" her problems; instead, she's trapped by them. Her anxiety is holding her hostage, making it hard for her to function. You can explain that while therapy will "stir things up" at times, it will also release her pain, so that her anxiety doesn't have to function as a way to shove it down. And you can let her know that therapy isn't about blaming, judging, or criticizing people's parents because it's not about their parents at all—it's about the patient, and understanding how people's early experiences inform who they are as adults, enabling them to separate the past from the present. That's where therapy, rather than melting down over the missing earphones, can help.
How your sister lives her life is up to her (in the same way that we can suggest options to our adult children but can't live their lives for them), but the most loving thing you can do is treat her as the capable person she is by letting her manage her crises, sharing your thoughts about therapy, and then focusing on your own life. In this way, you'll bring your relationship up to date, to 2019, when you're both fully capable adults who survived difficult childhoods—adults who now have choices that they didn't used to have about how the rest of their lives will go.
---
Dear Therapist is for informational purposes only, does not constitute medical advice, and is not a substitute for professional medical advice, diagnosis, or treatment. Always seek the advice of your physician, mental-health professional, or other qualified health provider with any questions you may have regarding a medical condition. By submitting a letter, you are agreeing to let The Atlantic use it—in part or in full—and we may edit it for length and/or clarity.