Nothing Says Midwest Like a Well-Dressed Porch Goose
Bringing people together since the 1980s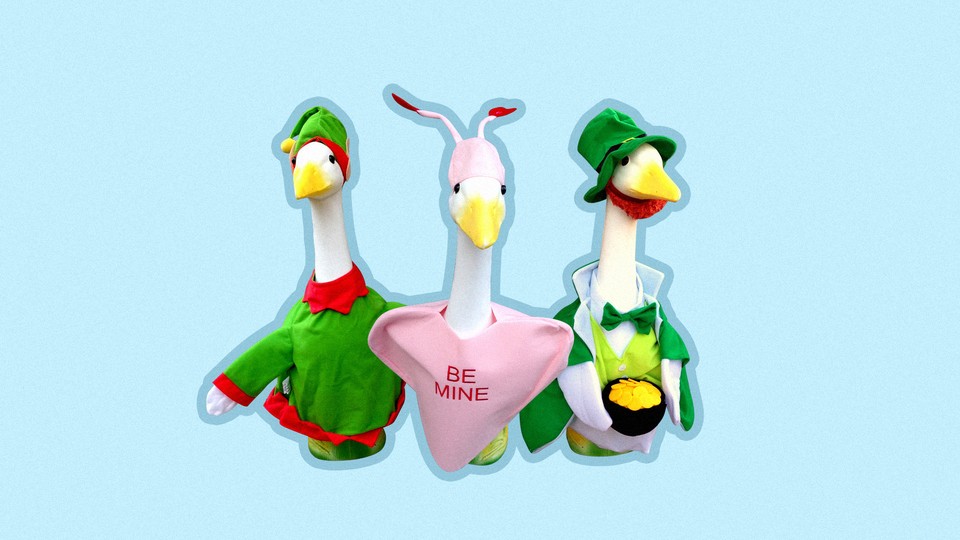 When the creators of the long-running ABC sitcom The Middle, about a middle-class family living in Indiana, were coming up with the show's aesthetic, there was one prop they knew they had to have, to give the Hecks' family home genuine Midwestern flavor: a statue of a concrete goose to keep on their porch. And outfits to dress it up in.
"Our showrunners are natives of Indiana, and they gave me guidance on the region's unique character," says Julie Fanton, 60, who served as The Middle's set decorator for the show's entire run, from 2009 to 2018. "They told me about that, and I said, 'They do what? They dress up their lawn ornaments?'"
They do. In suburban and rural towns across America, but mostly in the Midwest, a small but persistent subset of porches play host to these geese, whose outfits get changed seasonally, and sometimes according to the weather. You might see a goose statue dressed as a pumpkin around Halloween, or as Uncle Sam for the Fourth of July. I reported most of this story the week of Thanksgiving, and several goose owners I spoke with had dressed their geese as pilgrims for the holiday.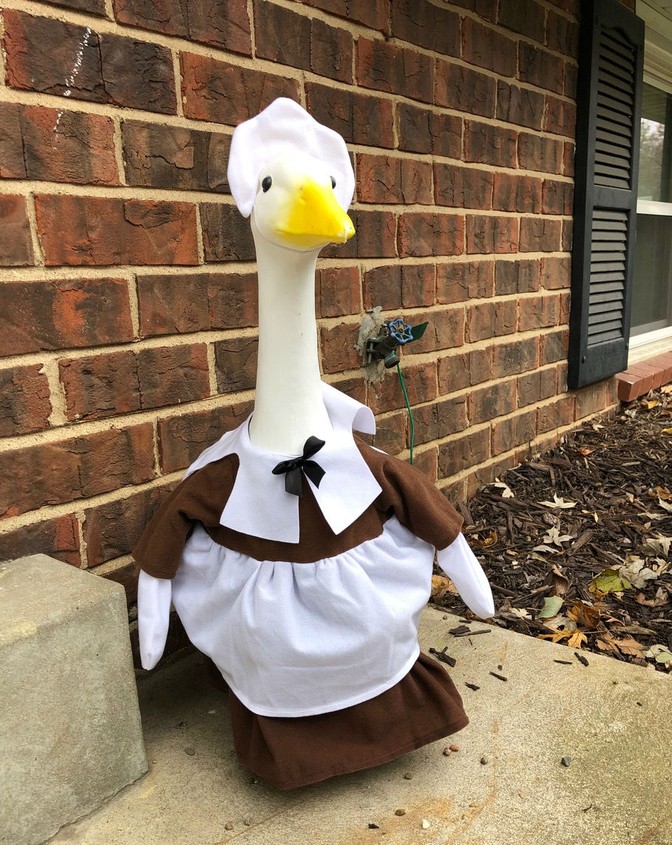 Growing up in Michigan, I would regularly stop by my neighbor Shirley's house, three doors down from my parents', to check out her goose's various costume changes. A few other homes in the neighborhood had geese as well, but I thought nothing of it until I moved to the East Coast as an adult and realized one day that I hadn't seen a goose statue in years. Little regional quirks such as lawn geese are like the scent of home—you have to leave and come back to notice them.
That's how a recent homecoming went for Patricia Lockwood, a 36-year-old poet and popular Twitter humorist. She returned to Cincinnati, Ohio, where she grew up, to help her sister after a medical emergency. (She now lives in Savannah, Georgia, she told me.) She noticed the geese anew while driving around town, which prompted her to tweet, "Is it ... normal ... in other places that people have a concrete goose in their front yard that they dress up according to whether it's raining or not." (The most popular goose outfit, said one retailer I spoke with, is a rain slicker, and some people really do put the coat on and take it off as the rain starts and stops. "They're super on the ball," Lockwood says.)
The origins of this practice are murky, but a search of local-newspaper archives and discussions with the couple lawn-ornament scholars I was able to find mostly suggested that dressed-up lawn geese first caught on in the 1980s and gained popularity through the '90s. A brief article on lawn ornaments by the American-studies scholar Fred E. H. Schroeder in The Guide to United States Popular Culture states, "Concrete geese, elaborately dressed in a variety of costumes, became a popular regional type in the 1980s along the upper Ohio River." Slightly complicating matters, a 1998 article in the Chicago Tribune (titled "Stylish Lawn Geese Get Down Big Time") claims an earlier debut: "Lawn geese first began popping up in American suburban front yards in the 1950s." The trend of dressing them may be what took off in the late 20th century. "Lawn geese clothing appears to be an underground fashion rage in the 1990s," the Tribune article continues.
At any rate, the Ohio-based retailer Goose Clothes Galore definitely got its start in 1981, after Marijane Cole, a folk artist, started getting requests from a garden center to make clothes for concrete geese. They sold well enough that she founded Goose Clothes Galore. After she broke a hip around 2000, her son James, now 61, took over the company, which he refers to as a "giggle business," more an established philosophy than an off-the-cuff remark. "It's about making people smile," he says. He has been using the phrase since at least 2006.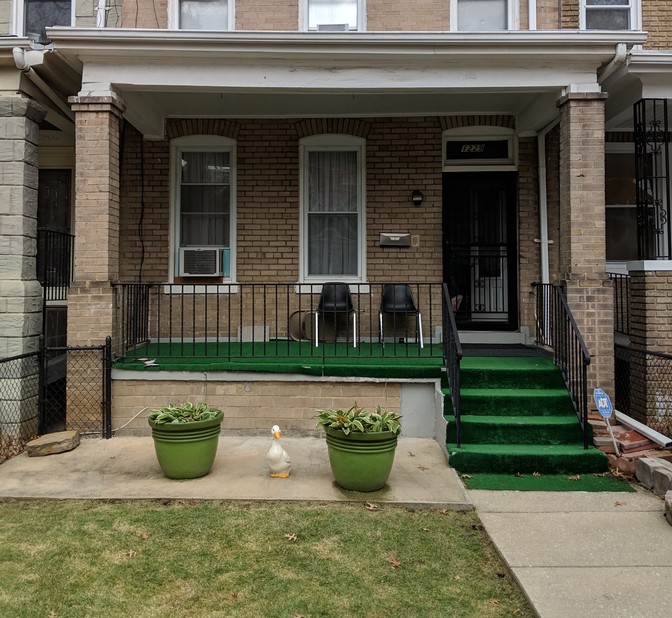 Why geese, specifically, caught on in this way is anybody's guess. The bird just seems to be embedded in the midwestern subconscious for some reason—perhaps because geese fly over the region on their way north to Canada in the summer? James Cole suggests that it's because early European settlers brought geese with them to Ohio. The Ohio History Connection, the state's historical society, was unable to verify this theory—though to their credit, they took my ridiculous inquiry very seriously.
The strongest theory comes from Colleen Sheehy, the president of Public Art Saint Paul in Minnesota, and the author of The Flamingo in the Garden: American Yard Art and the Vernacular Landscape. "The American yard with its emphasis on the green space of the lawn references the idealized American landscape of the farm," she told me in an email. "So geese are part of a whole menagerie of farm animal imagery that appear in American yard art—along with miniature farm windmills, old farm equipment made into sculptures, old-fashioned water pumps, milk cans, and the like ... Places where people who grew up on farms have moved into suburbs or cities are places where farm imagery is used to communicate their continued love for and affinity with rural landscapes."
---
I caught Cole during what is apparently the busy season for goose-clothing sales: the lead-up to the winter holidays. "Any major holiday where people would decorate their house or put something in their yard" prompts a spike in orders, he says.
The internet made finding goose outfits much easier for those interested. It's where Fanton turned when tasked with dressing lawn geese for the set of The Middle. "I just went online and lo and behold, it's a thriving industry," she says.
Goose Clothes Galore (from which Fanton purchased some outfits) is one of several online retailers dedicated to goose clothing; their websites all have, perhaps fittingly, a ... homemade feel. They have a niche customer base, but a seemingly dedicated one. The fun of owning a goose is in regular outfit changes, after all. Multiple sources I spoke with referred to lawn geese as "Barbies for adults."
"I like my goose to be well dressed, and I like to change her outfits frequently," says Callie Appelstein, a 44-year-old mother of two who lives in Kirkwood, Missouri. "At least monthly, but it depends on when inspiration strikes." Her goose, Goosey, has outfits for most major American holidays, as well as a "'50s sock-hop outfit with a poodle skirt, and a sunflower outfit for springtime."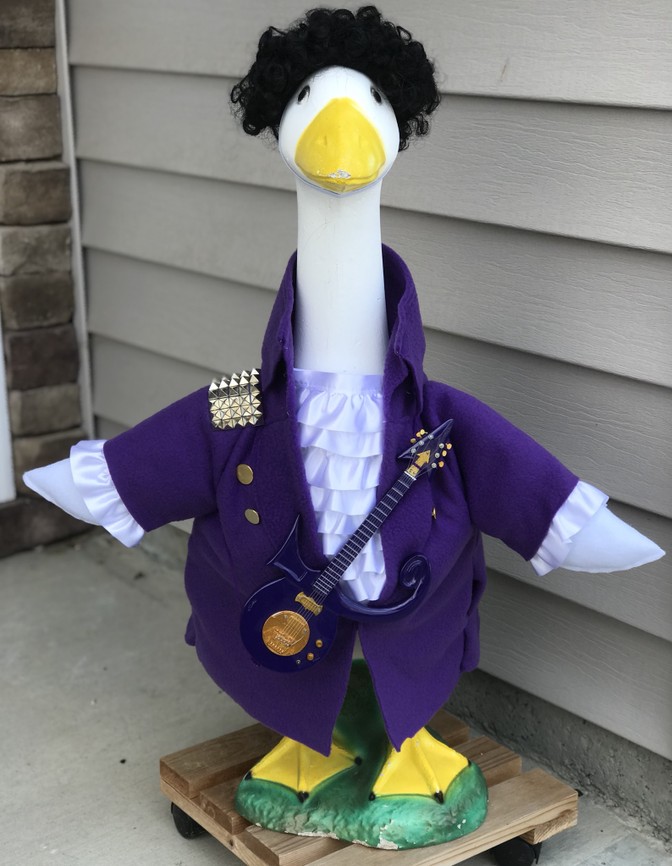 Amanda Weber, a 47-year-old proofreader in Durham, North Carolina, has "at least 80" outfits for her goose, Goosie (spelled with an I-E as opposed to Appelstein's E-Y. I checked.). Some of them she bought online, and some she made herself. Her favorite is a Prince costume. She got her goose as a wedding gift from her mother, who had one when Weber was young.
It's more challenging to find the geese themselves for sale online than it is to find their outfits. And for good reason—the concrete ones can weigh around 65 pounds. Plastic ones are easier to come by, but they have their own disadvantages. Appelstein's is plastic, and "we had to weigh her down with some gravel because she blew over all the time."
Nancy Gardner, who started her company, Lawn Goose Designs, out of her home in 1994, used to sell the concrete geese online, but she had to work with a shipping company to get a custom-made box for the heavy statues. "They dropped the thing off buildings [to test it]; it was a big deal," she says. But even so, the geese are so expensive to ship that she says she probably won't do it ever again.
Gardner likely won't have to make that decision anyway, because Lawn Goose Designs is shutting down. One of her designers recently quit—she was getting older and having health problems. "When I lost her, there was just no way to keep everything going," Gardner says. If she finds another seamstress to step in, maybe she'll reopen, but she says she's thinking of starting a nutrition business instead. Gardner, 68, has lived a life full of career shifts already; she started out as a Playboy Bunny, then worked in corporate administration, then ran a brick-and-mortar goose-clothing store before taking the business fully online. Lawn Goose Designs was a side business until she was laid off from her corporate job during the Great Recession, after which she says "this little bit of income [from Lawn Goose Designs] actually saved my life."
The recession hit the goose-clothes industry pretty hard, Cole says: "They're not going to buy goose clothes if they can't feed themselves."  But Gardner says her business survived in spite of that downturn "because it's a simple pleasure."
Cole's business has recovered since then, and he now has customers across the United States, not just in the Midwest. The main people who buy goose clothes, he says, have always been suburban and rural homeowners, typically middle-aged or elderly women. But Cole, Gardner, and others said they're seeing a new, younger wave of goose dresser-uppers. (Lockwood called it a "hipster resurgence.")
"Young people have inherited their goose, in many cases, from their grandmas," Gardner says.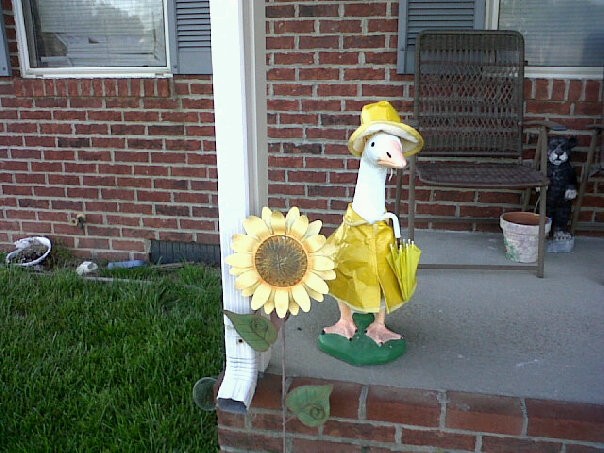 Stacey Holland, a 32-year-old office manager in Rogers, Kentucky, got her goose from her great-grandmother. "When she passed away in '98, my mom got it, and in 2010 she casually mentioned to me she was going to get rid of it at an art sale, and I said, 'No way.' It reminds me too much of Grammy." Her family displayed the goose on their back patio, up until one fateful day when Holland was backing her truck close to the house to offload some furniture and accidentally hit the goose, decapitating it with her fender. She plans to fix the statue and get it repainted so her 3-year-old daughter can enjoy it the way she did when she was young.
This intergenerational passing of lawn geese may have contributed to the practice's spread beyond the Midwest to other regions of the country, though it still seems uncommon in many places. But the internet likely helped, too. When Erika Cohen, 95, moved into an assisted living home in Jonesboro, Arkansas, she remembered a dressed-up lawn goose she used to see in town and wanted to get one for her new home. "They must have gotten their clothes somewhere, so I just put on the computer, Where do you buy clothes for geese? And I found out, didn't I?" she says.
---
A brightly dressed goose on a porch may make for a charming neighborhood ambassador, but it is also exposed, and vulnerable to shenanigans.
In their heyday in the 1990s, the high visibility of neighborhood lawn geese made them a regular target for pranks, both good and ill-natured. According to a front-page story in the Fremont, Ohio, News-Messenger, titled "It's Lawn Goose Season Again," there was a "rash of anti-goose crime that plagued the county from summer 1991 all the way through January [1992]." A reader wrote to the paper suggesting that vandals who damaged or stole the geese were starting "a long overdue movement to rid our neighborhoods of tackiness," while a local psychologist expressed concern that the goose-nappers were "making an anti-social statement."
Lockwood has another theory. She says that in her town growing up, "it was a rite of passage for high-school boys to steal [the geese] around graduation time." Her father was a teacher at the high school, and one year, she says, a bunch of his male students stole some goose statues and surrounded his car with them. She hypothesizes that the older women who own the geese "know maybe that the boys are going to steal them at some point? It's like a puberty ritual; they're putting the goose forward to allow the boys to steal it so that they can become men."
In July 1994, a goose-napping made the front page of the Akron Beacon-Journal. The concrete goose had gone missing from Frances Walters's yard 11 days earlier, but this time there was a twist. The kidnappers sent Walters a postcard from the goose, which they named Bill, featuring a picture of Bill in front of Mount Rushmore, wearing the bikini and sunglasses it had been wearing the night it was stolen. "Still having a great time! See you soon. All my love, Bill," the postcard read in part. The Beacon-Journal covered Bill's journey the rest of the summer, and the editor in chief even wrote a column begging him to come home. Nearly three months after he was stolen, he was returned, and "Mrs. Walters laughed through the reunion," according to an obituary for Walters the paper ran after her death in 2000. Whatever that psychologist's concerns, this seems like a pro-social goose-napping if ever I heard one.
However exactly this tradition came to be, the lawn goose abides, because it is a nexus of connection. Wheresoever a goose statue is dressed in a silly outfit, there, too, will be not only pranksters, but children laughing and neighbors striking up conversations over it.
"People in the neighborhood started telling me how much they enjoyed seeing his costumes," Weber says of her goose, so she made a Facebook page for Goosie, which now has a small but very engaged following.
This may be why the lawn goose is popular among "elderly women who live alone and really don't have anybody to talk to," according to Cole. "Some of them are a little lonely." He says he knows a few of his customers pretty well, because they'll call him to make an order, but they really just want to talk. "We talk about everything," he says. "The weather, our health problems, anything else. As much time as they wanna talk, I let them talk."
"Even though it seems frivolous, anything that can make somebody smile for a moment is a contribution to society," Cole says. He calls lawn-geese enthusiasts "an underground society," though it's not a very secretive one. But perhaps, just as homeless wanderers once marked homes they passed through with symbols to indicate the nature of those who lived there—kind or dangerous—a goose on a front porch dressed in its holiday best is a symbol that whoever lives inside is seeking connection and community.