It's Almost Impossible to Be a Mom in Television News
For female television reporters, the decision to have kids can be a career-ending one.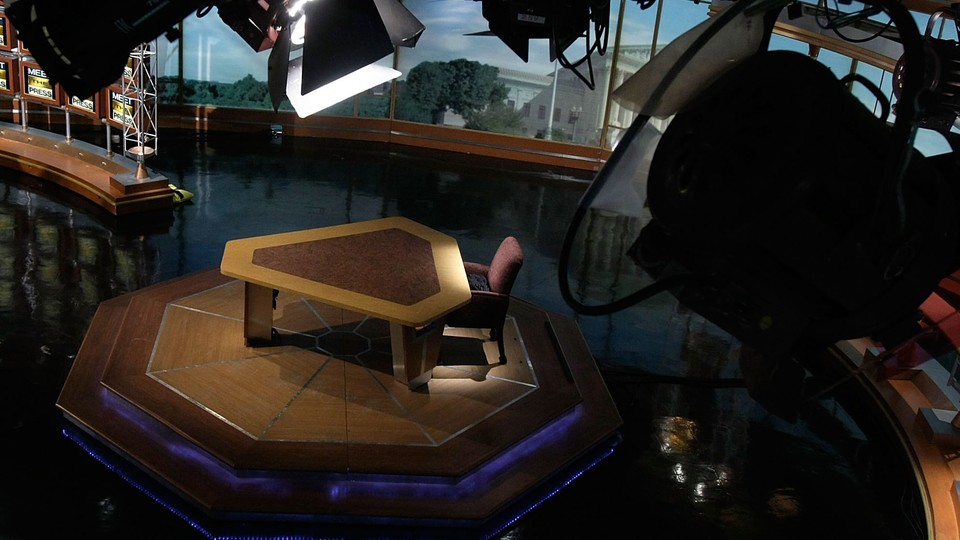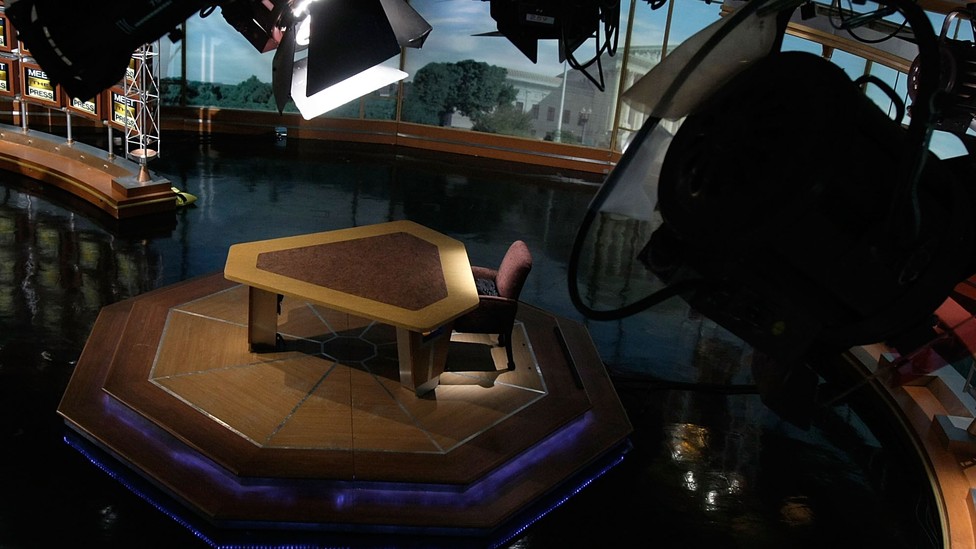 It was the only time I had cried in front of one of my bosses at CBS News.
As we sat in my office, door closed, I was struggling to explain why I was uncertain whether to sign a new three-year contract with the network. Yes, I could stay on as a general-assignment correspondent, but that would mean being ready and willing to leave town at a moment's notice to cover whatever breaking news was unfolding. I wanted to be a team player, and I hated saying no to assignments, but that kind of role wasn't compatible with my life at home, where I had a very young son, a husband with a demanding job, and, while I didn't know it at the time, another baby on the way.
The time spent away from my kid had to feel like it was worth the sacrifice. So I decided to ask for a sort of role that would recognize my value and professional ambitions while also providing me some small measure of predictability over my schedule. I thought my asks were minimal; I'd been "leaning in" for 15 years in the news business. Yet during negotiations, I was basically told I wasn't "there yet" and I should have been happy that I had been offered a new contract at all. Even as my manager told me that she was sympathetic to the struggles of a working mother (being a mother herself), she reiterated that the offer was final.
Ultimately I decided not to sign the contract. Pressed to choose between staying in my career and being a mom, I chose the latter. But it didn't really feel like much of a choice. Why wouldn't management budge? Did they think I had already asked for too much? Had I already used up all my chips when I was going through IVF and said I couldn't travel? I had worked so hard to get to where I was professionally, but I had also worked so hard to have a baby. I wondered whether I was really made for TV news or whether institutional biases were forcing me out.
I was far from alone. According to a report by the Women's Media Center, television viewers are less likely to see women reporting the news today than just a few years ago. At the Big Three networks—ABC, CBS, and NBC—combined, men were responsible for reporting 75 percent of the evening news broadcasts over three months in 2016, while women were responsible for reporting only 25 percent—a drop from 32 percent two years earlier. What could be contributing to this?
Much has been written about anti-mom bias and the so-called motherhood penalty in industries from law to finance to tech. Studies show that once a woman becomes a mother, she is likely to earn less, while once men become fathers, they tend to earn more in what's known as the "fatherhood premium." When prospective employers look at a résumé and see signs that a woman is a mother, she's less likely to be offered a job. Bias seeps into workplace evaluations as well. For example, when mothers are late for work, they're judged more harshly than women without children are.
TV news is that and then some for working moms. I know that my experience with CBS was not an outlier, and the 13 moms I spoke with who work or used to work in TV news as correspondents, anchors, and producers found much the same.
"In a highly competitive broadcast world, [anti-mom bias is] still there, even if it's unconscious," Robin Sproul, who spent 25 years at ABC News, 21 of them as the Washington bureau chief, told me. "You can be in meetings and the person talking to you firmly believes they don't have 'working mother' in mind when they're talking to you, but it is there. It becomes a big part of who you are."
She added, "Even if it's an unconscious bias, there is a 'You don't even want to ask the working mom about some assignments' because you're afraid if you ask them and they say yes, they won't be able to deliver the way a single man or single woman would—and they'll ask for accommodations."
In NBC's Washington bureau, not a single female correspondent is a mother. The most recent was Norah O'Donnell, who left in 2011 for CBS News, where she's now a co-host of CBS This Morning.
"There's an unease" among young women correspondents in the NBC Washington bureau who would like to become moms someday, said a producer there who asked not to be identified. "No one wants to be the test case, because it hasn't been a common concern, and people are so committed to their jobs, they're worried about being able to juggle it all." (CBS News, NBC News, ABC News, and CNN did not respond to requests for comment on this story.)
Being a TV-news correspondent is tough for anyone, but it presents structural challenges that are particularly rough on moms. For one, the industry is bound to the nature of news, which is unpredictable, 24/7, and happens everywhere. You're often racing out of town without much warning. Moms are expected to do their job like it's their only responsibility, even though they're also working the mom shift. Covering a forest fire or a mudslide is rarely compatible with being home for back-to-school night.
If you decline an assignment, you may be labeled a problem or deemed not to be a team player. Managers judge correspondents partly based on how often they're on air. Whether on cable or a network, airtime is a marker of success—and that metric runs headfirst into the reality of motherhood. "You sacrifice so much to get there, and there's never a point where you can stop sacrificing," said a former network producer who, like most of the other women I spoke with, asked to remain anonymous to avoid angering their current or former employers. "That is the culture. Who is working the hardest? Who is working the most? There's something about TV news where you're supposed to live the job, and that's all people care about; otherwise they question your commitment—and you're totally replaceable."
In this business, perhaps more than any other, out of sight really is out of mind.
Maternity leave, of course, means time away from the camera. The Fox Business Network anchor Trish Regan has spoken extensively about her regrets over not taking full advantage of her maternity leaves, but she felt that that was what she had to do to succeed. She took six weeks with her twins when she was at CNBC and only three weeks with her son when she was at Bloomberg Television, though the companies' policies entitled her to more.
"The pressure [to come back before my leave was up] was certainly self-inflicted in that I'm driven and ambitious and wanted to succeed," Regan told me. "But at the same time, I was very aware that if I was gone for that amount of time, I was perhaps replaceable with either a man who could do the job or a woman who wasn't having a baby. These were very real concerns of mine, and there was no one in my environment at either of those networks [who] was encouraging me to think otherwise."
There's also the appearance factor. Several current and former network correspondents and anchors told me that their bosses commented on their appearance while pregnant; some bosses suggested that they lose weight; one correspondent said she was ridiculed for wearing maternity clothes that emphasized her belly. Recently, there have been several examples of clearly pregnant women on camera—see the Face the Nation host Margaret Brennan interviewing Vice President Mike Pence days before she gave birth—but it's still rare.
"Even if it's unspoken, there is a very clear expectation that you will maintain a certain appearance if you're a woman," the former CNN anchor and NBC News White House correspondent Campbell Brown told me. "The ability to maintain that appearance flies out the window when you get pregnant."
And afterward, too. The reality is that when you come back from maternity leave, you're probably not at your pre-baby weight, and most likely your child isn't sleeping through the night. "You don't look as good," said a correspondent who has a young child. "I don't know how you solve that problem, because we have become accustomed to seeing a certain image of a correspondent. And a mom, in many ways, with bags under her eyes, does not fit that idea." (As a former executive put it, there was a time when male management and senior-level producers judged women based on "Is she fuckable or not … And that puts you in a whole category. When you're a working mom, you're automatically not in that category.")
Finally, this is an industry in which almost everyone, especially on-air talent, works contract to contract. Only a chosen few ever reach the highest levels of stardom—meaning that most working moms lack the power to make family-friendly demands when they see their next set of contract negotiations around the corner. "Working mothers don't have quite the leverage in contract negotiations as a single woman or a working male," Robin Sproul said. "Usually they're balancing child care, time commitments, and an incredibly demanding job. If it's working for them, they don't want to do anything to disrupt it."
Unsurprisingly, these factors are combining to push women to leave. Scott Reinardy, a journalism professor at the University of Kansas, has been studying burnout rates in newsrooms across the country and has found that the numbers are higher for women. Management, he says, seems uninterested in changing the institutional biases that work against moms, putting women in the position of having to choose between their careers and their families.
Reinardy said many in the younger generation of aspiring and current female journalists see the profession as a short-term career. In one study, he asked about 500 women under the age of 30 who were working in television whether they thought they'd leave broadcasting in the next five years; 69 percent said yes or they didn't know. "Some of the indications clearly were the workload and lack of support in the organization," he said.
Campbell Brown and others I spoke with acknowledged that the hardships are acute for correspondents, but less so for producers (who aren't on camera) and anchors (who have more predictability, with designated hours for their shows). That's not to say being a TV-news anchor makes work-life balance a breeze, but that role comes with a stabler schedule and less time on the road. (And for anchors of morning shows, whose key demographic is women ages 25 to 54, being a mom can be an asset, some of the women I spoke with suggested.) A mom in these roles might miss seeing her kids in the morning, but she might also be able to pick them up from school every day, whereas a cable-news correspondent could be on the hook for nonstop live shots from dawn to dusk.
Why is the industry so much harder for moms than dads? Many of the TV-news moms I spoke with said that when men broach child-care issues, management celebrates their fatherly duties and usually bends over backwards to accommodate them. One reason may be an assumption that a man's caretaking responsibilities will be temporary, while a mom will always ask for special accommodations. "It's still considered so unusual for a man to be an equal or primary caretaker that there can be brownie points associated with that," said Kathleen Gerson, a sociologist at NYU who studies gender dynamics in the workplace.
So how can change be accomplished? More women in the top ranks at broadcast and cable networks would be a good starting point. Moms need people at the highest leadership levels of TV news who can help promote a culture in which working moms are not expected to work as if they don't have children. "It takes having more women who are empathetic and want to promote women and want to be flexible when it's possible," said Katherine Goldstein, a journalist and the host of an upcoming podcast focusing on Millennial working moms.
But it's not merely about getting more women into leadership—it's about getting the right women into leadership. Across the job spectrum, powerful women have risen through the ranks despite discriminatory barriers, and some of them feel that if they could, younger women can do it, too. Anti-mom bias arises from diverse sources, including women.
One other factor that could soon change: the opacity of the problem. In the past, many research organizations and women's groups have tried to produce a complete picture of the state of women in American newsrooms, but they've been met with resistance from the networks, said Dianna Pierce Burgess, a co-founder and the executive director of Press Forward, an organization committed to getting more women into the news industry. Just last week, Press Forward announced that it was partnering with McKinsey and LeanIn.org to recruit American news organizations to the annual Women in the Workplace study. "We are hopeful that this study will include a comprehensive analysis of the news industry that includes every medium, from print to radio to television," Burgess said. "It will be a first of its kind."
Retaining moms in TV news matters not just for the moms, but for audiences, too. The more women there are in TV news—from the top on down—the better and more diverse stories there are for the public to consume. Nearly all the women I spoke with said that once they became mothers, they became better journalists. They were better storytellers, approaching assignments with more empathy and a new perspective.
And today's stories demand that perspective. Many of the major news stories this year concerned women and families—#MeToo, family separations, and Brett Kavanaugh's Supreme Court confirmation hearings, to name a few—and it's hard to imagine a network getting these stories right without more moms to tell them. At this historic moment of women's empowerment, as networks cover the #MeToo movement, and as some even deal with their own reckoning concerning sexual harassment, all television news organizations would be well served to look inward and reevaluate the culture they've established for moms.