The 30-Year Reign of Lunchables
The overwhelmingly successful "compartment-based snack" has thrived by, for the most part, staying the same.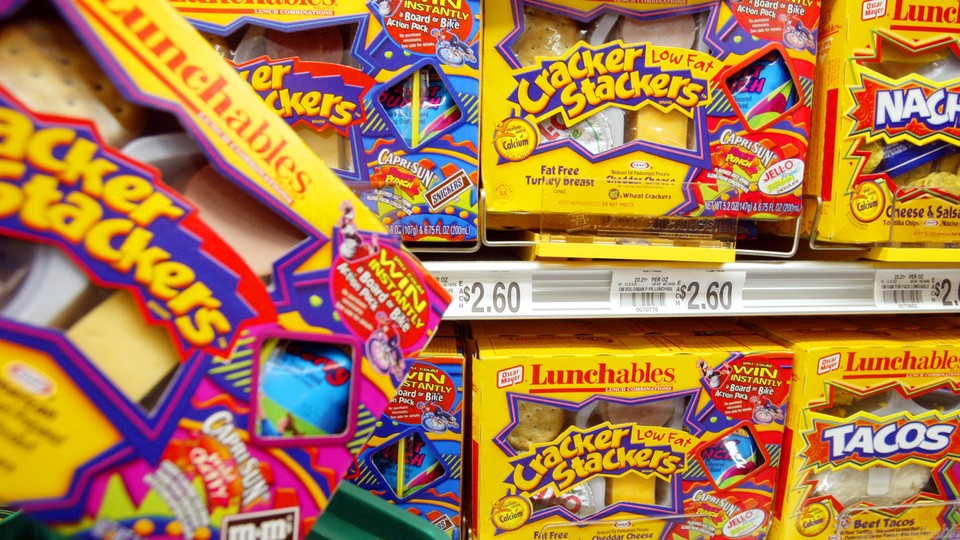 Lunchables have existed on this Earth for far longer than the young children who devour them. In fact, if Lunchables were people, they would be old enough to be those children's parents.
This year, Lunchables turns 30, and the widely beloved (if sub-optimally nutritious) compartmentalized meals are as popular as ever. Though the brand started as a clever way to repurpose bologna, which began losing popularity in the mid-1980s, Lunchables created a new category of American foodstuff that it continues to dominate.
The brand has had its shifts—introducing and later phasing out hot dogs and hamburgers, as well as dabbling in breakfast—but its core selling points of convenience (for parents) and fun (for kids) have remained constant since its early days. At a time when many parents are attuned to shifting nutritional advice and want to avoid wasteful consumer products, there is still ample appetite for a sugary, fatty prepared lunch that comes in a disposable plastic tray.
"It's been that fun lunch … and I think that's what kept it evergreen," says Greg Guidotti, the head of marketing at Oscar Mayer, which makes Lunchables and is owned by the enormous food company Kraft Heinz. "There's a ritual involved with opening it, and stacking it, and building it," he told me, in describing the enduring appeal to kids of assembling the components in a Lunchables tray.
Lunchables currently has an 84 percent share of the market for kids' "combination lunches," and its dominance, Guidotti said, is sustained by its meat-cheese-and-cracker boxes, which remain the best-selling and longest-running Lunchables product. (Its pizza meals are popular as well.) In the past few years, the brand has made forays into trendier realms, launching some organic options and, more recently, an "Around the World" line that includes an Asian Style BBQ Chicken box and Mexican Style Chicken Tacos.
Last year, Kraft Heinz sold $1.36 billion of Lunchables, according to Robert Moskow, a senior equity analyst at the investment bank Credit Suisse who follows the food industry closely. "That is up 19 percent over a three-year time horizon," Moskow told me. "In the packaged-food world, that's a home run, especially for an established business."
Moskow attributes some of this recent success to how Kraft Heinz has positioned Lunchables lately. "If you think about the last 10 years, I think Lunchables had some fallow periods when it was trying to create a healthier version of itself," he told me, adding, "I think lately it has gone back to its indulgent positioning, which, for better or for worse, that's what the consumer wants."
Lunchables has tried healthier options in the past, with occasionally disappointing results. In the mid-2000s, a line that substituted yogurt for candy was introduced and then discontinued due to weak sales. And in 2011, the company started selling Lunchables With Fruit, but that is now defunct too. In Lunchables' earliest days, its product-development team experimented with including apple slices and carrots, but scrapped the idea after seeing that the produce did not ship and store well.
When I asked Guidotti whether sales of Lunchables lagged as the company made its offerings healthier, he said, "We are not seeing this. Lunchables continues to grow household penetration and dollar sales."
Whatever the effect of Lunchables' nutrition experiments, the brand's reign remains unchallenged. Andrew Ruis, a researcher at the University of Wisconsin at Madison and the author of Eating to Learn, Learning to Eat: The Origins of School Lunch in the United States, thinks the product has done so well because of how it fits into families' days. "From a parent's standpoint, you're trying to assume all these different roles when you're putting together a kid's lunch," he says. "You're trying to assume the role of nutritionist; and the role of a chef; and the role of an entertainer, almost; or a psychologist, someone who can get into the head of your kid and know what they want and like." Ruis says the idea that "it's everything in one package, that all you have to do is purchase this thing" is powerful for parents who can spare a couple of extra dollars.
Lunchables, though, was originally born out of an urgency to solve an entirely different problem, as the journalist Michael Moss details in his 2013 book, Salt Sugar Fat: How the Food Giants Hooked Us. In the mid-'80s, executives at Oscar Mayer noticed that consumers' interest in bologna, one of its key products, was beginning to wane. So the company's product developers set out to find a way to get people interested in bologna again, to dream up something that was livelier than sliced, sandwich-ready meat sealed in plastic.
After brainstorms and focus groups, a team of about 15 people conceived a bologna-centric lunch product that was portable and—because people generally preferred the meat with some accompaniments—included crackers (which kept better than bread) and slices of cheese. The plastic tray that they settled on for the packaging, which sectioned off each ingredient, was inspired by frozen TV dinners.
Guidotti (who wasn't with the company at the time) told me that Lunchables was originally developed with adult eaters in mind, not kids. "It was seen as a convenience solution to lunch for working mothers, working dads, and the like," he says. But the creators of Lunchables aimed younger when they discovered in market research how much fun kids had assembling their meals. Oscar Mayer shifted its marketing accordingly, detecting in focus groups that time-starved working moms might feel guilty about not doing enough for their kids. This was the impetus for the lively yellow box that Lunchables came in—originally conceived of as a sort of wrapping paper, it was designed to feel like a gift to give to children as they went off to school.
The product, whose rejected names included included On-Trays, Crackerwiches, Snackables, and Fun Mealz, launched in 1988. It was an instant hit: Sales exceeded $200 million in the first 12 months. No company has been able to meaningfully challenge Lunchables since, and the brand's advantage was cemented by the introduction in the mid-'90s of its pizzas, which initially grossed out moms in focus groups—they are typically eaten cold, with unmelted cheese—but thrilled children, who were excited by the prospect of building their own lunch, hot or cold. (As it turns out, Guidotti told me that historically, somewhere between a quarter and a third of Lunchables have been consumed by adults.)
But Lunchables hadn't been on the market for long before the product began to be criticized as unhealthy. In 1994, after a pediatrician called it a "nutritional disaster," a Kraft spokesperson responded, "This is not some big corporate plot to fatten up kids. This is what kids want. There are very few kids out there who will eat rice cakes and tofu." The company has stood by Lunchables, though a decade later it did abandon a higher-calorie Lunchable varietal called Maxed Out (with foods like deep-dish pizza and "double stacked" tacos) that had drawn criticism for its elevated levels of salt, sugar, and fat.
Bob Drane, who led the team that created Lunchables, has said, "I wish the nutritional profile of the thing could have been better, but I don't view the entire project as anything but a positive contribution to people's lives." And when I asked Kraft Heinz how it would respond to nutritional criticisms today, a spokesperson wrote in an email, "Lunchables is a great lunch solution for kids and is a good/excellent source of protein based on the variety." (Guidotti noted that many parents' recent interest in making sure their kids get enough protein has been "a tailwind for Lunchables," some boxes of which note how many grams of protein are inside.)
Ruis, the school-lunch researcher, told me that in the past couple of decades, parents have been paying more attention to the nutritional elements of what they feed their kids, not least because of concerns about obesity. And there have been other related food trends as well. "Clearly there's been a move toward foods that are more organic, more locally sourced," he says. "But that doesn't necessarily mean that that's evenly distributed." Clearly: After 30 years, Lunchables—which, as a processed, nationally shippable lunchtime fixture, is anything but locally sourced—is doing just fine.