College Is Different for the School-Shooting Generation
At this point in history, college-aged Americans—who, for the most part, were born in the late '90s—don't remember a time when school gun violence wasn't a widely feared threat.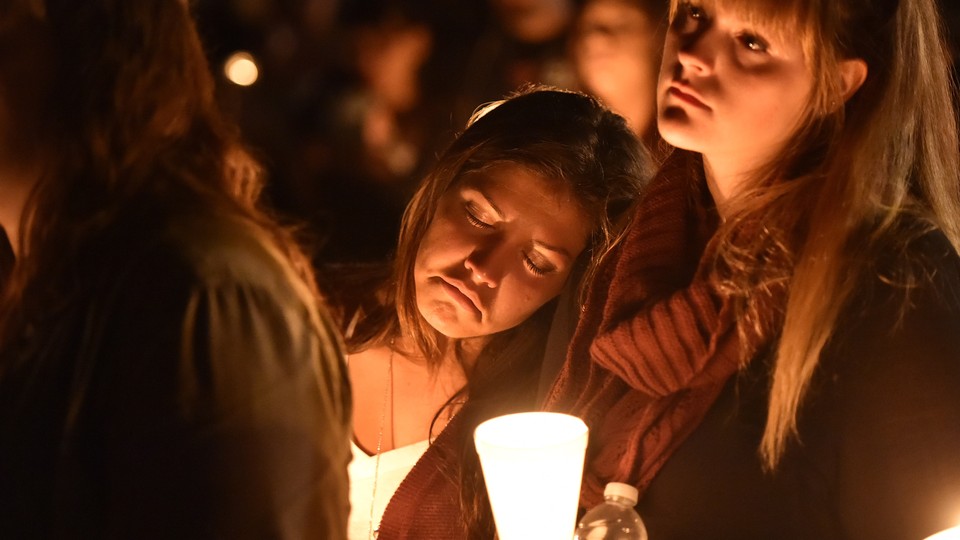 When Leonor Grave moved from Portugal to the United States in 2012 to start boarding school, she and her family had some inkling of what she was getting into. In Portugal, gun violence and mass shootings "were always talked about like an American thing," she says. "We saw things on the news, and we'd be kind of in disbelief that there didn't seem to be anything being done about it." Grave knew that students routinely participated in lockdown drills and active-shooter training in the public schools near her boarding school in Baltimore—but it wasn't until college that she began to see firsthand how mass violence was transforming the lives of America's youth.
Grave, now a senior at the College of William & Mary in Virginia and a news editor at the William & Mary Flat Hat, can rattle off with breathtaking quickness the candlelight vigils and mass-tragedy-adjacent events that she's covered as a student reporter and editor. One of her first stories as a freshman was about the campus response to the Paris terror attacks in 2015. She wrote about the Pulse nightclub shooting as a rising sophomore. Last week, she assigned a younger reporter a story on a campus vigil for the 11 people recently killed in a Pittsburgh synagogue. In 2018, she explains, part of a college-campus news editor's job is to remind young writers not to inject their political beliefs into the stories they write about mass shootings. "It's very hard to be objective, to be fair and accurate writing these stories," she admits. "Because it seems very clear which side you should be taking."
College-aged Americans—most of whom were born in the late '90s—don't remember a time when school gun violence wasn't a widely feared threat to young people. Their lives have been repeatedly punctuated by deadly mass shootings in schools: Though few remember Columbine, most remember Virginia Tech, Newtown, Parkland, and Santa Fe, among others. When a gunman at the Borderline Bar and Grill in Thousand Oaks, California, killed 12 people Wednesday night, one of the victims was Alaina Housley, a freshman at nearby Pepperdine University. Several survivors were also Pepperdine students, attending Borderline's "College Country Night" and celebrating birthdays. The raucous college social event interrupted by an act of terror is an awful but ever more familiar worst-case scenario. And the ominous possibility that it could unfold on any given campus on any given day has altered the American college experience.
For one thing, many college students think a lot about gun violence erupting in public places. When Grave was hired to work in the campus library, she had to watch a 20-minute active-shooter training video as part of her employee training. The video she watched was, all told, pretty boring—to her, the weird part was that it was so boring and routine, sandwiched between segments on topics such as logging work hours and how to shepherd students out through the emergency exits in the event of severe weather. But ever since that training video, she says, on slow days when she's working the front desk near the entrance of the library, "sometimes I'll look around and imagine: If someone were to walk in right now [with a gun], what would I do?"
When Grave read about the Thousand Oaks shooting, she found one aspect of the story particularly chilling. "There was this one girl there who was celebrating her 21st birthday," she says. "It's just really scary. When I turn 21 in three weeks, should I be worried about where I go [to celebrate]?"
Something similar happened to Chad Rhym, a senior at Morehouse College in Atlanta who's often out with friends on weeknights near campus. "To now see that happen in a place where I could hypothetically be," he says, "I think that's the scariest part."
The recent shootings at synagogues and churches have also affected how Rhym evaluates his safety on campus at Morehouse, a historically black college. "If elementary schools aren't off-limits, if synagogues, temples, [and] churches aren't off-limits, I'm sure my black school isn't either, which is scary," he says. "I guess the more I think about it, the more I create these hypotheticals, the scarier everything becomes."
Some students, however, have grown up with the threat of gun violence so present that by the time they get to college, it barely registers anymore. Mars Alvarez, a sophomore at Dartmouth College in New Hampshire, grew up in East Houston, Texas, and attended a high school that she says routinely went into "lock-in" mode, securing all the entrances when "any sort of robbery or gun violence" was happening nearby. So when Dartmouth security officials announced last Friday night that students were to shelter in place because an active-shooter situation was unfolding on campus, Alvarez noticed that the other students with her in a theater after a student play were much more frightened than she was.
"I didn't realize how normalized it was, how unafraid I was of it," she says. She was worried, of course, but in her experience, security measures such as these just meant being cooped up for an hour or two and then carrying on as usual. "Seeing the reaction of people really opened my eyes a little bit more to ... how this affects others," Alvarez says. "For a lot of students, this was their first run-in with gun violence ever in their life. I can see how that'd be terrifying, you know?"
One ever-present feature of the college campus in the age of school shootings is regular texts and emails from the campus emergency-alert system. When an emergency-siren system in Williamsburg, Virginia, is being tested, for example, William & Mary students receive a brief Heads-up; no action necessary text message. When campus buildings are closed due to inclement weather, students are also alerted via text. And when a shooting happened near campus a few years ago, students learned of it through that same text-message system. "We got a message saying shots had been fired outside this restaurant and that we should stay away," Grave remembers.
In moments of crisis, though, some students have found their campus emergency-alert systems less than helpful. Maddie Wu, a sophomore at Princeton, stayed on campus during spring break earlier this year, and found herself locked in and bewildered when a breakfast café she'd visited one morning was put on lockdown due to an active-shooter situation at a Panera two doors down. "I was kind of waiting for one of the mass texts or mass phone calls from the school," she says, "but I finally ... got a sense of what was going on from Twitter." Alvarez says she found out that the Dartmouth campus was on lockdown from a friend who'd called repeatedly and then texted during the play Alvarez was watching. She received the school's official message only after the show had ended—by which time many of the students had already been alerted by friends and social media.
Many older adults, whose education took place in a time when schools felt safer, are alarmed at the new norms on campus—and none probably more so than the students' parents. Rhym says that his mother gets the automatic alerts from Morehouse and "she worries." "She doesn't like it," he says. "It makes her anxious to get alerts about crimes around the area." Wu says that her parents were "freaked out" when they learned she'd been down the block from an active-shooter situation. Alvarez contemplated whether to call her mother during the lockdown at Dartmouth. "I didn't know enough information yet. I didn't want to call her and be like, 'By the way, there's an active shooter out on campus,'" she says.
Grave, too, gets the occasional phone call from Portugal after an incident near William & Mary. "[My dad will] call and be like, 'Hey, is everything okay? I saw this on the news; just wanted to check in.'
"Thankfully, I have not been in the direct path of a school shooting, or a shooting in a public place," she adds. But she worries that one day her dad will have to call and make sure she's okay in the wake of something more serious. "All these shootings are becoming so mundane," she says. "There's no particular reason that this time it was Pepperdine instead of William & Mary."