The Bridesmaids Are Multiplying
Today the role is almost entirely symbolic—but it's only getting more popular.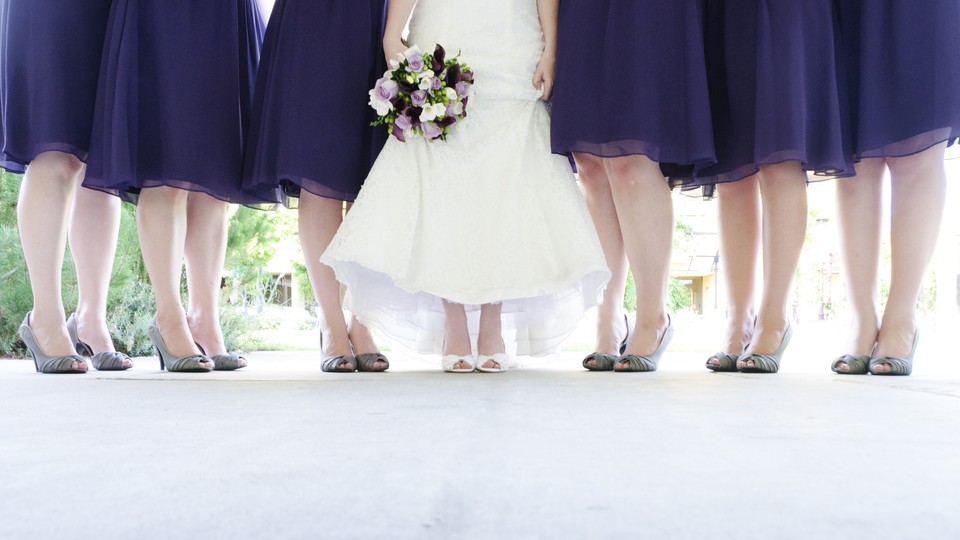 The picture usually appears about halfway through every Facebook wedding album—after the ceremony, before the sweaty dance circles. The bride, often posing in a scenic outdoor spot, is flanked on either side by a cluster of women. Draped in matching fabric, hair swept back with bobby pins and hairspray, they lean in close. You mess with the bride, their smiles seem to say, we smother you with a bouquet.
The average wedding in the U.S. now has five bridesmaids—according to an annual survey conducted by the wedding-planning platform The Knot—a number that is up from four in 2007 and appears to be steadily rising. It's now common, several wedding experts told me, for a bride to have 10 or 11 maids. "In the South, forget it," says Meg Keene, the author of A Practical Wedding Planner. "You're going to have 50." In most other Western countries, on the other hand, traditional weddings rarely include more than two or three bridesmaids. In Italy and Germany, it's common to have none at all. "It's an American import that's as pervasive as the grey squirrel," Flora Watkins writes in Country Life, a British weekly magazine, "a bride surrounded by a phalanx of fuchsia-clad flunkies who almost outnumber the wedding guests."
In pursuit of aesthetically pleasing photos and a tidy recessional, couples typically choose the same number of bridesmaids and groomsmen. But multiple people in the wedding industry told me that while groomsman numbers are growing, too, it's likely bridesmaids—and thus brides—who are behind the ballooning attendant numbers. For heterosexual weddings, the bride almost always lands on her number first, and that number is usually higher than her partner's, says Gwen Helbush, a longtime wedding planner based in San Francisco: "Grooms end up finding enough guys they feel okay about to add to whatever number she's got." (If none are available, well, there are always sites like groomsmenforhire.com.) More couples seem to be mixing up the genders of their attendants, too—male friends of the bride might stand on her side, female friends of the groom on his. In a same-sex wedding, Helbush told me, each side of the wedding party is especially likely to be coed.
It's not like brides are recruiting extra bridesmaids to do anything in particular. In what was likely the first iteration of the tradition, ancient Roman law required 10 witnesses—generally five friends of the bride and five friends of the groom—to be present for the wedding ceremony. The attendants would dress just like the bride and groom, to distract and befuddle evil spirits intent on sabotaging the happy couple, Keene says. If the bridesmaids of ancient Rome didn't style their hair correctly, or wore the wrong color dress, they might insufficiently confuse the "spirits," condemning the bride to a lifetime of unhappiness. No such grave responsibilities plague the modern-day American bridesmaid. Instead, her primary duty might be placing a pre-bachelorette order on Etsy for an assortment of penis-shaped straws and personalized champagne flutes (inscribed with bridesmaid font).
Today the role of the bridesmaid is almost entirely symbolic—but that hasn't made it any less popular. For brides, it's a rare opportunity to officially announce to the world, "These are my people." I love them, they love me. While romantic partners are singled out for celebration all the time, there aren't many opportunities nowadays to publicly honor a friendship, says Keene, who regrets her decision to forgo bridesmaids at her wedding. Ten years later, she knows exactly who they would have been. "I miss being able to look back and say, 'That person was my maid of honor.'" It's a kind of shorthand that instantly defines the depth of a friendship, says Sheri Shuler, a professor of gender and communication at Creighton University, who has studied the bridesmaid phenomenon. "If you say, 'This person was one of my bridesmaids,' that means something," she told me. The attendants tradition is likely just as meaningful to the grooms. While men generally have fewer friends, on average, than women, research shows that they're equally eager for close, lasting friendships.
Now that wedding photos inevitably make their way onto Facebook and Instagram, bridesmaids and groomsmen continue to be honored and recognized long after the wedding is over. Even people who weren't invited to the ceremony will observe the group—who's in it, but also who's not. A few brides told me they'd chosen to include so many friends to avoid any negative signals they might send by excluding them. By asking someone to be a bridesmaid, they felt they were making a clear investment in the future of the relationship. If they left close friends off the list, they worried that they might send the opposite message: In a few years, I'm not sure you'll be around.
For most of the 20th century, the average American woman got married at age 20, 21, or 22. Today the median age of first marriage is 27. As my colleague Gillian White wrote in The New York Times, "American women who eventually marry are now left with nearly a decade of single adulthood to forge their own paths professionally, romantically and socially." And men are getting married later, too. That means young people have more time to establish deeper friendships—and from all the different phases and corners of life: high school, college, work, church, square dancing. The result is "a younger generation that is far more conscious of the need to develop and maintain friendships," says Stephanie Coontz, a marriage historian at Evergreen State College. Ergo, more bridesmaids.
But there's also a stigma attached to a large number of bridesmaids, as I heard from multiple brides. Mary Beth Knight, who got married last year, says she's happy with her decision to include 10 bridesmaids in her wedding—but leading up to the big day, she was worried. "A lot of times, people would ask, 'Can you really be that close with that many people?'" she told me. The question prompted frantic Googling sessions in which Knight would scan the internet in search of the "appropriate" number. "It made me start thinking, I'm only having 165 guests, but 10 bridesmaids. Does that make me look crazy?" Other brides were less concerned with the stigma than with the expense for their friends of being a bridesmaid. Between travel costs, dresses, and hair and makeup, bridesmaids shell out an average of $1,200 per wedding, according to a recent study by WeddingWire—and groomsmen may actually pay even more. (One reason British couples have fewer attendants, Watkins writes, is that the bride and groom typically foot the bill.)
Still, in a study Shuler did of more than 500 bridesmaids, she found that the vast majority were happy to have had the experience. Over and over, she said, respondents would tell her how much they valued the opportunity to bond and create memories with a sister, a cousin, or a best friend on one of the most important days of her life. The American bridesmaid tradition is an "unabashed celebration of friendship," says Keene. As a 38-year-old mother of two, she says that onlookers may frown on her decision to skip town for a weekend to party in Palm Springs with her high-school girlfriends. But if it's for a bachelorette party—if she's a bridesmaid—she's got the ultimate excuse. "We are living in the age of isolation, of treating online interactions like real ones," she says. "If large wedding parties are a way to counter that, I'm in."