The Rise of the Engagement Photo Shoot
Spurred by the changing norms of social media, soon-to-be newlyweds are clamoring for professional photos even before their wedding day.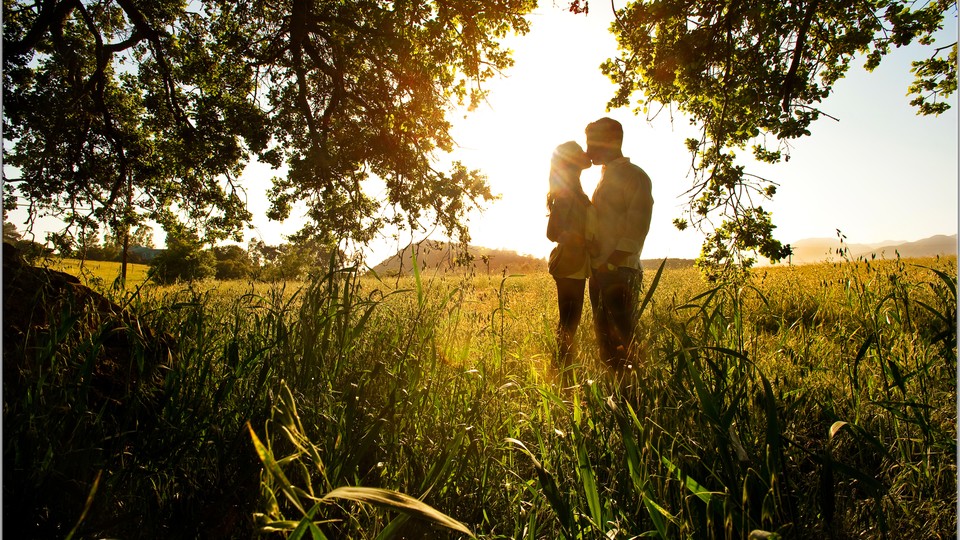 There's a certain type of photo that has slowly taken over many a social-media feed. I've learned to recognize them on sight: a couple wearing coordinating colors, holding each other in a field, dappled with golden light. Or a couple in formal wear kissing in front of a backdrop of blurred-out trees. Or maybe a couple wearing white and holding hands at the beach. (Sometimes, there's even a dog by their side.) What's clogging my feed is engagement photographs.
Engaged couples getting their photos taken isn't new—the practice has been around for decades, starting with the stilted portraits accompanying newspaper wedding announcements. But that's a far cry from what's become the new normal: booking a photographer to do a full-on photo shoot. Typically, these pictures fall into two categories: furtively snapped pictures of the actual proposal, bended knee and all, or—more commonly—staged photos taken sometime during the engagement itself.
There's no hard data on just how popular these photo shoots have become, but it seems that couples feel more compelled than ever to post pictures of their engagement on social media. Around 38 percent of couples surveyed last year by The Knot, a wedding-planning website, said they share pictures and details of the engagement on social media "within minutes or hours." "It's about branding your wedding as an event," says Kathy Cheng, the founder of Thankful Registry, a wedding-registry platform. An even larger percentage of the survey respondents created a wedding hashtag or website, supporting Cheng's theory.
Catalyzed by the rise of social media, engagement photo shoots have become "not mandatory, but kind of mandatory," as one photographer, Lauren Strow, told me. These photos are a way for couples for display their love—or at least a perfumed representation of it—for all to see, and are a symptom of how photographers and the wedding industry writ large shape the marriage traditions cherished by Americans.
---
There's no one standout reason why couples decide to get engagement photographs. For some, it's an essential part of the experience of getting engaged, and worth shelling out the extra money. For others, it's a free add-on to wedding-photo packages they were going to buy anyway.
And, of course, not all engagement photo shoots are created equal: Pictures run the gamut from simple portraits to six-hour-long extravaganzas in multiple locations with multiple outfits, with prices sometimes as high as $1,400 for a session.
One reason in particular that couples enjoy these photos is that many don't have nice, professional pictures together before their wedding day, the Popular Science technology editor and part-time wedding photographer Stan Horaczek told me. These types of photo shoots give couples a chance to take pictures of themselves that actually capture them at the time after they got engaged—happy, deliriously in love—as opposed to the often rushed pictures taken during the wedding itself, he says.
Sasha Rawji, a marketing professional in the Bay Area, is planning on getting engagement pictures taken with her fiancé for precisely this reason. "You're going through this new experience together, trying to figure out this next stage in your life," she told me. "And it's kind of nice to have photos of that."
For LGBTQ people in particular, these photos can also serve as a public legitimizer of their relationships. Tierney Steelberg, a librarian who lives in North Carolina, says that she and her now-wife started dating before same-sex marriage was legalized, and that they're often asked if they're sisters when they're out in public. She told me she loved "having the opportunity to celebrate our relationship in that way, and to be photographed unmistakably and unapologetically as a couple."
Many photographers have eagerly embraced this trend, since engagement photographs are bound to be shared on social media and wedding websites, providing the photographer with invaluable exposure. Eric Lohman, a media-studies and political-economy professor at the University of Wisconsin at Milwaukee, estimates that engagement photos have taken off over the past five to seven years thanks to the ubiquity of smartphones and social media, and also the growing popularity of wedding websites that contain details about the event for guests and feature a couple's "story": how they met and what they do. And probably a photo, or several photos.
But since once shoddy phone cameras have improved so much in recent years, making quotidian Instagrams look near-professional, Horaczek says that many couples want something extra-special for their engagement, to stand out. "You used to just be like, 'Let's take a really nice studio portrait of us,'" he says. "And now it's literally like ... I'm shooting this engagement photo like I'm shooting for a magazine."
"If you're sharing it on social media, you want to appear successful and happy and all of these things, and at some point you don't want your photo to look like your boyfriend took it with his Samsung," Lohman adds.
---
Of course, engagements have just about always been in the public eye: Americans have long been keeping tabs on other people's vows in one form or another. Even the first-ever issue of The New York Times, published in September 1851, included a wedding announcement. Later, these brief notices in newspapers included what the photographer Melani Lust calls the "New York Times shot": a formal portrait with the couple's heads close together and their eyes on the same level.
The normalization of engagement shoots reminds Lohman of another wedding tradition that once sprung up seemingly out of nowhere: diamond engagement rings. Most Americans didn't exchange rings until the 1940s, when the jewelry company De Beers had a surplus of small diamonds it started selling as engagement gifts. "Capitalism transforms itself, and weddings become this institution in which all these little things crop up and people have no idea where these traditions started or what they mean," Lohman says.
There's more money sloshing around in the wedding industry than ever before: Millennials spend an average of $36,000 on the whole wedding process, nearly $10,000 more than couples a generation ago, according to Wedding Wire's 2018 survey. These couples also usually end up exceeding their budget by an average of about 40 percent, and photography is the fourth-priciest category of wedding expenses, behind the venue, catering, and the band. The survey also found that 83 percent of couples plan their weddings online on sites like The Knot and Zola, which may influence couples to spend on engagement photos and other items. As could the norms in their social-media circles.
"There's a reason that, eventually, by looking at what other people are constantly doing on social media, you're going to start to see all of these little things become nonnegotiable, non-debatable aspects of the experience," says Lohman. "If your friend, your sister, or your cousin had professional engagement photos done, then the expectation is that you are going to do the same thing." These hyper-visible "little things"—photo shoots, wedding hashtags, grooms' cakes, spray tans—self-perpetuate, as couples set an example for the people who see their pictures. It might be hard for couples to resist some of the more consumerist excesses of the wedding industry even if they want to—if a wedding is about love, the thinking goes, money shouldn't be a worry. According to a 2014 paper published by two economists, this idea has resulted in the "rise of consumerism and industry efforts to commodify love and romance."
One reason Sasha Rawji is so set on having an engagement photo shoot is that she remembers frequently gazing at her parents' wedding pictures as a child, and she wants her future kids to have that same experience—with staged engagement pictures, she'll be less pressured to get perfect photos taken on the day of her wedding. The wedding industry profits off a hyper-visible wedding culture, yes. But it's also just really special for couples to have nice pictures of themselves.