How Marketers Talk About Motherhood Behind Closed Doors
Two days at the 14th annual "Marketing to Moms" conference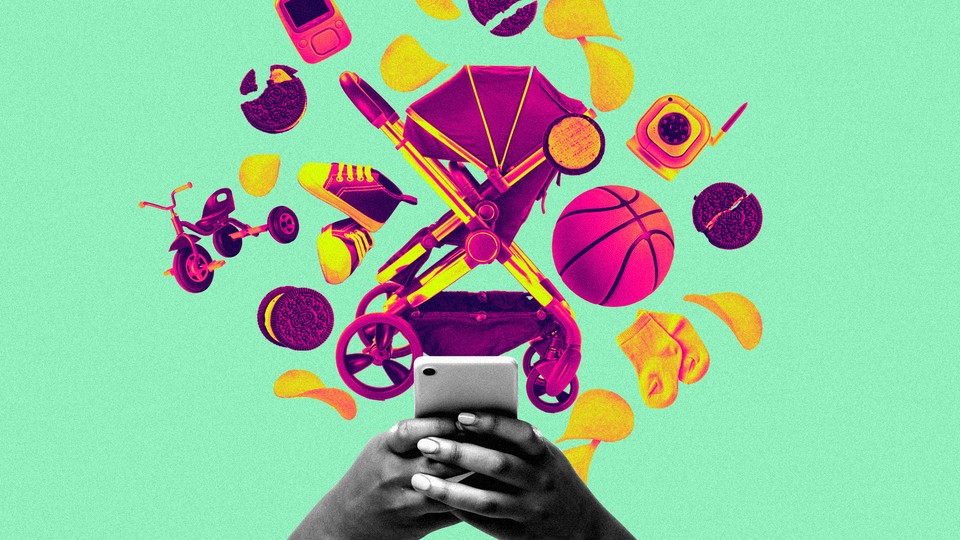 On a recent clear-skied autumn morning, families milled about Rockefeller Center in Manhattan—clasping shopping bags, gazing into their phones, waiting on benches for straggling loved ones—unaware that 31 floors above them, in a sleek meeting space, a room full of marketers were trying to get inside their heads.
"Moms are the most powerful influencers on the planet," said one. "She is caring for new life—she will buy anything for that baby," another said later.
They were onstage at M2Moms, a two-day "marketing to moms conference" in its 14th year. Its 80-odd attendees and speakers—who came from consumer-product companies such as Volvo, Crayola, and Kohl's, as well as from marketing firms—were gathered to learn how to reach, in the words of Nan McCann, the conference's organizer, "the females you want to become your customers once, twice, and always." This knowledge was delivered to M2Moms' mostly female, mostly white audience in the form of presentations with titles such as "From Bras to Booze: The Principles of Marketing to Mom," "Decoding High Stressed Moms—How Brands Can Make a Difference," and "Do You Move at the Speed of Mom?"
The reason companies want to move as quickly as moms is that American mothers are estimated to make the vast majority of household purchasing decisions and collectively spend more than $2 trillion per year. But claiming even a small portion of that spending requires getting through to moms, which in turn requires a great deal of—to employ one of the most frequently used buzzwords at M2Moms—empathy.
It was strange and somewhat disorienting to witness scores of marketing professionals try to cultivate empathy for tens of millions of people, cataloguing their every aspiration and fear and then breaking for a catered lunch. Over the course of about a dozen hours of presentations, panels, and "networking breaks," a bleak depiction of modern motherhood emerged. Today's moms, as marketers see them, are racked with doubt and guilt, and constantly overwhelmed.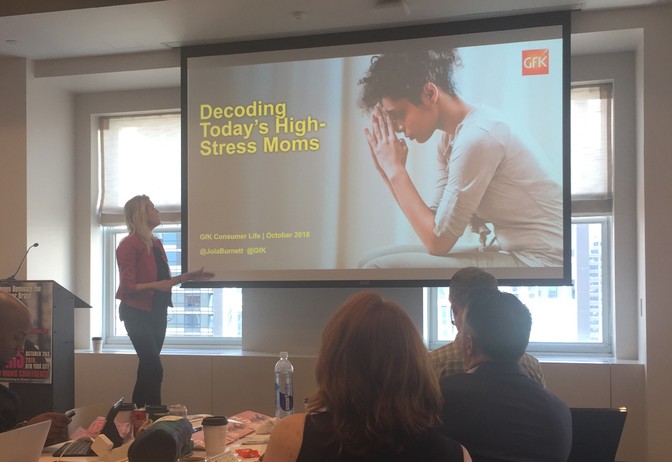 "They're more stressed than they were just a few years ago," said Jola Burnett, a vice president at the market-research firm GfK, as she presented data her company keeps on mothers. She listed the top 10 stressors in Millennial moms' lives, as determined by a GfK survey, and a handful of them were cited notably more frequently by Millennial mothers than by women of all ages: "the amount of money you have to live on," "the threat of crime," "not getting enough sleep." (Another consultant did, however, remind us—quite enthusiastically—that "moms still want to look good!")
"If you can get past those canned answers in a focus group," said another presenter, a consultant named Amy Henry, "what you'll hear is worry"—about buying the right product, instilling the right values, serving the right food. "I look at that," Henry told the room, "and say, 'Gosh, that's an opportunity for that brand' … not ignoring [the worry], not discounting it, not critiquing the mom who has it," she said, but instead trying to, as she put it, "turn worry into wonder."
During her presentation, she rattled off several examples of companies that have performed that alchemy. REI hosts bike-riding classes at its stores, which, according to Henry, "[takes] the shame out of something for children and for parents"—the possibility that one's child is behind schedule on reaching an important milestone—"and [turns] it into a celebration." Oreo started selling cookie gift boxes for special occasions like birthdays and graduations, which, in Henry's analysis, could help allay moms' fears about serving too much junk food; the brand's message, she said, was effectively, "Mom, we're not saying this is your everyday after-school snack—we're saying this is special. This is a moment of wonder."
These examples fit a model of marketing that Juliet Schor, a sociologist at Boston College who has studied consumerism, explained to me before I attended the conference. She told me that parents frequently feel pulled in opposite directions by societal obligations. "The contradictions that people are experiencing in daily life, marketers use," she said, "because the idea is that the product is going to solve the contradiction." Do you want to give your kids snacks they crave but are also worried about their diets? An Oreo birthday box might ease that tension.
When I talked to Henry after her presentation, she framed the overtures that companies make to parents as mutually beneficial. "I think when companies and organizations understand kids and families authentically," she said, "they are more likely to make decisions that are in not just the company's best interests, but in the kids' and families' best interests." She told me that many marketers in "the mom space" today emphasize "honesty, transparency, [and] partnership with the consumer."
Similarly, Meryl Macune, the senior vice president of global marketing at Kids II, a baby-products company whose brands include Baby Einstein, said during a panel discussion that marketers should aim for a less "transactional" and more "immersive" relationship with moms. At one point, she said that new motherhood is "one of the most transformative times of their lives, but I also like to say it's one of the most vulnerable times … How can we help those new moms on this new journey?"
As marketer after marketer positioned themselves as partners in the harrowing project of motherhood, one got the sense that brands must prostrate themselves before the sensible but stylish shoes of the stressed-out mom. Do not begrudge the mom for her temporary inability to see the value in your product, the moral of M2Moms seemed to be. Only when you acknowledge that her life is hell will she be open to what you'd like to sell her.
It seemed to me, though, that marketing probably adds to mothers' stress. I asked a few attendees if this was something they worried about—and for the most part, it wasn't. "I don't think that marketing and branding stresses them out," said Stephanie Sudol, who works for Buybuy Baby, a chain owned by Bed Bath and Beyond. "I think it's about focusing on what they care about, and that's things that relieve their stress, like our expert customer service and like our in-store services or online shopping."
M2Moms also afforded me the unusual opportunity of watching advertisers watch ads. Around lunchtime on the first day, McCann, the conference organizer, played a video from Country Time Lemonade's "Legal-Ade" campaign, in which the company pledged to provide legal support to any child whose lemonade stand had been shut down by draconian local ordinances. The commercial got lots of applause, and I heard a "That is awesome!" emanate from a nearby table. And McCann opened Day Two with an "inspired spot" for Lysol ("Protect like a mother") that also elicited claps.
Another moment of intra-industry approval came at the end of Day One, when the "Mom First Award" was bestowed, for the first time in conference history, on a dad. After McCann called his name, Kurt Workman, the CEO of a company called Owlet, walked up to the stage to claim his award. His accomplishment: helping conceive and then sell a $300 internet-connected sock that tracks a baby's heart rate and oxygen levels. "What moms go through is at such a bigger, harder level than even some of the most elite military groups, and I wish we could honor every single mom," he said in his acceptance speech. "I just feel lucky to be able to market to moms," he added.
As for me, though, I did not leave the conference feeling particularly equipped to market to moms, even after two days of hearing people talk about doing it. Where would I find the moms? What medium would I use to reach them? Most importantly, what on Earth would I sell them to solve their problems? The conference, of course, was not about how to, say, start an ad campaign on Facebook—everyone else at M2Moms presumably knew how to do that—but it did offer one telling example of how the data that tech companies collect has changed the project of marketing.
Near the end of the second day of the conference was a presentation from Ariel Segal, the head of insights at Foursquare, which makes an app that lets users "check in" at various locations, and which, like its tech-industry peers, collects loads of data about people's real-world behaviors. "We believe that the best indicator of who you are is where you go in the real world," Segal told the audience, before explaining how users' check-ins could reveal unexpected patterns, like the fact that urban moms are more likely to go hiking (or at least check in at a trail) than other women. Given how sheepish many tech companies are these days about the data they collect, it was surprising to hear Segal talk not just candidly but excitedly about Foursquare's trove of data, including measurements of "visit frequency" and "dwell time."
As my own dwell time at M2Moms came to an end, I realized that only twice during the conference did presenters bring up non-consumerist solutions to the predicament of modern mothers. The first was when one panelist noted that her company works with a bipartisan policy center in Washington, D.C., that advocates for paid family leave and higher-quality early-childhood education. The second was when another panelist, the CEO of a website called BabyPage that lets parents track their kids' milestones, reported that her users were frustrated by a lack of universal paid maternity leave and high-quality, affordable child care. "Most companies don't actually solve any of those problems directly," she noted. Still, she went on, "you have to connect with that mom and let her know that you feel her pain and that you understand her struggles." But for the time being, the only solution most companies are offering for that mom's struggles is to keep on spending.