Trick-or-Treating Isn't What It Used to Be
Instead of going door-to-door on Halloween night, many parents are taking their kids elsewhere to get candy.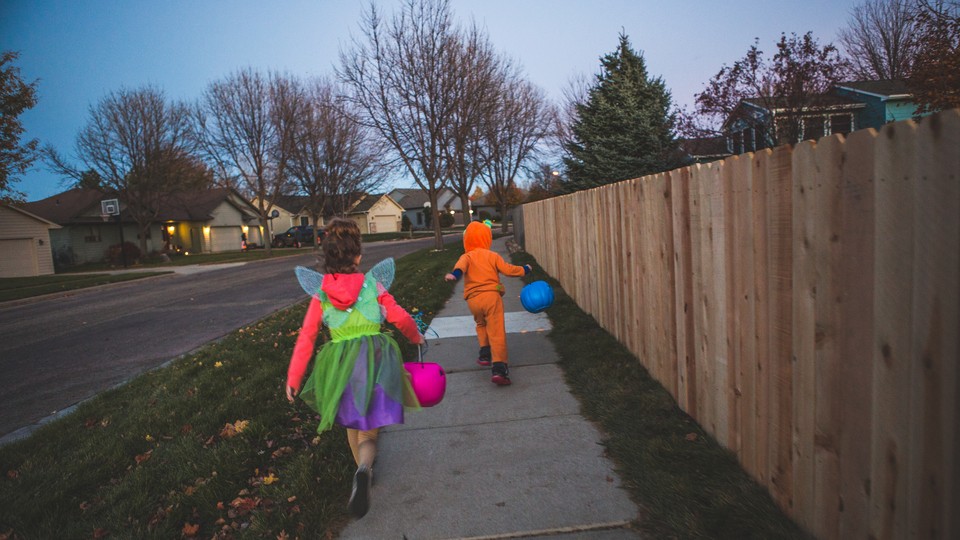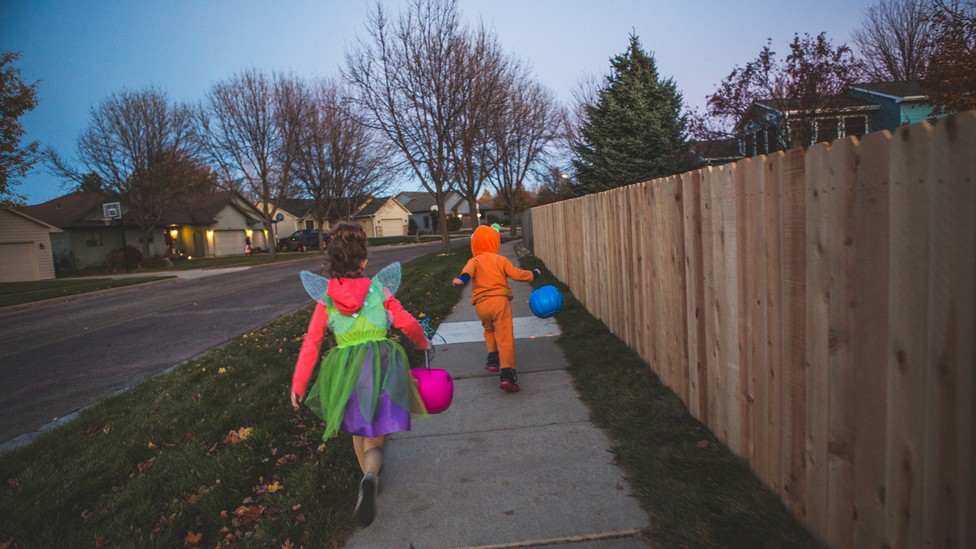 Nostalgia is a fun-house mirror, so any claims that "back in my day, we went trick-or-treating until midnight with no parental supervision," while kids these days are forced to make do with half an hour of highly supervised trick-or-treating before sunset, are surely a distortion.
Still, it seems like the tradition of going door-to-door demanding candy is not quite what it used to be for many U.S. families. Over the past couple of years, as Halloween has come and gone, low turnout in their neighborhoods has led people to wonder annually on social media if trick-or-treating is dying. Local news outlets across the country have also reported anecdotal observations of fewer trick-or-treaters in their communities.
"I always count how many trick or treaters we get, because my mom did that growing up, and we get fewer than 10 every year," says Castina Wingard, a 30-year-old stay-at-home mom who lives in Silver Spring, Maryland. "We have tons of kids in our neighborhood. Our lights are on, and we have jack-o'-lanterns out, and nobody really comes to our door."
It may well be that some of these observers just aren't around when local kids are trick-or-treating. Many cities have official trick-or-treating hours that may fall on a weekend rather than October 31, or which end in the early evening. And as CityLab recently reported, some towns even have ordinances forbidding teenagers to trick-or-treat, significantly cutting the eligible candy-grubbing population. But there are some other forces that may be diverting kids away from the sidewalks and leading them to seek candy elsewhere. What seems to be happening, to misappropriate the law of conservation of mass, is that the amount of trick-or-treaters remains the same—it's just that trick-or-treating itself is changing its shape.
According to data from the National Retail Federation's annual Halloween survey, the number of American adults who say they're planning to take kids trick-or-treating has hovered around 30 percent since 2005. But the NRF doesn't break that data down between parents and nonparents, so many of the respondents not planning to trick-or-treat may just not have kids. Indeed, a 2011 survey by the nonprofit Safe Kids Worldwide found that 73 percent of parents take their kids trick-or-treating, so the tradition is still going strong.
"I don't think there are fewer kids trick-or-treating," says Lesley Bannatyne, a historian of Halloween who's authored several books on the holiday. "I think they're trick-or-treating in different places."
Some of that, she suspects, has to do with changing neighborhoods. Americans are less likely to know and regularly interact with their neighbors than they were in previous decades, according to a 2015 analysis of General Social Survey data.
It's worth noting that the image of "traditional" trick-or-treating—costumed kids parading down sidewalks, hitting house after decorated house—has only ever really been endemic to American suburbs. Kids who live in cities often trick-or-treat in apartment buildings, and in rural areas where houses are more spread out, Bannatyne says, parties, bonfires, or other centralized gatherings are often more practical alternatives for families.
Still, "suburban trick-or-treating is a bit more in flux than it ever used to be," she says. "When you don't have kids and you don't know your neighbors, you're less apt to turn on the light and put out a bowl of candy. And the kids who are looking for Halloween neighborhoods look down their street and they only see one light, and they just don't bother."
Bannatyne thinks this leads certain neighborhoods—those with enthusiastic, Halloween-oriented community spirit and perceived as "safe"—to become trick-or-treating hot spots, while others become candy deserts. But many parents are opting to skip the sidewalk parade altogether, instead taking their kids to more contained trick-or-treating events hosted by businesses or community centers. "That trick-or-treat experience has changed," says Ana Serafin Smith, a spokesperson for the National Retail Federation. "Instead of trick-or-treating at people's homes, they'll trick-or-treat at stores. Small businesses are participating; malls are offering unique events."
Another popular alternative is "trunk-or-treating"—in which community members circle up their cars, fling their trunks open, decorate them, and fill them with candy, and then have their kids make the rounds in a parking lot. Trunk-or-treats were first granted the New York Times trend-piece treatment in 2006, and they seem to have grown in popularity across the country since then.
This year, Castina Wingard hosted a trunk-or-treat with the military spouses' club she's the president of, and she and her husband took their two young daughters, who dressed up as flamingos. While last year her family did door-to-door trick-or-treating, Wingard says she prefers the trunk-or-treat, because she lives on a busy road in a neighborhood with no sidewalks. "It's just a hard area to take your kids around in the evening hours," she says.
Safety concerns are one reason families opt for a contained trick-or-treat experience—and car accidents are a real danger. One recent study found a 43 percent increased risk of pedestrian fatalities on Halloween. But Smith thinks the biggest driver of these trick-or-treat alternatives is that they're just easier for parents. "Instead of trying to find the right street of homes that are participating in trick-or-treating, let's just go to one of these many events that are happening where my child can enjoy the traditional experience with a slight twist," she says.
Trick-or-treating isn't dying out; it's just evolving. Certainly, candy is still integral to the Halloween experience—according to the NRF data, spending on Halloween candy has more than doubled since 2005—and kids likely don't much care how they get it, as long as it ends up in their mouths.
But "if you're just an average person who doesn't have kids and you're observing your neighborhood, you might see fewer trick-or-treaters than you used to," Bannatyne says. "Because they're going somewhere else."