Adults Can Get Homesick, Too
When young people start their own lives, they often miss where they came from.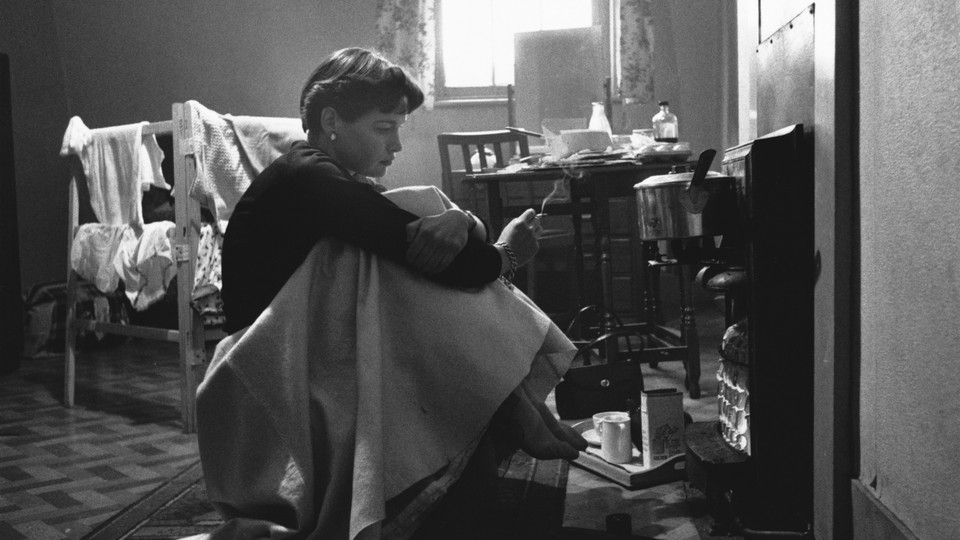 Travis Wannemuehler hasn't lived in his home—well, his parents' home—in seven years. At 24, he's checked all the boxes of an independent, successful young adulthood: He has a social life, an apartment, and a job that pays the bills.
And, like other adults his age, he has pangs of wanting to go home before realizing he's in his home. He's homesick.
A swirl of emotions such as nostalgia, anxiety, and longing, homesickness isn't typically considered an adult thing. It usually evokes experiences like watching your parents drive away after dropping you off at camp or restless first nights in a college dorm room. Confessing to homesickness as an adult can feel like admitting that you've failed as a grown-up. But Meg Jay, the author of the best-selling book The Defining Decade, says homesickness is a common feeling among the 20-somethings she's worked with as a clinical psychologist for over two decades.
"We think of the 20s as being a wildly social time," Jay says, "and in many ways they are. There are parties and brunches and roommates and lovers. Yet, paradoxically, we also know that the 20s are one of the loneliest times of life." A recent study of more than 20,000 adults in the U.S. found that those ages 18 to 22 are most likely to be lonely. There's a stigma about feeling homesick as an adult, but given that early adulthood is a time of uncertainty and identity formation, it shouldn't be so surprising that it lingers beyond childhood. But that doesn't mean homesickness is or has to be a wholly bad thing—it can also be clarifying for budding adults trying to figure out their lives.
A big reason that homesickness can stick around is that our 20s is often a time of rootlessness. In fact, Millennials, despite moving less often relative to earlier generations, are more likely than other Americans to pack up and head out the door. Mobility peaks in the mid-20s, when about 35 percent of Americans move, and 41 percent of Millennials qualify as so-called vacation movers, meaning they live in a place they don't intend to settle in permanently.
"It wasn't like I was sad or depressed or anything like that," says Wannemuehler, who relocated from North Carolina to Baltimore for a job in 2016, and is preparing to move again. "I guess it would be like missing the comfort of knowing, no matter what, everything is going to be okay."
Homesickness is caused by the brain's desire for routines and attachment systems. That means it's not so much about a literal desire to pack up and return home as it is about the sense of security and comfort associated with home.
"If something happens, a little kid will run to their parent for security," says Miranda van Tilburg, a professor at Campbell University who has researched homesickness. "Home, and later our romantic partners, become that for us as well. It becomes our security blanket in a way. So that if something happens, we can run home and just be ourselves. You're there, you're secure."
That "security blanket" is a crucial part of what homesick adults miss. "I couldn't name three people that I hung out with for the first three months," says Wannemuehler of his move. That's echoed by 26-year-old Tess Funke, a dentist who moved from Kentucky to Arkansas. "You were surrounded by the same group of people," she says of the bonds formed during dental school. "Now that I'm here, I'm homesick for a city that almost doesn't exist in a way, because most of my friends that made it what it was for me are gone."
The stereotype around homesickness is that if you find yourself craving comforts of the place where you grew up, you're not succeeding as an adult. "Maybe they aren't yet where they want to be in terms of place," says Jay. "Maybe, even though they have relationships and friends and apartments, these still feel uncertain and temporary, which is the nature of the modern 20s." Yet while 20-somethings might think their peers are eager to move around and slowly settle into their lives, stability and a sense of home—once culturally regarded as signs of a "boring" life—are actually becoming more popular among Millennials.
Often there's a difficult trade-off for young adults about choosing what to prioritize, and when: Should they head to a new place for more job opportunities, or keep the comforts of home close by? But the near-universal experience of packing up your life in boxes and leaving behind the familiar for uncharted territory should encourage a reconsideration of homesickness: It's a side effect of life's growing pains, not a character flaw.
And regardless, homesickness can actually help young adults figure out their futures. Nostalgia makes us more generous and more optimistic about the future, and can combat loneliness.
"Sometimes homesickness is a signal that you're missing something or wanting something, and it is okay to listen to that," says Jay. She mentions a client who lamented wanting to "just go home" to live closer to her family. "But with the just, she was painting that choice as a disappointment rather than as something that could be a positive step for her when the time was right," says Jay. The benefits of homesickness can go both ways, clarifying priorities about the future and encouraging immersion in a new place to establish new routines and relationships that can quell the feelings of homesickness.
At the very least, homesickness is a testament to the power of connections to family and place. "Recognize that none of this may feel quite like what you're yearning for, but that is the nature of the modern 20s," Jay adds. "It does not mean you're doing something wrong."
In other words, for young adults still figuring out their lives and deciding what to call home, there's solace to be found in knowing that homesickness means there's something worth missing.