What Parents Know About Beach Week
Parties. Binge drinking. Sex. Beach Week is a beloved high-school tradition across the East Coast—but where are all the adults?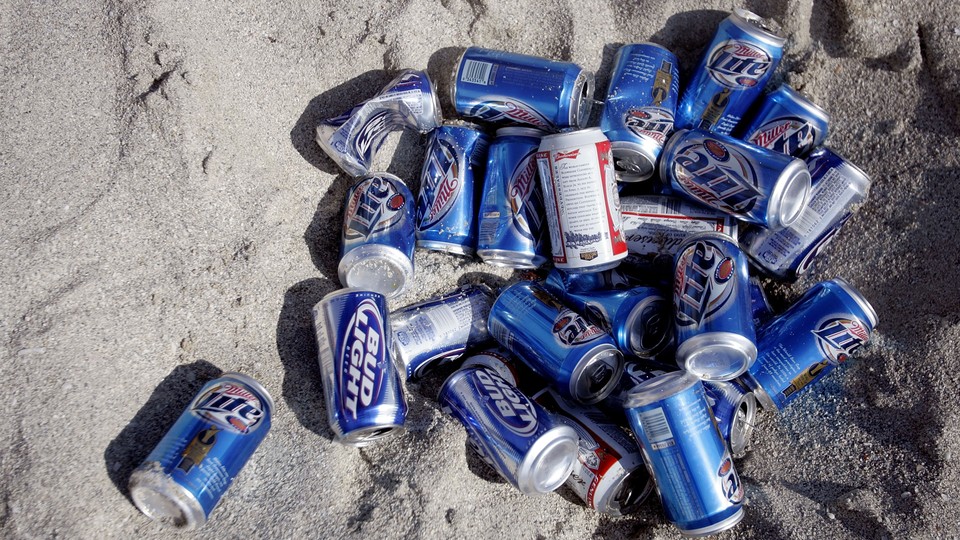 This week, as the Supreme Court nominee Brett Kavanaugh faces an array of accusations about actions from his youth, the country is discovering one long-standing tradition at his high school beloved by many of his fellow East Coasters: Beach Week. Just as school lets out for the summer, teens escape to beach houses up and down the mid-Atlantic to hang out and party before they part ways and depart for college. For decades, Beach Week has been an annual rite of passage for mostly suburban upper-middle-class high-schoolers: By one estimate, about half of graduates at some schools attend.
But the kids aren't mostly reading Plato by the ocean during the excursion—Beach Week is frequently a time of out-of-control parties, binge drinking, and sex. According to a 1996 study in the journal Archives of Pediatrics and Adolescent Medicine, three-quarters of female Beach Week attendees reported being drunk every day. Nearly half of the girls surveyed reported having sex while they were there, and 86 percent of the girls who did were drunk at the time. The teens that descend upon idyllic beach towns often cause damage to rental properties and mayhem in local neighborhoods.
On Tuesday, Julie Swetnick alleged that Kavanaugh was present at a Beach Week party in the 1980s where she was gang-raped, an accusation that he denied as a "farce" in a congressional hearing on Thursday. And in a calendar the judge released that he claims exonerates him from charges of sexual assault levied by Christine Blasey Ford, Kavanaugh scribbled "BEACH WEEK" in big all-caps letters for a week in early June of 1982.
(At the hearings, Senator Sheldon Whitehouse asked Kavanaugh why an inscription in his senior yearbook page named him as "Beach Week Ralph Club, Biggest Contributor." As Kavanaugh clarified, this was in reference to his having vomited from drinking alcohol during Beach Week.)
But there's still one big question about Beach Week, then and now: Where are all the grown-ups? Beach Week festivities can get rowdy and lead to arrests or hospital visits, and some parents turn a blind eye while others try to come along as chaperones or entice their kids with other, less risky options for a weeklong getaway.
Alexandra Lescaze, a 1988 graduate of the National Cathedral School in Washington, D.C., who wrote about her experience of the private prep-school party scene earlier this week for Slate, attended Beach Week as a sophomore in high school. She told me that parents had little involvement with any part of Beach Week—even the rental houses students stayed in, before the advent of services like Airbnb, were booked by older siblings of the students.
"I'm not sure why they let us do this," she says. "We must have lied and said someone's parents would be there, and they must have believed us. But there were never any parents at the houses. They were rented by teenagers, and they were full of teenagers." And law enforcement didn't usually take things seriously either when the parties got out of hand, Lescaze adds: "You got arrested, they took you to the police station, they would just say something to you and basically let you go."
One reason that parents might have been willing to let kids go on Beach Week in the '80s, when both Lescaze and Kavanugh went, is that they were generally not so concerned about underage drinking. "The parents were really checked out," Lescaze says. "In certain cases they went away for the weekend to their beach houses or country houses, and that's how they left these empty houses in D.C. for us to party in on the weekends."
But that doesn't mean that parents' views about Beach Week have changed all that much in the ensuing  years. In 2003, just after she'd finished classes at Sidwell Friends School—an elite private school in Washington, D.C.—Deborah, who is being identified by just her first name in order to speak freely about her underage drinking, left town for Beach Week at Rehoboth Beach in Delaware. Her parents, she says, weren't terribly concerned—but then again, they might not have been completely aware of what exactly took place during the vacation.
"There were definitely a couple parents my year who wouldn't let their kids go, and went out of their way to tell other kids' parents not to let them go," Deborah says. "I think a bunch of us who had parents that just weren't really in the loop just kind of convinced them that [binge drinking] was only what the craziest kids did."
"I was hiding the fact that I would get drunk when I went to parties," she adds. "But it seemed pretty accepted in certain other parents' minds that their kids were drinking. They didn't seem to care that much."
But by the time Deborah's sister Emily, who's also being identified by just her first name, was ready to go to Beach Week four years later, her parents had wised up, enticing her with an alternative: a trip to New York to see a Broadway show. Emily ended up glad she didn't attend Beach Week: 33 students from Sidwell Friends were arrested in Rehoboth Beach that week, according to a news report from the time, and 25 were charged with underage drinking.
Still, with powerful parents, all the students walked at the graduation ceremony just days later, Emily says, and little was heard of any further sentencing after the arrests.
In addition to the strict "you're not going" parents and the lenient "sure, have fun" parents, though, there's a third camp of parents that Beach Week veterans identify: the "we trust you to be responsible" parents, or the "hoping for the best" parents.
Susan Coll, the author of the 2010 novel Beach Week and a mother of three Beach Week attendees, remembers getting briefed by law-enforcement officials alongside other parents about the risks of Beach Week—a practice that's been well documented throughout the 2000s.
"Parents think they can come together as conscientious, well-intentioned adults, and legislate teenage behavior," she adds. And yet, "the same thing seems to happen year after year. Kids go off and some of them are fine, and they do what one hopes they would do: bond with their friends and enjoy the sea. But there's always—every year, it seems—an element of bad behavior. And there's a way in which this has become normalized."
Coll says that many Beach Week trips have chaperones, usually parents, staying nearby or even with the students. But sometimes that backfires, like in 2013 when Maryland Attorney General Doug Gansler, then a candidate for governor, was photographed with drunk teenagers at a Beach Week party he did not break up.
This week, Alexandra Lescaze told me, has caused her and her classmates to "grapple" with how Beach Week has survived as an annual tradition. Today, she says, "it just sounds so crazy."