Hurricane Season Is Especially Hard for Farmworkers
Flooding from the latest storm highlights a particularly vulnerable population.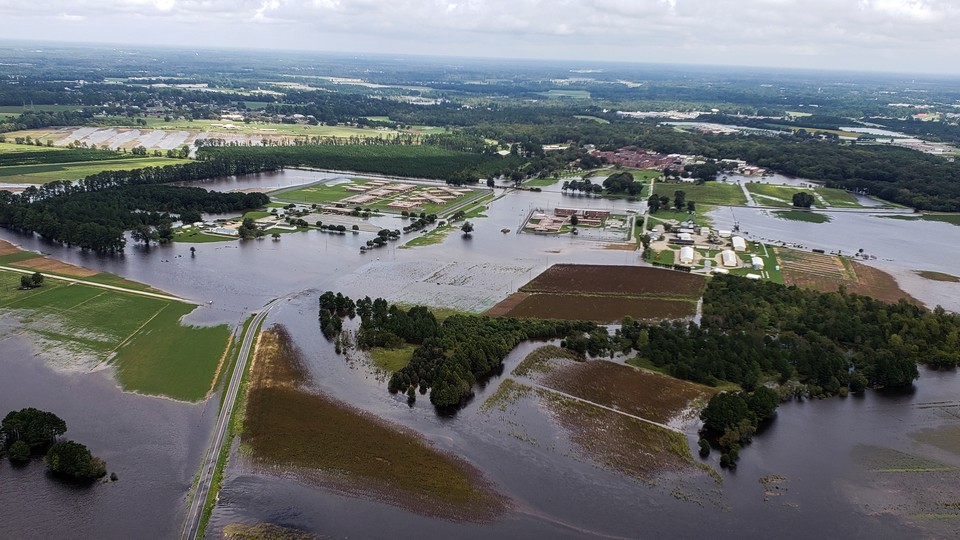 Gloria Castillo Luna, a single mother of four living in Faison, North Carolina, evacuated her family from the home she rents to a shelter just before Hurricane Florence hit a little over a week ago. Luna and her kids had a terrible experience during a storm two years ago, so she knew the shelter was worth the trip. "After my experience with my children during Hurricane Matthew, which felt very dangerous, I knew that we should go," she said on the phone through a translator. "I did not want to put my children at risk."
But when the family returned to Faison last Saturday and began to assess the damage, their troubles were just beginning. Luna, a farmworker who usually works the sweet-potato harvest, is most likely out of a job. "Now that all of the fields are flooded, I won't be able to find work easily," she told me.
Though the storm has passed and the skies are clear, the floodwaters in North and South Carolina continue to ravage towns and farmland: In some areas, the water has yet to recede. While the storm has been devastating for millions in the region, for farmworkers like Luna whose livelihood is dependent on crops to pick and whose legal status often creates fear around contact with the government, the storm has proven especially crippling.
Because of all the flooding, crops in the area have been destroyed. "They are under feet of water—not just one foot, but under multiple feet," says Melissa Bailey Castillo, who works with migrant workers at the Community Health Center in Kinston, North Carolina. The state is the country's largest producer of sweet potatoes, and the storm could not have come at a worse time, since late summer typically marks the start of the sweet-potato harvest.
In North Carolina, 75 percent of the cash crops are grown in the eastern part of the state, where the flooding has been most severe. An estimated 150,000-plus farmworkers pick these crops, often by hand: Most are immigrants or migrant laborers from Central America, and around half are undocumented. Their jobs are already plagued by uncertainty, and now Hurricane Florence could thwart what is usually the most lucrative time of the year.
When I first spoke with Castillo last week, she was driving around Raleigh buying supplies for affected farmworkers. But because of the flooding, she wasn't able to deliver the supplies until Sunday. "I could get to work yesterday and I could not get to work today," she told me. "Water is literally over Highway 70." Justin Flores, of the Farm Labor Organizing Committee, says some farmworkers remain in a shelter in Kinston, since many in the area still lack power, water, and cellphone service.
"Finding work is going to be really difficult for the families we serve," says Patty Kingery of the East Coast Migrant Head Start Project, which serves farmworkers and their families. "We have a lot of families who will not have work for the remainder of the season, while the more mobile families are going to seek work elsewhere."
Workers were pulled from the fields five days before Florence hit. "They already went a week without work and now, after this massive hurricane, they don't even know if they have a job, period," Castillo says. Many workers weren't even aware that the hurricane was coming and hadn't been told the reason they were being sent home. And when it was time to evacuate, immigrants to the area also didn't know where to go or how to get out.
But beyond the loss of work, migrant farmworkers face other perils from the storm. They often live in shoddily built trailers in labor camps—or campos, in Spanish—that are especially vulnerable to storms: Even in the best of times, running water and functioning electricity isn't always a given.
Daisy Aguado-Chavez, who works on a hog farm in North Carolina, evacuated the campo she lives in with her two young children. Unlike those working in the fields, she was expected to work during the storm, and without any better options, she took her kids with her to work. "We were in a little office and it started flooding from the bathroom and coming toward us," she said. "We couldn't do anything about it."
Castillo said that most of the trailers in the Kinston area were flooded, and a few were completely destroyed. Jenny Guzman of the East Coast Migrant Head Start Project told me that some migrant families had evacuated their trailers and did not know when they could return home. As they go about rebuilding their life, undocumented workers are reliant on the aid of organizations, since they are often reluctant to seek government assistance to repair their homes.
The uptick in immigrant enforcement under Donald Trump has also led workers without legal documentation to question whether to head to a shelter or seek help at all. Before the storm hit, a Federal Emergency Management Agency administrator said in a news conference that the agency could not "guarantee" that immigrants in shelters wouldn't be detained and handed off to Immigration and Customs Enforcement authorities.
After the storm hit, Border Patrol agents swarmed to Kinston to help out with recovery efforts—causing panic among the migrant farmworkers in the area and scaring away some of them from seeking shelter. "I think the minute Border Patrol showed up, the shelters were out of the question," Bailey Castillo said about the workers. "They are going to find someone who is high and dry where they can stay, or not leave their homes, even if they don't have enough food or water."
When the waters do recede, the immigrants have a long few months ahead of them. Luna, the sweet-potato farmworker, wonders how she is going to provide for her children. "I am worried about work, especially thinking about winter coming and the rain continuing," she says. "But we just have to keep going."