How NBA Moms Help Their Sons Deal With the Fame and Fortune
The realities of professional basketball can be daunting for players and their families alike. A close-knit network of mothers helps them through it.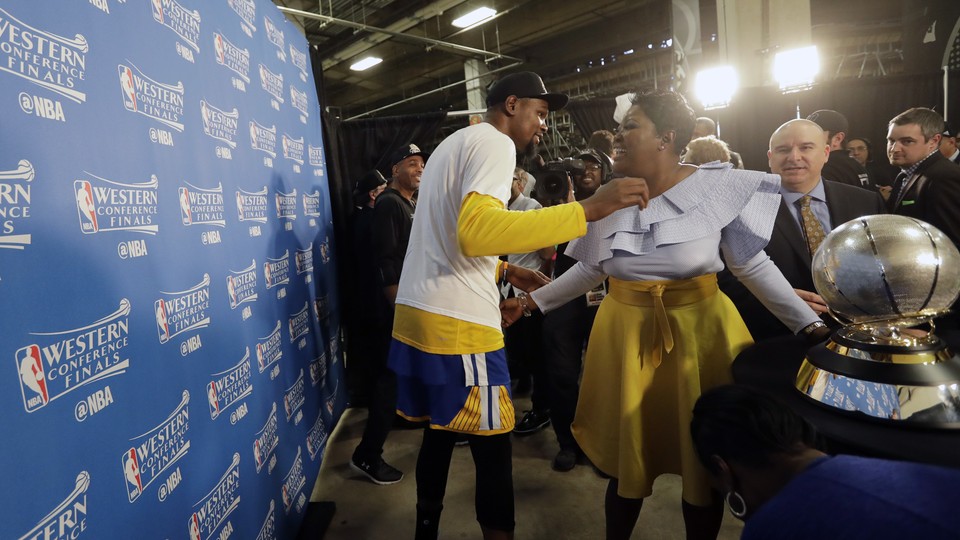 When the 21-year-old Georgetown University basketball star Roy Hibbert was drafted into the NBA by the Toronto Raptors in 2008, then traded immediately to the Indiana Pacers, it wasn't only Hibbert who didn't know what to expect. Neither did his mother. "It was my only child," Paddy Hibbert told me. "It was hard for me to see him go out there and face that world of competitiveness, of traveling." Hibbert wanted to help, but what did she know about the NBA? Unable to think of anything better, she found a general contact number for the NBA's headquarters in New York, and phoned to ask for guidance. But the man who answered couldn't help her.
Then, through a helpful youth coach, she found a number for Marsha Mason Wonsley, whose son, Roger Mason Jr., played for the Washington Wizards. Wonsley told her about an organization called Mothers of Professional Basketball Players, or MPBP. An upcoming meeting was to be held in Las Vegas. Hibbert flew out from Washington, D.C., to seek advice. As the mothers introduced themselves one by one, Hibbert stood nervously. "I'm Roy's mom," she told the hundred-odd women who had assembled. "Little Roy. He's 7 feet tall."
Started in 1996 as a collaboration of 23 mothers from around the NBA, today MPBP is open to mothers of players in the WNBA, the G League (the NBA's version of the minor league), and professional leagues abroad. Early members included the mothers of Jason Kidd, Kevin Garnett, Vince Carter, and Shaquille O'Neal. Current members include the mothers of today's stars such as Kevin Durant, Chris Paul, and Dwyane Wade. MPBP is made up of about 100 mothers, each of whom pays annual dues of $300.
For the mothers, the opportunities in joining are substantial. In the NBA and other professional leagues, for players as well as their families, basketball is a business: Life-changing contracts are at stake, and publicly. The first pick in this year's NBA draft, the 20-year-old Deandre Ayton, will make almost $30 million in his first three years in the league, not counting endorsements. Though the average salary for players in the NBA is higher than in peer leagues such as the NFL or MLB, the men signing these contracts are still young enough that they have only recently become eligible to sign such contracts at all. "He was 18 when he was drafted," Shelly Davis Gordon says about her son Aaron Gordon, who plays for the Orlando Magic. "He didn't turn 19 until they were in preseason. You're really putting a kid into an adult world, and you're not there to watch over them."
The realities of that world can prove daunting. A player signing with a new team must relocate to an unfamiliar city, establish a home, enroll any children in school—and then do it all over again if he is traded. He needs an agent, a lawyer, an accountant, and an investment manager. Now come endorsement offers—from sandwich shops, car emporiums, tuxedo rentals. Now come strangers with investment opportunities: Here's a deal where, if you get in now, the sky is the limit. We only need one or ten or a hundred thousand dollars up front. What's that money to you? Aren't you rich now?
"The moms share those situations," says Mona Lawton, the mother of the retired NBA player Al Harrington. "After draft day, vendors come aboard. They want to sell them watches, jewelry, cars. They want to sell them dreams. There's a lot that people don't see. It's really hard to know who to trust." While transitioning into the league, some players phone home three times a day. More than a few, dismayed by their initial experience with an agent, benefit from their mother learning what to expect: What percentage of a paycheck is an agent due? What's a given agent's reputation? Others, considering a switch from one agent or manager to another, benefit from their mother learning what paperwork is required. At regional and national meetings, MPBP offers those mothers workshops and guest speakers on financial education, as well as recommendations for reliable accountants.
To have a child drafted into the NBA or WNBA can be as disorienting of an experience for families as it is for the players themselves. "When your life changes overnight, it can be scary," says Lucille O'Neal, the mother of Shaquille O'Neal and a former president of MPBP. "The best place to learn is from each other. Deloris, Michael Jordan's mom, and Charcey, Charles Barkley's mom—I'll never forget what I learned from those two women. Some of us have gone through the very same experiences, and we felt we could be a help to one another."
Camillia Ratliff-Eatman, the current president of MPBP, was living in Demopolis, Alabama, when her son Theo Ratliff joined the NBA in 1995. "It was the highlight not just of our lives, but of the city," she says. "When Theo got drafted, oh my God. The police, the fire trucks—their sirens were going off like it was a warning for World War III. That's how exciting it was." Particular challenges often follow. Extended friends and family assume that mothers have unlimited merchandise to give away. Besides empathy, MPBP offers suggestions for how to politely decline. More than one mother suggested to me that as much as she loved her friends outside of basketball, she sometimes felt alienated from them, simply because it was in poor taste to complain about your son overspending after receiving a multimillion-dollar contract. Some mothers are interested in starting their own charitable foundation, and want to learn how; others want familiar company at games; others, with a son at a later stage of his career, want to learn about retirement. It isn't unheard of for a player who is new to a city to be invited to the home of a mother in MPBP, especially during the holidays.
---
Members of MPBP are organized into five geographical regions, each under the guidance of a director. Moms who live in nearby towns often attend church together, or get coffee, or visit the movies. A mentoring program started last season matches veteran mothers with rookies. Faye Billups, the mother of the retired all-star Chauncey Billups, is now a mentor to Bernadette Stephenson, the mother of Lance Stephenson, who was traded recently to the Los Angeles Lakers. If Bernadette Stephenson has a question, Faye Billups often knows the answer; if she doesn't, she knows who will, as well as her phone number. In MPBP is a network that can vouch for certain names and warn away from others. A player who suffers injury might need references for a surgeon. A player with visiting family might need help finding spare tickets to a game. A player who is benched or shooting poorly might simply need support. Not every parent has the same insight into the game: Roy Hibbert didn't always play in his rookie year with the Pacers, and Paddy Hibbert often wondered why. "And another mom might say, 'Well, the other team went smaller,'" she told me. "This is how I learned." She was able to pass on advice to Hibbert, and in 2014 he was a runner-up for Defensive Player of the Year.
Since MPBP was founded two decades ago, a similar group has sprung up for fathers, and another for wives, but neither is as organized or robust. (Similar organizations also exist in other professional sports leagues, including the NFL, where the Professional Football Players Mothers Association was founded in 1998.) One reason is that more than a few players in the NBA and WNBA were raised by single mothers, including stars such as LeBron James and Kevin Durant. "A lot of these kids have really leaned on their moms, and have really had to," Shelly Davis Gordon says.
Regardless, by the time a player is drafted, something special in the relationship has often occurred. To play basketball at so elite a level—to do just about anything at so elite a level—is to have a parent or loved one who sacrificed, who rose early to drive to practices, who spent countless weekends on the bleachers of stale, drafty gymnasiums, through youth leagues, through middle and high school, and often through college. That relationship doesn't dissipate when players make it to the NBA: To support it is a goal of MPBP.
"It's a big sisterhood," Kim Warren, whose son Andrew Warren plays professionally in Germany, told me. "You can feel, when you are entering the world of professional sports, like you're the only one. But knowing there's an organization of mothers who are dealing with the same exact things you're dealing with can help with the fear and anxiety. You're not out there alone."