When the Happy Couple Registers for Cash
As couples postpone getting married, some are forgoing old-fashioned wedding registries and instead just asking for money.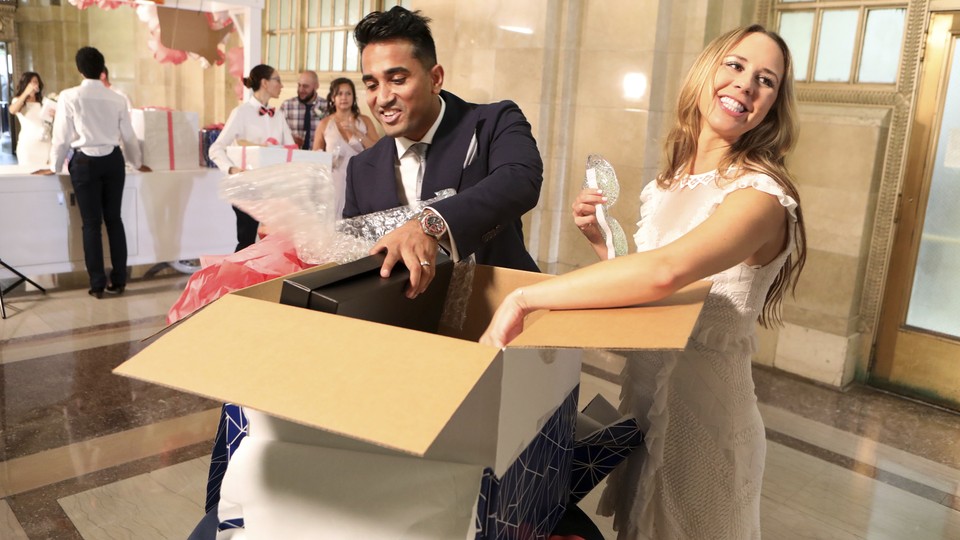 When David McGuiggan told his mother that he and his fiancée would be requesting cash gifts for their wedding last October, she was less than enthusiastic, he remembers. He got the impression that she found the practice uncouth and a little desperate. "For her generation, it was greedy, like you're begging for money," McGuiggan says. "Back then, you were gracious to receive three different irons, which really happened to my parents."
"We don't need three irons," adds Meily Mendez, his now-wife. "We already have two."
The couple had lived together for six years before getting hitched, and had already acquired all the irons, dinnerware, and bathroom towels they'd ever need. So instead of a traditional wedding registry—a wish list commonly composed of home items the couple deems necessary for starting their life together—McGuiggan and Mendez opted to just ask for money they could put toward hotels on their honeymoon and use to offset some wedding costs.
The pair collected money through Honeyfund, an online wedding registry that lets guests electronically contribute money to projects, excursions, and expenses as decided by the betrothed. Couples raise money for milestones such as fertility treatments, home down payments, and honeymoons—but even more trivial items such as Amazon gift cards and gas for road trips. (Couples also can request money for no specific goal.) The result is a swirl of online retail registry common at stores such as Williams-Sonoma and Macy's with a digital fund exchange such as PayPal or Venmo.
Cash wedding registries—though once, and occasionally still, considered tacky—are slowly gaining traction. A survey by the wedding-planning website The Knot found that 6 percent of engaged and recently married couples in 2017 opted for money in lieu of traditional wedding gifts. Although still a small number, the trend is gaining steam: Cash gifting is up from 3 percent in 2013. As Americans marry later and face challenges such as ballooning median home prices and inescapable student-loan debt, many couples see cold, hard cash as a more enticing and pragmatic option for their weddings.
Wedding registries have historical roots while also mostly being a modern, capitalist invention. The practice is a vestige of the centuries-old tradition of the dowry: transactions of land and money from the bride's family to the groom. During the Renaissance, household goods, clothing, and jewels were placed in so-called hope or dowry chests that brides brought to the ceremony. But fast forward to America in the early-20th century, and the tradition of gift giving had gone out of style. Then, the department store Marshall Field's invented the modern wedding registry in 1924, and the tradition as we know it today took off from there.
Eschewing gifts for cash is nothing new around the world—it's common at Chinese, Indian, Italian, Jewish, and Muslim wedding ceremonies, among many others. For example, Mendez did not need to offer her mother the same explanation when she decided to forego a traditional wedding registry: Her mother is Chinese and was familiar with the tradition known as "red packets," gifting the newlyweds crimson envelopes filled with cash.
In America, the shift to cash gifts is partly a response to lifestyle changes. Many more couples are living together before they tie the knot and postponing getting married in general. A Pew Research Center analysis found that the amount of adults in cohabiting relationships had climbed 29 percent since 2007. And considering the increasing average marriage age—29 years old for men and 27 years old for women, up from 26 and 24 in 1990, respectively—it's no surprise that couples are accumulating furniture, appliances, and other items traditionally on a retail registry before they even get married. "They no longer have just their college plates," says Kristen Maxwell Cooper, the editor in chief of The Knot. "They've bought some nicer things and they feel they don't need the things that go on a traditional registry."
While changes in when couples marry have been building for decades, only recently have the norms around wedding registries followed suit. "Everything's changed in the last 10 years," says Sara Margulis, the CEO and a co-founder of Honeyfund.
The idea for Honeyfund was born in 2005, when Margulis and her now-husband, Josh, wanted a way for their friends and family to contribute toward their honeymoon in Fiji. They launched the site a year later. Since then, other platforms have emerged, such as Zola, Newlywed Fund, and Tendr.
Sunny Eckerle and Jeffrey Silverstein are among the cohort of engaged couples opting for both a cash and a retail registry for their upcoming wedding in November. Wary of what they described as the "rampant consumerism" of wedding registries, they requested, besides cash, just a few essentials such as silverware and towel sets. "I hate online shopping anyway," Silverstein says, "and even just going through a website registry, it's horrendous." The couple has yet to decide exactly how they'll spent their nest egg, though they'll likely put it away for a home down payment or for unforeseen emergencies.
Claire and Heidi Ely originally planned to skip the wedding registry altogether, but after pleas from their parents, they eventually signed up for Honeyfund to crowdfund outdoor adventures: a ski trip in Tahoe and camping in Grand Teton National Park.
"If you ask someone for money, it can be kind of tacky," Claire says. "To say, 'We would like a ski trip in Tahoe,' people, all of a sudden, their mind flips and they're like, 'Here's money for ski tickets and here's money for beer at the top of the mountain.'"
When couples request cash in lieu of physical gifts, specificity in how the money will be used is best to convince skeptics of the unorthodox practice, says Lizzie Post, who writes about etiquette. "It's one of those things where it's good to be really tactful and aware and intentional when gifting or asking for cash — either direction," she says.
As it turns out, the emotional connection between gift givers and their presents goes deeper than just etiquette. Inspired by her own wedding registry, Morgan Ward—a marketing professor at Emory University's Goizueta Business School—sought to determine the psychological drives behind gift giving. She found that gift givers are more concerned with how the recipient views them based on gift choice rather than adhering to the recipient's initial wishes or registry.
Cash, however, significantly increases the odds of bestowing a perfect present. It's hard to give the wrong wedding gift when you're simply funding it, after all. "Economists would say cash is the most altruistic gift you could give," Ward says. "I think it's a really interesting thing to think about, because you don't think about cash as being altruistic. You think about it as being transactional, or maybe even not thoughtful."
Ward says that while almost all couples like receiving monetary donations, there is still a desire among gift givers to express their closeness with the couple through physical items.
David McGuiggan and Meily Mendez have no regrets about choosing to use their wedding registry to fund an excursion rather than to accumulate items for their home. And even though they requested money, a handful of renegade guests still gave them physical gifts.
One of the gifts they received was a decorative display of ceramic balls. "I still have to figure out what to do with it," Mendez says.