How Fertility Apps Exclude Fathers
Making a baby "the old-fashioned way" is a two-person job, but many apps aimed at heterosexual couples assign all the work of getting pregnant to women.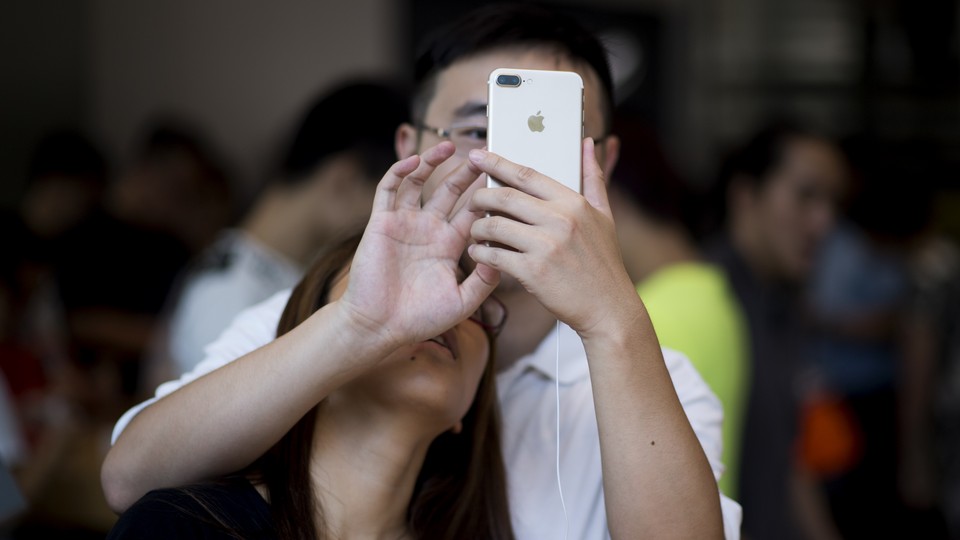 Jillian Wanner dutifully took birth-control pills for years to avoid getting pregnant by accident. When she stopped taking it, in 2016, at age 32, so she and her husband could try for a baby, she says she was a little surprised when she didn't conceive right away.
"You spend so much time trying not to get pregnant," she says, "and then the minute you want to get pregnant, you think it's going to be easy, and it's not." So Wanner, like millions of other women trying to conceive in the age of the smartphone, downloaded a fertility app.
Earlier this year, The Wall Street Journal estimated that some 100 apps are now available for download on iPhone and Android devices to help track and predict women's menstruation and ovulation. Some of the most popular apps share similar features and functionalities: Most have a calendar view that shows past and upcoming periods and predicted ovulation, several encourage users to enter information about their basal body temperature and cervical-fluid quality to enhance ovulation predictions, and plenty offer auto-generated doctors' tips, and message boards where users can bond over their successes and their struggles. These apps are, essentially, an automated version of the "rhythm method"—tracking a woman's menstrual cycle and planning sex accordingly, either to avoid fertile days as a form of birth control, or target them in an effort to conceive. As birth control, it's less effective than other methods, though its success rate is improved without human error, which the apps theoretically reduce.
Wanner used the app Ovia—mostly for its calendar function, she says—so that she could alert her husband when the specific "48 or 72 hours in a given month that we could get pregnant" were imminent. By the spring of 2017, she was pregnant with her daughter. Wanner says Ovia was instrumental in achieving her first pregnancy; if she were to do it again, there's not much she'd do differently. Except maybe next time, she'd want her husband to have access to her ovulation calendar, too.
Just about every fertility app available enables users to chart when they've had sex and note whether it was "protected" or "unprotected"—but for a lot of apps, that's the only nod to the fact that it takes two participants to make a baby the old-fashioned way. It remains something of a novelty for apps to offer an option to share ovulation-cycle data with another user. Ovia offers the option of signing your partner up for alert emails when your "fertile window" is approaching (which Wanner and her husband were not aware of), but other popular apps, including Flo, Natural Cycles, PinkBird, Life, Period Calendar, and Kindara, are designed to be used by only the female partner in the conception process. (The last two have "export to doctor" and "share with a practitioner" functions, which export past data in a shareable format, but only Kindara allows the "practitioner" to follow along in real time.) As a result, what may seem like a small difference in design can have a noticeable effect on the emotional lives of heterosexual couples during the process of getting pregnant—and can upend or reinforce traditional ideas about whose responsibility it is to ensure that conception happens.
After a while, getting pregnant can become a numbers game. As Wanner puts it, "You get sort of sucked up into the mechanics of it, and a lot of the romance or the fun gets taken out." So a partner-sharing feature, she muses, could help a male partner take more of an active role in planning; if a husband were able to, say, subtly note when to pick up a bottle of wine to make dinner at home a little more romantic, or when to wear a shirt his wife thinks he looks handsome in—without having to be nudged or summoned—it could add some fun back into the process.
Jennifer Tye, the chief operating officer of the fertility app Glow, says she's heard from users that its partner-sharing feature does just that. "It actually helps remove the strain of what can otherwise become a very nonromantic and stressful process," Tye says. "It's supposed to be easy and fun to get pregnant. When you have to keep telling your partner, 'Now's the time,' it becomes very formulaic and methodical. It becomes even more unemotional in some ways."
When Wanner thinks back on the process of trying for her daughter, she says a sharing feature might have also helped her get in the mind-set of sharing parenting duties with her husband. "Women tend to go through this process on their own: She's bearing the child. She's the one going through labor. She's the one breastfeeding, if she chooses to breastfeed. There's so much that can be so isolating from your partner," Wanner says. Parenting, though, "is such a partnership, and [a fertility app's partner-sharing feature] would set that dynamic early. That could be really useful."
Conception and pregnancy are sometimes treated as women's endeavors requiring the intermittent assistance of their partners, rather than two-person team projects—and that was top of mind for Glow's co-founder and CEO, Mike Huang, when he started developing the app in 2012 with PayPal co-founder Max Levchin. When Huang and Levchin began brainstorming ideas for new companies they could start (after having worked together at the social-application company Slide, which was later acquired by Google), Huang and his wife had recently encountered challenges in trying to conceive. Huang knew that infertility was frequently caused by (or caused in part by) reproductive issues in the male partner—but he had noticed that much of the problem-solving effort was aimed at what his wife could do differently.
"Historically, people have had the notion that infertility is caused by women, that it's because of women. Not true, and not fair," Huang says. (Famously, the initial failure of Catherine de Medici to produce any heirs to King Henry II of France in the 16th century was attributed to her infertility, rather than the known deformities of his reproductive organs; even in recent years, infertility has been commonly blamed on women and their bodies in many cultures throughout the world.) So from Glow's earliest stages, Huang wanted it to be an app couples could use together. "It made sense to us to create an app that's not just all-women," he says. "It's about the couple going through the 'silent struggle' together."
Today, upon registering with Glow, a user can select "add your partner" from its settings menu, and can change the user's gender from the default "female" to "male." Pick "male," and Glow asks for data on any known causes of infertility or health conditions—as well as what kind of underwear you wear, because certain tighter-fitting styles have been linked to lower sperm counts. It also offers what Huang describes with a chuckle as "cute features" that can alert you when your partner is ovulating and suggest things like making dinner reservations.
Clue, a Berlin-based period- and fertility-tracking app that also offers a partner-sharing option, added the feature a few years after it launched, at the request of many of its users. "Women were telling us that it would be nice if they could share some of this information with people that they trust. Not necessarily all information," says Clue's CEO and co-founder, Ida Tin, "just [enough information that a partner might know], 'Oh, this is a headline of what's going on.'" (Clue invites users to log a comprehensive set of daily data points related to the menstrual cycle, including insomnia or fatigue, acne, oily skin, high or low sex drive, constipation, and diarrhea; these are all left off the data set shared with partners.) "Then we heard exactly the same thing from a lot of men," adds Tin, who started Clue with her own partner, Hans Raffauf, with whom she has two kids. "They said, 'I would love to know when my partner is about to be on her period or is ovulating.'"
Of course, some male partners would not love to know, and some female partners would not love to share. Like Ariel, for example (who requested that her last name be omitted to protect her family's privacy). Ariel, whose first child is now seven months old, used Glow to monitor her fertility when she and her husband were trying to conceive, but didn't use its partner-sharing feature.
"I could certainly see how some husbands or partners might really want to know that information, and might really want to get involved and time it as well. But that's just not how my husband is," she says. Both Ariel and her husband preferred it, she says, when she supplied only the necessary information to facilitate what she describes as "the fun part." If they had both had access to her ovulation calendar—or if her husband had gotten robotically nudged by his smartphone to put the moves on his wife—they might have both felt more stressed, she says.
"When you get to the bedroom, it's not fun for it to be clinical," she adds. "You want bedroom time to be fun bedroom time!"
Which is why, according to Tin, these features have to be designed thoughtfully and offered as opt-ins rather than standard functionalities. "I think it takes some level of sophistication to realize that this might be a helpful thing, but [only if it's applied] in a way that it doesn't feel like somebody is looking over your shoulder in an unpleasant way," she says, "or in a way that feels like you're being pushed into sharing data that you don't want to, or in a way that's out of your control. There's so many things that could go wrong with a feature like this that I think you need some level of sensitivity to your user base to get it right."
Still, app developers like Huang, Tye, and Tin believe the data-sharing model represents a more egalitarian vision of the process of conceiving. "It takes two," Tye says, "so why not make it more of a partnership?"