The Challenge of Finding Homes for Rural America's Foster Children
The government can only do so much—so religious groups are stepping in.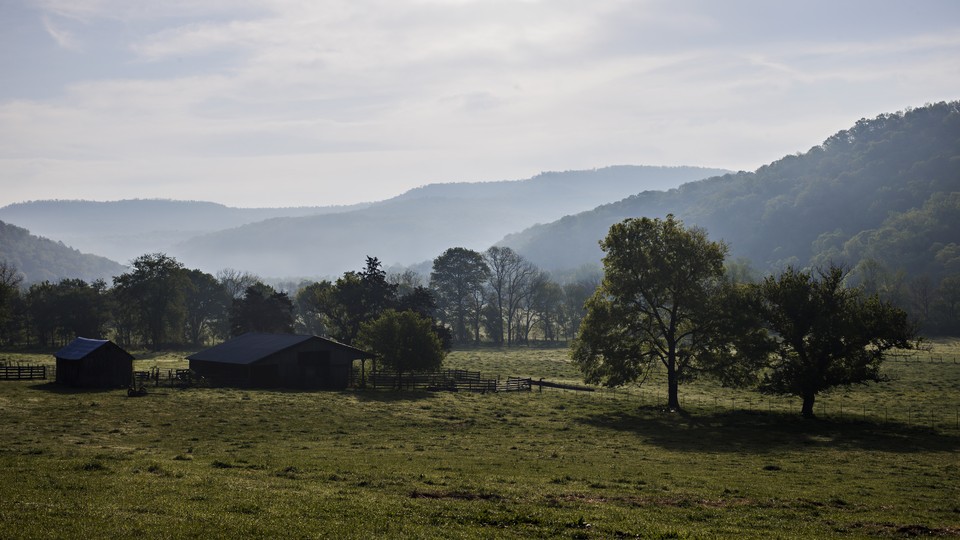 In 2012, there were 397,000 children in foster care in the United States. By then this figure had, happily, been declining for years, from a high of 567,000 in 1999. But since then, it has steadily risen again: In 2016, the most recent year for which data is available, the number of children had increased to 437,000—and the American foster-care system isn't equipped to handle them all.
There are a number of terrible reasons why a child would end up in foster care—including abuse or severe neglect—but the parts of the country that have seen the biggest upticks in recent years are the areas that have been hardest hit by opioid abuse. Estimates vary, but for every five incidents in which a child is removed from his or her home, two to four of them have to do with a family member's substance abuse.
Fostering and adopting children out of foster care can take an enormous toll on marriages and families; national estimates suggest that around half of foster parents decide to stop fostering during their first year of doing so. What can be done to help these children and their families? The problems are not just economic or legal—not just a matter of committing more funds, or implementing some policy fix—they're cultural, and the vexing task of supporting foster-care families means addressing these cultural obstacles as well.
It's a lot of work—especially in rural areas, where many families are disconnected from sources of support like community centers and churches, or even neighbors. The percentage, for instance, of young adults aged 16 to 24 who are neither in school nor employed is higher in rural communities than in any other places in the country, according to RCAC, a nonprofit that services rural communities. This lack of support that leaves so many kids without a safety net can also affect parents who choose to foster. Many of these foster families don't have a social network of support—a group of other foster parents who are experiencing similar challenges or joys. In several parts of the country, helping foster children and connecting the families that take them in requires stepped-up efforts, many from outside the government.
In Arkansas, one can see some of the most promising efforts in this regard—a network of stable, mostly middle-class families that have, through organizations that partner with the government, made a commitment to shelter, care for, and/or mentor thousands of kids whose parents are incarcerated, addicted, or otherwise unavailable; to reunite them with their families if possible; and, if not, to provide a permanent loving home for them.
Though none of these organizations takes government funds, state officials take the help eagerly. "We've long acknowledged that the state cannot do the job of caring for foster children alone," said Marci Manley, a spokesperson for the Arkansas Department of Human Services. "While we do work to recruit foster families, including identifying relatives who may be safe and appropriate options for children who come into care, the assistance of community partners is invaluable."
Paul Chapman, the executive director of Restore Hope, a collaboration between government agencies, churches, and other nonprofits, recalls that about a decade ago, the number of kids in care in Arkansas was over 3,000. Back then, a severe shortage of foster families meant that more kids were being placed in group homes or larger institutions. This was in no small part related, Chapman says, to the state's high level of incarceration. The state had the fastest growing prison population from 2012 to 2016, and it had the highest number of children with an incarcerated parent in 2016. The number of foster children in the state kept going up; two years ago, there were more than 5,000.
To take in foster children, families must undergo background checks, home studies, and at least 30 hours of training, and have other people in the community submit recommendations on their behalf. This process is resource intensive for the government, and the state of Arkansas struggled with recruitment because the state's department of children and family services was already short-staffed and underfunded. (Manley, the spokesperson, pointed out that recent funding increases "have resulted in reductions in caseloads that have gotten the state to the recommended national average caseload for workers for the first time in years," but did note that the demanding nature of the work makes staff turnover an ongoing challenge.)
A group of churchgoers across the state took notice of the problem and, in 2007, launched a volunteer organization called the CALL, which stands for Children of Arkansas Loved for a Lifetime. Its staff encouraged pastors to talk more about foster care and adoption from the pulpit and began to offer training sessions for volunteers. Though the sessions were couched in religious teachings, they covered the same curriculum as the state. According to the Arkansan foster mothers I interviewed, they were also often more convenient and more welcoming to church members. All the training might be held over the course of a couple of weekends, instead of a few hours each week for several weeks, and it was offered in a greater variety of locations.
The number of kids in Arkansas's foster-care system has hovered around 5,000 in the past couple of years. Meanwhile, the number of foster homes in the state that are certified and taking in kids has continued to grow. According to the Arkansas Times, it went from 1,601 in September 2016 to 1,821 a year later—a modest but crucial uptick that means the proportion of kids placed in family settings, as opposed to institutions, has increased. (The majority of children in foster care, though, live in institutional settings.)
The CALL, which operates in 44 of Arkansas's 75 counties, is effectively a bridge between foster parents-to-be and the state bureaucracy. The organization says that it trains half of new foster families in the state and that families it has trained have cared for more than 10,000 children and provided permanent homes for 800.
The CALL's offices operate as central locations for a county's foster-care needs. Each one is made to feel homey, with brightly colored playrooms. County workers can bring children to the CALL if they've been removed from their homes in an emergency (which is less jarring than having a child wait in an office cubicle or a police station). Most have a "CALL mall," a thrift shop where foster families can pick up (for free) any clothes, diapers, formula, or toiletries they need for their kids. The freezer is stocked with dinners for foster families, as well.
The CALL is emblematic of a turn, in many evangelical communities, from international adoption (usually of infants) to domestic adoption of kids of all ages from foster care. It is one of several organizations that have cropped up in the past decade with this focus. Project 1.27, an adoption and foster-parent-training program in Colorado, was the pioneer, and has helped to find a permanent home for hundreds of foster children eligible for adoption in the state. Other initiatives quickly followed, including Project Belong in Kansas, the 111 Project in Oklahoma (One Church, One Family, One Purpose), and Embrace Texas near Dallas.
Eric Gilmore was part of this wave. After college, he and his wife (who had trained to be a social worker) volunteered to be houseparents for teens aging out of the system. (Houseparents are typically married couples who care for three or four kids at a time in foster-agency-provided housing). One young woman told him she had been in 50 different placements from the ages of 12 to 18. "The day after her 18th birthday, she was given a bag of clothes, one night's worth of bipolar medication, and a one-way ticket to some biological family members," Gilmore remembers. Stories like these shook him, and he and his wife launched Immerse Arkansas in 2010 to help older teens who were unlikely to be adopted.
Immerse just moved into a new facility, a former nightclub near the University of Arkansas. There, teens and young adults can do laundry, look for jobs online, and take life-skills classes. Immerse offers transitional housing, overseen by a residential adviser. Its staff will take these former foster youth to job interviews and talk to landlords on their behalf.
On Tuesday nights there is "the Gathering," in which current and former foster children can have dinner with mentors. There I meet Dan Williams, a middle-aged civil engineer who has been paired up with a teenage boy for several months now. They go out to eat and talk about things like how to budget or how to interview for a job. "These are things that your own kids just know. You don't intentionally teach them," Williams says. But no one has done that for these kids. Williams seemed a little stuck on how to help when I talked to him, though—the boy, he tells me reluctantly, is in prison for the next few months. It is a reminder that no matter how good a program is, there are bigger problems it can't solve.
Immerse Families is the result of a merger of Immerse Arkansas with a ministry at the Fellowship Bible Church in Little Rock. The ministry's four founders have all fostered and adopted, and one of them, Rachel Bell, told me that her friendships with the other three were an invaluable source of support in raising her two children, who have special needs and whom she adopted out of foster care. At the age of 27, Rachel was juggling eight therapy appointments a week for her children. "My friends were starting to have babies," she said. "But my kids weren't like their kids. My feelings weren't their feelings."
"For us," Bell says, "it was obvious that there was a primary need for families to have a connection with other families." This is the spirit that animates a powerful initiative that Immerse sponsors each year, a spring retreat in the Ozarks for foster and adoptive families. The nearly 300 mothers, fathers, and children can hike, canoe, and go horseback riding together; parents can also attend lectures and support groups (needed for recertification by the state) while their children are supervised.
One mother I talked to at the retreat told me about the relief she felt when surrounded by people who understood her experience. She said most people don't understand why her daughter, who looks to be 8 years old and has the communication skills of a toddler, cannot do something as simple as hunt for an Easter egg by herself. But here, her mother tells me, no one stares or asks too many questions.
Finding homes for children who have been abused, neglected, or abandoned by their own families is a daunting problem. But the way that these organizations in Arkansas have come together to address different aspects of that problem—mentoring parents, caring for infants and children on a short-term basis, taking in kids who need a permanent home, helping young adults transition out of foster care—suggests a path forward.
There are those who may lament the fact that faith-based charities are the groups that step in to fill this space—that state governments are simply not capable or don't have enough resources to accomplish these goals. (Arkansas added another $24 million to its state budget for foster care in 2017). But the government only has so many tools at its disposal; it might set up more-robust training and support centers for foster families, but it can't force families to take other people's children into their home. Anything the government might do to replicate the success of the CALL would make even government-friendly types a bit queasy: Offering financial incentives to families to take children in (when they otherwise would not be inclined) is not the way to make a child feel loved and welcomed, and active recruitment efforts seem a more appropriate undertaking for advocates than for the state. Years of public-service announcements conveying a need for foster families—a strategy more suitable to government—have not yielded significant results. And government funding of such explicitly religious groups as the CALL would be out of the question.
All of this leaves nonprofits in perhaps the best position to help, and religious organizations are the ones that have stepped up. Many people of faith (and Christians in particular) consider it their religious duty to care for those who need assistance—"the least of these," as the Gospel of Matthew puts it. Perhaps secular organizations could contribute to these efforts as well—which, for instance, would ease concerns about how an LGBTQ foster child or foster parent would fare in the current system. But faith-based organizations have figured out a way to care effectively not only for children but for families in a way that no other groups have been able to—which holds a lesson for easing the burdens of the foster-care system nationwide.