Everyone Cares About Pregnancy Discrimination
Conservatives and liberals, feminists and anti-abortion activists have teamed up to advocate for pregnant women's rights in the workplace—but their reasoning is very different.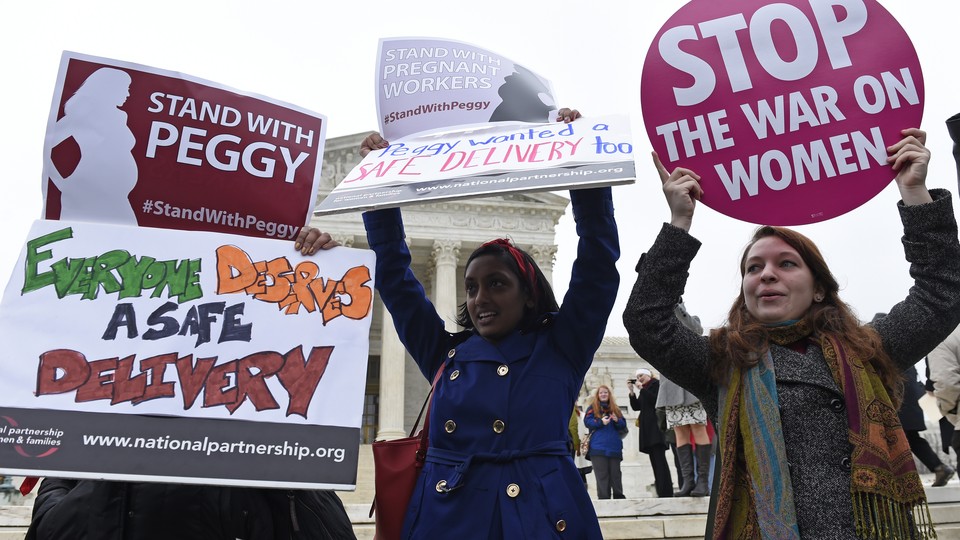 A few weeks after The New York Times published its widely cited report titled "Pregnancy Discrimination Is Rampant Inside America's Biggest Companies," Bradley Mattes, the co-founder and president of the Ohio-based Life Issues Institute, a partner of the national anti-abortion group Susan B. Anthony List, recorded a short clip for the anti-abortion radio show Life Issues. Calmly but with conviction in his voice, he expressed his dismay at what the Times alleged was taking place inside companies all over America—that tens of thousands of pregnant women had been systematically sidelined from work, refused accommodations that would make their workplaces safer or more comfortable, passed over for promotions, and fired after registering complaints.
Mattes honed in on one particular case from the Times story,  in which a salesperson at the healthcare company Novartis, a single mother was told by her boss she should consider an abortion. "She didn't, and after her maternity leave, she said they advised her not to pursue any more promotions due to her 'unfortunate circumstances at home,'" Mattes said. Those weren't unfortunate circumstances at home, Mattes said: "That is her son Anthony. Pregnancy isn't a disease. Babies are a blessing."
On this particular issue, the conservative Mattes had an unusual ally. A week earlier, several hundred miles away, New York's Democratic governor Andrew Cuomo had ordered an investigation into New York companies accused of pregnancy discrimination—a move that may have similarly been inspired by the Times report, but that some city politics analysts chalked up to the "Alexandria Ocasio-Cortez effect." After the Democratic Socialist Ocasio-Cortez won the Democratic primary for a New York City congressional seat, these analysts say Cuomo seems suddenly motivated to win over far-left voters ahead of the November gubernatorial election. "As we continue to champion women's rights and break down barriers to equality," Cuomo said in a statement, "this investigation and outreach campaign will help make New York a safer, stronger state for all."
Talk about pregnancy discrimination with legal advocates or political activists, and you'll hear the phrase "strange bedfellows" come up a lot. Ending pregnancy discrimination is an objective for a somewhat surprising potpourri of ideologically driven groups; women's legal advocacy groups and feminist groups decry the practice, and so do anti-abortion and faith-based groups. In 2014, a flurry of stories took note of the unusual mix of political organizations supporting Peggy Young when her pregnancy discrimination case against her employer, UPS, went all the way to the Supreme Court.
But the surprising alliances between right- and left-leaning activists that have emerged in the battle against pregnancy discrimination aren't a new phenomenon. These strange, sometimes uneasy partnerships date back to the 1970s and the passage of the Pregnancy Discrimination Act—and so do the partners' very different understandings of the relationships between gender, family, and work.
---
Some scholars retrospectively describe the 1978 passage of the Pregnancy Discrimination Act (PDA), an amendment to the Civil Rights Act of 1964 and the first national law aimed at curbing pregnancy discrimination, as "a model of feminist policy influence" and a victory for "a coalition of women's activists, feminist lawyers, civil rights groups, and labor organizations." Legal historians like Deborah Dinner, however, a professor at the Emory University School of Law and the author of the upcoming book The Sex Equality Dilemma: Work, Family, and Legal Change in Neoliberal America, ascribe a different narrative to the effort to pass legislation outlawing pregnancy discrimination nationwide, characterizing it as a cause brought to the fore by feminists but helped across the legislative finish line by an infusion of anti-abortion, pro-family rhetoric.
Throughout the 1970s, as women ratcheted up their share of the American workforce to a rate of some 40 percent, pregnancy-discrimination cases generally hewed to the notion that it was illegal under Title VII of the Civil Rights Act to fire, refuse to hire, refuse to promote, or refuse to extend disability or illness benefits to pregnant women on the basis that such practices constituted sex discrimination. In the wake of the 1974 Supreme Court case Geduldig v. Aiello, however—which, to the surprise of many, ruled that pregnancy discrimination was not a form of sex discrimination in the workplace—a coalition of women's rights and anti-discrimination lawyers created the Campaign to End Discrimination Against Pregnant Workers (CEDAPW).
At the time of Aiello, companies that were accused of pregnancy discrimination often used the language of reproductive rights to justify denying benefits to pregnant workers; given that Roe v. Wade had established a few years earlier that a pregnancy could be terminated at a woman's discretion, companies maintained that  childbearing was a voluntary endeavor and one that could be planned or avoided. And thus, they reasoned, pregnant workers who requested workplace accommodations similar to those of injured or sick workers did not qualify for them. Anti-pregnancy discrimination activists, meanwhile, argued that not only did that create unequal working conditions for women, but it also discouraged women from childbearing—which, although voluntary on an individual level, was necessary for someone to do in order to reproduce future workers and citizens. In a just world, their argument went, the costs of reproduction wouldn't fall solely on childbearing women themselves.
It's not lost on Dinner that in retrospect, this seems like a somewhat counterintuitive stance for a feminist-aligned group to take. In a 2014 Washington University Law Review article, Dinner writes:
The opposing sides in Aiello ... drew dramatically different pictures of the relationship between pregnancy, sex, and gender identity. One side disaggregated pregnancy and gender identity, emphasized the voluntary character of pregnancy, and depicted reproduction as a private choice. The other argued that reproductive capacity defined gender identity, emphasized the involuntary character of pregnancy, and depicted reproduction as a service to society. From today's vantage point, the first set of arguments sound feminist and the second resonate with social conservatism.
This early iteration of the pregnancy discrimination debate didn't cleave to the usual ideological lines. Businesses used the notion of reproductive autonomy to characterize pregnancy as a private choice with private costs, Dinner writes, so feminist, labor, and civil rights groups chose to emphasize that childbearing was in fact a public need and a social good. And as founding CEDAPW member Wendy Webster Williams told Dinner in a 2008 interview, to some members' surprise, soon they were attending CEDAPW meetings alongside anti-abortion activists from groups like American Citizens Concerned for Life (ACCL). If pregnancy discrimination was discouraging women from giving birth or nudging them toward abortion, they reasoned, pregnancy discrimination had to end.
Some social conservatives—like the anti-feminist and anti-abortion activist Phyllis Schlafly—who famously opposed the proposed Equal Rights Amendment because it would "wipe out the beautiful statement of the marriage contract" and upend the "beautiful way men treat women in this country"—opposed legislation to prohibit pregnancy discrimination at work. "It violated the 'male breadwinner' ideal," Dinner explains; Schlafly feared legislation of that nature would "basically replace the role of men in some ways by enabling child-bearing women's economic independence." But many other conservative, religious, and anti-abortion voices piped up in support of the efforts to pass the PDA. The prominent Catholic OB-GYN and ethicist Andre E. Hellegers, for example, was "still influenced by the old notion that pregnant women should be sat down in easy chairs with feet up and drink lots of milk," according to Dinner, but accepted that in the reality of the 1970s, many women needed secure incomes of their own to ensure that their pregnancies and babies were healthy. Hellegers testified before Congress on behalf of the PDA. So did Jacqueline Nolan-Haley, special counsel for ACCL, and James T. McHugh of the National Conference of Catholic Bishops wrote a letter to Senator Harrison A. Williams, Jr., a key sponsor of the bill, in support of the PDA.
Once the Pregnancy Discrimination Act reached Congress in bill form, Dinner writes, its political popularity held steady but subtly evolved. The enthusiasm for its potential to promote gender equality in the workforce gave way to enthusiasm for its potential as a non-welfare way to encourage family economic security—a popular objective at the time, Dinner notes. As Williams, a New Jersey Democrat who chaired the Senate Committee on Labor and Public Welfare, put it, the threat the Supreme Court's rulings posed to the "security of the family unit" was "far more important" than the setbacks they created for women's rights. On Halloween of 1978, in a Congress ruled by Democratic supermajorities in both houses, the Pregnancy Discrimination Act was signed into law.
---
The inspiring power of the pregnancy-discrimination cause to unite people across aisles and ideologies, however, is cold comfort in the face of how often pregnancy discrimination still happens in the real world. When I asked Dinner—who's spent much of her career working to understand and educate others on the legal framework in place to prevent pregnancy discrimination—how it felt to read the June New York Times report on how "rampant" pregnancy discrimination still is in the U.S., she paused for a long moment and sighed.
"I shouldn't have been surprised," she finally said, with a grim laugh. "It's an important reminder that even though the PDA was a feminist victory, the victory isn't complete when we get the legislation."
In today's conversation about pregnancy discrimination, Dinner says, "unfortunately, many things are still the same." For instance, "the gender stereotypes that underpinned pregnancy discrimination, [like] that new mothers will be less dedicated to a workplace, persist today." Today, however, the rise of the gig economy has created new challenges in curbing pregnancy discrimination, in that large sectors of the workforce now lack full-time employment and thus are not covered by Title VII, or by extension the PDA, at all.
The unlikely, sometimes delicate alliances that form in the fight against pregnancy discrimination persist, though—and so do the subtle differences in interpretation of what its goals really are. Progressive and feminist-aligned groups like the American Civil Liberties Union, for example, still consider pregnancy discrimination a hindrance to gender equality in the workplace: "Our workplaces are still designed … on the model that there's a heterosexual couple; the husband-father works and earns the bread and butter, the paycheck, while the wife-mother is at home taking care of the kids," says Lenora Lapidus, the director of the ACLU's Ruth Bader Ginsburg-founded Women's Rights Project. "The twenty-first century reality is, the majority of women work. The majority of women who have children work. Workplaces need to change so that pregnancy is just a normal condition of the workplace."
And to conservative activists, like Bradley Mattes of the Life Issues Institute, pregnancy discrimination still represents "just one glaring, vile example of how women can be pressured, coerced, or forced into abortion." Identifying and holding accountable those businesses who discriminate against pregnant employees, Mattes says, "will help save babies' lives, and it will help protect women from … making that choice to protect their careers and then struggling with that decision for the rest of their lives."
"Women shouldn't be put in that position," he adds. "Children are a blessing. Women should be supported in the work environment to have those children and give them life."
(Mattes also recalls ending up on the same side as feminist and women's-rights groups in the debate over whether convicted rapists should be able to sue for custody rights of a child conceived through sexual assault. That's about the extent, though, of the collaborative efforts he can think of between women's-rights and anti-abortion groups.)
The ACLU helped draft the federal Pregnant Workers Fairness Act bill in 2013, which would guarantee pregnant workers the right to reasonable accommodations in the workplace and protection against loss of employment should they need those accommodations. The federal version of the bill was reintroduced in the House last year; on the state level, similar legislation aimed at standardizing protections for pregnant workers has passed in 23 states and Washington D.C. with bipartisan support. "Many of them have [passed] unanimously, and with strong support from 'right-to-life' groups," Lapidus says. "The advocacy to support women through their pregnancies does make sense if right-to-life groups really stand for what they say they stand for."
In the hyper-polarized political climate of 2018, though, activists from opposite ends of the political spectrum sometimes keep those partnerships close to the vest. The ACLU, Lapidus says, actually enjoys "very close working relationships" with certain religious organizations in its policy advocacy on the state and federal level. Which ones? She won't specify.
"Sometimes it's better for one reason or another to keep that collaboration quieter, so that when the right-to-life groups approach conservative legislators, [they don't have to say], 'We're working with the ACLU on this.' Because as soon as you say that," Lapidus adds with a laugh, "they're not going to support it."