Moms Running for Office Are Finally Advertising Their Motherhood
Having kids used to be considered an impediment to getting elected. Now several women running for office are claiming it as a political asset.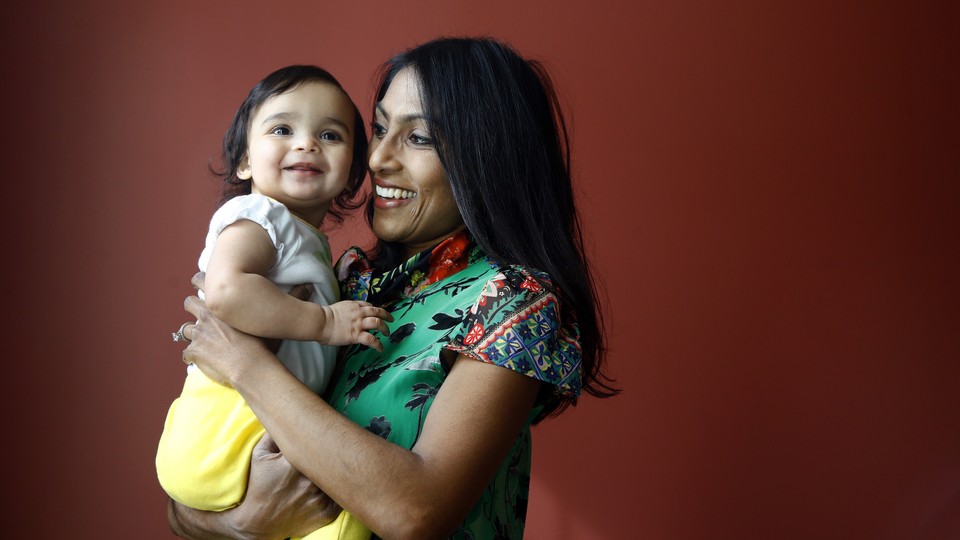 In March, the Maryland gubernatorial candidate Krish Vignarajah made her case to voters in a striking 30-second ad featuring a shot of her breastfeeding her infant daughter intercut with photos showing her family and various moments from her political career. She ended the video with a simple appeal: "I'm a mom. I'm a woman. And I want to be your next governor."
With a historic number of women running for office up and down ballots this year, many candidates are making a similar pitch. Moms are not only seeking political seats, but seeking them explicitly, and proudly, as moms; in this year's election cycle, motherhood has become an asset to be flaunted in progressive campaigns, resolving a decades-old tension for women seeking to enter electoral politics.
Vignarajah's ad is one of two this year that showed gubernatorial candidates breastfeeding their children: Kelda Roys, running for governor of Wisconsin, included comparable footage in a campaign spot this spring, in which she talked about her efforts to ban a potentially harmful chemical prevalent in children's products. The Texas congressional candidate M. J. Hegar put forward her own take on motherhood last month in a campaign ad that quickly went viral. "I'm an Air Force combat veteran and a mom," she says as the video begins to show her life through a sequence of doors: to her family's home; to a helicopter she flew in Afghanistan; to the houses she lived in with her mom, a survivor of domestic abuse, when she was a child; to legislative chambers. In this way, she shows voters all the closed doors that she had to open in order to build a career and a life as a mom.
Susan Carroll, a senior scholar at the Center for American Women and Politics at Rutgers University, posits that candidates' motherhood-based presentations of authenticity and outsider status fit the peculiar post-2016 political climate. "I don't think we'd be seeing this motherhood thing if this was a normal political era and a normal political year," she says. "Right now we seem to be in a political environment where a lot of voters are preferring people not to be long-serving political figures who are cautious and work the system."
These visual and verbal appeals to motherhood follow a long national tradition, even if they're taking it in a new direction. "Motherhood has always been a part of American politics," says Jill Greenlee, who studies the relationship between the two as a professor of politics and gender studies at Brandeis University. Mothers have been running for and holding public office in the United States as long as women have: Lydia Sayer Hasbrouck, whose election to a local board of education in 1880 is thought to have marked the first electoral victory for an American woman, had two children; Susanna Salter, who became the country's first female mayor in 1887, had nine. Civically engaged women have also long promoted their identities as mothers while advocating for social causes such as prohibition and improved public safety.
Especially in recent decades, Greenlee says, as more moms have begun to explore the possibility of occupying multiple professional and personal roles, women on the campaign trail or in office have had to "navigate the territory of presenting themselves as a competent potential political leader and also navigate whether [to present themselves as] a mother."
In this light, motherhood has often been seen as an impediment for female candidates, particularly for young moms still expected to serve as the primary child-care providers for their families. "The conventional wisdom was that having young children was a problem, an obstacle," says Carroll. "For men running for office, [having a wife and children] just showed that they were wholesome and normal … For women, I think families, particularly children who are still school age, were seen as an additional set of responsibilities. Voters would look at a woman who was running for office with kids and say, 'Well, how's she going to Washington? Who's going to be taking care of the kids?'"
Partly as a result of concerns like these, "women tend to start their political careers later than men, after their children are grown, and so have less time to position themselves politically," wrote Wendy Kaminer in a 1992 Atlantic article about that year's congressional races.
That's not to say that no young mothers ran for office at that time, or that motherhood was exclusively an impediment to women's campaigns. Patty Murray, for instance, campaigned for one of Washington's Senate seats as a "mom in tennis shoes"—turning a criticism about her qualifications into a campaign slogan. She first won the seat in 1992, when both of her children were under the age of 16; she still holds it now, 26 years later.
"I think people are using motherhood in a very similar way to the way Patty Murray used it back in 1992, as a way to connect to voters," says Carroll. They use it "to seem authentic and to really say, 'Well, these politicians in Washington are totally out of touch. They just don't understand your lives, and I do. I'm here struggling with the same issues and confronting the same issues as you.'"
"What I think is different this time," she continues, "is the number of women who are trying to do that and the ways in which they're doing it—because Patty Murray was not breastfeeding in a video. These women are being more daring in their use of motherhood."
Beyond showing themselves breastfeeding, moms running for office have incorporated their motherhood into various facets of their campaigns. Some candidates have brought their babies and young children to campaign events and featured them in promotional materials; many have drawn on stories about their children to demonstrate their groundedness or make emotional calls to action.
Addressing the Democratic Party state convention in Wisconsin in June, Kelda Roys mentioned her young daughter while speaking about gun violence. "About a year ago, I picked up my daughter from her day care and she started telling me about a new game that she and her classmates had learned," she said. "All the kids had to be very quiet; they turned out the lights; they all went to hide in the corner under the playhouse, because they wanted to be sure nobody would be able to know where they were. And I realized: She was describing to me an active-shooter drill, at 3 years old."
"As a mother and your next governor," she went on to conclude, "it is time to stand up to the gun-manufacturers' lobby and pass responsible gun-safety laws."
Betsy Dirksen Londrigan, an Illinois congressional hopeful, has similarly drawn on her experience as a mother to stake out progressive policy stances. She decided to run against a Republican incumbent, Rodney Davis, after the House voted to repeal Obamacare last spring, threatening health-care protections like those that helped save her son Jack's life. "Donald Trump's health-care plan would have bankrupted us," she said in a campaign ad released earlier this year, "because it allows insurance companies to cut off families with sick kids. That's not right." In another ad last fall, her son suggested in a voice-over that voters should back his mom because of the values she taught him when he was growing up and the ways in which she embodies them.
Underneath these disparate appeals runs the same message: Mothers running for office will take moral action in a way that other politicians haven't. Perhaps something about the current political environment is making that case newly impactful, but this empowered narrative of motherhood that candidates are sharing seems also to be the product of a style popularized over the last decade by communities of "mommy bloggers" who have publicly bared the best and the worst of their child-rearing experiences online. On social media, moms have managed to build careers as influencers with honest stories and personal images of their family lives; on the campaign trail, they're using them to earn donations, connect to voters, and, they hope, win support come November.
As powerful as these narratives can be, mothers running for office will likely still face some obstacles on Election Day. In a study published in March 2017, the Barbara Lee Family Foundation, a nonprofit dedicated to combatting gender inequality in politics, found that voters still harbored misgivings about women's ability "to balance the competing priorities of their families and their constituents," particularly when their children were young.
"I do think voters are going to ask people who have young children, 'How are you going to manage being in Washington?' and 'What's your husband going to do?'" says Carroll. "I think those concerns will still come up."
Though negative perceptions of mothers may linger in electoral politics, some procedural obstacles and inconveniences are beginning to fall. In April, after Tammy Duckworth became the first senator to give birth while in office, the Senate unanimously voted to allow babies under 1 year old onto the floor during votes for the first time. (Children any older are still prohibited.) Less than a month later, the Federal Election Commission ruled that female candidates could use campaign funds to cover child-care costs in some cases, a result of an inquiry from the New York House candidate and a mother of two Liuba Grechen Shirley.
In this way, Greenlee suggests, the role of motherhood in politics might be moving in yet another new direction: not only toward political empowerment, but also toward normalization. "As things become more common, they also fade into the background," she says. "If we have lots of women holding office, some of whom have younger kids, it might be more entwined in politics. There could be more institutional changes to accommodate this role. But it also may become less of a big deal."
For now, that frontier remains distant. In this year's election cycle, progressive candidates are breaking new ground precisely by claiming motherhood as what it remains in politics: a big deal.