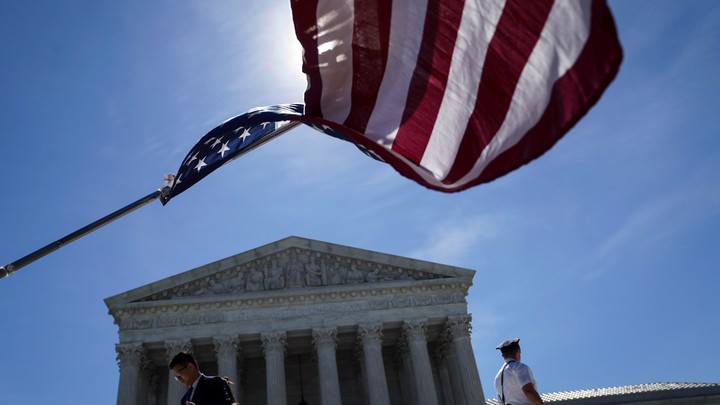 In the 92 pages of the Supreme Court's ruling on Trump v. Hawaii, handed down on Tuesday, families are mentioned 12 times. Relatives, seven times; parents, twice. The decision, which upholds President Trump's order restricting travel and immigration to the United States from eight foreign countries, is the final word on a court case filed by a group of plaintiffs that included the state of Hawaii, the Muslim Association of Hawaii, and "three individuals with foreign relatives affected by the entry suspension." In both the majority and dissenting opinions, justices emphasize that the preservation of families is a priority—but they come to opposite conclusions about what that means for Trump's order.
For the majority—the group including Justices John Roberts, Anthony Kennedy, Clarence Thomas, Samuel Alito, and Neil Gorsuch—the order has sufficient provisions to protect the integrity of families. For the dissenters—Justices Stephen Breyer, Elena Kagan, Sonia Sotomayor, and Ruth Bader Ginsburg—the order threatens to imperil and divide families.
In the opening paragraphs of Chief Justice Roberts's majority opinion, Roberts writes that the Court recognizes the dire nature of the situation for the three U.S. citizens and permanent residents separated from their Iranian, Syrian, and Yemeni relatives by the travel ban. "We agree that a person's interest in being united with his relatives is sufficiently concrete and particularized to form the basis of an Article III injury in fact," Roberts writes. He again relies on the importance of family preservation when he notes who is eligible to be granted exemption from the restrictions imposed by the travel ban. Roberts writes that there are provisions to waive the law's entry restrictions for immigrants hoping to reunite with family members already in the United States: A passage describing the scope of President Trump's "Proclamation No. 9645, Enhancing Vetting Capabilities and Processes for Detecting Attempted Entry Into the United States by Terrorists or Other Public-Safety Threats" gestures twice at the fact that it has provisions for "when a waiver might be appropriate, such as if the foreign national seeks to reside with a close family member, obtain urgent medical care, or pursue significant business obligations."
The dissenting opinions, meanwhile, invoke the idea of the family, and particularly separation, in their cautionary words about what the travel ban does in practice.
Breyer, like Roberts, highlights the existence of a provision that would waive the entry ban for immigrants wishing to reunite with a "close family member (e.g., a spouse, child, or parent)" in the United States. He goes on to point out, however, that "The Pars Equality Center identified 1,000 individuals—including parents and children of U. S. citizens—who sought and were denied entry under the Proclamation, hundreds of whom seem to meet the waiver criteria." In another criticism of how the travel ban has been implemented, he notes that an alarmingly low number of eligible applicants were granted waivers—two out of 6,555 in the first month after the ban went into effect, and just 430 in the first four months—and that many family members of U.S. residents were likely among those denied entry.
Breyer's discussions of families also highlight the fact that immigration is commonly a family undertaking rather than an individual one. He goes on to recount the story of a Yemeni child diagnosed with cerebral palsy and told by doctors she would not survive in Yemen. Her family, he writes, received notice that their application for a waiver to enter the United States, where they hoped she would be able to receive treatment, was initially denied, then said to be under consideration, but "this can be a lengthy process, and until the consular officer can make an individualized determination of [the relevant] factors, your visa application will remain refused." ("Though this is but one incident and the child was admitted after considerable international attention in this case, it provides yet more reason to believe that waivers are not being processed in an ordinary way," Breyer adds.)
Sotomayor's separate dissent is arguably the most plain in its argument that the travel ban puts families hoping to immigrate to the United States together at risk. The "individuals with foreign relatives affected by the entry suspension" listed among the plaintiffs, she explains, have likely suffered irreparable harm in the absence of an injunction. Sotomayor lists "prolonged separation from family members" as one of "a multitude of harms that are not compensable with monetary damages and that are irreparable."
Ultimately, in Trump v. Hawaii, the urgency of protecting and preserving immigrant families serves as a powerful rhetorical tool for both sides of a divided Supreme Court. In Roberts's and the rest of the majority's view, it is cause for a careful and thorough implementation of Trump's order, one that makes full use of its waiver provisions. In the dissenting justices' view, it would have been just one of multiple reasons to declare it unconstitutional.
We want to hear what you think about this article. Submit a letter to the editor or write to letters@theatlantic.com.
Ashley Fetters
is a writer based in New Jersey, and a former staff writer at
The Atlantic
.