Raising a Daughter, and Fearing How the Law Will Treat Her
For me and my wife, it's hard to know which anxieties to listen to and which to tune out.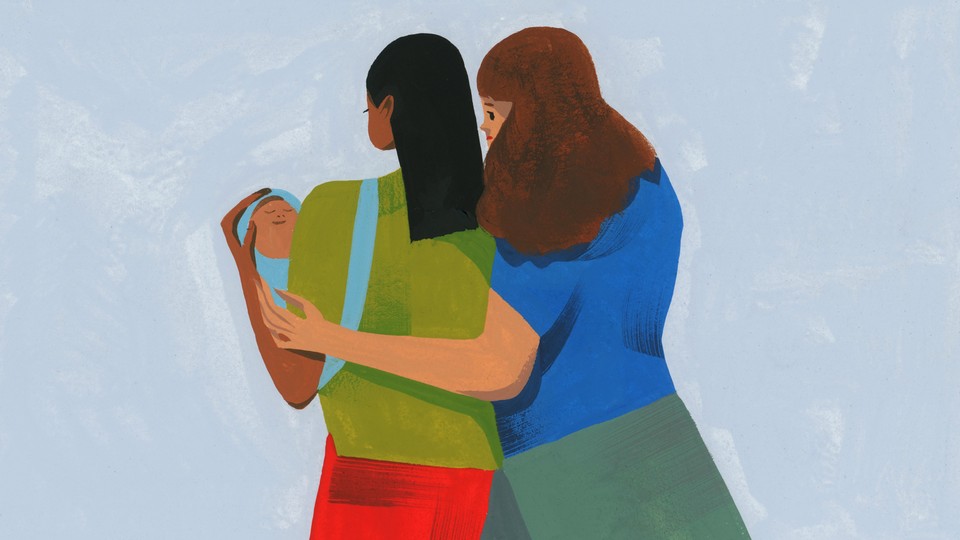 Editor's Note:
This article is part of Parenting in an Uncertain Age, a series about the experience of raising children in a time of great change.
When I gave birth to my daughter Eleanor six weeks before the 2016 presidential election, my wife Liz and I were smitten. Five pounds, four ounces of perfection slept in my arms as we watched the first debate between Hillary Clinton and Donald Trump from the hospital bed in Connecticut just a couple hours after delivery.
Besides the standard health-insurance and birth-certificate forms that come with a new baby, Liz and I had extra paperwork to fill out because we are a same-sex couple. Though our marriage has been legally recognized nationwide since 2015, we, unlike an opposite-sex couple, still needed to take legal action to secure our rights over our daughter.
Like all states, Connecticut doesn't require this "second-parent adoption," but without it, there would be several legal situations in which Liz might not be recognized as Eleanor's mother. If we ever split up, I might be likelier to win custody because I am biologically related to Eleanor and Liz isn't. If I died, my parents could hypothetically have a chance to take Eleanor from Liz.
In between all the late-night feedings and diaper changes, going to pick up that paperwork at the court didn't feel like a priority. We'd get it done soon, we thought, but there was so much else going on and our limited time with Eleanor was precious and all-consuming. (We couldn't file the adoption paperwork in advance because expecting parents can't open a case about a baby who doesn't exist yet.)
We brought Eleanor to the voting booth with us on November 8, 2016. We were hopeful, excited, and confident that we'd helped elect the first female president. Checking the news each time Eleanor got us up for more milk through the night, we began to worry. By dawn, I was horrified, and friends and family texted us messages of support and promises to stand up for us.
Suddenly, the paperwork errand seemed urgent. What if the laws allowing LGBTQ people to adopt children were rolled back? What if our marriage was no longer recognized? The National Center for Lesbian Rights put out an FAQ after the election addressing concerns like ours. While our marriage was pretty safe, it was still recommended that we get our "adoption" done as soon as possible.
Once Trump took office, it was hard to tell how worried we should be about these things. What was in store for people like me and my wife? Any executive order affecting LGBTQ rights that Trump was reportedly considering would probably not survive challenges in court, but we worried about what could happen in the meantime. Our minds went to dark, if unrealistic, eventualities: What if our baby was taken from us by some state official who was just following orders? Unlikely though this extreme case may be, it was a situation that no parent should have to fear, let alone actually live.
Then, in only week two of the administration, a Washington Post columnist tweeted, "I'm told reliably there is a draft Executive order on LGBTQ issues including adoption. Details and timing unclear." The tweet came hours before the second of three hearings we had to attend as part of our adoption process. We joined the online panic.
In order for Liz to adopt her own daughter in Connecticut, where we were living at the time, we were referred for a home study by the state's Department of Children and Families, and Eleanor was appointed her own lawyer to represent her four-month-old interests. We were required to show up to the courthouse three times, provide contact information for character references, ask psychiatrists to send signed statements that we were mentally fit to be parents, and compose answers to dozens of questions, such as "What is your religion? Please list any church activities." After a lawyer quoted us $3,500 to help us navigate the affair, we opted to do it ourselves, only paying the $250 filing fee.
Our adoption was approved a little over a year ago. It was a relatively standard procedure and perhaps we should have felt more confident that we had nothing to worry about, but in retrospect, I don't think it was foolish to panic. For us, the tone of life a year ago was terrifying. I followed the stories the Southern Poverty Law Center was collecting about anti-LGBT harassment following the election. For instance, I read about a 75-year-old man in Florida who said he was violently removed from his car by someone saying, "You know my new president says we can kill all you faggots now." Even amid our fears, we were aware that other people in America—those with less money or without papers or with skin that looks different from ours—faced more serious concerns, and still do.
Studying queer history has always made me feel optimistic. There are setbacks, but in general, worldwide, today's LGBTQ people are better off today than they were 100 years ago. At the same time, history can also show that we're never safe; the feeling of acceptance may be just a false sense of security. A Harris poll released in January 2018 showed that for the first time in four years, acceptance of LGBTQ people went down in America (as measured by whether non-LGBTQ people say they're comfortable with things like seeing an LGBTQ co-worker's wedding photo). The same poll found that the percentage of LGBTQ people who reported having been discriminated against rose from 44 percent in 2016 to 55 percent in 2017.
Now that the adoption is a memory, our day-to-day is still made up of diaper changes and feedings, but now with more Play-Doh and tea parties mixed in. We're happy, but we'll never be able to be moms without the shadow of discrimination in the background. That's why a central part of our parenting will be instilling in Eleanor a commitment to political involvement—we know how much that can matter, to our family and to everyone.