My Last Project With My Dad: Building My Own Coffin
He wasn't always comfortable with big questions about what it means to be a father or a son. I asked anyway.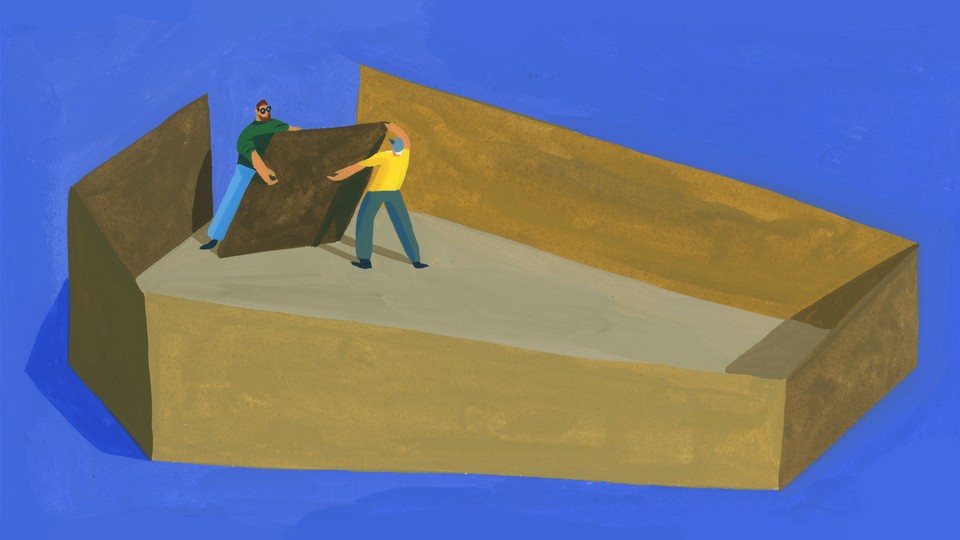 My father's 86th year, which would prove to be his last, began at the Washington Square Hotel in Greenwich Village. Dad and I sidled up to the reception counter, a conspiratorial air between us, checking in. We'd secreted my 21-year-old son, Evan, off to wait in Washington Square Park so the hotel staff wouldn't pick up on the fact that we were sneaking three grown men into a room with two twin beds.
After stealthily reconvening in the little room, we set off on our adventures. Dad, a retired engineer, had a list. A beer (two, actually) at McSorley's Old Ale House. Spaghetti in Little Italy. Mass at St. Patrick's Cathedral. At every restaurant and bar, I strategically mentioned that it was my dad's 85th birthday, even though this was technically true for only one of the four days we spent in the city. I did this not so much to celebrate my father as to try to score free drinks. All it got us was a single limoncello, for him, at his birthday dinner.
My primary destination that week, in the spring of last year, was the office of my publisher, more for my father's sake than my own. My dad and I had just completed an unusual project back home in Ohio. We'd built my coffin together—not imminently necessary, it should be noted—and I'd written a book about it. The coffin, I'll grant you, was an unusual father-son project. But its spirit was not. My dad was most at home in his workshop, a big dusty room in a barn where he'd built furniture and birdhouses and repaired just about everything for almost everyone in his orbit, and I was most at home with him there. All my life, that workshop was the place I understood my father best, a room seasoned with the vinegary smell of sawdust and sweet machine oil and the mystery of the man. My proposal to build a casket was mainly an excuse to be in his dust, to learn from him, to spend time together.
The book, meanwhile, was an attempt to grapple with some of the big questions of mortality and loss, of what it means to be a father and what it means to be a son. The time I spent with my father was in part an excuse to ask him questions I might not have asked otherwise. As a decidedly non-emo sort of dad, he was not always comfortable with these questions, or the fact that his answers might wind up on a library shelf. I asked anyway.
Four years hence, the casket was finished, and so was the book, set for a January 2018 release under the title Furnishing Eternity: A Father, a Son, a Coffin, and a Measure of Life. As the publication date drew nearer, my father's apprehension became more apparent. He still couldn't understand why anyone would be interested in his cluttered old barn. He was uncomfortable about the prospect of losing his privacy. He wasn't keen on the fact that I referenced his farts only six pages in.
I hoped that meeting the people who were making this a book might give him a different perspective. I hoped he would understand what I was doing, and why. I hoped he would realize that this book, like all books, was an attempt to understand something better. In this case, him.
The visit went well. Dad was treated like a visiting dignitary. My editor promised to send him a bunch of books. That helped. He loved both books and getting things for free.
* * *
One thing I'd never been able to shake was the delusion of my father's immortality. This, despite that fact that my mother died six years ago at age 73, a loss, among other things, of my innocence regarding the death of a loved one. The delusion was stubborn enough to overlook the cancer my dad had been battling for most of a decade. (To him, this wasn't a "battle" so much as an annoyance. His health had remained remarkably good and he regarded the disease mainly as a hindrance to his gardening regimen.) Although his hair had turned white, I still, when I pictured him, saw a head of wavy chestnut.
In her memoir The Wine Lover's Daughter, Anne Fadiman reflects on her own conviction that her father, had cancer not taken him, would have lived well into his second century, "like a Russian Methuselah from a yogurt commercial." Parents, the good ones anyway, come prepackaged with a dependability that leads us to such assumptions. We wish the good ones into immortality, and it's an easy lie to believe. We dare not wonder how we will ever get by without them.
So I was lucky. The father I had was one I wanted to keep, and wanted to be romping around Manhattan with for as long as possible. We approached the ramp to his most anticipated destination, the Brooklyn Bridge. This had been on my dad's bucket list for years, to walk across, to see and feel the wonder of what David McCullough had described in The Great Bridge, one of Dad's favorite books. Evan and I had to keep calling out to him to stop as we paused to snap tourist photos of city hall and he kept on trucking toward the high-wire spectacle.
For years, we'd been referring to him as "antsy pants," a result of his perpetual hurry to get to the restaurant, to get started with a card game, to get to the seats in the football stadium. Impatience was his trademark, until he was absorbed in a task. In his workshop, he was focused and methodical, slowed instinctively by the pace at which the process must unfold. He was humble in that way, aware that the task was king, and he its servant. On the dusty jamb of the workshop door was a yellowed card, in the shape of a dove, printed with a Bible quote, Romans 8:25—"If we hope for what we do not see, we wait for it with patience." This was one of the best lessons he'd taught me there, without ever saying a word.
As we walked the 5,989-foot length of the bridge, he slowed, both because of the measure of the experience, and his quietly fading energy, a fact I couldn't ignore, though I tried sometimes. He had several pages of notes in his jacket pocket. He knew all about the engineers and the historical scandals and the braiding of the steel wires. He knew about the caissons and the bends and the falcons nesting above. It was a brisk, sunny spring morning as we moved among the hundreds of other walkers, stopping along the way to take in the view, pose for pictures, read the brass plaques. At one point, I pulled a pen from my bag and added to the graffiti on an I beam: Giffels Boys 3-29-17. When we reached the Brooklyn side, we found a beer joint, ordered a round, and sat and talked for a long time.
* * *
Back home, he continued working in his barn. After we'd finished my casket, he announced, "We made all the mistakes on yours. Now I can make mine the right way." So he sawed and sanded, tended to his gardens, took his self-prescribed two-mile walks in the park near his house. He planned an expanded family vacation on Lake Michigan—his children and grandchildren, nieces and nephews, all who could make it there. The visit to New York seemed to have softened my father's apprehension about his story being told. He continued to ask questions about it, but as the months wore on toward publication, I noticed him mentioning—often to people who hadn't asked—this book his son had written, about him and a coffin.
By fall, we knew something was wrong. He was losing energy, leaving the house less often, but still enjoying his life there. He read every one of the books from the big box my editor had sent him, and told me he broke down crying at the end of Shoe Dog: A Memoir by the Creator of Nike. Which was strange, because I'd only seen this man cry once, and it was over a whole lot more than a sneaker mogul.
As my wife and I planned the annual Thanksgiving gathering at our house, a sprawling affair with 30-odd guests, he insisted on cooking the second turkey. As the holiday approached and his condition worsened, we tried to talk him out of it, but he was adamant. It was already in his freezer, he said. He'd researched the brine. The only concession he'd give was to accept help lifting the heavy plastic bag filled with brine and the bird into and out of the refrigerator.
He was, as always, the first to arrive. He came through the back door, set the roasting pan on the stovetop, dropped into his regular chair at the kitchen table, and asked for two sticky notes and a marker. On one slip, he wrote, "I'm." On the other, "Fine." He stuck them to his chest to forestall questions from family who'd only been getting the news via group texts and emails.
In the long view, he was fine. At dinner one night as winter drew near, he allowed that he knew where this was headed, and that he was at peace with it. "The only thing that makes me sad," he said, "is that I know other people will be sad."
Furnishing Eternity was released on January 2nd, 2018. Three days later, he died, at peace, in hospice, with all of us there. The last thing he finished in his workshop was his own casket. The last book he read was the one he and I had made together.
I asked my dad to help me build a casket because I wanted to spend time with him. And then I worried whether he'd rather be spending that time differently. I'm glad we did it, but I do still wonder.
To lose a parent is, in part, an exercise in regret. It is to question perpetually whether you could have done things better, or differently. Ultimately, those regrets need to be settled, like an estate—unilaterally, without the option of calling your dad and asking him how it's done.