The Curse of an Open Floor Plan
A flowing, connected interior—once a fringe experiment of American architectural modernism—has become ubiquitous, and beloved. But it promises a liberation from housework that remains a fantasy.
For some American families, one kitchen is apparently not enough. What is wrong with having just one kitchen? Well, people cook in kitchens, and when they cook in kitchens, they make messes, and then, to make matters worse, if their kitchen is in full view from the rest of the house—as many today are—their mess is out in the open visible as they eat their meals, hang out with their families, entertain their guests, and go about their lives.
That is why one company, Schumacher Homes of Akron, Ohio, has a fresh new design on offer: a house with an open floor plan, with its kitchen, dining area, and living room all flowing into one another. But then, behind the first kitchen, lies another. A "messy" kitchen. There, the preparation for or remainders from a meal or party can be deposited for later cleanup, out-of-sight, out-of-mind.
That this is "necessary" at all is a consequence of the rise of the open floor plan in the first place. On the next block or on HGTV, remodels blow out walls, enlarge kitchens, and couple them to the surrounding space. In new construction, enormous great rooms combine hundreds of square feet of living space into singular, cavernous voids, punctuated only by the granite or marble outcropping of a kitchen island. This amorphous, multipurpose space has become the center of domestic life.
It hasn't always been this way. These layouts first became popular in pre-war modernist architecture, but their origins stretch back earlier, to the turn of the 20th century at least. Then, as now, they promised to tear down obstruction and facilitate connection. But that promise was aspirational from the start: It assumed an equality in the home that has never come to pass. In practice, open-plan design has always been a stage to a quiet struggle between freedom and servitude. That struggle continues today, and messy kitchens won't put an end to it. It's just hard to notice when the experience has been sold, universally, as "great for entertaining."
---
In the February 1901 issue of Ladies Home Journal, on a single page between a portrayal on the "Life of an English Girl" and a feature asking, "Is the Newspaper Office the Place for a Girl?," the then-obscure American architect Frank Lloyd Wright published plans for a home "in a prairie town." It might seem like a strange host for architectural plans, but Ladies Home Journal frequently featured them, amid Rubifoam toothpaste ads, tips on what to do with cheese, serialized romance novels, and journalistic muckraking. It makes sense: Architecture is the foundation of home life, a matter largely relegated to women then—and still today, like it or not.
Many of the characteristic features of Wright's "Prairie" style, as others would come to call it, are already visible in the 1901 design: a low-pitched roof, wide eaves, horizontal orientation, and a strong connection to the surrounding landscape. Inside, another feature is present, in nascent form: an early open floor plan, combining multiple rooms together into a continuous space.
Wright's design joined a series of "model suburban homes which can be built at moderate cost." Moderate cost was relative; despite calling it "economical" and "cheap," Wright estimated the design at $6,970, or about $210,000 in today's dollars, not including the land on which it would be built. That figure is well above the median home cost even in 2000, let alone in the 1940s and '50s, when the suburban housing boom spread small, affordable, ranch and minimal-traditional homes in and around American cities.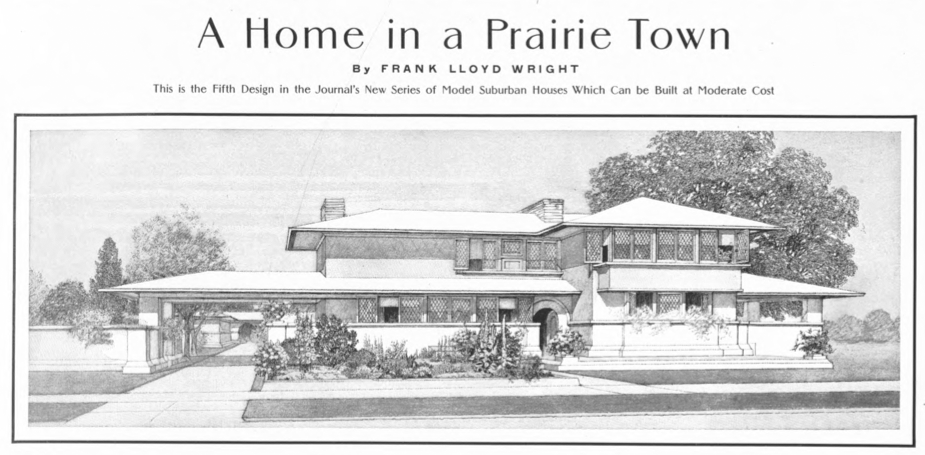 Wright's first prairie-house design—and the early, open floor plan it hosted—assumed not only wealth sufficient to buy the land and build the home, but sufficient to operate it too. Live-in help was assumed. The design opened a vaulted "gallery" living room, library, and dining room in a manner that presaged more extreme open plans. But it still tucked the kitchen into the corner of the main floor, connected by its own stairs to the servants' quarters above.
Wright published another, similar plan in the July 1901 Ladies Home Journal. This time the dining room is central, and the kitchen—Wright calls it a "working department"—has been exposed to the main stairwell. The pantry, a common means to isolate the "dirty," private kitchen from the "clean," public dining room, is substantially smaller. The servants' spaces connect to the primary living spaces more directly. Already, in 1901, form—that great fixation of modernism—is driving design and beginning to upset the servant-run family home in the process. By 1907, Wright did away with the butler's pantry and its associated buffer in another design for Ladies Home Journal, deeming them "unnecessarily cumbersome."
Wright saw architecture as a "powerful instrument of social progress," as he told LIFE magazine later, in 1946. He was serious about this intervention, and not just for the well-off. By the mid-1930s, Wright had developed a series of small, functional "usonian" designs, a name he used as an aspiration for a uniquely American architectural form. These small, single-story structures were usually L-shaped, one branch containing the bedrooms and the other the living spaces, often in a mostly open configuration.
Following a custom begun in the 1920s, the dining room and kitchen were combined, partly for economic reasons, but also for functional ones. Anthony Alofsin, an architect and historian at the University of Texas, Austin, told me that many arrangements of the period facilitated a newly popular assumption: The mother, relegated to the kitchen, needed to have a view of where the children were playing in the yard. This key principle would evolve to justify open plans more generally, but with a mother's view of the safe confines of the indoors more in mind.
The new-age tenor of this modernism was particularly compatible with California, where it incubated before spreading. There, starting in the 1930s, modernist design brought indoor and outdoor spaces to flow together with greater ease. To seek out even more air and light, interior spaces became less distinguished from one another. A new moralism underwrote the opening of the house plan, too: that a house's design should facilitate a lofty attitude in its occupants. Wright's 1936 design for the Palo Alto childhood-education specialists Paul and Jean Hanna, for example, symbolically fused the harmony of space with the harmony of the mind. The hope was that light and openness in the physical environment might elevate the social and creative virtues of the individuals who lived there.
Wright's ideas spread across the country via his disciples. Architects like Richard Neutra and R.M. Schindler, who had once worked with Wright, took up single-floor, open-plan designs with continuous spaces. Harwell Hamilton Harris absorbed Wright's usonian lessons and reinterpreted them in California, Texas, and North Carolina. In Palm Springs Albert Frey, Donald Wexler, and others established desert modernism, perhaps the most recognizable version of mid-century modernism. In Florida, a comparable climate inspired architects like Paul Rudolph and Ralph Twitchell to pursue similar effort under the name Sarasota modernism. Schools, office buildings, and skyscrapers also saw open-plan design flourish, but from the 1930s to the 1960s, the high-profile American modernist architectural project was largely a domestic one, focused on the middle-class home.
The reduced size and more affordable prices of interwar and post-war homes helped justify the fusion of cooking, dining, and living spaces, but the openness of kitchens was further rationalized by an idealized notion of efficiency, thanks to the ability to move seamlessly among different household tasks. But that efficiency created new duties in turn, including those facilitated by then-novel electric appliances. Americans' ongoing rejection of domestic help made smaller, middle-class homes feasible, even as that very rejection also conscripted Americans, women in particular, to endless labor.

Already, by the 1950s, the open-plan kitchen offered a connection to living and dining spaces for the purposes of home monitoring and management. Gender roles being what they were, that tended to mean that women were "allowed" to oversee their children's and husbands' needs in the living spaces while also preparing or cleaning up from family meals. In one telling snapshot of the era, a 1950s box cover for the board game Battleship, a father and son play a game on the dining table while a mother and daughter look on in the background from the kitchen, where they wash dishes. Open plans, it would seem, worked best when enabling a request from the living space to be heard and carried out in the kitchen. So much for the harmony of mind.
Still, the change was framed as social progress. Open-plan designs were presented as more "casual" alternatives to the formal rooms they replaced. Describing one late-1950s home by the California-modernist architect Pierre Koenig, the design historian Pat Kirkham characterizes a kitchen opened up to the dining/living area as a "material expression of the informality of social intercourse." The ability to chat with family and guests was a clear benefit, but it also created double-duty for the kitchen "worker," who was assumed to be a housewife. And as Kirkham also notes, open-plan design created more work beyond the kitchen too, by providing ever easier ways for dirt to get in from outside and quickly spread throughout the house.
Prosperity rose during the 1960s. The housing industry became more powerful, and many families had enough money to trade up from their wartime houses—especially white, middle-class families who had been able to build wealth through home equity. They developed greater ambition and wanted more space. As the small, modernist middle-class home of the 1930s through 1950s gave way to larger designs of the late 1960s and onward, the great room emerged, often with a vaulted ceiling exposed to high windows or a second-floor gallery. And so, the total space and activity the open-plan homeowner had to manage from behind the kitchen increased ever further. The kitchen became like a ship's bridge, but absent the personnel to run the vessel.
Openness and continuity might have been modernist aspirations for the spirit as much as the body, but just as the open-plan office created the oppression of constant oversight in the name of collaboration, so the open-plan home merged the duties of hostess, butler, cook, and childcare provider. And despite its promise of relaxation and conversation, open-plan living has actually combined leisure with labor. When the two fuse, work wins in the end, converting recreation back into obligation. The dinner party entails its preparation and cleanup; meal-prep also involves child oversight or homework help; television-viewing takes place during dishwasher-unloading. Overall, domestic life becomes an exercise in multitasking. And so, even when it expands freedom, the open kitchen constantly reminds its users of that freedom's limits.
---
Today, the "prairie town" is just the suburbs. Mid-century modernism is alive as a style trend, but not necessarily an affordable one like it was in its salad days. American homes have gotten much bigger in the last century, and the open-plan design has consistently increased in popularity and ubiquity during that period, too. Along the way, the two-faced nature of the design, especially for those at work in the kitchen, has become so widely accepted that it has essentially devolved into domestic ideology.
On HGTV shows like Fixer-Upper and Property Brothers, almost every renovation involves removing walls to facilitate open-concept living. Families celebrate their future ability to oversee the kids in the living room from the kitchen, or to watch television from the sink, believing such split duties will constitute comfort and liberation. Like every dream to "have it all," this one too is a fantasy. (In fact, the rise of the phrase "open-concept" offers its own testimony to the role that televised fancy has played in the drive to combine spaces together. It started as a distinctly Canadian name for "open-plan," but since some of the most popular HGTV shows were filmed in Canada, the term spread in the United States. Architecture's ideas are always best when imagined rather than built.)
For Wright, Neutra, Harris, and others, open design represented the promise of a new social ideal, one where fluid spaces would allow egalitarian integration. That aspiration continues, in a way, but the ideal is less communal and more individual: Open plan is where everyone does their own thing, but all together.
In retrospect, there was never a clear path from those early modernist visions of the 1930s—or even from the generic, 1970s great room—to a society of equity and mobility. At best, egalitarianism was confined to those who led comfortable middle- to upper-middle class lives already. Wright's unrealized vision for an urban plan, which he called Broadacre City, amounted to a master-planned suburb, connected by the automobile, where television and other personal entertainment obviated most social needs anyway. Status and economic comfort, it seems, were prerequisites for living in the homes of the utopian future.
That assumption persists in today's open-plan homes, even as the design has evolved. Most have shed both the ornamentation of Prairie style and the minimalism of modernism. Inside remodeled vernacular homes and ranches, and built into the designs of new subdivisions and urban infill, the open-plan strives for the largest void possible, with the kitchen and living space coming along for the ride.

But despite modernism's aspirations, these homes still struggle with the relationship between formal and casual living. Consider a common design for infill construction in Atlanta, where I live: a swelled version of the foursquare home, large enough to contain 4,000 square feet or more. This design often features a formal dining room to the left or right of the entryway, sometimes with an office opposite. The formal living room has been abandoned, relegated to the informal great room in the rear, which flows together with a large kitchen and eat-in space.
Everything becomes confused. A butler's pantry might connect the kitchen to a formal dining room, but without the Victorian servants to stock it—or the silver and china to store in it. Meanwhile, the kitchen remains exposed to the living space behind, its smells and sounds uncontained. The yard might be visible from the kitchen, as in the usonian ideal, but there's not much yard left to play in or oversee once a giant house has been built on a small, urban plot. The spaces in these supposed dream homes are in constant conflict, not fluid harmony.
And yet, people still want open-plan living. According to Alofsin, who has written a book for consumers about suburban homes, homebuyers prefer to eliminate formal parlors or dining rooms in favor of even more open space. And all the designers, builders, and real-estate agents I asked said that their clients are still looking for open plans, whether for renovations, purchases, or new construction. Anja Weninger-Ramirez, a partner at Studio d+c, a home design/build firm in Decatur, Georgia, told me that people regularly report that new open spaces that make the social core of the house "change their lives." Integrating meal prep, parties, and so forth with the living area appeals to people because "that's where family life happens," she says.
It makes sense, until you think about it for a moment. Wouldn't family life keep happening, even if a few walls were erected? What open-plan aficionados might really mean is that so much time and effort is spent chasing the residual labor of school, work, and home life into the evenings and weekends, that it would be lovely if some of it might overlook other family activities in the process. There is so much to do, but at least a family can all be nearby one another while trying to get it done.
---
Driven by buyer preferences in a still-rising real-estate market, designers are beginning to treat the symptoms of open-plan excess. Modernists once designed for multipurpose use or simplicity, but now they design for stowage. Once the kitchen becomes the family room everyone looks for a place to charge their personal electronics. Weninger-Ramirez likes to hide them in a small cabinet with sufficient outlets for a family's devices. Other bespoke storage spaces have also become common for hiding specialized equipment—mixers, juicers, blenders, instant pots, and the like. The goal, Weninger-Ramirez says, is to allow the family space to be quickly tidied up in case guests come over.
These are fine answers to perceived "problems," but they are problems that might not exist under different circumstances. The open-plan doctrine blinds homeowners to the prior benefits of traditional, defined spaces. In the past, public-private spaces like formal living rooms and parlors would have received guests, sparing the home the embarrassment of view onto its private spaces. Even the early American modernist designs still offered some of these formalities, along with more purpose-built spaces like playrooms, libraries, or offices.
Today's homes are far larger than their predecessors, and yet they often boast fewer types of spaces. That tendency is only increasing. The media room or theater, once a luxurious addition to a large, suburban home, is now being made moot by individual entertainment deliverable by smartphone or tablet and consumed on the couch in the den next to the kitchen. Given that the contemporary family often requires two incomes to afford the mortgage on such a home anyway, it's no wonder that home design would devolve into three spaces— kitchen, bedrooms, and bathrooms—each of which serves the basic human functions of eating, sleeping, and expelling waste.
While Weninger-Ramirez tries to hide plugs and appliances, a modest remedy, Schumacher Homes' "messy kitchen" opts for a more extreme approach: to hide one kitchen behind another.
The design looks familiar at first. An open kitchen island faces a large, vaulted great room with second-floor gallery and flanks an open-plan dining area. But this part of the kitchen is markedly smaller than the average in a home of this size (3,718 square feet by stock plans). The public kitchen boasts a range top, oven, microwave, and sink, but the rest of the kitchen, at first, appears to be missing.

It is housed in a separate room behind the public kitchen. There, the refrigerator, pantry storage, cabinets, and another sink and dishwasher are situated, with a long countertop extending the length of the space. The idea is that the pre-meal food prep and post-meal food waste can be stowed out of sight in the "messy kitchen," leaving the public kitchen for the cooking, eating, and visiting.
Mary Becker, Schumacher's vice president of sales and marketing, wasn't sure where the phrase "messy kitchen" came from, although she and her associates disclaimed having invented the term. She situates the design squarely in the targets of conventional, suburban living. "It's great for those big Saturday Costco trips to store all your stuff," Becker said of the expansive pantry in the prep kitchen. In truth, the idea is really just a new interpretation of the old distinction between kitchen, pantry, and dining room. A kitchen for the mess, and a public space for eating it. The difference is that the public space is another kitchen instead of a dining room.
High-end estate homes have boasted secondary or hidden catering kitchens for years. But these are much larger, more expensive properties even than the 4,000 square-foot, million-dollar foursquares. Their wealthy owners may very well have regular staffs to run the household or manage large dinner parties or receptions. By comparison, Schumacher's design starts at $359,193, not including the cost of land, making it affordable, to some extent, for families who still need a mortgage but want to come in under the maximum $750,000 eligible for mortgage-interest deduction under the new tax law. Some buyers might even be able to locate theirs close enough to a city that they could enjoy it for a spell in the mornings or evenings before commuting to and from work in those automobiles Wright so admired.
---
On first blush, the messy kitchen suggests that design's pendulum might yet swing back toward defined, divided spaces. It's possible that the rest of the kitchen will follow suit, and perhaps the dining room later on. But more likely, messy kitchens represent yet another skirmish in the struggle between obligation and freedom in the American home. After all, the kitchen was sequestered from the living space for all the same reasons a century ago and more: To spare the family from the visual and olfactory unsightliness of food preparation and cleanup.
The messy kitchen revisits that promise, but without the staff that would relieve the homemaker of the duty, and with homemaker in decline as a full-time role, too. After the dinner is done or the party concludes, someone has to go back into the big, kitchen closet and clean up the dishes. More times than not, that will probably be a woman, who will once again be banished from the social action in the process. That's a circumstance that inspired the open-plan kitchen in the first place. And even if the messy kitchen's usage proves more equitable along gender lines thanks to intervening cultural changes, the design seems to require a negotiation of the loneliness of prep and cleanup that, despite its downsides, an open design might have helped avoid.
Domestic open-plans were first a luxury for the servant-run upper class home, then they became a social aspiration for the prosperous, individualist middle class. Today neither circumstance really applies. And that loss plays out in the open-plan kitchen, for better and for worse. Unsustainable personal labor churns together with tenuous home economics, forever mixing but never reconciling, even as the joys and comforts of everyday life continue amidst it.
In this respect, the open plan might represent the most distinctly American home design possible: to labor in vain against ever-rising demands, imposed mostly by our own choices, all the while insisting that, actually, we love it. It's a prison, but at least it's one without walls.