The Problems With Breastfeeding Go Way Beyond Breast Pumps
At an MIT hackathon last weekend, engineers, designers, and parents brainstormed ways to make feeding newborns easier.
On the sixth floor of MIT's Media Lab last weekend, babies and strollers seemed to outnumber laptops. The bathrooms were stocked with diapers, wipes, and essential-oil atomizers. Private spaces for nursing, with soft lighting and fuzzy pillows, abounded.
The occasion was a hackathon that brought together developers, designers, and others to, as the event's title puts it, "Make the Breast Pump Not Suck." One team developed LactPac, a waterproof kit for breastfeeding in the event of a natural disaster. Another suggested modifications to traditional Pueblo regalia to make it easier for Native American women to breastfeed. One of the tech-focused solutions was a virtual-reality app intended to increase oxytocin levels and thus help induce the release of milk for mothers pumping away from home.
The event was a reboot of its 2014 predecessor, which focused more explicitly on engineering and product design: how to build a better breast pump. Optimization of products and design is something that engineers do well—and hackathons can be accelerants of that process.
But after witnessing the conversations among midwives, doulas, engineers, designers, and parents at the inaugural event four years ago, Catherine D'Ignazio, one of its organizers, says it became clear that there was a divide between these groups—the technical crowd and the users. They hadn't really talked to each other before. D'Ignazio also told me that the conversations the 2014 hackathon sparked indicated that breastfeeding is experienced quite differently by different socioeconomic and racial groups.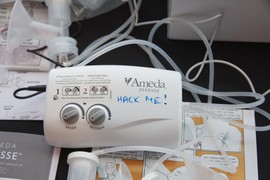 What emerged was an awareness that the challenges surrounding breastfeeding were not just technical and equipment-based. There were practical, social, and economic obstacles that needed to be addressed. Even under perfect circumstances, breastfeeding will not work for every family, but at the core of the hackathon's vision is that it definitely could be much easier for many people, and there are plenty of borderline cases for which changing the circumstances, technologies, and systems could have a real impact.
Hence this year's event, many of whose attendees were just as interested in improving breast pumps as they were in public policy. Jennifer Roberts, the event's head of equity and inclusion, and Binta Beard, a public-policy consultant and former Capitol Hill staffer, led a "Make Family Leave Not Suck" policy summit. Currently, only four states guarantee some form of paid family leave, and those policies, including the federal Family and Medical Leave Act (FMLA), don't extend to many parents—such as those who work part-time, or those who work for companies with fewer than 50 employees. That means that nearly a quarter of new mothers, according to the Department of Labor, are back at work or school within 10 days after having a baby; an additional 22 percent return within 40 days, even though studies recommend at least six months of leave post-delivery.
At the summit, teams used a brainstorming method called "backcasting"—defining a long-term vision and then figuring out what it'd take to get there. They imagined more-robust and more-equitable family-leave policies that might be realized in the next three to five years, and suggested actionable steps that might bolster advocacy efforts: growing online communities, planning local in-person events in states with legislatures that haven't been interested in family leave, connecting experienced advocates with new moms.
Also on the weekend's roster of events: Phoebe Ayers, a librarian at MIT (where I teach), hosted a Wikipedia editathon to bolster the articles on topics such as breastfeeding, breast pumps, and maternal health and caregiving—a corrective for the online encyclopedia's gender bias. And there was a book-release event for Speaking Our Truths: 27 Stories of What It's Really Like to Breastfeed and Pump in the United States.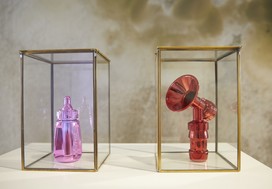 Elsewhere at the hackathon, amid maternity-inspired paintings and artworks made from repurposed bottle nipples and pantyhose, sat a team that called itself the Milk Angels. Karen Derrico, a breastfeeding advocate and a mother of 11—including twins, triplets, and quintuplets—who breastfed all of them, told me about her team's goal: to push for a federal policy on how breast milk is managed in health-care settings.
One critical area for improvement is in neonatal intensive-care units (NICUs), where breast milk may be wasted or expire before consumption, since there is no universal requirement in place to regulate its storage and use. And for parents with multiples, like Derrico, this is of serious concern, as a supply of breast milk is not infinite. In contrast, federal guidelines clearly regulate the collection, storage, and use of blood and other biological material.
One of Derrico's four teammates, Vidur Bhatnagar, has already developed a breast-milk barcoding platform for hospitals called Keriton Kare, which tracks breast-milk inventory and mothers' pumping logs—it's designed to meet the needs of nursing mothers whose babies may have their hospital stays extended after the mothers themselves have been discharged. It also features a chat and photo-sharing tool so parents and NICUs can communicate, which may encourage mothers to pump more. But adoption of the system has been slow. As the group talked about why, the conversation quickly turned to policy, and those federal guidelines that the team is interested in.
This year's iteration of the hackathon was more inclusive than the one four years ago. Nearly 70 percent of this year's attendees identified as people of color. Attendees also traveled from other countries and regions; among them were representatives of a maternity-focused community-outreach organization called the Northeast Mississippi Birthing Project, and a cohort of students and faculty from historically black colleges and universities.
The origin story of the "Make the Breast Pump Not Suck" project begins roughly five years ago. Catherine D'Ignazio, now a professor and faculty director at Emerson College's Engagement Lab, was at the time a student in MIT's Center for Civic Media. Shortly after the birth of her third child, she found herself pumping breast milk on a bathroom floor. She started to wonder, "At an institution where there is so much talk about the future, where is the future of breastfeeding women? Of babies?" After sharing her story with her then-classmate Alexis Hope, who herself had thought through the challenges faced by expectant and new mothers—she had previously developed software to screen for high-risk pregnancies in low-resource areas—the two started talking about what they could do.
Hope, who was the creative director of this year's hackathon and is a researcher at MIT's Center for Civic Media, says that after hearing D'Ignazio's story, she felt "frustrated that centers of technology and innovation talk about the future of transportation, the future of cryptocurrency, and the future of AI, but they are not talking about the technologies that matter to millions of people day-to-day—and technologies pertaining to women." From that frustration and resolve to do something about this lack of attention, the two decided to launch the "Make the Breast Pump Not Suck" project.
Though hackathons are typically dedicated to those brand-new technologies D'Ignazio mentioned, they might be just as cut out for something like breastfeeding that is shaped so powerfully by forces outside of just breast-pump design. Time constraints force participants to move quickly from concept to action, and a deliberate and intensive design process can help identify broader, system-wide goals, like universal paid family leave. Even when society is the system being hacked, these principles still apply.