The Enduring Appeal of the Fairy-Tale Wedding
Even in this modern age, many brides still just want to feel like princesses.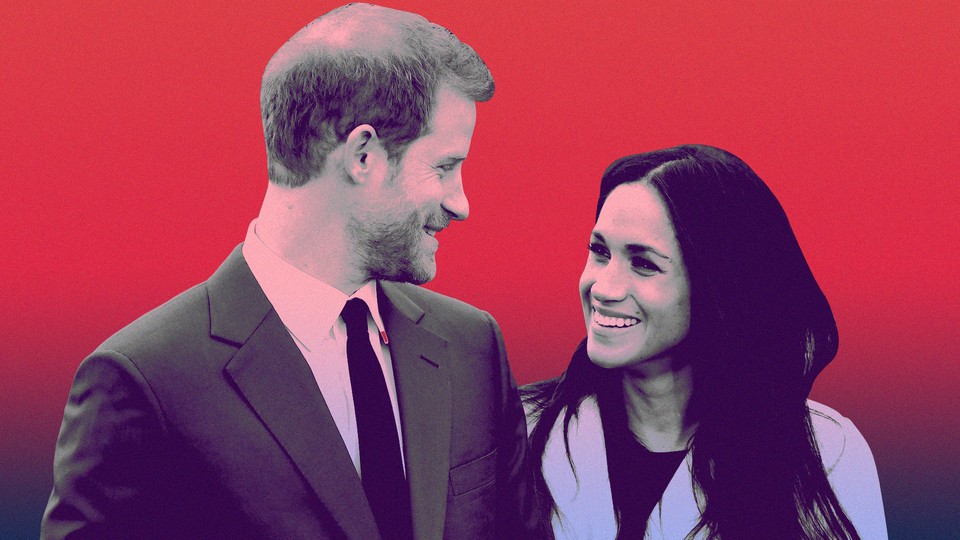 On Saturday, millions of people around the world will tune in to watch a fairy tale. A prince will marry his beloved and, together, they'll parade through the streets in a horse-drawn carriage, waving—royally—to thousands of adoring subjects as they pass.
The royal wedding is a global phenomenon. An estimated 2 billion people watched Prince William marry Kate Middleton; in 1981, 750 million watched Prince Charles wed Diana Spencer. Since Prince Harry's engagement to Meghan Markle was announced in November, royal-enthusiasts have been readying themselves for the big day, planning viewing parties and buying up all manner of Harry and Meghan accoutrements: plates, mugs, coloring books, life-size cardboard cutouts, even novelty condoms ("fit for a prince"). Four million people are expected to travel to England for the event.
Even as Millennials shrink from elaborate, formal affairs, choosing to get married in barns over ballrooms, the appeal of the "fairy-tale wedding" has endured. The word bride is strongly associated with the word princess. "Women hear the saying—and this is reinforced again and again—'This is your one day to be a princess,'" says Cele Otnes, a professor of marketing at the University of Illinois at Urbana-Champaign, and the author of Cinderella Dreams: The Allure of the Lavish Wedding. Brides today are buying glass slippers and renting castles in England and France. Disney has cashed in with a premium wedding line, allowing brides to coordinate their nuptials around a Disney princess of their choice. For the die-hards, there is the "real-life fairytale" package in Walt Disney World: Henchmen wearing white wigs and gold leggings will deliver the bride in a pumpkin-inspired plastic sphere to a private ceremony in front of Cinderella's castle.
For those aspiring fairy-tale brides unable to shell out $180,000—which is what Disney's ultimate fairy tale will set you back—there are other, cheaper ways to feel like a princess. After their weddings, according to Otnes, Princess Diana and Kate Middleton each transformed the wedding-dress industry. "Diana got married in a big, poofy dress with puffed sleeves, Kate in a lacy, fitted gown. The dresses became immediate sources of emulation. There is a reason everyone is waiting with bated breath to find out what Meghan will wear," said Otnes (who will be celebrating the wedding with her colleagues, wearing fascinator hats and enjoying a British high tea).
The fairy-tale wedding dates back to 15th-century Venice, when a writer named Giovanni Francesco Straparola invented what is now recognized as the standard happy ending. "Before this point, at the end of fairy tales, you had the prince and princess living as hermits, not getting married, waiting to receive their ultimate rewards in heaven," said Ruth Bottigheimer, a professor at Stony Brook University who specializes in fairy tales. "The new happy ending takes place here on earth, and it takes the shape of a wedding." Classic fairy-tale weddings involve at least one royal, Bottigheimer said, "because that's where the money is—the power." In mid-19th-century Germany, the era of the Brothers Grimm, fairy tales were widely taught in schools. At that point, Bottigheimer said, "the happily-ever-after plot gets injected into the whole European population."
The fairy-tale wedding—as a consumable good, not a fictional happy ending—arrived in the United States in the 1950s, says Stephanie Coontz, a professor of marriage and family history at Evergreen State College. When World War II ended, marriage rates skyrocketed. Women, employed during the war while the men were away, left the workplace in droves and got married. In 1950, the average age of marriage for women was 20. "If you waited four or five years after that, you'd be labeled a spinster," Coontz said. In the midst of that pressure, the wedding industry identified an enormous opportunity, using ads to convince women that their wedding would be the biggest day of their lives. At the same time, Disney debuted its rendition of the world's most famous fictional princess: When it came out in 1950, Cinderella—which ends, of course, in a gilded royal wedding—was, by one count, the highest-grossing film of the year. And so began what Coontz calls "the relentless pursuit of the princess."
There was something special about Cinderella. In the sweet girl next door who talks to birds and sleeps in the kitchen, Coontz told me, women saw themselves. "This idea that someone who can support you at that level of opulence chooses you, instead of a blue blood … that is a very attractive fantasy," Coontz says. Particularly after Grace Kelly—another "commoner" (who, yes, happened to be a wildly famous actress)—married Prince Rainier of Monaco in 1956, the fairy-tale wedding suddenly felt, well, if not within reach, then at least something worth fantasizing about. The most recent royal marriages, according to Coontz, have been so popular because they play out the same storyline: Rich, royal dude swoops in to save a regular girl from a lifetime of oppressive normality. (Both Middleton and Markle were considered "commoners" at the time of their engagements, though genealogists have since claimed distant royal ties.) "In the past, kings and princes couldn't marry commoners, so there was no point in fantasizing about it much," Coontz said. "Now we've seen the idea of a 'love match' become a reality."
Even given this rich history, it's remarkable how much the appeal of royal weddings continues to hold sway today, at a time when so many women are rejecting other princess narratives and running much of the world. The reason could be a phenomenon I've written about before: symbolic gendering. As women become more and more professionally successful, equal to men in almost every way, says Ellen Lamont, an assistant professor of sociology at Appalachian State University, they may feel some lingering desire to enact certain gender stereotypes: to wear a big, swooshing gown, and be swept off their feet by a handsome prince. Symbolic acts, like weddings, first dates, and marriage proposals, are easy opportunities to partake in this kind of role play.
If the fairy-tale fixation stops at a Harry-Meghan viewing party, or a princess-inspired wedding, Coontz isn't too worried. She does believe, however, that it can get problematic when women—and, for that matter, men—internalize the sexist ideals of the fairy tale wedding, and allow them to permeate their relationships. "To the extent that you start to experiment with the idea that you could reproduce these [fairy tale] dynamics in your daily life, that can be very dangerous," Coontz said.
For now, Otnes suggests kicking back, and enjoying the royal wedding for what it is: a fun thing to watch. "You could do a drinking game where everyone drinks every time someone says 'fairy-tale wedding,'" she offered. "You'd be drunk pretty quick."