The Gender Trap of Being First Lady
Unelected and unpaid, first ladies often struggle to develop their own policy goals. But even so, the case of Melania Trump stands out.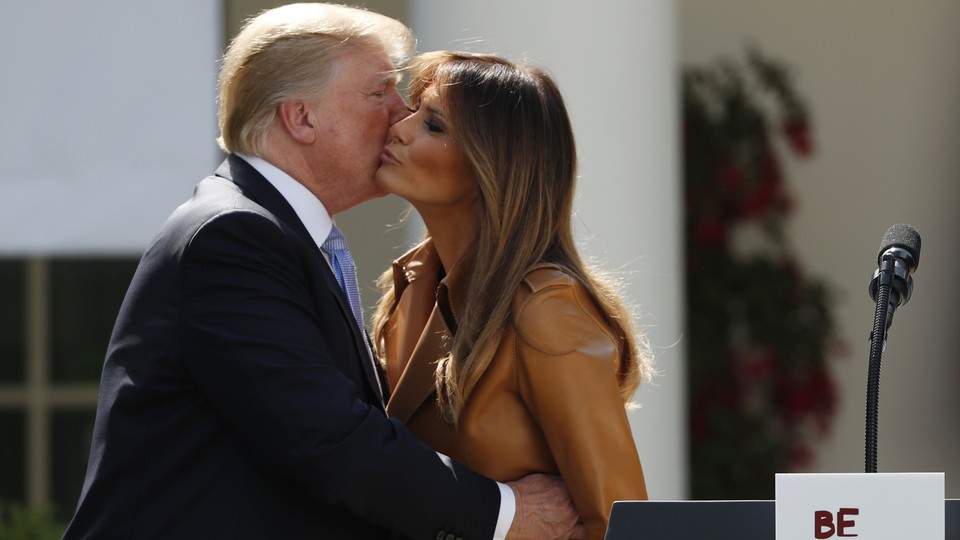 Melania Trump is an unusual first lady: It was a role she apparently did not want; she delayed moving into the White House for several months to allow her son, Barron, to finish school in New York City; and she has had limited public presence for much of her husband's presidency. All told, Melania Trump hasn't seemed enthusiastic about her role.
But speaking in the White House's Rose Garden on Monday, Trump took on the mantle of her predecessors: She announced a new initiative called "Be Best," which will focus on children's well-being and social-media use, and the opioid epidemic's effect on families. "In my time as first lady of the United States, I will make every effort to 'be best' by championing the many successful well-being programs in existence today and teach the tools and skills for emotional, social, and physical well-being," she told the crowd. As she described in a video that played before her speech, "I want to nurture and protect the most valuable part of our society and our future: children."
The launch symbolizes a recent switch in Trump's approach to her role. After a year shrouded in relative mystery, in just the last month or two, Trump seems to be claiming more of the responsibilities of her position; after planning the first state dinner in April, NPR called it her "big moment," and The New York Times concluded that "in the end she played the part."
Historically, the first lady's platform is the official means by which she stakes out her role in the White House, and most often that platform revolves around children. But one thing was different this time around: Her initiative was broad, even unfocused, compared to past first ladies'. The "Be Best" platform is "a very ambitious and varied set of issues to be working on," Lauren Wright, a Princeton lecturer and the author of the book On Behalf of the President, said. "And that's really different from past first ladies." Usually, Wright says, first ladies pick a more narrow cause, such as healthy eating.
"There are too many issues facing children today to choose just one," Melania Trump's communications director, Stephanie Grisham, wrote in an email. "Mrs. Trump wants to use her role to help as many children as she can, so she isn't going to limit herself to one area."
The office of the first lady is of course a gendered one, unofficially tilted toward topics like family, women's rights, health, and education. Last year, President Trump, discussing the first lady's pending move into the White House, endorsed this role: "I think that Melania's going to be outstanding. … She, like others that she's working with, feel very, very strongly about women's issues, women's difficulties," he said. He added, of the first lady and his daughter Ivanka, "They're not doing this for money, they're not doing this for pay. They're doing this because they feel it, both of them."
First ladies "choose these highly targeted initiatives or projects that frame the president's policy agenda, but don't appear to be political themselves," Wright said, pointing to examples like First Lady Laura Bush's Afghan women's initiatives during the War on Terror. The office itself is cobbled together from ad-hoc images: wife, mother, an icon of fashion and morals. This is both a blessing and a curse: First ladies must combat the stereotypes of the office itself—unpaid, in the shadow of one's husband, powerless—while also embracing those stereotypes in order to win public approval.
They also often find their policies have the most traction when they align with an administration's preexisting priorities. Laura Bush, for example, also championed children's literacy while the president pushed No Child Left Behind, the sweeping legislative overhaul of K–12 education, through Congress. Michelle Obama advocated for better nutrition and exercise as President Obama authored a landmark change in health care. Their initiatives land in agencies that are themselves gendered—the majority-female Departments of Education and Health and Human Services, for instance—and succeed when they dovetail with a major legislative push from the administration.
"The fascinating thing about this office is that the way we stereotype it as symbolic and fluffy and fashion-related only helps the administration accomplish their objectives," Wright said. "Because it's done in a way that doesn't seem political, but it really, really is." They cultivate media interest, popularity, and the appearance of being a political outsider. Over the last three administrations, first ladies have made major speeches more often than vice presidents, according to Wright's research. They also tend to draw less partisan rancor, and are often more popular than their spouses.
The office has also gained stature since the 1990s, both in the U.S. and abroad, as international women's conferences underlined the communicative power of the role, and as the office made routine the assemblage of task forces, corporate-sponsored deals, and nonprofit partnerships. By then, Barbara Bush had left the office with historically high approval ratings during her husband's term. It became more public-facing under Clinton, George W. Bush, and Obama.
Still, gender limits first ladies' influence. First ladies, Wright said, "can be advocates for presidential policy, but covertly, with their own issues, not overtly. So we haven't come very far."
Indeed, Wright's research found that Melania Trump was "head and shoulders" above the Trump administration's other surrogates, like Vice President Pence, Ivanka Trump, and Chris Christie, when it came to gaining popular approval for the president's messages. But the Trump administration doesn't appear to be thinking of deploying the first lady in this way, Wright said, even as, according to a CNN poll, the first lady's approval rating has jumped to 57 percent—up 10 percentage points from January.
Whatever she does, Melania Trump can't seem to escape being described in stereotypical terms. Events like the launch of "Be Best" ultimately reveal less about the woman herself, and more about American society's expectations of who that woman should be. For the time being, at least, Trump seems comfortable playing the part.