My Life Since the 1992 Simon's Rock Shooting
"It's easy to feel like Americans will just never give up their guns."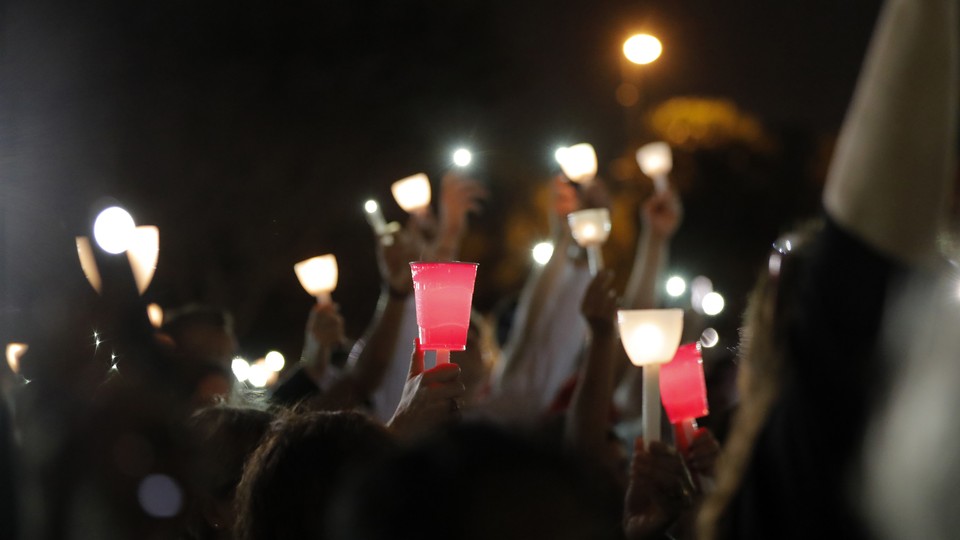 Editor's Note:
This is one in a series of conversations with those who have survived high-profile shootings or lost loved ones to them. The other interviews, as well as background about the series, can be found here.
Updated at 1:38 p.m. ET on March 24, 2018
In 1992, when a shooter murdered a student and a professor at Bard College at Simon's Rock, in Great Barrington, Massachusetts, mass gun violence held a very different place in the American consciousness. Before Columbine, Sandy Hook, Parkland, and the many mass shootings in between, the country hadn't yet developed the kind of post-shooting script that has now become so familiar.
I spoke with Devorah Heitner, a survivor of the Simon's Rock shooting, about the ways that Americans' responses to shootings have changed, and how she thinks about her own experience with gun violence now that she's a mother. The conversation that follows has been edited for length and clarity.
---
Isabel Fattal: When you hear conversations about the Parkland shooting, where does your mind go first?
Devorah Heitner: To my own kid, first and foremost. We had a scare here in Evanston, Illinois, on March 14, the same day as the school walkouts. My son had been in a peace circle that day and other kids in town had done actions. It was a very full day at the schools, and then right around dismissal they went on lockdown.
It's a very scary time. There were a lot of warning signs that were overlooked or dismissed in the case of the Simon's Rock shooting, but in 1992 in particular, as a society we were less prepared to think that adolescents, or really anyone, would just take up arms against their friends. It was a foreign concept. The New York Times ran an article saying that the killer had turned from classical music to hardcore—the idea was that somehow the change in his music was an indication of his future behavior.
Fattal: How old were you and your peers at the time of the shooting?
Heitner: We were at an early college, so most of us were high-school age. I was 17. People were as young as 15 on the campus. Most were 16 and 17. One of my colleagues was a resident advisor at 16 and got trauma-trained in January after the shootings in December, and was supposed to be helping her classmates in dealing with trauma. If you look at Gen X, we did think of ourselves as adults when we were teenagers, and adults treated us more like adults. The way we now treat college students is much more parental than the way I was treated as a 16- or 17-year-old college student.
Fattal: Were you and your classmates politically active in the wake of the shooting?
Heitner: A lot of my friends went to the Massachusetts State House pushing for gun control after the shootings. I did not participate in that. I wouldn't say so much that people were not involved, but I would say that social media has expanded what is possible. It really is very different—the way you can respond to and address individual politicians on social media.
Fattal: Why do you think you decided not to get involved in that kind of political activism right after the shooting?
Heitner: Now I know that people did it, after talking to my former classmates, but I don't even remember being invited to that. Someone probably told someone else and said, "Let's have a meeting in the dining hall," and if I didn't go to dinner that night, then I wouldn't have known. It wasn't like being on Facebook and getting an event reminder.
So that's what I remember. But I was very upset after the murders, so it's also possible I was just kind of withdrawn into myself. I haven't been super involved in gun control now either, and I do feel kind of called into awareness again by these young people in Parkland, because it is such an incredibly important issue, but it's easy to feel helpless. It's easy to feel like Americans will just never give up their guns, that there's nothing we can do, that people are just incredibly attached to the Second Amendment in this way that's just impossible to deal with.
Fattal: You mentioned that you have a young son. How do you feel about talking with him about these issues? Have you told him that you're a survivor of a shooting?
Heitner: I've really tried to keep him from seeing graphic images. The fact that I'm a survivor of a school shooting is not something he knows. He really appreciated the peace circle at his school that day. He's at a K–5 school, so at his school that conversation was mostly, Let's have a peace circle. Let's talk about understanding.