The Trauma of Having a Newborn in the NICU
After premature births, parents can suffer from PTSD. Peer networks are forming to help.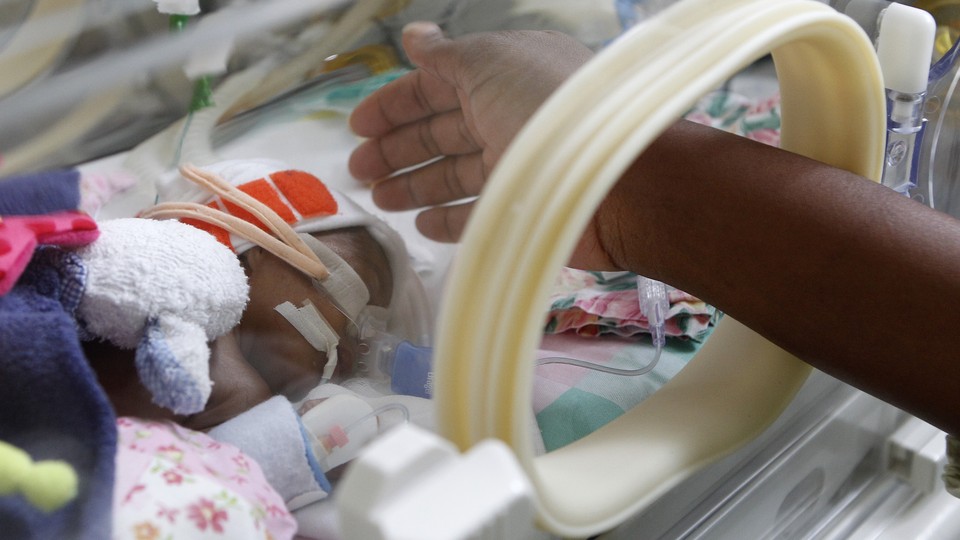 When Kelli Kelley awoke from her C-section 17 years ago, having delivered her son after just 24 weeks of pregnancy, her husband gave her a Polaroid of their baby. He was tiny, underdeveloped, eyes still fused shut, with translucent skin covered in fine hair, and lying in a sea of medical equipment and lines. To Kelley, he looked like a baby bird. Cut to her first visit to the neonatal intensive-care unit (NICU) to meet him: a cacophony of beeping machines, harsh lighting, "space-age-looking equipment," and hospital smells, with 40 "tiny, alien babies in boxes." Her son had a whole team of doctors and nurses working to keep him alive, but Kelley felt frightened and alone. Kelley remembers just one support group for parents, with a chaplain. "Sitting with a man in a collar felt more like a memorial service," she recalls.
Four months later Kelley and her husband brought their son home. He was on a heart monitor and still unable to breastfeed. They lived under a crush of medical bills, and in his first year, their baby underwent three surgeries. Kelley didn't recognize the toll her son's ordeal had taken on her until two years later when their daughter was born at 34 weeks with a blood disorder. The family returned to the NICU, and for Kelley, the trauma from both births collided. Kelley was diagnosed with an anxiety disorder; but her son was already five before Kelley finally received a post-traumatic stress disorder diagnosis.
"The experience of the neonatal intensive-care unit, the birth of a premature baby—it's a very different kind of trauma from what we call single-incident trauma, like someone in a car accident or even a sexual assault," explains Richard J. Shaw, a professor of psychiatry and pediatrics at Stanford University's Lucile Packard Children's Hospital. In the NICU, traumatic, stressful events are continuous: your baby's fragile health, other babies coding, a flow of bad news about your baby's current health and future prognosis. Mothers—themselves still recovering from childbirth—commonly describe guilt, feeling as though they'd somehow failed their children by giving birth early (even though, of course, they couldn't help it), and a sense of uselessness in the shadow of a medical team of experts. Only in recent years have researchers begun recognizing that the fear, stress, and anxiety parents carry with them out of the NICU can manifest later as PTSD.
Shaw, who has researched PTSD in mothers of premature babies, notes that very few NICUs have dedicated psychiatrists on staff. While screening for postpartum depression has become common—and rates of PPD in mothers of premature infants can be as high as 40 percent—PTSD screenings for NICU parents are still rare. Even among fathers of preemies who did not meet the criteria for PTSD shortly after the birth, one study found that many did experience PTSD symptoms after about four months (once the baby was home).
When Kelley needed help and began searching for it, she found little. So she started a program to train people she calls "NICU graduate parents" to support other families with children in the NICU in her hometown of Austin, Texas. That program eventually became a stand-alone nonprofit, Hand to Hold, and has grown to comprise a network of up to 200 peer-support volunteers (dubbed Helping Hands) across the United States, England, South Africa, Canada, the Virgin Islands, Japan, and Puerto Rico. Those Helping Hands undergo intake screening to help ensure they are ready to reenter the NICU; are given a background check; must complete a four-part, online training on effective listening, bereavement, and trauma-informed care; have an interview with Hand to Hold's peer-support team; and also receive ongoing support from Hand to Hold's staff of social workers. Helping Hands are paired with current NICU parents based on the similarity of their babies' conditions and their experiences in the NICU. (Parents of 23-weekers are matched with other parents of 23-weekers, for example.) This free program offers parents a person to call, text, and email who knows what it's like to navigate life in the NICU. A separate Hand to Hold "ambassadors" program places paid staff in person in the NICU to go on rounds with medical teams and lead parent and sibling support groups at three Texas medical centers.*
Peer support is a useful method for treating PTSD. "Speaking to a parent who's been through something similar and learned how to cope with it is tremendously powerful," Shaw says. Writing a trauma narrative is also common practice, which in a clinical setting might include writing out a full story of the traumatic event, and going through paragraph by paragraph to consider the feelings those memories arouse—perhaps two or three times. When such a therapeutic setting is unavailable, there's evidence that writing for 20 minutes a day about one's trauma can relieve distress, anger, and anxiety, and somewhat reduce PTSD symptoms.
A core element of Hand to Hold's programming is the opportunity for parents to write for the organization's blog—which can help the writer process, but is also beneficial as a resource for other NICU parents. Kayla Aimee delivered her daughter at 25 weeks and found Hand to Hold during a search for micro-preemie support groups. She started blogging and eventually published the book Anchored: Finding Hope in the Unexpected.
Andrea Mullenmeister was 23 weeks pregnant and on vacation in northern Minnesota when her contractions started. After a rush to the nearest hospital, Mullenmeister was so dilated that her baby's foot was visible by vaginal exam. So Mullenmeister was airlifted by helicopter to the nearest hospital with a NICU. She could hardly breathe as lakes, cityscapes, and countryside flicked past the windows. Her husband followed in their car below. Mullenmeister's son was born bruised, small, and battered, foot-first, not breathing. Once doctors got him breathing, "I heard this tiny mew," she says. But his traumatic birth and the subsequent 93 days in the NICU left a firm impression, giving Mullenmeister a fear of heights and flashbacks for years when she heard helicopters. It was two years before Mullenmeister was diagnosed with late-onset postpartum depression and PTSD. Around that time she found Hand to Hold and started writing about her experience on the organization's blog. In addition to therapy, she explained, that habit of writing remained crucial as her son, now six, grew up with a mix of chronic health concerns, ranging from autism to a brain tumor.
Mullenmeister's experience of dealing with long-term trauma and navigating additional health concerns is common. Hand to Hold offers ongoing support to families as their kids age via forums and Facebook groups. Hand to Hold also recently launched a podcast series, NICU Now, that explores life in the NICU, with a new series to come (in English and Spanish) for bereaved parents whose babies passed away in the NICU. The organization is also soon releasing a continuing education podcast series for NICU nurses. The podcast has been downloaded more than 15,000 times internationally.
For all the refreshed trauma Kelley felt years ago upon returning to the NICU with her daughter, now she returns to the NICU on new terms, not grieving, but as an ambassador. She sees babies struggle, and it's still painful to watch. But now Kelley turns her eyes to the parents—to anxious fathers, and to mothers, standing in shock in their hospital-issued gowns as the medical team encircles an impossibly small baby. "I don't ever want another NICU parent to feel alone like I felt," Kelley says, and so, she will walk over to them, and offer them her hand.
---
* This article originally mischaracterized Hand to Hold's ambassadors as peer volunteers. We regret the error.