Introducing The Atlantic's Family Section
A new hub for coverage of American life, from the viewpoint of its most basic unit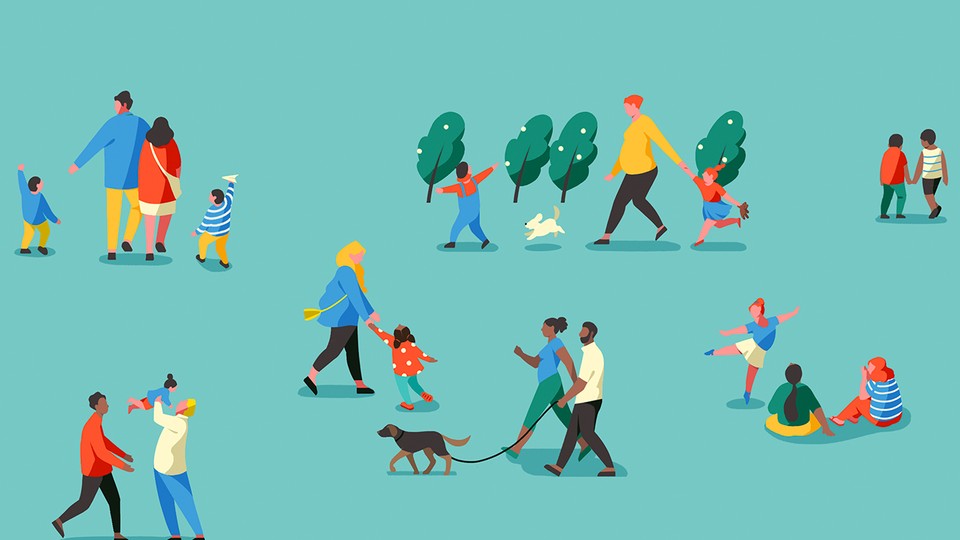 When The Atlantic's founders created this magazine 161 years ago, the American family was not top of mind. The Atlantic, they wrote, would be devoted to literature, art, and politics. Early on, its foremost concerns included the abolition of slavery and the then-parlous future of America as a united nation.
Soon enough, though, the editors came to understand that the well-being of a nation, its culture, and its economy was tied up with the health and vitality of its families. And so the questions families face—how to raise children, how to sustain love, how to build equality into the most-complicated human relationships, how to earn and save money in such a way as to make the next generation better off than the last—soon became preoccupations of the magazine.
Over the years, our writers have wrestled with these issues, almost always with deep curiosity, often provocatively, sometimes even with humor. In 1932, Helen Keller wrote in our pages of the effect machines had on kitchen work, as a pretext for a deeper exploration of the relationship between humans and technology, and between women and men. Throughout the 20th century, The Atlantic chronicled the country's shifting norms around gender, marriage, and child-rearing. More recently, articles such as Hanna Rosin's "A Boy's Life," Dan Slater's "A Million First Dates," Liza Mundy's "The Gay Guide to Wedded Bliss," Barbara Bradley Hagerty's "When Your Child Is a Psychopath," and Jean Twenge's "Have Smartphones Destroyed a Generation?" have shaped the national conversation in useful and important ways.
It is in the spirit of these and other articles that today we are launching our newest editorial initiative, a section that will provide readers with essential and sophisticated journalism about the building-block unit of civilization: the family. We will be covering parenting as a fundamental part of our work. We will provide advice to those who seek it. We will cover politics and economics through the prism of families' experiences. We will study families in all their diversity, and in their largest contexts.
Our coverage of family matters will express itself digitally, of course, but also in our print magazine, documentaries, and podcasts.
I hope you will explore our Family section, and enjoy it, and learn from it. Please let us know your thoughts about what we're doing. You can write to us at letters@theatlantic.com.