Our Lives Since the 2016 Pulse Shooting: Christine Leinonen's and Brandon Wolf's Stories
"My heart died when Christopher died."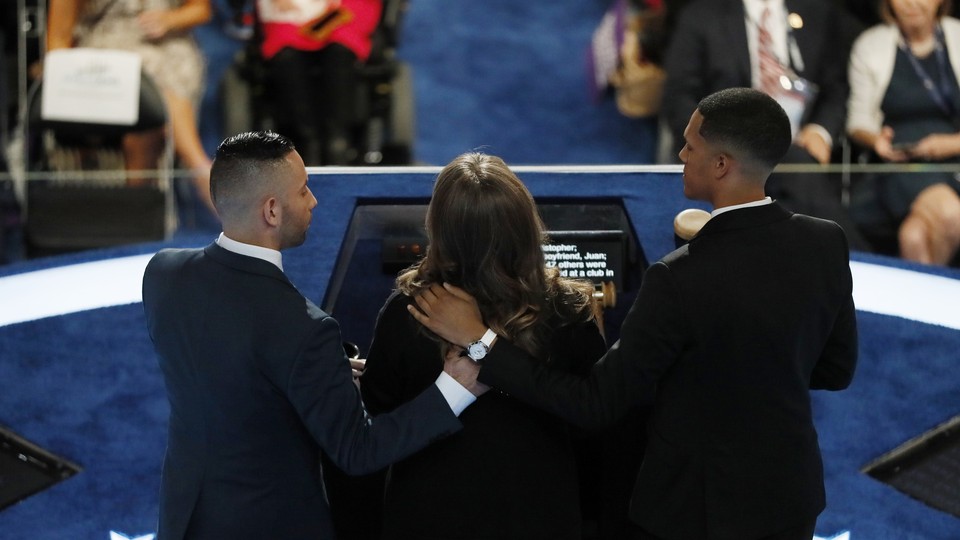 Editor's Note:
This is one in a series of conversations with those who have survived high-profile shootings or lost loved ones to them. The other interviews, as well as background about the series, can be found here.
Christopher Leinonen was charismatic and endlessly on the move. He grew up close to his mother, Christine, an attorney, former Michigan state trooper, and marathon runner who raised him alone. "We were the Chris Leinonen team," she said, referring to the two of them. But she was proud, too, as he grew more independent, becoming a mental-health counselor and making friends—hundreds of them, in her estimation—in high school, college, and after graduation.
He took long road trips across the United States. Eventually, he and his boyfriend, Juan Guerrero, let Brandon Wolf join one of those trips—a sign he'd truly made it into the friend group, said Brandon. (Brandon, like many of Christopher's friends and family, called Christopher "Drew," which comes from his middle name.)
Christopher and Juan were two of the 49 people killed in the Pulse nightclub shooting on June 12th, 2016. It was the country's deadliest terrorist attack since 9/11, at the time the deadliest mass shooting, and the deadliest mass killing of LGBT people in American history.
Both Christine and Brandon appeared onstage at the Democratic National Convention in 2016, and have become deeply involved in political activism on gun violence and LGBT advocacy. They helped start The Dru Project, an organization founded in memory of Christopher that supports gay-straight alliances in schools around the country.
I spoke with Christine and then with Brandon. The conversations are below, with Christine's first and Brandon's following hers. Both have been edited and condensed for length and clarity.
---
Steven Johnson: This month, the trial of the Pulse shooter's wife began in Orlando. You've said you've been attending about every other day?
Christine Leinonen: I missed the day that they showed the actual tape of the surveillance video, which I heard was difficult to watch. But I wanted to watch it because I wanted to, you know, potentially see Christopher when he was there, still alive, dancing, or standing at the table.
Some people don't want to see the trial. But for those of us who do want to see the trial, we don't have any direct line to our loved ones. We're not getting text messages from them anymore, we're not seeing them anymore, we're not going to dinner with them anymore, we're not seeing their Facebook posts anymore. The trial is the only place we're going to get any additional contact.
Johnson: Can you take me back to the days around the shooting?
Leinonen: My health was already deteriorating before Christopher died. My doctor had found two tumors in my left ovary. Had this never happened to Christopher, I think I gradually would have gotten my health back. But now, I have no ability to avoid the grief.
When Christopher was born, I had decided to become a single mother. I devoted my life to my one son. After my diagnosis, I was sadder over the fact that I was potentially going to die and he was going to have to deal with my death in his 30s. Everything I did was so that his life would be better. And now that he got killed, and in the way he got killed, researching gun laws and trying to make things better by being an activist wherever I can, that helps me a lot. I'm still devoted to him, but I'm devoted to him in spirit.
That's how I'm dealing with it: being the mom mascot for his life's work, and doing the activism to try to prevent any other mom from feeling my grief. But my life is over. I am going to my grave with grief.
Johnson: How had you thought about these issues before the shooting?
Leinonen: I was a police officer, and I did recognize the role of guns. But I didn't recognize it as the primary role. So my son and I, whenever we talked about Columbine or Sandy Hook or Aurora, we always looked at it from a psychological standpoint, as a mental-health issue. When my son was killed, I started looking at it from all angles and recognized that this is a gun issue. And these Parkland kids came up with it on their own because they've been hearing about active shooters ever since they could remember.
Johnson: How do you feel when another mass shooting occurs?
Leinonen: It's very frustrating for me two years later to still not see anything happen. I hope the Parkland kids, because of their age and lack of experience, don't lose their strength and their momentum.
Johnson: What would you like people to know about Christopher?
Leinonen: I like to say he loved mobility. It frustrated him when he was a baby and could only lay on his back. He just couldn't wait to roll over, and when he could roll over, he couldn't wait to crawl, and then he couldn't wait to walk. Then he started driving and flying. He wanted to see more, learn more, do more, go more places.
I was happy that the Supreme Court allowed same-sex marriage. Juan was the first boyfriend he had when it was legal to get married. And so he looked at Juan differently. It was lovely as a mom to see that your child could emotionally love someone enough to consider that. It was nice to be able to see my son feel that—something I got to feel my whole life, something he never got to feel. It was just delightful. With Christopher getting shot and killed, it was nice to know as his mom that he got to feel that wonderful feeling of love before he died.
---
Steven Johnson: Christine mentioned she has been following the trial of the killer's wife, in Orlando. Have you?
Brandon Wolf: No, I haven't gone. The trial doesn't serve me any purpose. I know that for some, it brings a sense of relief, or they want answers, or they're looking for some sort of justice for that, but for me it doesn't provide any of that.
Johnson: Could you walk me through that night of the shooting?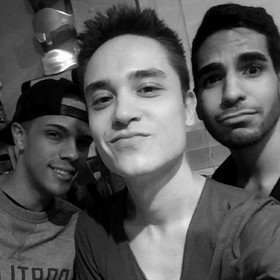 Wolf: It was a regular night with my friends, Saturday night in Orlando, and we decided we wanted to get a drink together. Midnight rolled around, and Drew, Juan, and I were in our Uber on the way to Pulse. It was crowded, and our group was a little tense. I was there, actually, with my ex—I think it was my ploy to get us back together [laughs]—so there was a little bit of tension in the group. And I think Drew could sense that. So at one point, around 1 o'clock in the morning, he took us all on the patio and said, "We need to talk." He and Juan told us, basically, "Why do you let the small things get in the way? Why don't you just be in love if you're going to be in love? Why don't you focus on the big picture instead of letting the small things get in the way?" And then Drew, being the licensed therapist that he was, brought us all in a big circle and put his arms around us. He said, "You know, what we never say enough is that we love each other, so I'm going to tell you that I love you."
It was about an hour after that when the first shots went off. When the shooter was making his way through the dance floor for a second time, my ex and I decided to make a run for it.
Johnson: How did you experience the following days and weeks?
Wolf: The first week after Pulse was a haze. The things that are most vivid are the memorial services, the funerals for my best friends. It got a little easier over the next month or two, but there was still so much of the time that was filled with grief and pain. And I think the only outlet that I found was talking about it. And committing myself to ensuring that no one else has to go through what Drew and Juan went through. That's why I've really been passionate about being an activist, and an advocate. Because I want to ensure that no one has to feel what they felt, what I felt. I think that helps me heal, maybe.
Johnson: And how did you see the community respond?
Wolf: Everybody has their own way of healing from it. My ex, I think, he's a really great example of someone who couldn't do it in the public eye. I can remember one conversation we had; he said, "I want to be the person that makes introverts okay being survivors." And I think that struck me because usually, the people who are all over the media, the face of it, are the extroverts. They're the people like me who need to talk about it. But there are a lot of people out there who aren't that way, who can't talk about it publicly, who have to channel their grief and their pain and their healing into something else.
Johnson: Had you been involved in activism much before? How had you viewed the issues you now speak about?
Wolf: No, I was absolutely a couch-potato advocate. I was that Millennial that everybody hates, because I thought that posting on Facebook counted as advocacy. Whether or not I voted in a midterm might depend on what I had for lunch that day. And it's unfortunate. Because something that Drew was passionate about was using our voices for good. He always told me, "When are you going to stop being lazy and go do something important with your life?" It was kind of a joke for us, but as things unraveled after Pulse, I actually took it to heart.
Johnson: What are your thoughts after news breaks of another mass shooting? And have those thoughts changed at all after Parkland?
Wolf: It hurts, every time. And it's indescribable, because it takes you back. That's why the conversation is so angry, because unless you've been in that situation, you can't imagine the pain and trauma and anguish that people are going through. And for them to see inaction as a response, for them to hear thoughts and prayers as the only answer, is infuriating.
This time it feels a little different, because of the Parkland students and the way they've channeled their passion and their anger and their trauma into an actual shift in this conversation. It's given me hope that we might actually be able to accomplish something that didn't exist in the months after Pulse.
It's important to remember that if something doesn't happen one week after a tragedy or one month after a tragedy, or one election cycle after a tragedy, that doesn't mean there's not a shift in public sentiment. What's really exciting to me, the overwhelming sense that I have right now, is a hope that young people have figured that out.