How Fear of Deportation Puts Stress on Families
The specter of being removed from the United States has devastating effects on the health of undocumented immigrants and their loved ones.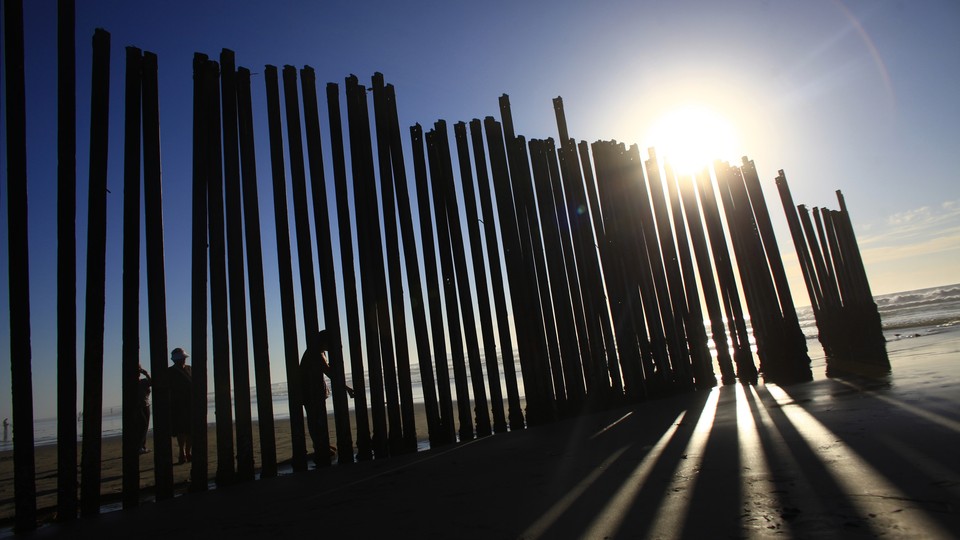 When Natividad Gonzalez packs her daughters' homework and lunches for school each morning, she slips a freshly charged cell phone into her eldest child's bag. The 11-year-old knows the plan: If she and her younger sister, age 8, walk home from the bus to find an empty house, she's supposed to call Gonzalez's friend who will come get them.
Her daughter also knows the combination to the family safe, inside which is an ATM card and a quickly drafted power-of-attorney letter granting custody to the family friend in case Natividad and her husband are arrested and sent back to Mexico. "These are things that an 11-year-old shouldn't have to be thinking about," says Gonzalez, age 32, who came to Clanton, Alabama with her husband nearly 13 years ago, and is still undocumented.
For the 11 million unauthorized immigrants estimated to be living in the United States, it must be hard to think about much else. The initial shock over President Trump's executive orders that expand the criteria under which immigrants who entered the country illegally can be deported has given way to chronic unease. In a departure from Obama-era guidelines that U.S. Immigration and Customs Enforcement (ICE) focus on removing the most serious criminals, the latest order includes those who have been charged—but not convicted—of a crime as well as those who have committed acts that "constitute a chargeable criminal offense" or pose a risk to public safety or national security in the "judgment of an immigration officer." Another order expands the power of local law enforcement to act as immigration officers. That's in addition to calls from the administration to increase ICE ranks from 20,000 to 30,000.
"Suddenly, you could be subject to removal for driving without a license," says Cristian Avila, a 26-year-old undocumented immigrant who arrived in Phoenix from Mexico at age nine. "And you don't have to be found guilty of a crime—just charged with it. It's the not knowing what will happen. It's the uncertainty. It's the stories we hear over and over on the news that are putting people on edge."
He's referring to the arrests of two undocumented immigrants at a church-run shelter in Virginia, a father in Los Angles after he dropped off his 12-year-old daughter at school and most recently, a mother of six who had lived in Chicago for 18 years and was married to an American citizen.
"The fear is affecting every part of their lives," explains Ginette Arguello, a counselor with Catholic Charities Archdiocese of New Orleans who works with immigrant children and families. She ticks off examples of the psychological toll: increased tardiness or absences from school. Difficulty concentrating. Getting in fights at school. "They're having recurring nightmares or eating too much or too little," she says. "One child simply told me 'My body aches.'"
Many parents are too scared to leave their houses, except to take their kids to school, adds her colleague, social worker Alejandra Salinas. "I know families that wouldn't take their kids to the Mardi Gras parade," she says. "They say, 'I heard they might be picking people up there.' There's a fear of everything, even going to the grocery store." People are worried they'll lose their jobs. They're reluctant to seek out other work. And the biggest kick in the gut: "Clients tell me 'I don't know what would happen if I got taken away. There's no one here to take care of my kids,'" says Salinas.
Pediatrician Ursula Pertl of Oceanside, California says she's seeing an increased number of patients with sleep and school problems and is making more referrals to mental heath specialists. "Kids are suffering from anxiety about not wanting to leave their parents or being worried [about if] they'll still be there when they get home," says Pertl, who says about 40 percent of her caseload is Mexican or Mexican-American patients.
Gonzalez's 11-year-old daughter expresses her anxiety in constant texts to her mother, especially on Mondays and Wednesdays, when she doesn't take the bus and stays late at school for an extra-curricular science class. The progression goes something like: "Are you okay?" to "Will you be able to get me?" to "I love you a lot." "As a mom I try to do everything so they don't worry when they're not with me," says Gonzalez. "But I don't know what to do for them to not have to go through this. I feel so helpless."
Gonzalez prays more lately, saying: "God, please protect my family. I'm placing my family in your hands. You brought us this far to this country for opportunity." She also channels her distress by organizing community "know your rights" workshops to help immigrants prepare for the worst. "People call me all the time, saying 'What can we do?' They are so stressed out," she says.
Across the country, attorneys and immigrants' rights groups are urging people at risk of deportation to create family preparedness plans, such as this one by the Immigrant Legal Resource Center, that offers careful checklists, such as documenting your child's allergies, teachers and doctors. (They also include reminders that you don't have to let ICE officials into your home unless they have a signed warrant.) Counselors like Salinas of Catholic Charities urge clients to think through all potential medical and financial scenarios in case they're arrested. "You want to make sure you have access to your insulin," she says.
Yet what are meant to be helpful coping strategies make the anxiety worse for some. Graciela, a 51-year-old mother of four who declined to give her last name, made a plan to leave her two teenagers, ages 13 and 14, with her 24-year-old daughter, if she's forced to return to Mexico after living in Phoenix since 2004. "I want them to be able to finish their studies, but she won't be able to handle them for very long," says Graciela. "She has two kids of her own, and it's a lot to ask her. I've got to be prepared to take them back with me." Graciela is also devastated by the idea of leaving her older children behind. "I can't imagine not seeing my grandkids grow up," she says. "Since Trump became president, I'm so depressed. I'm eating out of control, and I wake up in the middle of the night and can't go back to sleep. I have bags under my eyes. It's really starting to wear on me."
Cristian Avila and his siblings constantly monitor their mother's whereabouts. "Me, my brother and sister know her schedule and where she's supposed to be at all times," says Avila, the national civic-engagement coordinator for the non-profit Mi Familia Vota, which promotes Latino representation in politics. They know how long it takes her to get to the homes of the different families for whom she cleans or babysits. They know when she might stop at her brother's house to play with their little cousin and about how much time she usually spends at the grocery store. If their mother doesn't answer her cell phone, his sister, age 21, calls him in a panic. Sometimes she's crying. "When I get these calls, it's like I have this big knot inside my stomach. I have that feeling when you wake up and you feel like you're falling off the bed," he says. "But I'm trying to be strong for my family. I keep thinking 'Where could she be?' rather than think the worst."
Avila is part of the Deferred Action for Childhood Arrivals (DACA) program, which gives him the right to work and study in the U.S. (President Trump appears to be sparing the program for now.) He also holds a driver's license after a federal appeals court last year forced the state of Arizona, which forbids applications from undocumented immigrants, to make exceptions for DACA recipients. Yet his mother doesn't have a license, and he and his siblings are terrified she'll get pulled over while making her daily 30 to 45-minute trip to the affluent suburbs, where she works.
During the day, Avila's mind often wanders. He visualizes agents putting handcuffs on his 52-year-old mother and walking her through the booking process. He imagines her sitting behind bars. He thinks about her arriving by bus to the village an hour south of Mexico City that she left 17 years ago. He wonders how the family would send her money and clothes or how many years would pass before he would be able to see her again, since he's not allowed to travel outside the U.S. "My mom doesn't deal well with stress. Her side of the family has a history of heart problems," he says. "I worry that her body wouldn't be physically able to handle this kind of emotional rollercoaster. What if she has a heart attack in Mexico? What am I going to do?"
Rosa-Maria, age 65, who has lived in Phoenix after leaving Mexico 18 years ago, hates driving with a license. (She also declined to give her last name.) Whenever she sees a police officer on the road, her heart races. "All I can think is 'Please pass me!'" she says. Even if she needs to make a turn, she keeps going straight because she doesn't want the officer to think she's evading him. But she's more terrified of the prospect of her 35-year-old son, who lives nearby and is married with three daughters, getting pulled over and arrested on the way to his construction job. "I know he won't stay in Mexico. I worry he will find a way to come back and try to cross the desert and die," says Rosa-Maria. She has trouble sleeping and wakes up early every morning to walk down the block to see if his car is still there. If she can't see it, she calls several relatives to make sure he is okay. "My son acts like a big man and tells people to be strong," she says. "But I've talked to his wife, and she says he's starting to get scared. It's not fair to have to live with this fear every day."
The harms of deportation on families have been well-documented. Sometimes bread-winners are sent away or children witness their parents getting arrested, which often happens at home in the early morning. But less attention has been paid to the trauma of living with the constant duress of the potential of a family member getting deported. Earlier this year, the American Academy of Pediatrics issued a statement warning about how constant exposure to serious stress—called "toxic stress"—can hurt children's short- and long-term health and even hurt their developing brains.
Not surprisingly, such threats are particularly damaging to a community that's vulnerable to begin with, explains the psychologist Kalina Brabeck, an associate professor at Rhode Island College who's studied the effects of deportation on children. Such risk factors include: language barriers, poverty, discrimination, lack of social support or medical care, and working long hours for low pay under harsh conditions. Yet even kids who were born in the U.S. suffer emotionally and socially if their parents are undocumented. In a pair of recent studies of 180 families with parents who immigrated from the Dominican Republic, Mexico, and Central America, Brabeck found that children ages 7 to 10 whose parents didn't have residency did worse in school and experienced more anxiety than those whose parents had legal status.
"They feel nervous and afraid and worry about things outside their control," says Brabeck. "What was interesting was that children of undocumented parents had fewer behavior problems and were less likely to be hyperactive. They sit still and are quiet, but they're experiencing a lot of internal stress that might not be so apparent externally. They slip under the radar. They might not be recognized as needing help."
Yet those fears manifest on the playground, says Joanna Dreby, a sociologist at the State University of New York at Albany who studies immigration and families. She recently observed students at a school with a majority of Mexican or Dominican children playing what they called migra, the Spanish word for immigration police. "Instead of cops and robber, it was ICE chasing the immigrant," she says. "That's chilling!" Her 12-year-old son, who's Mexican-American, recently attended a birthday party where the kids were playing a game they called "climb the border fence"—apparently a politically contemporary version of "capture the flag." "I did research on the impact of deportation fears during the Obama Administration," she says. "But the level of insecurity and fear has been ratcheted up."
Even though Natividad Gonzalez's daughters were born in Alabama and are U.S. citizens, they can't escape the fallout from the political climate. Soon after the election, their classmates asked them, 'When are you going back to Mexico?" Gonzalez says she tries to put on a brave face when she drops them off at school, saying: "Today will be a great day. I want you to learn a lot. When you get home, we will play together or maybe we'll go shopping."
But as soon as she drives away, the familiar anxiety grips her. "I worry that at any time the cops could detain me," she says. "I feel uncertain all the time because it seems as if every day there's more bad news against our community. We are at greater risk of having our families broken apart, and we haven't even committed a crime."