One Way the New Little Women Film Is Radical
With remarkable clarity, Greta Gerwig's adaptation establishes love and its complement, sacrifice, as mutually engaged emotions.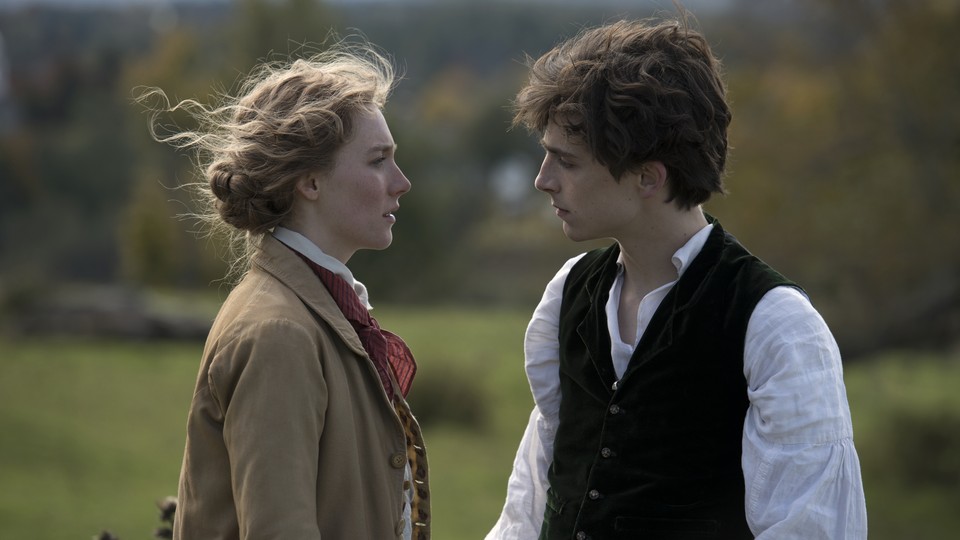 This article contains spoilers about the film Little Women.
At a pivotal moment in Greta Gerwig's outstanding new screen adaptation of Louisa May Alcott's Little Women, the heroine, Jo March, exclaims to Marmee, "Women have minds and they have souls as well as just hearts. They've got ambition and they've got talent as well as just beauty. I am so sick of people saying that love is just all a woman is fit for. I'm so sick of it! But—I am so lonely." While firm in its support for Jo's assertion that women have a broader destiny than just romance, Gerwig's Little Women makes some of its strongest points about the nature of love—its aches, its sacrifices, its disappointments. A visually gorgeous period drama, the film poses a question of eternal relevance: How can a person behave unselfishly without annihilating herself?
Among children's classics, Little Women is virtually unique in its lack of a personified villain. The prevalent reading of the novel is that the chief evil that must be fought and subdued is the flaw in each character's own breast, whether Jo's temper, Laurie's laziness, or Beth's shyness. While these inner struggles are amply addressed in the film, Gerwig convincingly proposes an alternative reading: A considerable source of pain in Alcott's world is the disapproving masculine gaze, so often clad in the guise of moral judgment, that can bruise a woman's self-esteem and steal her self-expression.
Alcott's novel presents two powerful instances of such criticism. Laurie chides Meg for her attire at a party, which she considers beautiful and he deems immodest; and Professor Bhaer arraigns Jo for publishing lurid stories that he regards as a waste of her talent and that he fears will subvert her readers' morals. In the novel, these scenes occur far apart, with no obvious linkage. Gerwig has heard the similarities between them; her film makes the two moments rhyme thematically and lingers on the hurt and indignation that the two men heedlessly cause.
What makes Gerwig's take so notable is that she sees both sides of the situation with equal conviction. Laurie and Bhaer speak in good faith, yet are largely oblivious to the depth of the pain they are causing, or the extent to which they are forcing Meg and Jo into the undesired position of upholding society's ethical norms—a status quo that can be maintained only at the price of a woman's freedom. Also sadly invisible to Laurie and Bhaer is the fact that the behaviors they find undesirable are largely compelled by the March sisters' lack of money. Jo writes her shocking tales because they support her needy family. Meg puts on her borrowed finery because she is tired of being the poor girl. Embracing the pet name that her wealthier friends have given her, she wants "to be Daisy for a little while," even if the image of herself as a fairy princess must fade when the dancing is done.
But Gerwig's screenplay is the farthest thing from a polemic against the oppressiveness of men. Rather, she convincingly makes a more universally human point: that we blossom under the encouragement of those we love, and we wither when that approval is withheld. Alcott also knew this truth acutely. Her father, the eccentric philosopher Bronson Alcott, tried hard to rein in her boisterous spirit at an early age. Mistaking her energy and restlessness for "evil appetites," he wanted to preserve her heart "in a state of sweet and loving peacefulness." Attempting to supply her with structure, he imposed stricture. If it were not for her mother, Abba, who believed "there are some natures too noble to curb, too lofty to bend"—a statement perceptively repeated by Marmee in Gerwig's screenplay—Louisa might well have lost the drive that eventually propelled her to international fame.
A viewer who is familiar with Alcott's life story will thus see in Gerwig's film not only the struggles of Jo March to discover her authorial voice, but also the strivings of her real-life creator for honor, acceptance, and respect. In a poignant moment, Gerwig's professor asks Jo, "Do you have anyone to take you seriously?" In the film, it is this feeling of being taken seriously that makes all the difference in Jo's affection for Professor Bhaer.
Alcott, who never bore a child, never married, and, to anyone's knowledge, never had a sexual relationship, nevertheless understood love on a profound level, and particularly those aspects of love that call on one to attend to the needs of others. When Alcott's parents were aging, she cared for them. When her older sister Anna's husband died young, leaving two young sons, Alcott used her writing income to become her nephews' breadwinner. After her youngest sister died of complications from childbirth, Alcott raised the infant. Experience continually taught her that love leads us to want to be the best thing we can be in another person's life, but that the best thing can be far different from what we might desire it to be. Adapting herself to whatever role her family demanded, Alcott was continually pressured to neglect her authentic self. But authorship was also lonely for her. Reflecting ruefully on Anna's happiness with her two sons, Alcott wrote, "I sell my children [meaning her stories], and though they feed me, they don't love me as hers do."
So, too, in Gerwig's Little Women. Saoirse Ronan's portrayal of Jo gives us, as never before, a portrait of the character as an aspiring and eventually successful writer. The costs of her rise, though, are made clear; she drives herself mercilessly and experiences the isolation with which so many writers are unhappily familiar. The sacrifices also take place on a romantic level. More powerfully than in any of the previous Hollywood films, Jo and Laurie are shown as perfect for each other in every role except the one into which sentimental conventions would force them: marriage. The quest of Gerwig's Jo for a career makes her lonely, but she is made lonelier still by the realization that love in real life does not greatly resemble the love she describes in her potboiler stories.
To show love for her family, Jo must do more than show affection. She must also earn the money that supports them, and this necessity sometimes means neglecting them in favor of her work. To show her love for Laurie, she must let him find a greater happiness than she can give him as a wife. To borrow the words of Leonard Cohen, love, for Jo, is not a victory march.
Importantly, both Alcott and Gerwig have understood that in love, men must change and sacrifice as well. As self-indulgent as he is, Gerwig's Laurie grasps this imperative on a certain level, giving up the pleasure-seeking habits Jo disapproves of before proposing to her. He receives his share of moral condemnation as well, when Amy blasts him for his relapse into dissipation in France. In Alcott's novel, Amy reprimands Laurie in private. In the film, some of her harshest words for him come at a lavish ball, visually reminiscent of the scene where Laurie previously censured Meg. The reversal is delicious, and again, Gerwig's sense of thematic rhyme is unerring.
In the end, Gerwig saves Jo from loneliness, and she does so in a way that, remarkably, ratifies love and community more powerfully than Alcott's original—though not so much through Jo's wedded future as through the enduring ties of sisterhood. In the film's metatextual ending, Jo proposes that the leading character in her manuscript of Little Women marry Professor Bhaer only because her editor will not pay for a novel whose heroine remains a literary spinster. (As the author Jo observes, marriage is an economic proposition in fiction as well as in real life.) Rather, Gerwig leaves the most exuberant outpouring of love in the much-debated final scenes to be shared among the three surviving sisters. Fully realizing how much Jo cares for the professor, Meg and Amy intervene as Bhaer is about to leave; they rally their sister and rush her to the train station so she can declare her love in the nick of time.
Purists may quarrel with Gerwig's tampering with Alcott's ending. But in truth, the film takes Alcott's understanding of love to its logical conclusion. Typical in Alcott's fiction are characters who express love without hoping to be repaid, but who receive an unexpected recompense beyond their power to imagine. This unlooked-for reciprocity, Alcott would have us realize, is the epitome of love. Gerwig's ending adopts this spirit while affirming the golden band of sisterhood that Alcott's real-life family embodied.
Gerwig's film is the first of this novel's many Hollywood adaptations to be a work of art in its own right. By telling the story out of chronological order, it shows the extent to which the childhood self is part and parcel of adulthood. When we are young, our possibilities seem almost limitless. Years pass, and we learn our limitations. Yet a small part of us remains free and unconquered. Tattered but untamed, the spirit of youth survives into our grown selves, and it powers and makes possible our most rewarding triumphs. Supremely conscious of this truth, Gerwig's Little Women is a document of hope. It is a Little Women for our times—and for all time.