Rose McGowan's Hijacked Life
The woman who helped topple Harvey Weinstein talks about what it cost her.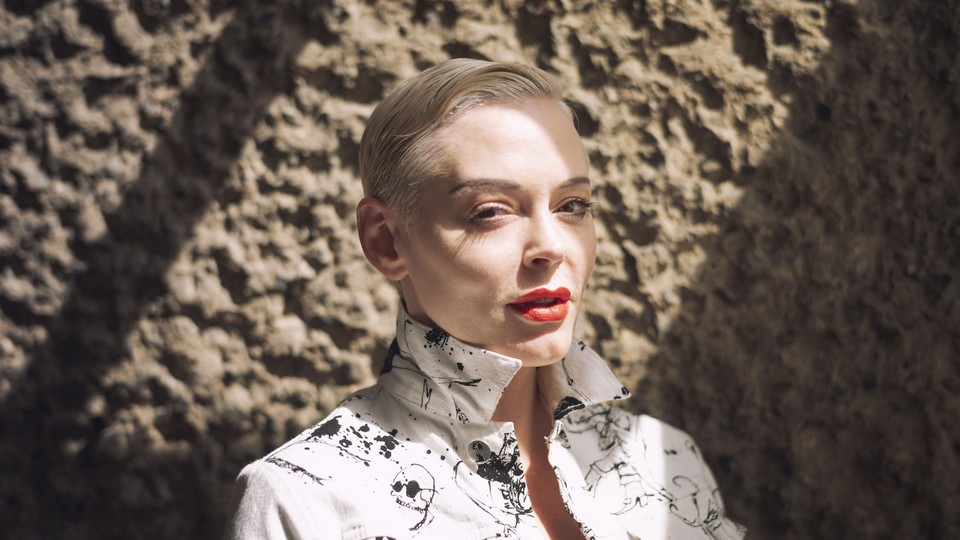 Rose McGowan's reputation precedes her, which is why escaping it, temporarily, was such a relief. For the past year she lived in London, until visa issues brought her back to New York, where we met in late December. "I'm perceived very differently here," the activist and former actor told me over tea in the bar of the Algonquin Hotel, while Christmas music played in the background. "Imagine, every time you meet someone new they look at you like you're maybe insane. It's exhausting."
In person, McGowan looked elfin, with her cropped blond hair, and was surprisingly gentle in manner—not at all like her pugnacious and unpredictable presence online. She made jokes about Dorothy Parker. She explained her love of London, where the artistic community welcomed her without attaching any of the asterisks that have dogged her for decades as an actor in Hollywood. And she described the discomfort of being back in New York, the city that was long synonymous with Harvey Weinstein, who McGowan says raped her at the Sundance Film Festival in 1997, and whose criminal trial on charges of sexual assault against other women began this week. (Weinstein has denied all allegations against him; in 1997, he paid McGowan a $100,000 settlement precluding her from legal action.) "One of the reasons I got out of America," she said, "was to reclaim my life." So what now?
It's hard to imagine any of what happened post-Weinstein transpiring without McGowan, whose 2016 tweets about being raped by a studio head she couldn't name were the media equivalent of putting a lit match to a fuse. She Said, Jodi Kantor and Megan Twohey's book about how they broke the story of Weinstein's alleged abuses in Hollywood, describes how their reporting process began with McGowan's tweets. Her accusations sparked an investigation in which a substantial number of women finally agreed to go on the record with accusations against Weinstein; in the months that followed, subsequent stories revealed hundreds more men who had reportedly abused their power. Kantor and Twohey's work for The New York Times, along with that of The New Yorker's Ronan Farrow, won a Pulitzer Prize in 2018. But McGowan, during the same period, was struggling.
Weinstein hadn't just assaulted her 20 years ago, McGowan said. He'd also blacklisted her and other women, smearing their reputations and enlisting magazine editors, lawyers, and private security forces to help. He'd had McGowan tailed by former Mossad agents in an effort to uncover what she might reveal about him in her then-unpublished memoir, Brave. One of the revelations in She Said was a memo written to Weinstein by the attorney Lisa Bloom in December 2016 in which Bloom suggested discrediting any allegations McGowan might make against Weinstein by planting negative stories in the media "re her becoming increasingly unglued." It's difficult to fully conceive of the toll this kind of mental and emotional campaign against someone could take.
When the first Times story came out, in October 2017, McGowan was already jittery from what she describes as Weinstein's gaslighting. Suddenly, she was at the center of the biggest news story in the world, her public comments and postings subject to greater scrutiny than ever. By January 2018, as McGowan embarked on the publicity tour for Brave, she was in the throes of an emotional breakdown. "When the articles came out, and then when my book came out, I became kind of like a receptacle for people's pain," she said. "The information I was getting was horrific stuff, horrific, and there was nowhere to put it. I was very often the first person those people had ever told."
---
What McGowan has experienced over the past few years illustrates an uncomfortable reality: People who speak out publicly about instances of assault and abuse do so at a substantial cost. The cultural microscope they're put under exposes every personal foible, every biographical blip, every vulnerability. If they appear erratic, or act in ways that don't seem to conform to long-standing ideas about victimhood, the response is often to doubt their overall credibility rather than to consider how their behavior might be affected by trauma and stress.
In McGowan's case, her impulsive and outspoken use of social media has often been fuel for those who seek to dismiss her. Last week—the week before Weinstein's trial began—she tweeted about the U.S.'s killing of the Iranian military commander Qassem Soleimani and her own voting preferences, bewildering critics on both the left and the right. On Instagram a few hours earlier, McGowan had alluded to the toll the news cycle was taking on her mental health, but as her name briefly trended on Twitter, few commentators seemed to consider her frame of mind.
McGowan has been dogged by similar kinds of controversy since the first Weinstein story broke. In October 2017, she was lambasted on social media for a tweet that invoked "the N-word" to talk about female oppression. (McGowan apologized for a "stupidity lapse.") The following month, she turned herself in for charges dating to January 2017, when cocaine had been found in a wallet she'd left on a plane at Dulles airport. At the time, she emphatically denied that the cocaine was hers, although she later pleaded no-contest to reduced misdemeanor charges in court, and she has spoken openly about using recreational substances on Twitter. In January 2018, while on a book tour, McGowan was interrupted during a Barnes & Noble reading by a protester who confronted her for saying on a podcast that trans women didn't have the same life experiences as cisgender women. McGowan later said that she was "profoundly sorry" for her language, but insists to this day that the protester was hired by Weinstein to intimidate her, even as the situation got stranger still: The woman in the bookstore was then accused by multiple women of harassing and assaulting underage girls.
The day of the Barnes & Noble event, McGowan also taped an interview with Stephen Colbert that was widely covered in the press as "unconventional," "exceedingly uncomfortable," and even "jaw-droppingly weird." She resisted Colbert's questions, preferring to follow tangential thoughts of her own. Commentators questioned whether she was pretentious, self-aggrandizing, under the influence of drugs, or all three. It's hard to square the oddness of the segment with McGowan's composure in our interview, and the force of her statements about assault. ("I've always known that it wasn't my shame," she said. "If someone stole my purse, nobody would ask me what my purse was wearing.") But it's possible that what people saw in 2018—and continue to see now—was yet another woman struggling in the public eye, due to the self-imposed responsibility of replaying the most traumatic event of her life in order to speak up for others. "I was trying to survive, and also push something through, see it through," McGowan said of her motivations during that time. "If those articles [exposing Weinstein] had come out and there weren't boots on the ground every day to fight for [those women] I don't think they would have gotten that momentum ... But I was exhausted."
After abruptly canceling her book tour, McGowan said she sought refuge at a senior-living center in Florida for a while. She started smoking for the first time, after her aunt suggested cigarettes for stress relief. The press coverage of her affected her relationship with family members, who, she said, "had no idea what to make of it, and didn't know which was the real Rose anymore."
As McGowan later tried to piece together a new life in London as an artist—working on an album, Planet 9; an associated stage show at the Edinburgh Fringe Festival; and a movie she hopes to direct as a follow-up to her acclaimed 2014 short, Dawn—news continued to emerge about how insidiously Weinstein's camp had apparently targeted her. Lisa Bloom's memo, published in She Said, described McGowan as "a disturbed pathological liar." Bloom wrote that she felt "equipped to help [Weinstein] against the Roses of the world, because I have represented so many of them … Clearly she must be stopped in her ridiculous, defamatory attacks on you … You are right to be concerned." Bloom suggested, among other things, that she herself might initiate a friendly relationship with McGowan in order to manipulate her.
The memo served as a harsh reminder of what McGowan was up against. "For so many years this has happened to me," she said. "It's just a hijacked life." By 1997, the year she says Weinstein attacked her, she already had enough of a public profile to make any other kind of profession challenging. "I was sexually assaulted after I was already famous," she said. "And then I got blacklisted right away. So what do you do then? You're really in a pickle. You take subpar work; you take scraps. You take what you can get." In 2001 she managed to score a starring role on television, in the Aaron Spelling–produced supernatural drama Charmed. It was reliable work, but McGowan struggled with how the three female protagonists were portrayed by male directors. She still declines to watch herself on-screen: "There are so many layers of meta going on there that it kind of blows your mind in a way that's not right. I don't like seeing myself through male lenses."
When McGowan first began making public statements against sexism in Hollywood, in 2015, she found a new calling, and a new kind of presence in the media. "Rose McGowan Is Starting a Revolution," a BuzzFeed headline read that year; the article noted the ways the actor had skewered the entertainment industry on Twitter. But activism wasn't the same as a livelihood. Meanwhile, the closer she seemed to get to exposing what Weinstein had done to her, the more aggressive his campaigns against her reportedly became. In 2017, McGowan was befriended by a mysterious woman claiming to work in finance, who turned out to be a former Mossad agent employed by Weinstein to infiltrate her personal life. McGowan remembered one of her former lawyers telling her that she'd never heard of an individual "being so messed with that wasn't being messed with by a government."
---
The arc of McGowan's life, from her childhood in a cult to her career in Hollywood, can seem outlandish enough that you might have difficulty putting yourself in her shoes. Sometimes she appears to cope by using humor—when I asked her how her lawsuit against Weinstein, Bloom, and the lawyer David Boies was going, she affected a Valley-girl voice and said, "It's sooo fun; how's yours?" She gets angry, especially at the idea that people can't see why she might deserve financial compensation for her derailed career. Above all, she still seems profoundly traumatized by the events of 1997.
"That whole thing about me trying to get a job ... I already had a job," she said, referring to Weinstein's defense that women willingly traded sex with him for movie roles. "And I would never have slept with that person. Not in a million, trillion years. Not if he was the last person on Earth. And I have to live with the fact that that person touched me. That person touched my body without my will. And it's horrible. He is the thing of nightmares." The last time she saw Weinstein, she said, she threw up in a trash can. To be in New York is to be hyperaware of the fact that she might see him again at any moment.
"What Tarana Burke created with the hashtag [#MeToo] was a way for victims to communicate," McGowan told me. "'Did this happen to you? Me too.'" But for every woman who came forward, she said, the experience was "big and scary and terrifying and filled with public scorn and retribution." While it seems unlikely that either Weinstein's New York trial or his recent indictments in Los Angeles will bring her closure, they could mark the end of this period of stasis. She hopes over the next year to secure funding for her movie, to reapply for an artist's visa in the U.K., and to keep finding comfort in creativity. On Instagram last week, McGowan posted a selfie. "I am very stressed so I decided to put on red lipstick," she wrote. "The trial is in four days. We will see if justice will be served. Queen Karma please come through. This has been an incredibly long road to get here and I have made mistakes on this journey, but still here doing my best to fight."