When Female Athletes Take the Spotlight on TV
Two dramas—Dare Me and Spinning Out—follow girls as they juggle their competitive ambitions and interpersonal relationships.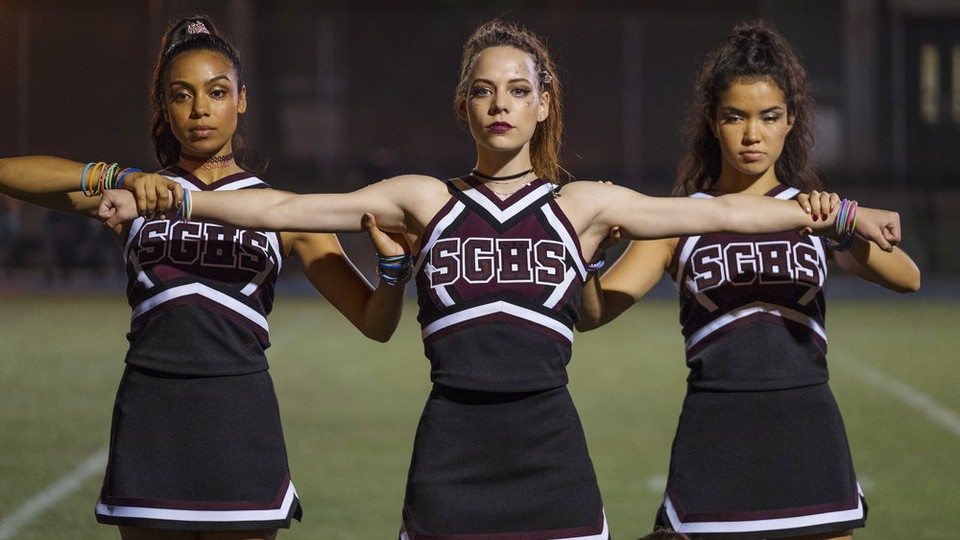 This story contains spoilers through Episode 3 of USA's Dare Me and through Season 1 of Netflix's Spinning Out.
"There's something dangerous about the boredom of teenage girls," observes one such teenage girl in the opening minutes of the USA drama Dare Me. It's a grim statement, the type that belongs in a ruminative noir. But Dare Me isn't about hard-boiled detectives; it's about high-school cheerleaders.
Films such as Bring It On, But I'm a Cheerleader, and Ice Princess have made room for a spectrum of stories about the ambitions of teen athletes in female-fronted sports. But TV rarely tells such narratives, preferring instead to feature these characters when they're breaking into male-centric sports. As much attention as cheerleading may appear to get in the small-screen teen genre, being a cheerleader is usually more of a character trait than the crux of the story. The last major network series to focus on athletes in a women-dominated discipline, Freeform's Make It or Break It, a drama about gymnasts, ended in 2012.
In that context, the debuts of Dare Me and Netflix's Spinning Out, a drama about figure skating, feel refreshing. Both cheerleading and figure skating, with their emphases on dance, highlight the female body and are integral to their protagonists' arcs, which explore girlhood and friendships among women. But Dare Me more successfully unearths those complexities.
Based on the novel by Megan Abbott, Dare Me highlights the stereotype of cheerleading—peppy positivity—against the backdrop of an ominous mystery, juxtaposing choreographed routines with the chaos of a violent crime. The pilot opens with a flash-forward: Addy (played by Herizen Guardiola), a cheerleader whose best friend, Beth (Marlo Kelly), captains their squad with brazen bitchiness, slowly drives up to the house of their new coach, the enigmatic Colette (Willa Fitzgerald). There, Addy reads furious texts from Beth on a phone smeared with blood. It's unclear why Addy's snooping around at night, and whose blood has been spilled, but the series has established clear divisions among these characters so far: Colette favors the mild-mannered Addy over the It Girl Beth, to the point that she hires Addy as her babysitter and demotes Beth's captain status. As a result, the bulk of the drama comes with a sense of dread permeating every scene, especially the ones between Addy and Beth.
Such plotting—of teenage girls being pitted against each other and drifting apart—could come off as cliché, but Dare Me does more than incorporate the trope. It examines the way conflict warps the girls' perception of each other, giving it more nuance. In the pilot, Beth retaliates against Colette's decision to oust her as "top girl" (the cheerleader at the top of the pyramid) by digging her nails into her replacement's thigh. The camera slows down time to linger on Addy, who's holding the girl's other leg, as she glares at Beth, pleads with her to stop, and tries to maintain her cheerleader spirit at the same time. The girls silently struggle, their body language intimating their connection and growing antagonism at the same time.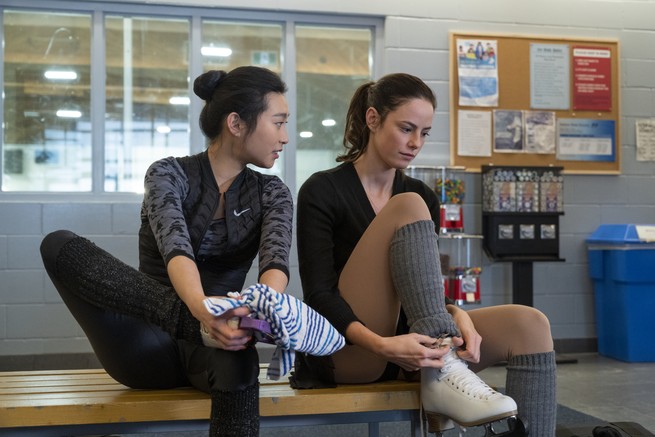 Away from the mat, Addy often does whatever Beth commands, but this scene suggests that when both are in the same uniform, holding up a top girl, Addy feels confident enough to push back against Beth's authority. Colette's entrance into their life has rattled their friendship, but Addy realizes that when the entire school's watching, they have to present a unified front—or at least she needs Beth on her side. And Beth, seeing Addy fighting her, doesn't drop the top girl; she seems almost impressed that her second-in-command is stopping her sabotage. By filming such scenes without dialogue, Dare Me uses the drama of the sport—one that requires upbeat attitudes and permanent smiles—to convey the way teenage girls can be experts at suppressing inner turbulence for the sake of saving face.
Spinning Out also juxtaposes its sport's stereotype—the elegance expected on ice—with the messy reality of being a competitor. But if Dare Me's mystery enhances the danger lurking within its central relationship, the figure-skating drama's attempts at being gritty fail to deliver meaningful messaging and only muddle the plot. The story follows Kat Baker (Kaya Scodelario), a talented athlete who, after a fall that cracked her skull, considers leaving the sport behind. She now fears jumping; her best friend and fellow skater, Jenn (Amanda Zhou), is ready to step out of her shadow; and her mother, Carol (January Jones), would rather invest in her younger sister, Serena (Willow Shields), a rising star. Kat, like Carol, is bipolar, and between the trauma from her fall and her battle with her mental illness, the show has plenty of complex material to mine when it comes to a female athlete and her journey after a difficult injury: There's her internal struggle to return to the ice, her rivalry with her sister, her romance with the bad-boy skater Justin (Evan Roderick), her resentment toward her mother, and her frayed friendship with Jenn.
Yet across its 10 episodes, the series is confused about which story to prioritize, and in the season finale, none of them takes center stage. Instead, out of nowhere, Serena is revealed to have been the victim of the physical therapist who treats the skaters at their gym, in a plot ripped from the headlines. As timely as such a story may be, Spinning Out exploits it, treating it as a melodramatic twist and thereby undermining its impact. The drama wastes its own potential, obscuring the promising arcs established in its early episodes.
Perhaps the greatest fault of Spinning Out isn't the fact that it doesn't follow through with its most tantalizing story threads; it's that it doesn't take advantage of its featured sport. Figure skating comes with built-in drama, but even so, none of the skaters featured ever expresses complex emotions on the ice. In fact, in the finale, when Kat has just reconciled with her family and committed to skating for Serena's sake, minutes before she begins her routine, the show cuts to black. Dare Me uses cheerleading to explore duality and underline the way girls often mask their feelings; Spinning Out regards figure skating artlessly, as an afterthought to the narrative.
The best sports dramas understand that athletes channel their emotions into their work. Such shows don't need the audience to understand the rules or the jargon; they use these inherently dramatic, high-stakes settings to provide insight into the characters' thinking. Female-fronted sports such as figure skating and cheerleading come with the added intrigue of their athletes being expected to control their emotions and perform a part. Three episodes in, Dare Me has risen to the challenge of demonstrating that unique tension. Spinning Out discards it in favor of commonplace melodrama, faltering under the pressure.