The Most Unmissable TV Shows of 2020
A new Star Trek series, an Awkwafina-led comedy, star-studded literary adaptations, and more picks to watch, stream, and DVR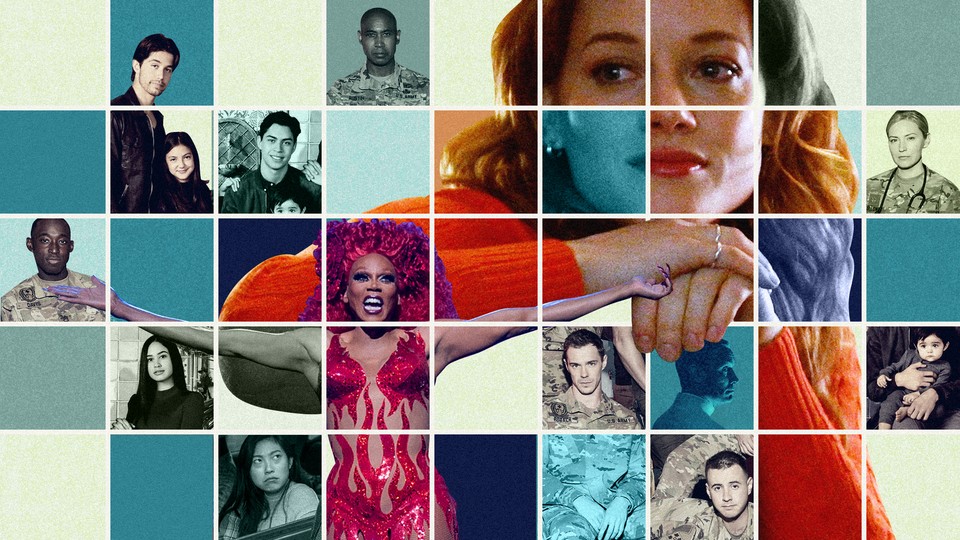 Updated at 9:37 a.m. ET on January 10, 2020.
2019 brought about the end of some TV titans (Game of Thrones, The Big Bang Theory), long-running hits (Elementary, Suits, Veep), once-hot comedies (Unbreakable Kimmy Schmidt, Jane the Virgin, Transparent), critical darlings (Fleabag, Crazy Ex-Girlfriend, You're the Worst, Baskets), and everything in between (the entire Marvel-Netflix universe, Legion, Ballers). And yet there is still ... too much TV. With the new decade comes a fresh crop of small-screen offerings adding to the seemingly infinite amount of programming available. But don't worry: We've taken on the task of weeding through every title announced to highlight what to prioritize for your viewing pleasure. Below, our picks for 25 shows to look forward to in the first few months of 2020, and the ones to keep an eye on the rest of the year.
---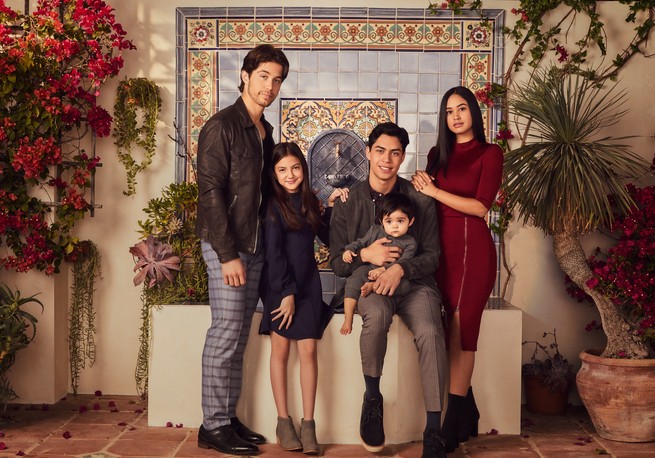 PARTY OF FIVE (FREEFORM, AIRING WEDNESDAYS)
The reboot of the 1994 Fox show follows a family of five orphaned siblings, but instead of a drunk driver, ICE is the culprit this time around. The parents of the Acostas, Javier (Bruno Bichir) and Gloria (Fernanda Urrejola), entered America without papers and are deported years later, leaving the children to fend for themselves. The result is a tearjerker of a series that's not only timely and political but also intimate and wrenching in its earnestness.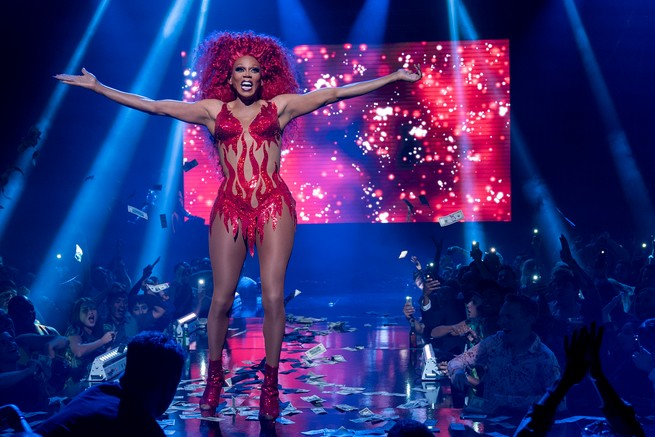 AJ AND THE QUEEN (NETFLIX, JANUARY 10)
RuPaul anchors this sparkly, sequin-drenched comedy about a strapped-for-cash drag queen who goes on tour in an RV and finds an unlikely ally in a 10-year-old (Izzy G.). But the show isn't all wigs, fake boobs, on-stage hijinks, and guest stars (including former Drag Race contestants Bianca Del Rio and Valentina). The series explores love, identity, and self-acceptance, themes the creators RuPaul and Michael Patrick King (The Comeback) understand well.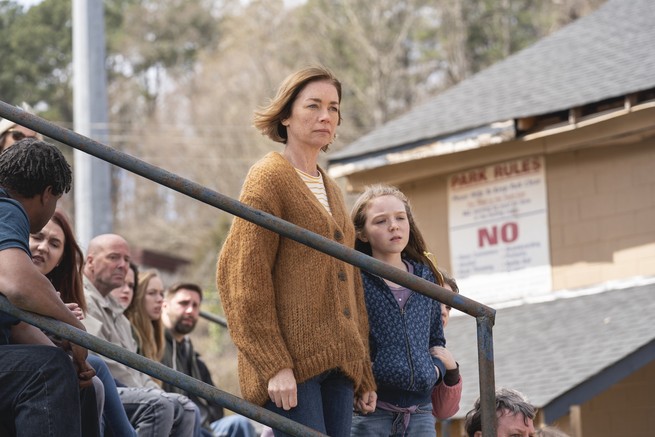 THE OUTSIDER (HBO, JANUARY 12)
The novelist and TV writer Richard Price helms this 10-part adaptation of Stephen King's 2018 novel, starring Ben Mendelsohn as a detective investigating the murder of a child in a small Oklahoma town. Jason Bateman, who directs the first two episodes, plays a little-league coach implicated in the crime until new evidence emerges. And Cynthia Erivo, recently nominated for a Golden Globe for her portrayal of Harriet Tubman, co-stars as an unconventional investigator brought in to help.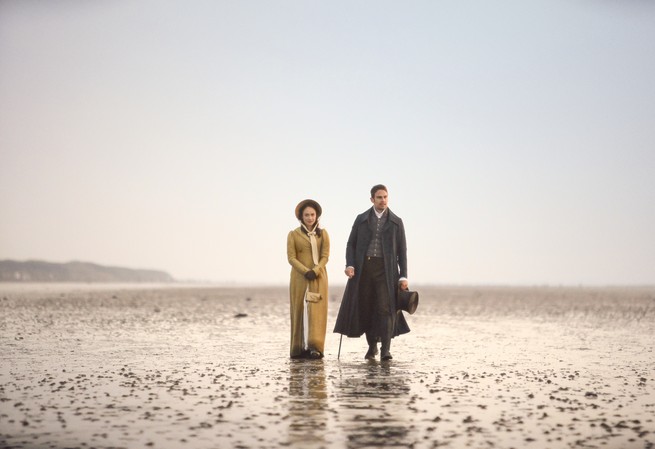 SANDITON (PBS, JANUARY 12)
If Andrew Davies is notorious for anything, it's for sexing up Jane Austen. He's the creator of the scorching 1995 BBC adaptation of Pride and Prejudice, featuring a dripping Mr. Darcy and a smoldering Elizabeth Bennet. He's also responsible for this liberally adapted miniseries based on Austen's unfinished novel, about a young woman caught up in the intrigue of a seaside vacation town. In Davies's hands, Sanditon gets skinny-dipping scenes and couples caught in flagrante. Austen's central will-they-won't-they romance, though, remains.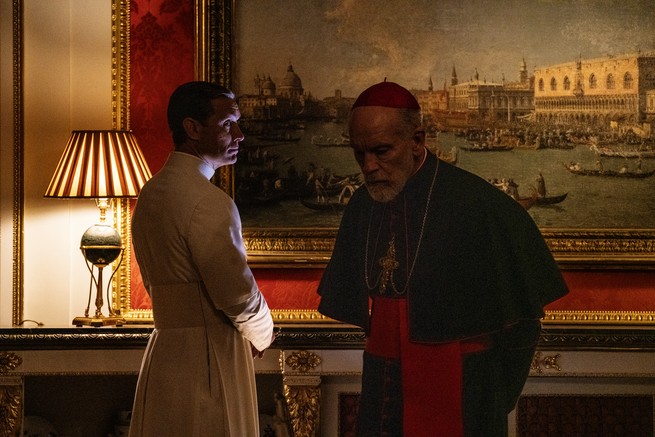 THE NEW POPE (HBO, JANUARY 13)
Before there was Fleabag's Hot Priest, there was Hot Pope, played by Jude Law in Paolo Sorrentino's ambitious, aggressively weird limited series about the modern papacy. In his follow-up to The Young Pope, Sorrentino picks up the story nine months later, with Law's Pope Pius XIII still in a coma, paving the way for John Malkovich's John Brannox to make his debut in Vatican City. The New Pope also adds Sharon Stone and Marilyn Manson to the cast. Expect mesmerizing sermons, strange dream sequences, and a sinfully addictive soundtrack.
68 WHISKEY (PARAMOUNT, JANUARY 15)
An adaptation of an Israeli TV series, this comedic drama about a self-destructive group of Army medics in Afghanistan has been billed as a throwback to M*A*S*H and earned a straight-to-series order. The Paramount Network has yet to score a hit in the peak-and-prestige TV landscape, but 68 Whiskey counts among its backers the mega-producers Ron Howard and Brian Grazer, who know a little something about building cult hits: They helped cultivate Arrested Development.
LITTLE AMERICA (APPLE TV+, JANUARY 17)
Produced by Kumail Nanjiani and Emily V. Gordon of The Big Sick along with Alan Yang of Master of None, this anthology series tells a collection of immigrant stories across the U.S. Judging from the trailer, the episodes will boast the same blend of sharp humor and earnest gravitas that Nanjiani, Gordon, and Yang have achieved in their previous award-winning projects, as well as a cast full of character actors and soon-to-be breakouts. Think of it as counterprogramming to the fledgling streaming service's first round of A-lister-fronted offerings.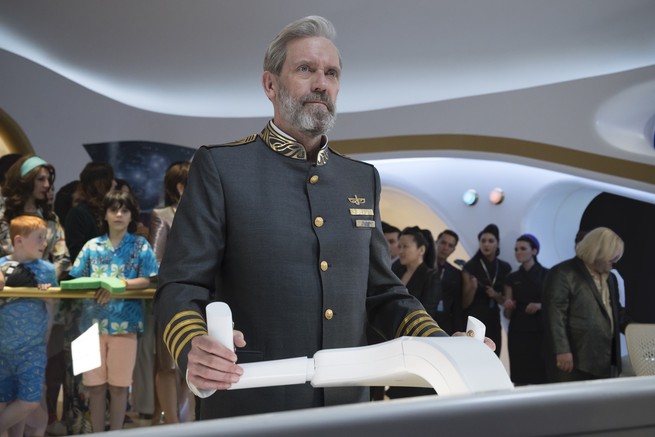 AVENUE 5 (HBO, JANUARY 19)
With this futuristic satire about a space cruise crew dealing with a disaster, the Veep creator Armando Iannucci continues to mine comedy from a cast of incompetent characters attempting to steer a ship. In this case, the ship is literal, trapped light-years away from Earth, and led by Captain Ryan Clark, played to world-weary, dumbfounded perfection by Hugh Laurie.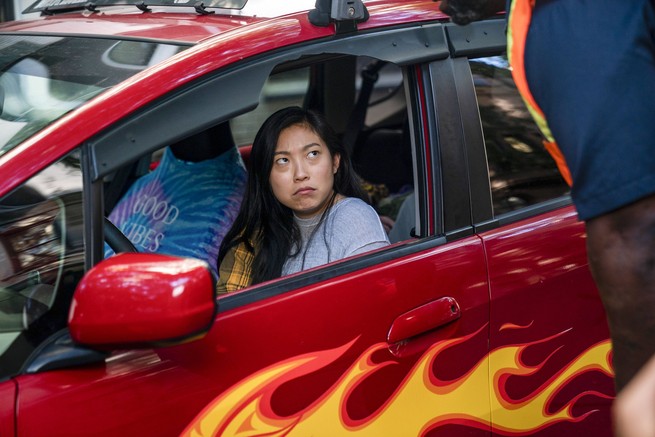 AWKWAFINA IS NORA FROM QUEENS (COMEDY CENTRAL, JANUARY 22)
The recent Golden Globe winner and Crazy Rich Asians scene-stealer fronts this colorful comedy based, in part, on her own life growing up in New York City. The TV version of Awkwafina (real name: Nora Lum), though, isn't on a meteoric rise in Hollywood. Instead, she's still living at home with her father (BD Wong) and grandmother (Lori Tan Chinn, hilariously over the top), envying the accomplishments of her cousin (Saturday Night Live breakout Bowen Yang), and taking on odd jobs in hopes of building a meaningful life. It's like Broad City, but with Awkwafina playing both roles.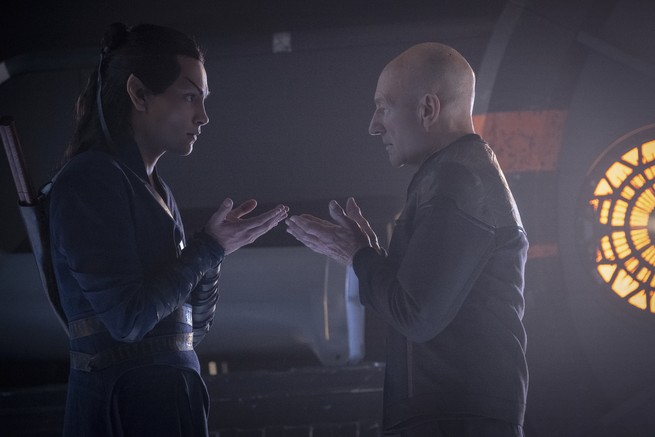 STAR TREK: PICARD (CBS ALL ACCESS, JANUARY 23)
Sir Patrick Stewart returns to the final frontier as the titular captain (and exasperated meme icon) in this latest entry in the Star Trek franchise, which picks up two decades after the events of Star Trek: Nemesis, the 2002 film that resulted in—spoiler alert?—the death of Data. Created by Alex Kurtzman, the showrunner charged with making as much Trekkies-targeted content as possible, the Picard-centric series has already been renewed for a 10-episode second season.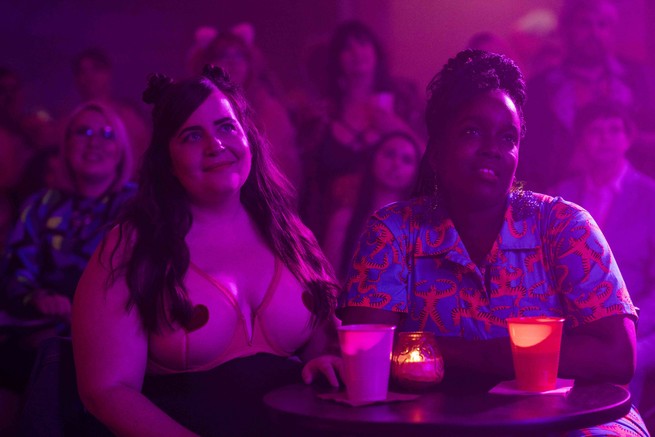 SHRILL (HULU, JANUARY 24)
There's a lot to be said for shows as compact and bingeable as Hulu's Shrill, a six-episode delight of a series returning for its second season. Loosely based on Lindy West's memoir of the same name, the series is executive produced by Elizabeth Banks and Lorne Michaels. And it stars a brilliant Aidy Bryant as Annie, a Seattle journalist who spent the show's first season learning to want more than the confined existence she'd been living. Lolly Adefope, John Cameron Mitchell, and Julia Sweeney make up the stellar supporting cast.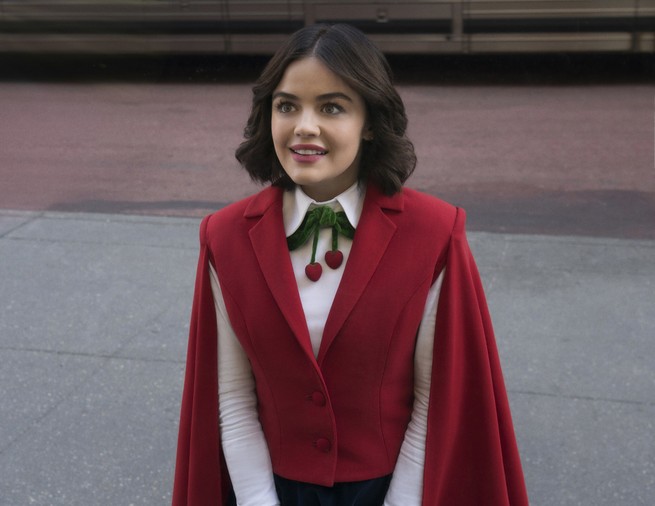 KATY KEENE (THE CW, FEBRUARY 6)
The creators of Riverdale just can't get enough of Archie Comics, it seems. This musical dramedy follows Lucy Hale as Katy, the stylish character from the comics, who heads to New York City to pursue her dream of becoming a fashion designer and reunites with similarly aspiring artists like Josie (Riverdale alum Ashleigh Murray), along the way. The spin-off features none of the violence and murder of its predecessor, instead leaning into an earnest, fantastical tone to tell its tale of artistic ambition.
BRIARPATCH (USA, FEBRUARY 6)
Based on the Ross Thomas novel and created by the former TV critic Andy Greenwald, this pulpy series follows an investigator named Allegra "Pick" Dill (Rosario Dawson), who returns to her Texas hometown after her sister's murder and gets embroiled in a larger mystery involving local corruption. The first two episodes premiered at the Toronto International Film Festival last year, and left an impression on critics as being thoroughly trippy—unsurprising, given one of its executive producers is Sam Esmail, the creator of the paranoid hacker drama Mr. Robot, which used unconventional visual techniques to mind-bending effect.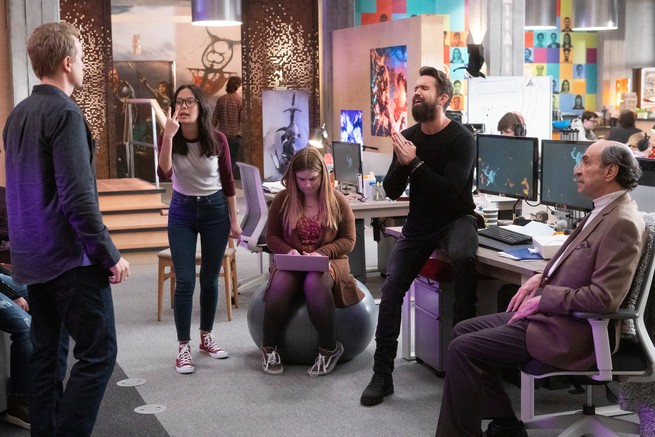 MYTHIC QUEST: RAVEN'S BANQUET (APPLE TV+, FEBRUARY 7)
The newest series from the people behind It's Always Sunny in Philadelphia is this half-hour workplace satire about the development of a new video game, and the tortured egos and comical mishaps that make up its creation. Rob McElhenney stars as Ian Grimm, a maniacal creative director, with Imani Hakim, F. Murray Abraham, and Charlotte Nicdao among the co-stars.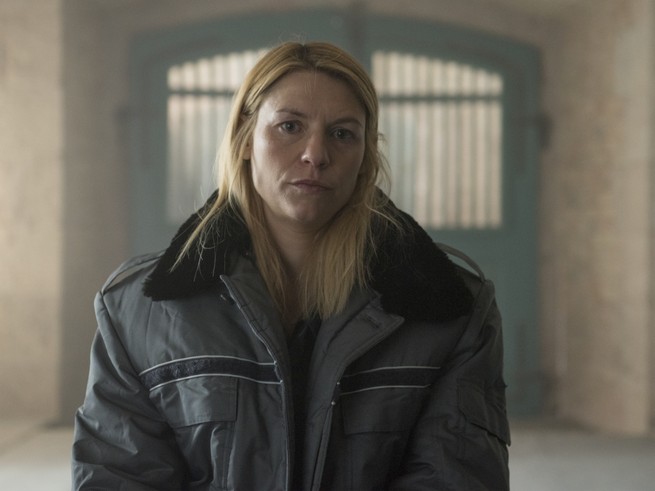 HOMELAND (SHOWTIME, FEBRUARY 9)
The eighth and final season of Showtime's flagship, periodically nutty national-security drama returns with the retired CIA agent Carrie Mathison (Claire Danes) recovering after being imprisoned for seven months in a Russian gulag. ("Russia still has gulags?" you might ask. Well, ish.) Although she's having trouble remembering what happened to her, her old crony Saul (Mandy Patinkin) entreats her to join him in Afghanistan for one last mission. Expect intrigue, double-dealing, and lots and lots of cry-face.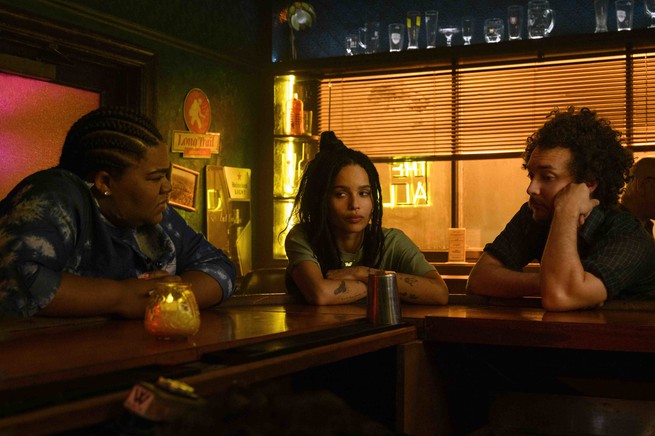 HIGH FIDELITY (HULU, FEBRUARY 14)
The top five reasons to tune into this gender-flipped take on the Nick Hornby novel about a heartbroken, list-making music snob: 1) a magnetic Zoë Kravitz leads the cast as the fourth wall–breaking Rob, previously played by John Cusack in the film adaptation; 2) a strong supporting cast, including the Dolemite Is My Name breakout Da'Vine Joy Randolph; 3) a witty script elevated by energetic direction; 4) an excellent soundtrack, because a show about a record-store owner must prove itself sonically; and 5) Zoë Kravitz again, because she's just that good.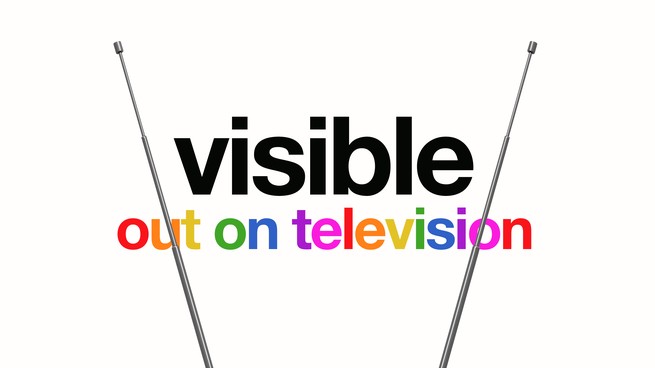 VISIBLE: OUT ON TELEVISION (APPLE TV+, FEBRUARY 14)
Apple TV+'s newest docuseries traces the history of the LGBT movement on television, exploring how the evolution of gay and transgender characters on the small screen coincided with changing attitudes in American life. The five hour-long episodes feature narrators including Janet Mock, Lena Waithe, and Neil Patrick Harris; among the subjects interviewed are Ellen DeGeneres, Oprah Winfrey, and Anderson Cooper.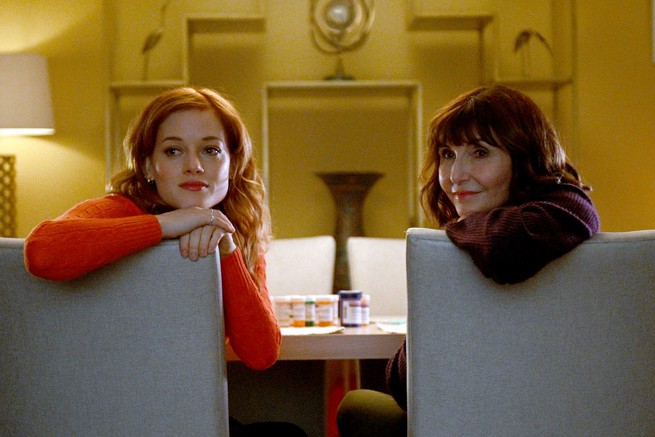 ZOEY'S EXTRAORDINARY PLAYLIST (NBC, FEBRUARY 16)*
Following in the footsteps of high-concept network offerings like Eli Stone and Crazy Ex-Girlfriend, this fizzy musical comedy follows Zoey (played by Jane Levy), a coder who begins to hear the innermost thoughts of the people around her, through song. Think of the series as an origin story for the quirkiest of superheroes, with an appealing cast (Skylar Astin, Mary Steenburgen, Lauren Graham, and Peter Gallagher) to boot.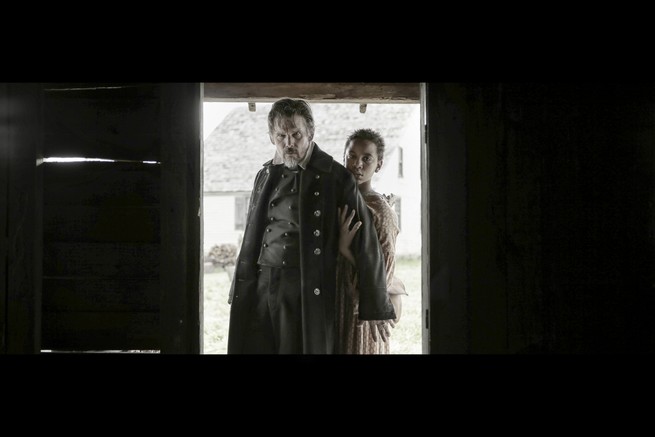 THE GOOD LORD BIRD (SHOWTIME, FEBRUARY 20)
Ethan Hawke's first TV series—which he created and stars in—is adapted from James McBride's National Book Award–winning 2013 novel of the same name. The Huckleberry Finn-like tale is about an enslaved teenager named Onion who joins forces with the abolitionist John Brown (Hawke) and his rebel soldiers, culminating in the 1859 raid at Harpers Ferry and the beginning of the American Civil War. Daveed Diggs co-stars as Frederick Douglass.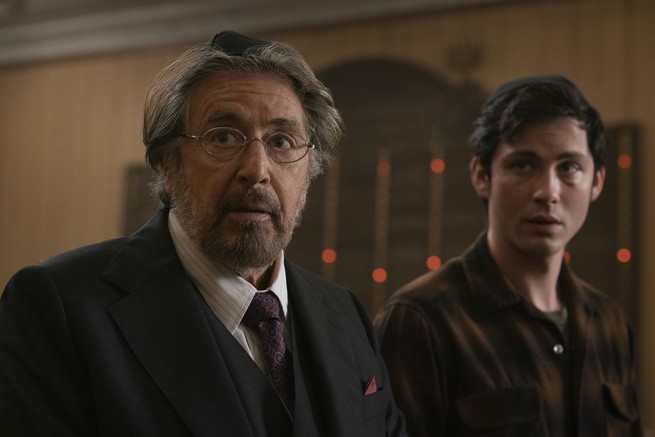 HUNTERS (AMAZON, FEBRUARY 21)
Al Pacino spearheads Amazon's rollicking new drama about a clandestine group of Nazi hunters in 1977 New York. Led by Meyer Offerman (Pacino), the Hunters include a nun, a lock picker, and a master of disguise (Josh Radnor), and their mission is to identify and neutralize a number of high-ranking Nazis who've infiltrated the U.S. Jordan Peele executive produced; the series is created by David Weil.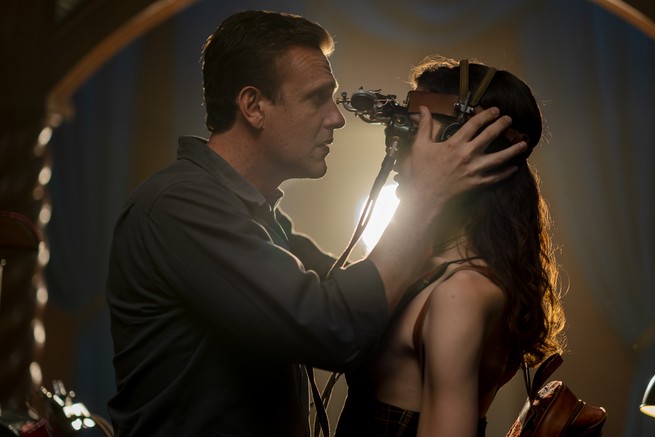 DISPATCHES FROM ELSEWHERE (AMC, MARCH 1)
AMC's first major debut of the year is this extravagantly unconventional drama from the actor and screenwriter Jason Segel, loosely based on a real immersive game and art project that played out in San Francisco for two years. Segel plays Peter, a disillusioned tech employee in Philadelphia who chances upon a series of strange events happening around him. Sally Field, André Benjamin, Richard E. Grant, and the newcomer Eve Lindley co-star.
DEVS (HULU, MARCH 5)
After repeatedly getting frustrated with distributors regarding his films, Alex Garland has turned to television with his newest project: an eight-part miniseries about a computer engineer (played by Sonoya Mizuno) who begins to suspect a tech company of nefarious behavior after her boyfriend dies by suicide. Nick Offerman plays Forest, a mysterious CEO fixated on questions of how quantum computing might be able to change the future.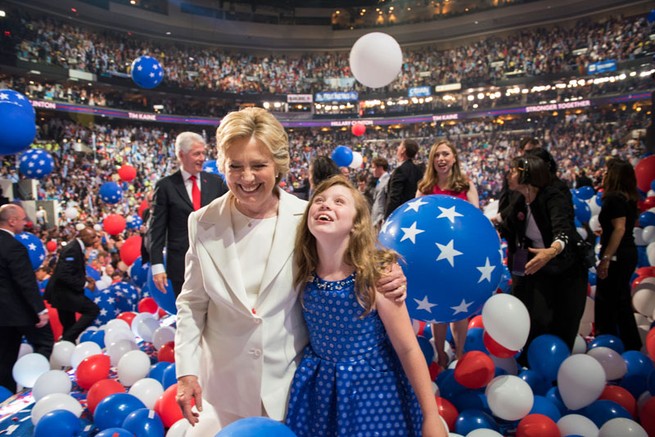 HILLARY (HULU, MARCH 6)
An illuminating dive into the career of Hillary Clinton, this four-part docuseries directed by Nanette Burstein (On the Ropes) revisits the former first lady, senator, and secretary of state's failed 2016 campaign to explore the way the American public receives female politicians. Though the episodes cover much of the same ground Clinton's memoirs do, the interviews and insight into her losses—conducted with Clinton herself, as well as with her family, her aides, and more—set this series apart.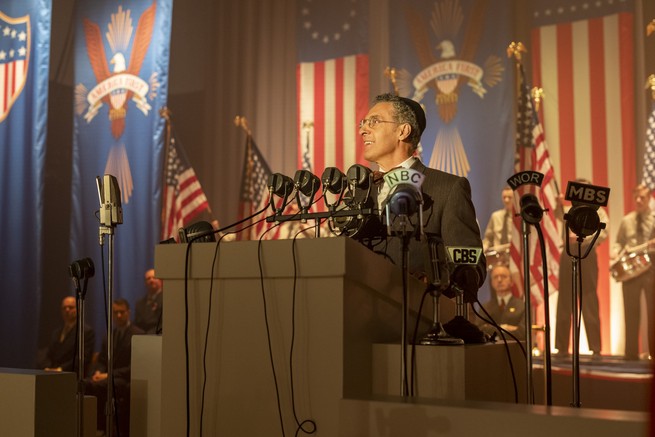 THE PLOT AGAINST AMERICA (HBO, MARCH 16)
The eagerly anticipated David Simon adaptation of Philip Roth's novel is about an alternate-history America in which Charles Lindbergh ascends to the presidency, and fascism flourishes. Initially, Simon turned down the project, until events in 2016 compelled him to revisit it, and to consider what might bring a nation to embrace a demagogue. The cast includes John Turturro, Winona Ryder, Zoe Kazan, and Morgan Spector.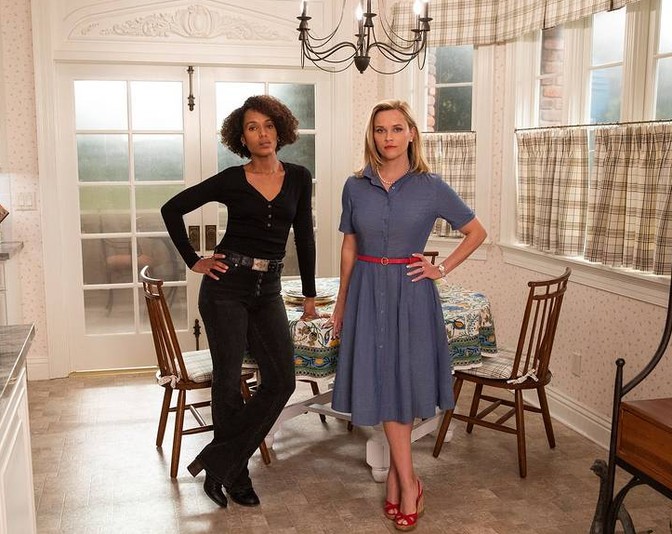 LITTLE FIRES EVERYWHERE (HULU, MARCH 18)
Celeste Ng's bestseller—a '90s-set whodunit about two families that become inextricably, dangerously intertwined—gets the A-list treatment with stars and executive producers Reese Witherspoon and Kerry Washington. It's a win for both: Witherspoon cements her status as the reigning queen of small-screen literary adaptations and ambitious mothers, while Washington deftly sinks her teeth into a role with so many secrets. Olivia Pope would beg to handle them.
---
Later in the Year:
Disney+ officially enters the Marvel Cinematic Universe with the debuts of The Falcon and the Winter Soldier—about Captain America's best buddies, played by Anthony Mackie and Sebastian Stan—and WandaVision, starring Elizabeth Olsen as the superhero with the ability to create illusions. Not to be outdone, the DC small-screen universe will introduce Stargirl this year via its streaming platform and The CW. It's about a high-school teen who discovers a cosmic staff that grants her powers, starring Luke Wilson as her stepfather, a mechanic who pilots his own 15-feet-tall robot. To quote a different Wilson brother: Woooow.
2020 will also be a fruitful year for page-to-screen adaptations: Sally Rooney's novel (and Obama pick) Normal People hits Hulu courtesy of the Room director Lenny Abrahamson, and it stars newcomers Paul Mescal and Daisy Edgar-Jones as the lovelorn Connell and Marianne. Hulu will also air Nine Perfect Strangers, based on the Liane Moriarty novel and anchored by a performance from Nicole Kidman, who racked up trophies for her work on HBO's Big Little Lies, another Moriarty adaptation. This won't be the only drama featuring Kidman; the actress also leads, along with Hugh Grant and Donald Sutherland, the HBO limited series The Undoing, based on the book You Should Have Known by Jean Hanff Korelitz. HBO has even more book adaptations to debut: It's set to release Lovecraft Country, based on Matt Ruff's 2016 novel and executive produced by Jordan Peele and J.J. Abrams; I Know This Much Is True, which adapts the Wally Lamb novel and stars Mark Ruffalo (who also serves as an EP), Melissa Leo, Rosie O'Donnell, and Kathryn Hahn; and Perry Mason, a detective drama based on characters from Erle Stanley Gardner's novels and starring Matthew Rhys, Tatiana Maslany, and John Lithgow.
Graphic novels will make it to the small screen as well, with Netflix taking on Cursed, a series fronted by 13 Reasons Why's Katherine Langford and developed from a Frank Miller and Tom Wheeler book reimagining the legend of King Arthur. Finally, FX's Y—about a dystopian world in which men are suddenly and mysteriously wiped out—will debut after years in development hell. It has quite the pedigree: Queen & Slim's Melina Matsoukas directed the pilot, and the show courted a star-studded cast including Diane Lane, Lashana Lynch, Amber Tamblyn, and Dunkirk's Barry Keoghan.
Speaking of star-studded casts, Mrs. America (FX on Hulu) has the one to beat, with Cate Blanchett, Rose Byrne, Uzo Aduba, Elizabeth Banks, and more bold-faced names playing second-wave feminist icons (and their contradictors) in this miniseries about the movement to ratify the Equal Rights Amendment. Hulu also boasts an impressive lineup with the comedy The Great, a take on the life of Catherine the Great starring Elle Fanning and Nicholas Hoult. Meanwhile, Bryan Cranston jumps to Showtime in Your Honor as a judge whose son is involved in a hit-and-run. Jennifer Connelly and Daveed Diggs navigate class warfare in TNT's adaptation of the Parasite director Bong Joon Ho's film Snowpiercer. And Jeff Bridges takes on his first lead small-screen role in The Old Man on FX, as a retired CIA spy who—surprise, surprise—gets forced out of retirement.
In the age of uber-producers, Ryan Murphy, Shonda Rhimes, and Kenya Barris will all be premiering new works from their lucrative, record-breaking deals with Netflix. Murphy and Sarah Paulson unite for the umpteenth time with Ratched, about the monstrous nurse from the novel One Flew Over the Cuckoo's Nest. Rhimes's Bridgerton, based on Julia Quinn's series of historical romance novels, will be her first series after her reported $150 million deal with the streamer. And Barris's #BlackExcellence, the product of his multi-year overall deal with the platform, will be a family sitcom starring Rashida Jones and Barris himself.
Comedies will see swings from major producers this year, including Netflix's Space Force, an imagining of the workplace shenanigans inside the Trump-proposed military arm, from Steve Carell and Greg Daniels; FX's Breeders, a show about parenting from Martin Freeman, who also stars; and HBO's Run, masterminded by Fleabag's Phoebe Waller-Bridge and starring Merritt Wever and Domhnall Gleeson.
All that being said, the 2020 slate will only grow when new streaming platforms like Peacock (from NBC), HBO Max (which is set to premiere a reboot of Gossip Girl as well as a new season of Search Party), and Quibi (whatever that may be), launch this year.
---
Returning Shows Later in the Year:
HBO has a Westeros-shaped hole to fill for genre fans, and Westworld Season 3 may be the one to fill it. Its trailer teases new worlds, potentially more timelines, and maybe even more hosts posing as humans. The only sure thing? Aaron Paul has joined the cast. For those less interested in puzzles and more interested in power plays, Succession will also return for a third season.
But wait, there's more! The Night Manager is supposedly returning for a second season on AMC. For lighter fare, PopTV takes the reins on the critical darling and fan favorite One Day at a Time, and Disney+ will feature a reboot of Lizzie McGuire, with Hilary Duff reprising the role that made her a household name—for Millennials, anyway. If none of these are to your taste, well, there will always be more seasons of The Walking Dead.
---
* This article originally stated Zoey's Extraordinary Playlist airs Tuesdays on NBC. The network aired the pilot as a sneak peek in January; the official premiere airs in February.