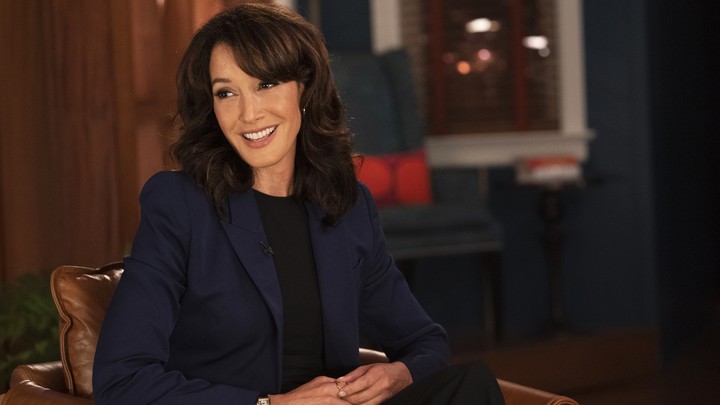 In an early episode of The L Word: Generation Q, the new reboot of Showtime's mid-aughts drama about a group of Los Angeles lesbians, one of the show's most formidable characters softens in front of a crowd. Bette Porter, the onetime museum director played by Jennifer Beals, is now channeling her ruthless ambition into a mayoral bid, 10 years after the original show ended. When she gives a campaign speech about LGBTQ homelessness to a group of queer young people, one attendee tells Bette they're surprised to see someone so prominent claiming the community—in part because their own mother had rejected them.
After comforting the speaker, Bette shares a story: "My father never accepted me. Ever. Till the day he died, he called my partner—the woman that I love beyond measure—he called her my friend. As if our love was less than. And our love is not less than. But it was painful. It still is." Then, in an unexpected move, Bette comes down from her perch and pulls the audience member in for a hug. The whole scene is a breakthrough for Bette, who is coming off a small scandal and feeling somewhat disillusioned about her campaign. She's reminded of some of the many reasons she decided to run: to be the city's first female—and first openly gay—mayor.
The rally sequence is a heartfelt meditation on the power of firsts. But it also encapsulates why the original series resonated with viewers and speaks to the magnitude of its return. When it premiered in 2004, The L Word was the first scripted cable-network drama to focus chiefly on the stories of lesbians. The series, which was created by Ilene Chaiken, Michele Abbott, and Kathy Greenberg, had a rare, near-impossible duty: to serve as a cornerstone of queer representation and to keep straight viewers entertained (and straight executives on board). The L Word followed another Showtime series, Queer as Folk, which was itself the first hour-long drama to focus on gay characters.
Beals herself, meanwhile, has also been part of a historic achievement by playing Bette Porter. The actor remembers well the pressures the original show faced. "When we first started The L Word, [Chaiken] and I would have these talks," she said when we spoke recently in her Los Angeles office. "I was very much like, 'If we can just save one person. If we could just introduce that one girl who lives in the middle of nowhere, who has no access to her community, to this larger community, that's just really what I want to do.' And she's like, 'And let's make good television also!'"
Read: The slow, messy evolution of LGBTQ dating shows
Now Beals guides the reboot's course from a different vantage point—one that stretches her thinking, and her input, beyond Bette's arc. She serves as an executive producer on Generation Q, along with Chaiken and the other two returning actors, Katherine Moennig (who plays Shane) and Leisha Hailey (who plays Alice). The series is led by a new showrunner, the 34-year-old writer and director Marja-Lewis Ryan. Moennig, Hailey, and Beals have been invested in the reboot since years before it seemed feasible. The women are attached not just to their characters but also to the world that Shane, Alice, and Bette inhabit. "One of my favorite things about this iteration of the show is that it's multigenerational. And Bette is going through menopause, which is really hilarious to play," Beals, who is 55, said. (She added that she begged Generation Q's writers to include that story line: "I just sent them article after article after article on menopause and its ramifications to behavior.")
The show's ambitions have always been lofty. There is, after all, no monolithic queer community—and no series could capture the totality of a group so diverse (and sometimes disparate) in its experiences. Generation Q also introduces a new cast of younger characters, who sometimes serve as foils to Bette, Shane, and Alice. The returning characters aren't necessarily out of touch, but their concerns have changed. They're no longer staying out late at night and carrying on affairs with married women (not yet, at least). And in her own new role as executive producer, Beals feels that she's charged with a three-part commitment: "maintaining Bette's voice, taking care of the other actors, and being a torchbearer for the legacy of the show."
For many queer women, The L Word has always been something special. And Beals has been part of that legacy for 15 years now, through all of Bette's personal evolutions, professional triumphs, and romantic indiscretions. ("Who wants to watch perfection? That's not interesting. That's a TED Talk," Beals said of her character's mistakes.) Even with all the changes baked into the reboot, she sees the show's focus on "these characters' lives through the deepest expression of their humanity, which is love," as a perennially relevant contribution. "Just having the luxury of having an escape that's geared toward your community," she said, "reinforces your place in the world."
When we spoke in Beals's meticulously arranged office about the years between The L Word and Generation Q, I asked about the notes she's collected from fans. I wondered if she and the other actors had gotten messages that mirrored the gratitude Bette receives at her rally. Beals mentioned a letter she's held on to since early in the original show's run, pulled it up on her phone, and began to read:
Dear JB,

Truly, if there's any compilation of great stories that will stick with me forever, The L Word is it! Bette is my favorite character and has made a lasting impression on me. Coming to terms with being a young lesbian in a straitlaced family in a small town was one of the loneliest times I think I will ever have to endure. When I discovered The L Word, it gave me faces and names to put with these mythical ideas of other people like me … Thank you from the bottom of my heart for giving me hope when I needed it most. The L Word saved my life. Bringing characters like Bette into the light and into my little piece of the world saved my life.

When she finished, Beals laughed and said that if I wrote that she cried while reading, then I'd have to confess that I cried too. The letter is one of the touchstones Beals revisits when she gets tired or frustrated on set. During those moments, she tells herself: Go back to what the source is … because it can't be just about you. The concept of return, and of coming back to what matters, has driven Beals for years. She began taking pictures the very first day of filming, and did so until the very last, in part because she realized "that the fans were so interested in the minutiae of the show. I keep it in here so every now and again, if we need to, we just look through it to remember what it was." Beals later released a book of photos culled from her time on the show's first run.
Read: HBO's "Looking": not "the ultimate gay show about all gay people"
In the book's foreword, Beals reflected on the show's six seasons. But she also looked ahead, perhaps unknowingly, to Generation Q's arrival: "It's interesting to note that despite its success, nothing has taken The L Word's place in these five years since it's been off the air. Are the stories no longer relevant? I don't think so," she wrote. It was an accurate assessment. Fans have been clamoring for an L Word reboot not just because the show was deliciously messy or because they wanted to know who killed the ever-frustrating Jenny Schecter. The L Word: Generation Q exists now because the landscape of well-resourced, LGBTQ-focused television is still so narrow. As Beals wrote then, "I think within this paradigm shift, [shows like this are] as relevant as ever. Physics tells us constant momentum is not guaranteed."

Indeed, 10 years after the last episode of The L Word aired, the reboot is once again moving Bette—and queer representation more broadly—forward. Generation Q homes in on Bette's new life as the mother of a teenage daughter, Angelica (played by Jordan Hull). The girl challenges Bette regularly, and the exchanges between the two are sometimes tense. It's refreshing to see Bette try her hand at this new role and learn in yet another arena that she can't control everything. As a working mother, and as a lesbian parenting a teen with her ex-wife, Bette is a rarity in the television canon. Her political ambitions—and her past (she bristled at authority figures in the original series)—sometimes conflict with her hopes for herself as a mom, a source of frustration that lends her character gravitas and also broadens the "continuum" of representation that Beals spoke of.
Even so, the move into politics is a natural one for Bette. For Ryan, who watched the original series when it aired, writing Bette's evolution is an exciting, collaborative process. "Bette Porter running for mayor is like such a specific thing [to] my 19-year-old lesbian self. I could've written that at 19. Like, I know what that sounds like, because [Chaiken] gave us those characters and [Beals] developed that character," the writer said. As the showrunner, Ryan has gotten to ask questions about how Bette would run her campaign in 2019 ("Like, maybe she has a trans political consultant") and what the best way to film the character would be ("How can we shoot her like a superhero?"). The Bette Porter of the mid-aughts was, after all, already a titan.
Beals noted that she, Hailey, and Moennig had conceived of Bette's mayoral run even before the group's many meetings with Ryan. Speaking about Bette's shift away from the art world and toward politics, she added that the move "comes from a very personal place. It's not just to be a crusader for crusading's sake. It comes from a very personal place, and I think it comes from her recognition that she has the ability and has a platform. She was working at the Department of Cultural Affairs for the city, so I think that proximity to government made her realize, Well, why not me? And she feels very passionate about making things better and certainly doing one good thing at least."
Chaiken echoed that assessment. "She's always been an activist. She's always wanted to change the world, and also has a tremendous amount of hubris. She believes that she can do it and nobody else can," the previous showrunner said of Bette's new arc. "And I just wanted to see her make that manifest. And of course, it's also a way that we get to talk about politics a little more explicitly."
Talking about politics is of particular interest to Beals too, in no small part because of the climate that the new show enters. Even as queer representation begins to slowly inch forward, the past few years have seen a tremendous blowback against political gains that LGBTQ people have achieved in the past decade. The L Word: Generation Q addresses the current sociopolitical reality in part through Bette's mayoral run. But the show's return, at this precise moment, is itself a tacit rejection of increasing hostility toward queer people. Or as Beals said, "If visibility is crucial to personal and social and therefore political change, then I think it's more important than ever to have The L Word back on the air. Because I really feel like since the moment this president took office, the LGBT community has been under attack in myriad ways. And I think that visibility can give the community agency, certainly. And it can give people who are not in the community a sense of understanding that we're all more alike than we are different."
We want to hear what you think about this article. Submit a letter to the editor or write to letters@theatlantic.com.
Hannah Giorgis
is a staff writer at
The Atlantic
, where she covers culture.