A Pop-Culture Time Capsule of the 2010s
The 27 works, moments, and objects that define the best—and worst—of the past decade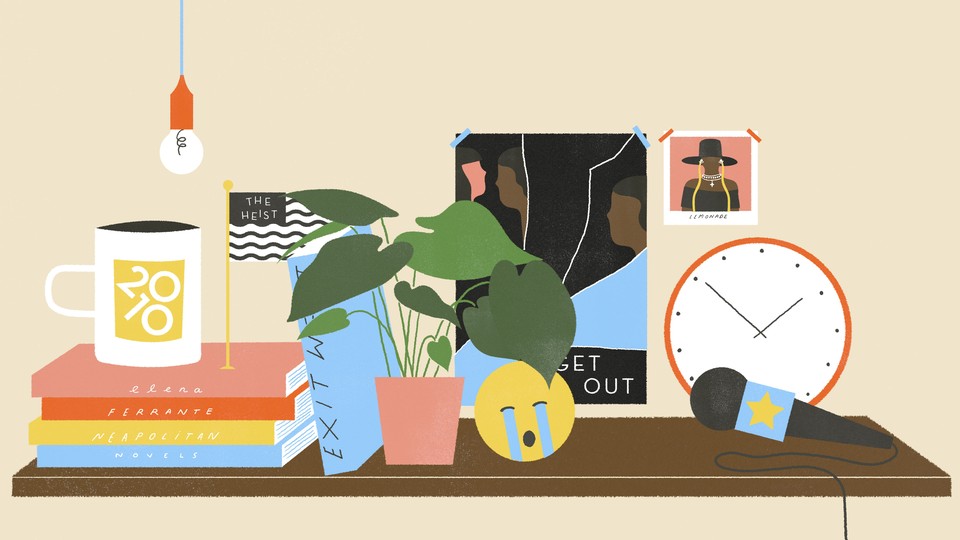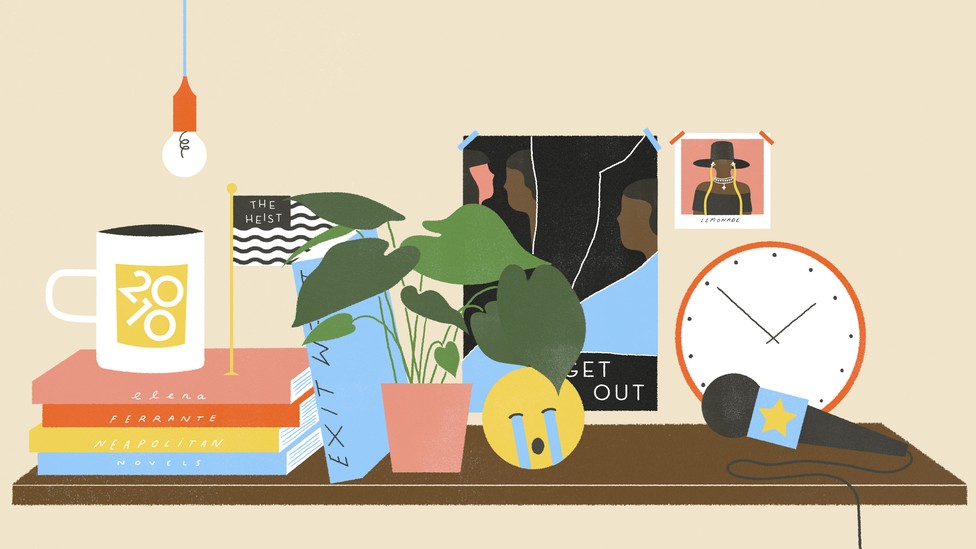 In an attempt to do the impossible and sum up the past decade of pop culture in a single list, we gave our writers a prompt: Choose three works or moments that captured the past 10 years for you. First, pick a personal favorite. Second, pick something that mattered to the zeitgeist. Third, name something that offered a warning about what was to come. The result is a completely subjective and hardly comprehensive collection of memes, films, albums, books, and phenomena that defined the 2010s—for better or for worse.
---
Spencer Kornhaber, staff writer

Clark's self-titled album (2014)
No era has a monopoly on apocalypse anxiety, but a decade that began with the end of the Mayan calendar and ended with freaky United Nations climate forecasts had special reason to fret about whether there'd be a next decade. I have no idea whether the U.K. electronic musician Clark had doomsday in mind when he recorded this ferociously beautiful opera-as-rave that became my go-to adrenaline booster. But the tornadic beats, devious melodies, and feral sound effects certainly evoke some cataclysm that, from the sound of it, might at least be aesthetically neat.
All the Drake memes
Which came first, modern internet culture or its favorite rapper? Just as Drake's musical trajectory in the 2010s told the story of almost every larger shift in pop, the way he surfed the viral sea told the story about discourse itself. Reaction GIFs, dance crazes, text prompts, overdubs: His cult—and cult of haters—led the way on all formats. Broader debates over appropriation, authenticity, sports, the family unit, and so much more were litigated in terms of his sweaters. He, of course, had some control of this dynamic. Drake memed himself before others did; he used memes others made of him. The ouroboros was complete when you looked at your phone and made this expression.
Lady Gaga's "Applause" at the 2013 VMAs
Sometimes, when slogging through yet another forgettable awards show, I wonder whether Lady Gaga getting fake booed while peeking through a white square represents the last bit of wonderful nonsense that mega-scale pop will ever cough up. The "Applause" performance was not her greatest TV concert, but it was a great one, as well as a self-aware eulogy for her career to date. She seemed to realize that 2013's Artpop might mark the endpoint for her supernaturally bombastic shtick, but it's unclear whether she knew that James Parker's prophecy in The Atlantic—"The Last Pop Star"—would come to pass. Gaga spent the rest of the 2010s shedding her masks to show her "real" self grappling with anxiety and trauma sans glitter or EDM. Her peers and descendants did something similar, and the results involve a more relatable kind of dazzlement. But pop doesn't feel like fantasy anymore.
---
Shirley Li, staff writer

The Bling Ring (2013)
Sofia Coppola's account of the real-life robberies committed by a gang of celeb-obsessed California teens isn't really a crime drama. It's more of a beautifully shot anthropological study of late-2000s, early-2010s pop culture. This was a time when reality TV and a lineup of tabloid-friendly "stars" (namely the Hiltons and Lohans and Simpsons) started closing the gap between the A-listers and everyone else, while paving the way for the influencer era to come. Never one to shy away from a story about the desires of detached young women, Coppola turned the ripped-from-the-headlines scandal into an intoxicating and unnerving ode to indulgence. "I wanna robbbb," whimpers Emma Watson's scene-stealing Valley girl just before the crew, well, robbbbs. Call the tale shallow, condemn its characters, it doesn't matter; whenever I watch, I almost want to join her quest. Almost.
Lorde's Melodrama (2017)
It's all there in the title: Lorde's sophomore album hits like a sonic tsunami of exaggerated emotions, covering the soaring highs and tragic lows of obsessive young love. Given the amount of times I've hit the replay button on "Supercut," I debated whether to spotlight only a single track, but in truth, Melodrama's scope as an album—from the furious ecstasy of "Perfect Places" to the gut-wrenching devastation of "Liability"—deserves its own entry. Along with her tightly controlled, breathy-breathless vocals, Lorde proves herself the lyrical poet laureate of the 2010s. She's the patron saint of youthful angst, opening doors for the Billie Eilishes and Alessia Caras to come, and the type of artist whose work deserves a place in the Louvre. Down the back, of course, but who cares? Still the Louvre.
House of Cards (2013–18)
Looking back, it's almost scary how much viewers obsessed over such a cruel show, but 2013 was a different time. When Netflix debuted its second original series, the cast's star power, the creative pedigree (with the director David Fincher among the executive producers), and the subject matter—that of Washington, D.C., power plays—were too addicting not to binge. An American spin on a British import, the show about a bloodthirsty congressman clawing his way to the White House was tautly told and well acted, not to mention shocking: In its first few seasons, it delivered some of the most watercooler-y moments of the golden age of TV's waning years. So thanks, House of Cards, for ushering in an age of binge-watching anchored by major movie stars and timely plots. Too bad that, in the end, it all collapsed under the weight of the real world, in more ways than one.
---
Myles Poydras, editorial fellow

Frank Ocean's Blonde (2016)
Frank Ocean's follow-up to his acclaimed debut, Channel Orange, saw him taking rich, imaginative stories with biographical elements and refocusing his writing so that his actual life events became the central narrative in his songs. What unfolds in Blonde is a vulnerable memoir that's self-interrogating; it reassembles fragments of memories to riff on love, growing up, and identity. The album begins with bittersweet pining for youthful affection ("Ivy") and resettles at a more somber crossroads of wisdom, parsing societal conceptions about intimacy while giving solemn tributes to past relationships ("Seigfried").
Mumble rap
The rise of "swag rap" (a precursor to many current rap styles) heading into the 2010s made for a fruitful decade for hip-hop artists—namely those from Atlanta—to experiment with vocal intonations, adding another layer of texture to their songs. One result was the birth of "mumble rap," a term that has been used condescendingly at times but whose influence is undeniable. The subgenre's popularity led to the ascent of artists such as Future and Young Thug, and influenced a new generation of stars such as Gunna and Playboi Carti. Both young and old audiences should be thrilled for this evolution. In a style of music that hinges on how you deliver your words, many artists have mastered how to coax more meaning into their verses by vocally emoting in every way imaginable. From Young Thug's partially unintelligible and serotonin-triggering hook on 2014's "Lifestyle" to Gunna and Lil Baby's surging and twitchy 2018 track "Drip Too Hard," the innovations of mumble rap have given even more breadth to a genre that was never static to begin with.
Green Book (2018)
There's a tradition of films that take up the task of projecting pseudo–social harmony onto society. This decade's flagrant example of a "feel good" movie centered on demonstrating ostensibly positive relationships between white and black people (via the white-savior story template) is 2018's Green Book. The film takes an interesting piece of black history concerning travel during the Jim Crow era and commits the memory crime of distorting what racism looks like beyond one "redeemed" white man's experience. Green Book, and its Oscars success, is especially emblematic of this decade, in which shallow calls for reconciliation obscured the many racial injustices that still exist today.
---
Lenika Cruz, senior associate editor

BTS's Love Yourself trilogy (2017–18)
I've written (and tweeted) at length about succumbing to the gravitational pull of a certain supergroup from South Korea. Beyond Saturday Night Live and YouTube, I owe my thanks to the music itself, namely BTS's Love Yourself album trilogy, released from 2017 to 2018. I could have rhapsodized instead about Wings, the dark and heady 2016 concept album that propelled the septet onto a global stage. But it was through the triptych of Her, Tear, and Answer that BTS further cemented their pop-music dominance and demonstrated a new level of artistry (the members are always involved in writing and producing their own records). Not only did the series yield the hit singles "DNA," "Fake Love," "Mic Drop," and "IDOL," but it also produced gems such as the vocal standouts "Serendipity" and "Singularity"; the haunting ballad "The Truth Untold"; and the rap-line lyrical masterpiece "Tear." (My other favorites: "Sea," "Seesaw," "Euphoria," and "134340.") This is to say nothing of the breathtaking live performances that resulted—or the still more stratospheric heights BTS reached in 2019, a year when even comparisons to the Beatles became cliché.
Get Out (2017)
Jordan Peele's 2017 directorial debut was one of those rare cinematic experiences that married the pure thrills of a popcorn movie with the artistic deliberateness of a prestige film. My first time seeing Get Out was one of the most electric times I'd spent in a theater. Where some movies cause the world around you to dissolve, Get Out had the effect of making you more keenly aware of exactly who was sitting around you. It felt at once like an old parable and like a terrifying news article. It spoke fiercely—and hilariously—about living as a black American in a country that often mistakes colorblindness for racial justice. It turned the clinical-sounding notion of "microaggressions" into a narrative and comedic weapon. Get Out is auteurship at its finest; every frame and line of dialogue served a purpose in Peele's story. The film invented the trenchant notion of "the Sunken Place," turned Peele and the actor Daniel Kaluuya into stars, made a bold statement about cereal-eating habits, was the rare horror film to be nominated for a Best Picture Oscar, and became a meme used to make fun of white people's virtue signaling.
The Walking Dead (2010–???)
If you had told me in 2011 that in a few years I'd be writing about one of my favorite TV shows for The Atlantic, I would've told you to get out of my face with your lies. If you had told me in 2014 that two years later I'd quit watching The Walking Dead entirely, I would've pretended not to hear you. Yet this is precisely what happened to me and millions of other fans of the show, which has lumbered through new seasons as soullessly as its eponymous ghouls. Once upon a time, The Walking Dead held that coveted watercooler-TV status; it was that dying breed of show that you tuned in to watch the moment it aired and analyzed with everyone the next day. The problem, though, was the fact that AMC's erstwhile ratings juggernaut couldn't die. Its existence as a beloved piece of intellectual property guaranteed the show's renewal every year, despite the ever more pronounced sadism and flaccid story lines. The Walking Dead is, today, just another fatigued franchise whose artistic stewards speak exclusively in the language of spin-offs and sequels. None of its zombified peers, though, bears a title quite as apt.
---
Sophie Gilbert, staff writer

Elena Ferrante's Neapolitan novels (2012–15)
There are guilty pleasures, and then there are pleasures so distinct and sharp that they leave you feeling slightly differently about the world and everyone in it. For me, the latter is defined by Elena Ferrante's four-book series about the friendship between Elena Greco and Raffaella Cerullo—the sullen, introspective Lenù and the ferocious, fearless Lila, respectively. An antidote to the sugar-and-spice narrative that tends to stick to stories about little girls, the Neapolitan novels express some of the innate savagery of female friendship, the intensity of feeling, and the swiftness with which obsessive love can become loathing. But even more, I loved the world Ferrante captures, with its anticipatory promise and inevitable violence.
Emoji
If I had to summarize this decade in three emoji, I'd go with
,
, and
. While the tiny ideograms have been standard on Japanese cellphones since the late '90s, it was only in 2011 that Apple added them to iOS 5, unleashing a whole new world of communication. Inevitably, some
naysayers grumble
that emoji undermine language, letting users rely on prefabricated emotional expressions rather than grasping for exact words. Instead, they've given us a
whole new language
entirely, one in which you can instantaneously find common ground with another person with just a single
or
or
.
The cancellation of The OA
When The OA appeared out of nowhere on Netflix late in 2016, it felt like a harbinger of something magical. Brit Marling and Zal Batmanglij's dimension-hopping mystery did things that had never been done on TV before, such as dropping the opening credits 40 minutes into the first episode and wildly varying the length of different installments depending on the story each had to tell. The OA felt like a disruption of the TV status quo and the sign of a new era in the medium, even as the core of the series was as humane and sincere as anything I've seen since. But its cancellation this year seemed to signal something else: that Netflix's creative ambitions have been subsumed by its desire to broadly appeal to as many viewers as it can. It's hard not to feel like more than one transcendent show has been sacrificed in the process.
---
Rosa Inocencio Smith, assistant editor

Rachel Cusk's Outline (2014)
The 2010s were the decade that launched me through an English major and into adulthood—which is to say that of all the things I've thought about in the past 10 years, I've probably spent the most time on literary form and personal existential crises. Outline is meaningful to me on both counts. Published in 2014 (I read it a few years later), the novel kicks off a trilogy in which Cusk strips character down to its barest elements, creating the sense of an unstable, unbounded identity for her first-person narrator. Though that narrator speaks in the voice of a middle-aged woman, her quiet, pervasive anxiety about her place in the world captured the mood of my early 20s, and the connections through which she finally grounds herself gave me some reassurance too.
The BuzzFeed personality quiz
If you are someone whose homework was due at any point in the first half of the decade, you know the thrill, the temptation, the danger of that simple, image-based multiple-choice format. Have you ever actually wondered which breakfast cereal captures your essence? No. Do you now have an urgent need to find out? Absolutely. For a generation coming of age online, BuzzFeed's endlessly viral tools for snapshot self-reflection provided not only fodder for procrastination and Facebook posts, but also a piece, however small, in the puzzle of figuring out who they were.
Avatar's aesthetic Oscars
One might reasonably wonder if at any point in the Cats production process some sharp-eyed beta viewer could have stopped the inexorable progress of digital-fur technology before it turned a full cast of talented performers into the middle silhouettes from an Animorphs cover. Alas, their fate was sealed back in 2010, when James Cameron's 162-minute sci-fi epic swooped away with the Academy Awards for cinematography, visual effects, and art direction in a blur of teal with purple tiger stripes and flecks of white-savior complex. In fairness, Avatar did push the boundaries of moviemaking technology at the time. Yet, for all its advanced experiments, the film missed an important basic lesson: The fact that you can give CGI breasts to nonhuman entities doesn't mean you should.
---
Hannah Giorgis, staff writer

The Good Wife, Season 5 (2013–14)
I was late to the sharply written, tumultuous glory that is The Good Wife. Friends had been singing its praises for years, so I was armed with spoilers by the time I sat down to watch the series, which followed the onetime lawyer Alicia Florrick (played by Julianna Margulies) when she returned to the workforce after her husband Peter's (Chris Noth) sex scandal. And yet. Has a TV death—especially one I knew was coming—ever devastated me as thoroughly as the one that rocked the Good Wife courtroom late in the show's fifth season? Never! The show's characters, so messy and complicated and sometimes deeply unlikable, got under my skin (as did Alicia's wig). I still think "The Decision Tree," which aired during Season 5, is one of the best TV episodes ever written—a perfect rendering of loss, desire, and anger set against a salacious court case. (The show's spin-off, The Good Fight, is also easily the best depiction of Donald Trump–era #Resistance on TV right now.)

Beyoncé's Lemonade (2016)
On "Feeling Myself," off Nicki Minaj's The Pinkprint, Beyoncé reflects on her own 2013 album with a satisfying assessment of its surprise release: "Changed the game with that digital drop / Know where you was when that digital popped / I stopped the world." Beyoncé's self-titled 2013 record did shift music-industry conventions, but it's Lemonade, her baroque 2016 visual album, that has left a more indelible impact on popular music's emotional range. Lemonade introduced a new era of (very contentious) social consciousness for the artist, but it also uncovered an even rarer side of the music magnate: piercing vulnerability. That Beyoncé—Beyoncé!—would sing candidly about the very rumors of infidelity that had long plagued her marriage felt monumental. Here was the biggest entertainer in the world, a black woman, examining her pain with the implicit directive that others do the same. As Jezebel's Clover Hope wrote at the time, "Who are we to believe in if it can't be our fathers, partners or the country that claims we're free? The answer is our sisters."

Macklemore's The Heist (2012)
If ever there were a moment when I most regretted the advent of the screenshot, it was a cold evening in January 2014. After winning Best New Artist and not one but three awards in rap categories for his album The Heist, the Seattle rapper Macklemore texted the Los Angeles legend Kendrick Lamar, whose critically acclaimed debut, Good Kid, M.A.A.D City, had been expected to win Best Rap Album: "I wanted you to win. You should have. It's weird and sucks that I robbed you." Naturally, we all know the contents of Macklemore's text to Lamar because the winning rapper posted a screenshot of his message to his own Instagram (the post is still up). This bizarre moment of self-flagellation paired with a public display of ostensible graciousness remains one of the strangest things that happened in a truly wild decade of rap music and news. Macklemore was right, of course: GKMC was by far the superior album, by all measures of technical and lyrical excellence. But the lesson of that night wasn't about music itself so much as it was about which hip-hop artists are most celebrated by industry gatekeepers.
---
David Sims, staff writer

Annie Baker's The Antipodes (2017)
Some of the most exciting cultural experiences I've ever had came from the mind of the playwright Annie Baker, whom I first encountered in 2009 when the incredible Circle Mirror Transformation premiered off-Broadway. Though Baker then won the Pulitzer for 2014's The Flick, my favorite work of hers—and a piece of writing and performance I've obsessed over since seeing it at New York's Signature Theatre—is 2017's The Antipodes, a quiet philosophical thriller about how we tell stories. Set inside a Hollywood writer's room, the one-act play sees a group of "creators" (mostly men) pontificate, argue, and thoughtfully muse on just how to tell the perfect tale, seemingly trapped in an office complex while the world around them quietly disintegrates. Baker might be the superlative artist of the decade for me because of her incredible grasp on the nuance of human conversation, her mix of compassion and contempt for contemporary life, and her ability to charge the most elementary interactions with drama, humor, and terror.
Phantom Thread (2017)
I sat down to Paul Thomas Anderson's latest and greatest film, Phantom Thread, expecting a stern drama about the pressures and limits of genius. And while its portrayal of the fictional dressmaking maestro Reynolds Woodcock (Daniel Day-Lewis) revels in its protagonist's irascible superiority, it does so while being one of the funniest and most tender films of the decade. In probing Reynolds's partnership with his muse, Alma (Vicky Krieps), Phantom Thread becomes a curiously honest portrayal of the push and pull that comes with partnership and marriage. It's also a hilarious comedy of manners that doesn't shy away from the odd, sometimes sad inner compulsions that drive Reynolds in and out of Alma's arms. Anderson is arguably the most compelling American director working today, and this is his inarguable masterpiece.
Tron: Legacy (2010)
To clarify: I quite enjoy Joseph Kosinski's buzzing neon refurbishment of Tron, the 1982 cult classic that helped usher in Hollywood's first age of computerized visual effects. Its plot is nonsensical, its actors often adrift amid the digital noise of its video-game world, but it looks and sounds too good to easily dismiss. This film (produced by Disney) also, however, predicted the future of corporate art, which would become a theatrical juggernaut by the end of the decade. It's based on a niche piece of intellectual property, most of its idiosyncratic wrinkles have been smoothed out, and it is set in an almost entirely CGI world. It also notably features a strange-looking, youthful Jeff Bridges, a risible sight at the time that nonetheless presaged the de-aging tech that's become commonplace for Marvel movies and prestige works alike. There's much to enjoy in the franchises Disney has pumped out over the past 10 years, but it's hard not to watch this film as anything but the herald of an onslaught of digital zombies.
---
Megan Garber, staff writer

Mohsin Hamid's Exit West (2017)
On Christmas Eve 1968, the astronaut Bill Anders, orbiting the moon for Apollo 8, took a photograph: Earth, half-shrouded in darkness, its bright colors swirling against the blank expanse of space. Earthrise spurred many who saw it to a new environmental consciousness. Exit West, Mohsin Hamid's 2017 novel, engages in similar work: It is a testament to the beauty—and the stark fragility—of home. The book is a love story that follows the entwined paths of Nadia and Saeed, young adults living in a city that political violence has made unlivable. The pair, escaping, travel across the planet through portals that Hamid, applying magical realism to the brute logistics of asylum seeking, describes merely as "doors." But this is a freighted sort of mysticism. To read Exit West in the current moment—when the world is rearranging itself in response to rising waters and heating air and systematized failures of empathy—is not only to be mesmerized by Hamid's lush prose. It is also to be confronted: Exit West's portrait of Earth is another reminder that home should never be taken for granted.
The Dress (2015)
"TELL ME WHAT COLOR THIS DRESS IS," I texted a friend one weird evening in early 2015. "OKAY, PHEW," I texted again, when he offered the correct answer: The Dress—the thing quickly reached one-named status—was obviously white and gold. Here was the problem, though: Other people saw The Dress, first posted to Tumblr by the Scottish singer Swiked, as blue and black. And each faction was 5,000 percent sure that its assessment was correct. The visual discrepancy, it would turn out, had to do with the way light interacts with rhodopsin, which is found in the rods of the human eye and is affected by exposure to computer screens. That simple explanation, however, did not stop the fighting or the factioning or the widespread questioning of the existence of objective truth. The Dress was a herald of an argumentative age (even God, on Twitter, had a take). And it went viral, as it happened, on the same day that found many Americans following the fortunes of two llamas that had gotten loose in Arizona. Both internet-mediated events, #TheDress and #llamadrama, were silly and fun and a little bit tragic. Which is to say that both were pretty great metaphors for the decade that brought them to life.
The Access Hollywood tape (2016)
Grab 'em by the pussy. I don't even wait. When you're a star, they let you do it. You can do anything. In 2016, just before the American presidential election, The Washington Post published a recording of Donald Trump that was made in 2005, as the reality star prepared to make an appearance on Access Hollywood. In the tape, Trump bragged to the Access Hollywood host Billy Bush about his sexual prowess. He preened about the moral affordances of celebrity. The recording was a twist fit for a time of absurdity: Here was a smoking gun, and it was talking about Tic Tacs. Many Americans assumed that the recording would effectively end Trump's campaign. They were wrong. Instead, the tape that was published as evidence of the character of Donald Trump became evidence of the character of the American public: The politician bragged about assaulting women. He was punished for it by winning the presidency.