The 7 Most Defining #MeToo Moments of 2019
How the movement continues to spur a cultural reckoning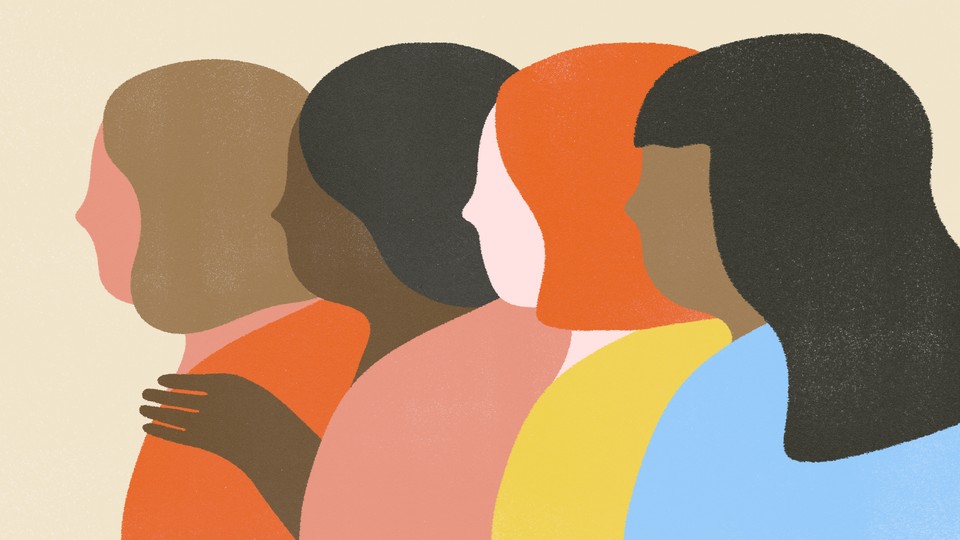 ---
When Tarana Burke's movement became a mass phenomenon in the fall of 2017, #MeToo's expansion led to both exhilaration and anxiety: Was this reckoning sustainable? Would it lead to backlash? Two years later, the answer to both questions is yes. Below are a series of moments that demonstrate the ways #MeToo has woven itself into American culture this year. The list is not comprehensive. It is a collection, instead, of developments, both real and fictional, that stood out to us, highlighting how far #MeToo has come—and how far it has yet to go.
---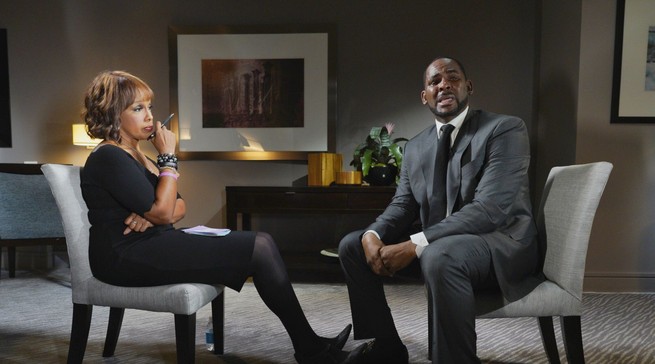 Gayle King's Explosive Interview With R. Kelly
"Why now? Why would they come out now?" That's what R. Kelly asked Gayle King in one of the quieter moments of the very loud interview he gave responding to accusations that he'd abused women and pursued underage girls over decades. Questioning the timing of allegations is a first-line, reflexive, think-no-deeper defense heard often from accused men amid the #MeToo reckoning. King did not miss a beat in replying, "Because we're in a different time when women are speaking out, and now women feel safe saying the things about you."
It's true we're in a different time. It's also true that women have tried to speak out against Kelly for many years, as Lifetime's Surviving R. Kelly documentary made clear with its spotlighting of dozens of self-identified victims of Kelly's. Renewed media attention to Kelly's hardly hidden trail of allegations coincided this year with criminal charges being filed in Illinois, New York, and Minnesota. Kelly's move was to go on CBS and scream and cry that he's not a "monster"; his on-camera histrionics reached a level where his own publicist had to step in and calm him down. Maybe Kelly had taken inspiration from other recent displays of male outrage meant to convey innocence. But the question afterward wasn't about how a man like this could be guilty. It was rather: What wouldn't a man like this do?  — Spencer Kornhaber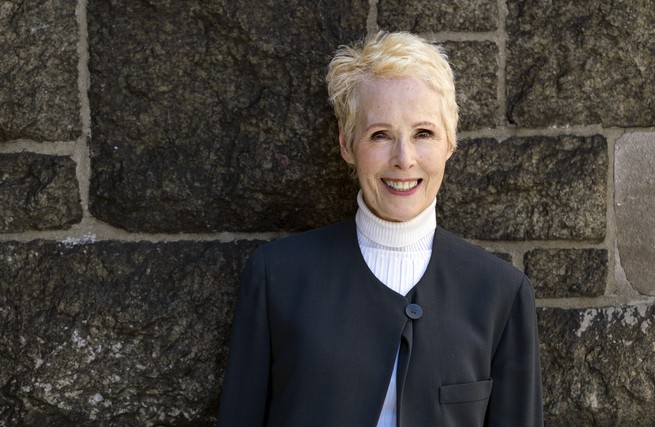 E. Jean Carroll's Defamation Lawsuit Against Trump
Since the 1980s, at least 23 women have accused the current president of the United States of sexual assault. Still, when the writer E. Jean Carroll published a frank, funny, devastating story in June about her encounter with Donald Trump in a Bergdorf Goodman dressing room in 1996, the revelations seemed seismic. The act Carroll described was forcible rape. I remember reading her story at an airport and shaking, and thinking that it absolutely had to matter, to make a difference.
And then, inconceivably, it didn't. The following day The New York Times reported Carroll's account not as a news or politics story, but in the books section. The president did what he did every time a woman speaks out against him: He denied it; he obfuscated; he denigrated her appearance as a sexual object. It seemed like the ultimate sign that the #MeToo moment had reached a wall—that there were simply too many allegations against this president for one more to make so much as a ripple. But Carroll refused to go quietly. She gave interviews. She brought forward witnesses whom she'd told about the alleged assault the day it happened. She insisted that her story, her version of it, was heard. And in November, she announced that she was suing Trump for defamation, challenging what she described as "his tried-and-true playbook for responding to credible public reports that he sexually assaulted women."  — Sophie Gilbert
Dee Barnes's Years-Long Public Testimony
As the host of Pump It Up!, Fox's weekly hip-hop show in the '90s, the young journalist Dee Barnes interviewed artists such as N.W.A, Ice-T, and Will Smith. In 1991, she filed a lawsuit alleging that Dr. Dre picked her up and "began slamming her face and the right side of her body repeatedly against a wall near the stairway" at an album-release party. It was a monumental charge—hip-hop had been maligned in mainstream music publications for its misogynistic lyrics, but the industry had yet to grapple with how these dynamics played out in reality.

Barnes's account didn't lead to an immediate shift. The incident was settled out of court in 1993, but several members of N.W.A suggested that she'd deserved the assault. Dre was unrepentant. Some 20 years later, though, that changed: In 2015, after Barnes published an essay for Gawker about the sustained impact of his alleged actions, Dre apologized in The New York Times to "women I've hurt."
Barnes has said that the aftermath of the ordeal involved tangible professional losses. In 2017, she told HipHopDX that industry gatekeepers had blackballed her. She spoke up again in March—revealing that she was homeless, and that she'd set up a GoFundMe "to regain stability, which is imperative for survivors of any trauma." Her candor and willingness to continue talking about the damages gave necessary depth to conversations about abuse in hip-hop. Women aren't just shut out onstage; they're also pushed out in far more insidious ways, with real consequences.  — Hannah Giorgis
The "Victim Closet" in Know My Name
It is inaccurate to describe Know My Name as poetry. But it seems wrong, as well, to classify the book in any other way. Chanel Miller's treatment of her assault and its aftermath—a memoir, but so much more—is guttingly lyrical. The poetry is there even when Miller, who was previously known only as the "Stanford rape victim," discusses the bureaucratic dimensions of sexual abuse. It is there even when Miller describes the trial at which she testified against her (now convicted) rapist, and when she describes the room where she was made to wait before making her appearances in court. "The victim closet," she calls it—a green room, essentially, for an extremely sad stage.
Victim and closet are not words that belong together. But their collision reveals something mournful and true about how the American justice system treats survivors. The room features, Miller writes, a dirty yellow couch, as well as expired magazines, "a cloudy bag of markers with uncapped, dry heads," and "dusty stacks of domestic violence brochures." There's a poster printed with bland truisms about victims' rights. The space is so well meaning and so condescending. Miller learns later that, while she was waiting in the room, a large photograph of her nearly naked body—taken by police and then offered as evidence—had been presented to a courtroom full of strangers, family, and friends. Had the victim closet been protecting her, or doing something else? As it turns out: both.  — Megan Garber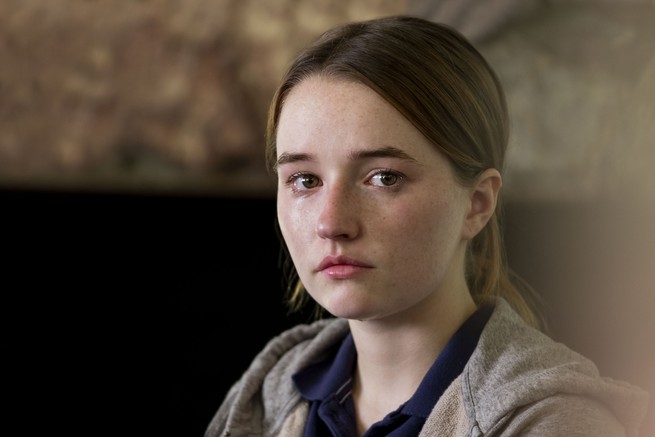 Unbelievable's Rape-Kit Scene
Rape kit is a terrible term. It's too casual. It's too clinical. It's misleading in its tidiness. Those insufficiencies are brought to life in one of the earliest and most striking scenes of Unbelievable, Netflix's radically humane portrait of sexual violence and its aftermath. In it, Marie (played by Kaitlyn Dever), a very young woman who has just been raped, undergoes her post-assault forensic exam. The scene is stark. The show's camera is unsparing. The nurse, who's kind but brusquely efficient, explains what she is about to do to Marie, and then goes about swabbing and poking and photographing and evidence-collecting. The room is quiet, which makes the sounds of the work being done—the rustle of paper, the ratcheting of a speculum—all the more affecting. Marie, too, remains silent; she merely winces, her body wrapped in a hospital gown, her hands clasped tightly over her chest, her face frozen in a please-let-this-be-over-soon grimace.
The scene is invasive. It is not, however, voyeuristic. And that makes it all the more bracing: This is not the kind of moment that is typically shown in depictions of sexual violence. This is Unbelievable, revealing what happens when a body becomes a crime scene.  — M.G.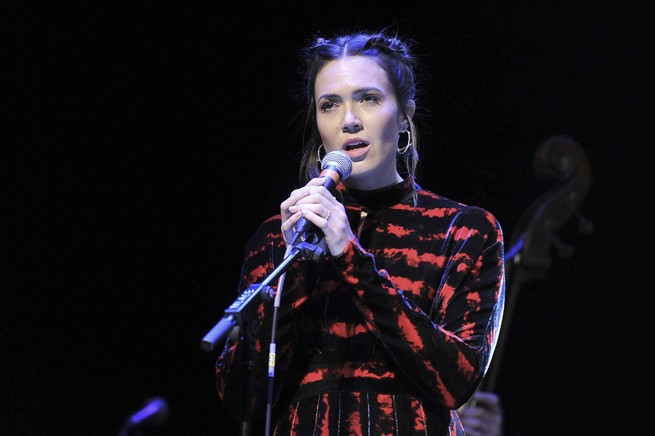 Mandy Moore's "When I Wasn't Watching"
If, as critics of #MeToo sometimes say, there's a great cultural cost when leading male artists are "canceled," just think of all the women whose voices have been squelched by abuse, silencing, and manipulation. One example: Mandy Moore, the This Is Us actress and onetime teen pop star, says her music career stalled for a decade because of her ex-husband, Ryan Adams. A New York Times report in February included Moore in the list of female musicians who alleged that Adams, an influential force in indie rock, ensnared them with offers of creative collaboration but ended up emotionally and sexually exploiting them. "His controlling behavior essentially did block my ability to make new connections in the industry during a very pivotal and potentially lucrative time—my entire mid-to-late 20s," she said. (Adams denies the allegations.)
Moore's new song, "When I Wasn't Watching," her first since 2010, hints at a promising wave of art that might emerge from women finally able to move past the man-made obstacles to their careers. With meticulously played soft rock underlying an ambivalent melody, Moore sings of waking up to a reality that she never asked for: "My favorite version of me disappeared / Through longer days and shorter years." It's a sentiment many can relate to—but put in a way that speaks to the stresses that her particularly wrenching story entails.  — S.K.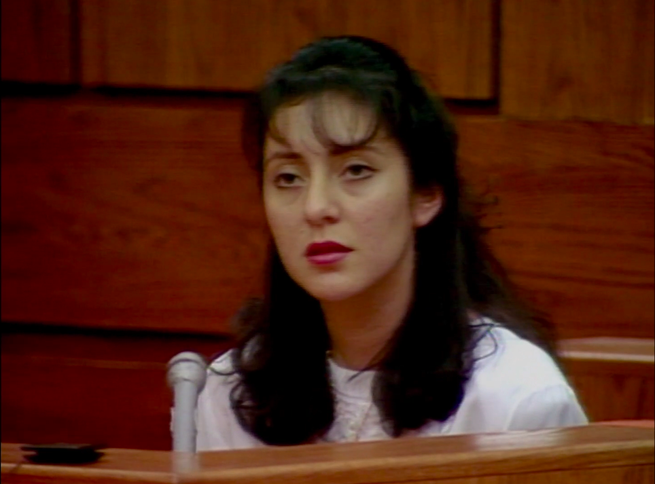 Lorena Bobbitt's Court Testimonies in Lorena
Lorena Bobbitt was 24 years old, and a recent immigrant to the U.S., when she did the thing that would define the rest of her life. She took a knife from her kitchen, approached her sleeping husband, and cut off his penis. The American media in 1993 quickly turned "Bobbitt" into a running punchline. Lorena, the Amazon docuseries directed by Joshua Rofé and executive produced by Jordan Peele, is a work of corrective compassion, explaining in wincing detail what should have been obvious from the start: The thing everyone was laughing at, the documentary suggests, was a case of domestic abuse.
Some of Lorena's most riveting moments are starkly unedited re-airings of Lorena Bobbitt's televised trial: Lorena's experience as told, finally, by Lorena herself. Her husband psychologically abused her, she said. He raped her, she said. She'd gotten pregnant; he'd forced her, she said, to get an abortion. (During his trial, John Wayne Bobbitt was acquitted of sexually assaulting his wife.) As Lorena spoke—it was the first time many Americans were hearing her voice—she fought back tears. The whole thing is deeply unfunny. And it is testimony that, more than 20 years later, serves as a rebuke not only to John Wayne, but also to a media system whose first instinct, when learning of Lorena's story, was to laugh.  — M.G.