What Is The Marvelous Mrs. Maisel Afraid Of?
In its third season, the series is stuck in a relentlessly cheery mode that's cloying to watch.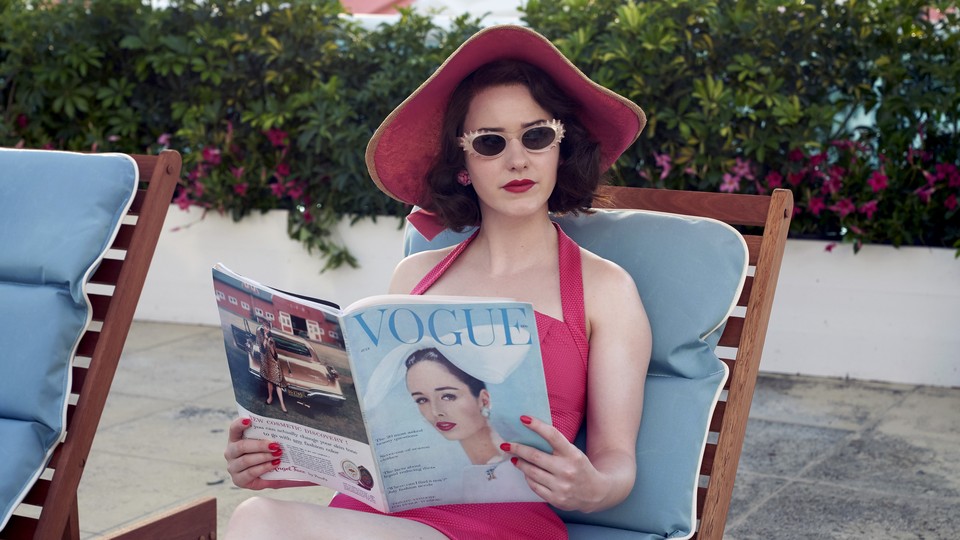 The great irony of Amy Sherman-Palladino's television shows is that the dialogue gushes forth with the insistence of a burst hydrant, and yet the most beguiling moments are the ones in which no one speaks at all. Midway through the third season of Amazon's The Marvelous Mrs. Maisel, a man and a woman whose chemistry has smoldered almost since the show's inception find themselves alone, in the early hours of the morning, at a hotel. They gaze at each other. They each glance meaningfully through the open door toward a bed. They say nothing. The energy is so heightened and so loaded with expectation that I couldn't have stopped watching if the room around me had suddenly caught on fire.
The five hours or so that preceded it, though, had mostly the opposite effect, where any scenes without Rachel Brosnahan's unsinkable comic Midge Maisel—and even a few with her—were either inert or insufferable. What used to feel like Sherman-Palladino trademarks now come across as tics: the barrage of inane chatter; the superficial stereotyping; the overreliance on spectacle without substance, like a dinner composed entirely of cake pops. More vexing than anything, though, is how defiantly The Marvelous Mrs. Maisel refuses to have stakes. Everything plays out in the same major key. Everything—lost children, homelessness, divorce, social injustice—is just a joke, bedazzled and glib and gorgeous. This is a series so vacantly uplifting, it's managed to transfigure Lenny Bruce into Prince Charming.
While the show has always been this way, previous seasons have always had something specific to elevate them: Midge's talent. Over the first eight episodes, Midge evolved from serene housewife to jilted single parent to accidental comedian to blacklisted talent with breathtaking velocity. Her discovery—after her weaselly husband's departure prompts her to take a drunken subway ride to a downtown comedy club—that she could make rooms of people laugh was the kind of fairytale moment that was easy to believe in, because Brosnahan's performance was so entrancing. Onstage, Midge dazzles, even when she bombs. And in the first two seasons, the show seemed to suggest that Midge wasn't satisfied being merely funny; she had the kind of ambition that can change the world she inhabits, redefining the way people think about women, comedy, and especially the two together.
But great comedy has to acknowledge darkness, which Mrs. Maisel has always resisted. The presence of Bruce as a character (played in magnetic, Emmy-winning style by Luke Kirby) seemed to suggest that Midge's comedy might skirt the edges of propriety. But apart from a wine-soaked interlude in Episode 1 where she bared her breasts onstage and was arrested, her routine has played it safe, rarely advancing beyond the subjects of sex, failure, and men having the privilege of comfortable shoes. In Season 3, as Midge goes on tour with the singer Shy Baldwin (Leroy McClain), the show builds itself into a kind of visual bacchanal, recreating '60s Las Vegas and Miami with the detail and oversaturated color of a theme-park ride. Midge's act, which is a hit in her new surroundings, touches on nothing more risqué than Bergdorf Goodman and a gentile's guide to Jews.
Delightful escapism still has its place, but it usually comes within a tighter frame. More than ever in Season 3, Mrs. Maisel drags, or offers gags that are as uncomfortable and prolonged as a teeth cleaning. (Five out of eight episodes were made available for review.) The first episode, which runs almost an hour, takes place mostly at a USO Show, as Midge and Shy perform for the troops, while Midge's manager, Susie (Alex Borstein) tries to nail down the specifics of Midge's new contract. Abe (Tony Shalhoub) and Rose (Marin Hinkle), Midge's parents, still get up to zany hijinks that make no sense, with Abe filling their Upper West Side apartment with communist squatters and Rose arbitrarily rejecting her substantial and necessary trust funds. Joel (Michael Zegen), Midge's ex-husband, rents a space above what turns out to be an illegal gambling den in Chinatown, a story line that still can't make him interesting. Joel's parents continue to test the limits of what's endurable on-screen, spending their substantial screen time yelling and torturing houseguests.
It's frustrating, because the show keeps hinting that it's edging toward more substantial fare, only to back out at the last minute. The running joke wherein strangers mistake Susie for a man wasn't funny to begin with—now it only draws attention to how timidly the show avoids the subject of Susie herself, and her desires. When Midge accepted in Season 2 that pursuing greatness in comedy would mean sacrificing personal happiness and stability, I thought the show might be going somewhere groundbreaking. Instead, Midge dispatched with her fiancé, Benjamin (Zachary Levi), as carelessly as if she were throwing out leftovers—offscreen, and with no apparent sense of loss. Midge's chemistry with Bruce is a potent force, but the more the series leans into it, the more I have questions about how a show this ebullient is going to eventually deal with a man who died of a morphine overdose in a Hollywood bathroom.
Mrs. Maisel's many devoted fans might counter that the show's sparkle is its soul. Television has grit and sourness aplenty; joylessness seems as much an epidemic on some shows as cheeriness does on this one. But I'd argue that the scenes on The Marvelous Mrs. Maisel that stick with you are the ones in which the show allows itself to be melancholy, even for a moment. The second-season episode in which Rufus Sewell played an artist who'd sacrificed everything to make the most beautiful painting in the world, a painting he wouldn't let anyone look at or commodify, felt like it was signaling what the show could be: a comedy that's all the funnier because it knows what tragedy feels like. But Season 3, it turns out, is content to be cotton-candy entertainment, colorful and cloying.