How One Atlantic Editor Is Spending Her Holidays This Year
It won't be in the French Alps.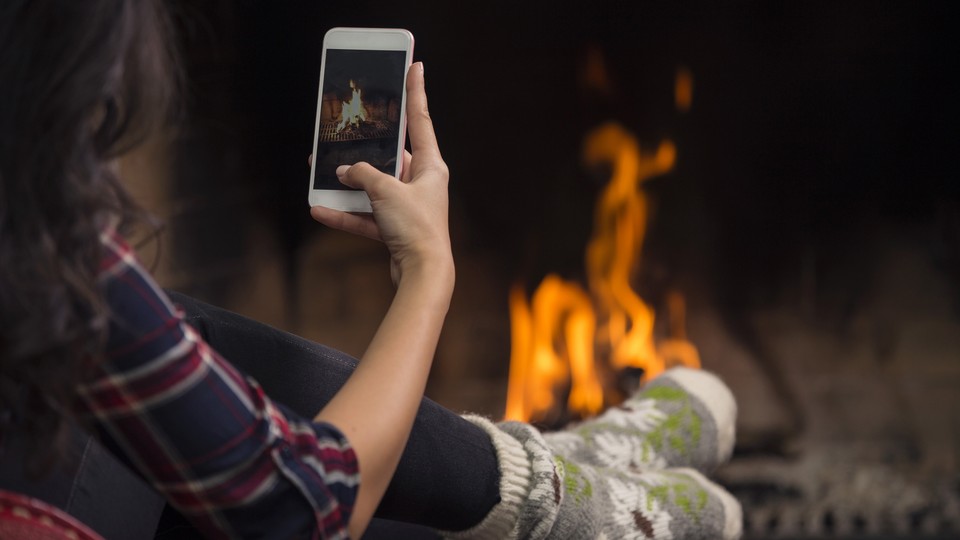 Last week, Vogue published an article detailing how some of its editors are spending Christmas this year. It was a wonderful opportunity for the denizens of the internet to gawk at unselfconscious proclamations of wealth and access and taste. Just another example of how "rich people are the worst."
The extremely relatable holiday destinations for these Vogue editors included "a seven-day detox programme" at an Austrian health resort that would involve "intravenous vitamin drips" and minimal food; "a secluded villa on one of the world's smallest private islands, overlooking Lake Nicaragua"; and a new hotel in the French Alps where nightly rates appear to start at about $800. The editors' Christmas wish lists included "a Leica camera," "a ceramic Hermès tray," and "diamonds, of course—a woman can dream!" The takes about late capitalism could write themselves.
I am not here, however, to debate the sincerity or moral turpitude of the Vogue staffers. Instead, I'd simply like to offer a glimpse into my own plans for this year, as a fellow magazine editor and lover of holiday comfort.
---
Where will you be for the holidays?
This winter, I'll be staying in a cozy one-bedroom pied-à-terre in Washington, D.C., that comes decked out with a full-size refrigerator, a toilet with strong water pressure, a three-month-old mini pumpkin from Trader Joe's, and multiple pieces of furniture from a minimalist Swedish designer. I'm taking an ascetic approach and consuming one can of pamplemousse-essence French sparkling water every two hours. (I am fond of calling carbonated beverages "spicy water.") This detox will help cleanse my system of all the pie and Indian food I will be consuming.
My evenings will be spent on one of the world's smallest private islands: my bed, which is fitted with sheets that came recommended by a very good podcast I listen to on my way to work at The Atlantic's riverfront offices in the historic Watergate complex. The building, as my esteemed D.C. colleagues well know, is home to a number of interesting fauna such as Mus musculus and Peromyscus leucopus.
What will you be packing?
Plenty of warm pajamas that can double as daywear if you throw an oversize H&M sweater on top. Scarves that can also serve as blankets—or as cloth napkins, for impromptu but classy couch-snacking—in a pinch. One of my favorite things to do is to wear sweatpants. They are comfortable for sleeping, and also for not sleeping, if you feel like doing that for some reason.
I never travel without at least six different kinds of snacks and at least six different kinds of medicine (antianxiety, anti-nausea, antidiarrheal, anti-pain, anti-heartburn, anti–cold virus). And my AirPods, which I am terrified of losing and haven't quite figured out how to clean properly.
What are you most looking forward to?
Relinquishing any responsibility for myself and putting my physical, spiritual, and mental well-being in the hands of the Peloton bike my very feminist husband got me for Christmas.
Only joking! I'll be relinquishing any responsibility for myself and putting my physical, spiritual, and mental well-being in the hands of the avant-garde burlesque fever dream that is Tom Hooper's Cats. It means I will start 2020 off as the best version of myself: a person who has seen Tom Hooper's Cats.
What do you hope to open on Christmas Day?
My ongoing project to convert my home into a BTS shrine, much to the chagrin of my husband, requires the addition of life-size cutouts of all of the Korean group's seven members. Haha, just kidding ... (Unless ...?)
Also welcome are weighted blankets, fluffy socks, candles, and new novels that I've heard a lot of great things about and will definitely add to my Goodreads list ASAP. As every culture editor knows, a staggering tower of Books I Need to Read but Haven't Yet Because I've Been Staring at My Phone All Night is the best bedside-table accessory in the world.
How do you relax?
I am a year-round sufferer of severe eczema on my hands, which turn into dinosaur paws in the dry winter air. So I plan to take advantage of the downtime to really indulge in every possible treatment in my toolkit: from daily soaks in colloidal oatmeal cream, to topical corticosteroid-ointment application followed by swaddling my poor mitts in breathable white cotton gloves. Relief is scant; the itching, flaking, and cracking is plentiful. Such is life.
What are you wearing on Christmas day?
I've been dying to wear this floor-length, haute couture black gown made of human hair and a pair of one-of-a-kind earrings, which are made entirely from found objects like old baby teeth and shards of glass.
How are you spending New Year's Eve?
Since 2016, my husband and I have had a tradition of watching none other than Alfonso Cuarón's 2006 masterpiece, Children of Men, the night before a new year. The film is thematically a fit for the holidays—it's a nativity story, after all—if not tonally. There's something about entering January with a profound sense of sorrow, anger, fear, and a little bit of hope about the future of humanity that feels appropriate.
Then, we will change the channel to watch the ball drop in Times Square. Hopefully when the clock strikes midnight, I'll be swathed in a pilling fleece blanket, twirling a flute of grapefruit La Croix, swinging my five-year-old cat in my arms, and not talking about the 2020 elections.