How Alanis Morissette's Music Inspired a Trump-Era Musical
Broadway's Jagged Little Pill addresses headline-making issues by using pop rock of the '90s. The play's creators say they're honoring what those songs were always about.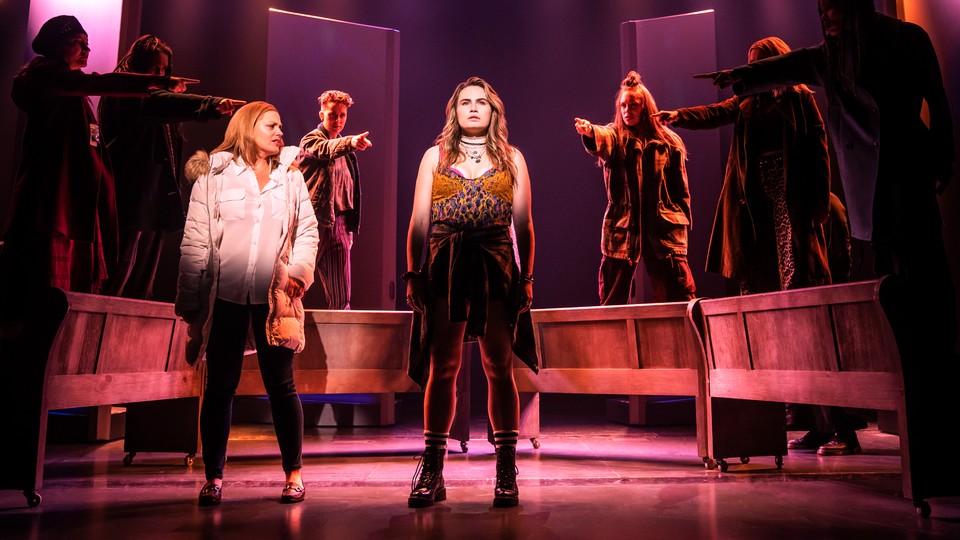 After delivering its now-famous tales about unironic ironies and hands in pockets and dinnertime interruptions, Alanis Morissette's millions-selling 1995 album, Jagged Little Pill, culminated with a call: Wake up. Those were the last words Morissette sang on the album before a reprise of "You Oughta Know." Now they're the mission statement for the Jagged Little Pill musical that just opened on Broadway.
"It's a trope now: Are you woke?" the show's director, Diane Paulus, told me when I met with her and the writer, Diablo Cody, at New York City's Broadhurst Theatre in November, while the show was still in previews. "But 20-something years ago, she had a whole song about waking up."
There's a lot that the musical's main characters, four members of a fictional present-day suburban family, have been sleeping through. Rape, trauma, opioid addiction, sexual fluidity, porn, therapy, and racial identity figure into story lines set to songs from throughout Morissette's catalog. Protest is a major motif, and audience members will spend part of their time reading slogans on topics like gun violence and menstruation. The production, a New York Times headline said last year, is "The Most Woke Musical Since 'Hair.'"
Woke, the modern slang for progressive political engagement, should be a term of praise. But it sometimes comes with an eye roll. When I first saw Jagged Little Pill, as it was being workshopped in Massachusetts in spring 2018, it felt unbalanced, its ideas overshadowing its characters. I heard the term after-school special in the post-show lobby, and I thought about the play again when Wesley Morris argued in The New York Times Magazine that politics had come to trump aesthetics in recent art. The version of Jagged Little Pill that's now playing on Broadway has been refined into a crowd-pleaser that lands big emotional punches. Still, reviews have been divided between critics annoyed at and pleased with its style of social commentary. The New Yorker called the show a "topical muddle," but the Times praised it as "a summation: of our world's worst ills but also the way song can summon resistance to them."
"I'm proud of the 'woke' designation," Cody said to me. "I would rather have that than 'the most tone-deaf, stuffy musical.' When people say, 'Wow, there are a lot of issues in the show,' I say, 'Thank you. Yes, there are. There are also a lot of issues in our lives.'"
To hear Cody and Paulus tell it, the common impression of Morissette's Jagged Little Pill as one woman's roar of relationship-related angst is all wrong. They point out that only the smash "You Oughta Know" qualifies as a full-fledged breakup track. "Honestly, most of the songs on the album are more about activism and awareness and learning and philosophy," Cody said. Paulus noted that on the opener, "All I Really Want," Morissette makes a wish list of some high-minded things: "deliverance," "a common ground," "some justice," "peace, man." In the years following Pill, Morissette's interest in existential and social matters became even more explicit. The lovably hippyish refrain of her 1998 single "Thank U" goes, "Thank you India / Thank you providence / Thank you disillusionment."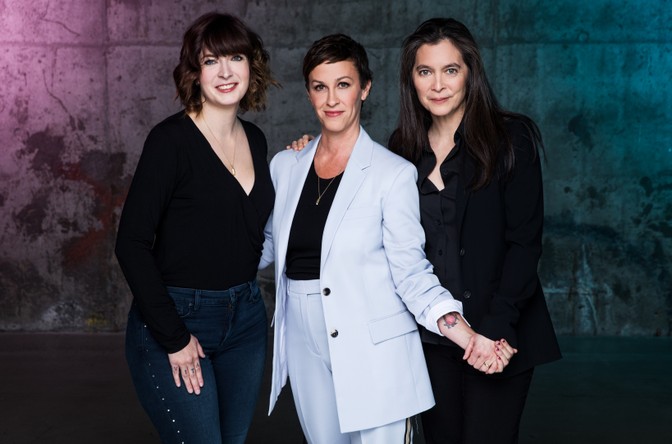 When Cody—the screenwriter behind sardonic, woman-centered dramedies such as Juno, Young Adult, and The United States of Tara—first revisited Morissette's album to work on the play, she found herself gravitating toward one track, "Mary Jane." "I hear you're losing weight again, Mary Jane," Morissette sings on the ballad. "Do you ever wonder who you're losing it for?" To Cody, the lyrics "conjured a very specific character: this woman who is in a place of self-denial, and is very concerned with her image, and has been starving herself emotionally and literally. I thought, Okay, this is the protagonist."
Mary Jane Healy (played by Elizabeth Stanley) opens the play by reading the Christmas letter she wrote summarizing her family's achievements over the previous year. Her younger teenage daughter, Frankie (Celia Rose Gooding), has become the biggest political activist at her school. Her older child, Nick (Derek Klena), has a shot at getting into Harvard. Her husband, Steve (Sean Allan Krill), is billing 60 hours a week at his law firm. And Mary Jane herself is recovering from a car accident with the help of yoga—and, the audience quickly learns, powerful pain medication. That addiction to pills turns out to be one of many problems complicating the idyllic image the family projects.
Cody said there was no pushback from Morissette—who'd only stipulated that the play not be about her—when she pitched this jaundiced vision of suburban Connecticut as her take on Jagged Little Pill. Nor was the writer fearful of engaging with hot topics. "I've just dealt with so many controversies in my career already that it doesn't scare me," said Cody, whose résumé indeed includes a movie that's become a touchstone in the abortion debate. "I never set out to hurt anybody or be intentionally provocative. But if people are discussing something and there are different sides of the issue, to me that's effective art."
---
With its wily, yodel-like vocals and rock arrangements of ever-surprising funkiness, Jagged Little Pill is a supremely visceral album. Many of its songs were written by Morissette and the producer Glen Ballard in a matter of minutes. But bringing it to the stage took a lot of extended thinking. At one point at Morissette's home in Malibu, California, the creative team drew a web of arrows on a whiteboard to illustrate the intra-character relationships underlying the story. It was important to Morissette "that these characters weren't just types," Cody said. Paulus added that the singer is "big into family systems" and was like the play's "über-therapist."
The process also took on a scholarly dimension when the show was workshopped at Harvard's American Repertory Theater, where Paulus is the artistic director. Roundtable discussions were held with professors speaking to the opioid crisis. Doctors advised actors about the symptoms of sexual trauma. Cody said that advice from transracial adoptees made her tweak parts of the script (Frankie Healy is black and the rest of her family is white). "We really wanted to handle every topic with integrity and research," Paulus said. "It's like, How do I make sure every actor understands the depth of what we're touching?"
One change in the name of sensitivity has attracted a little attention. In early versions of the play, Jo, Frankie's love interest, had a few lines suggesting that she might be trans or nonbinary. Look around on Twitter and you see fans noting that in the Broadway production, that aspect of her story line has been excised. "Jo has always been cis," Cody told me. "We have done some rewriting to make that more clear. She is experimenting with her gender expression is really the most accurate way to say it." She added that they didn't "want the character to be read as trans or as nonbinary, because the actress who is playing the role is cisgender," and "we know better than that."
That actor, Lauren Patten, is one of the show's breakout stars. Diminutive and quick with a quip, she starts the play as Frankie's best friend with benefits. Eventually she gets so fed up that she breaks into "You Oughta Know," and her fiery rendition of that classic kiss-off regularly brings the audience to its feet. It also marks one of Cody's sly subversions: Jo rages in the moment and then seems to move on, which is generally not the impression Morissette's original song gave.
There are other twists of convention. The play's men are the ones to voice Morissette's lyrics about feeling "Unsexy," and when issues related to the #MeToo movement crop up, it's a woman with memories of her own sexual assault who tries to minimize the victim's story. Cody's take on the young, sign-waving Frankie is also slyly biting: For all her social conscientiousness, she's careless with her friend's feelings.
"I think the character would be boring at best, offensive at worst, if she was just this perfect activist making change in the world," Cody said. "For me to show that she is actually deeply flawed and human and self-centered was important." Frankie clearly exemplifies the Gen Z-ers who organized the March for Our Lives. But Paulus said the character also reminded her of when she revived Hair—the seminal play about '60s flower power—in 2009, to suit the idealism of the movement that brought Barack Obama to office. For Cody, the inspiration for Frankie came from her own teenage self "crowing about the ozone" in the '90s, the original era of Jagged Little Pill. "Some of us," Cody said, "were Lisa Simpsons all the way back."
Between Frankie's save-the-planet philosophy, Morissette's music, and the show's flannel-wearing troupe of backup dancers, Jagged Little Pill might seem to suggest that some greater ethos of the '90s has made a comeback. Cody was hesitant about that notion, though. "Unfortunately, the thing I remember about coming of age in the '90s was there was this major backlash against commercialism and consumerism," she said. "Kurt Cobain is on the cover of Rolling Stone wearing this T-shirt that says Corporate Magazines Still Suck ... Kids today can't even wrap their minds around why that was cool. I do think the young generation is amazing in many ways—the activism for instance—but ..."
Paulus cut in with a reminder that the play's refining process—and search for more issues to address—was still ongoing.
"You have a new line going in the show tonight," the director pointed out. "About the death of capitalism."