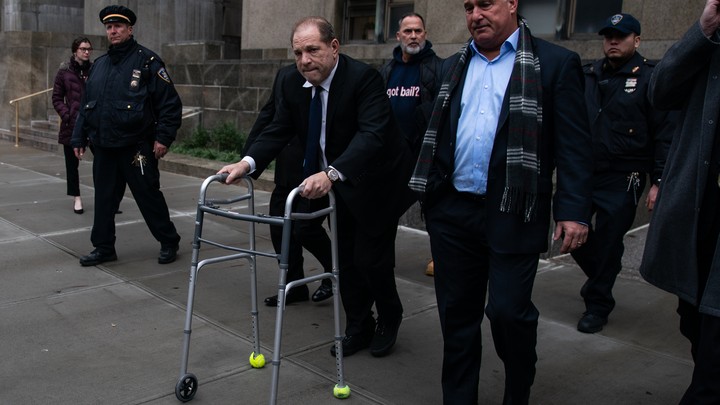 On Sunday, the New York Post published an interview with Harvey Weinstein—the first he has given in a year. Weinstein's comments, given to the reporter Rebecca Rosenberg in a hospital room as he recovered from back surgery, received instant notoriety. They feature the former producer, whose trial for rape and predatory sexual assault is set to begin in January, suggesting that one of the victims who must be acknowledged in the #MeToo conversation he helped ignite is … Harvey Weinstein. He told Rosenberg: "I feel like the forgotten man."
The myopia is as dull as it is familiar. What's more striking about the interview, though, are the images that accompany it: a series of photos that emphasize the hospital setting of Weinstein's conversation with the Post. The lead photo on the story depicts him clad in jeans and a black T-shirt, an IV port taped to the back of his left hand. A metal walker—the same one, perhaps, that he used when leaving a court hearing last week—sits in the foreground of the image. The rest of the photos in the Post's carousel feature similar scenes of convalescence: a shot of Weinstein's rumpled hospital bed. A close-up of his blood-filled IV bag. An even closer-up shot of an IV port. And another shot of Weinstein and his walker—this one wide enough to capture the tennis balls attached to the legs of the device.
The women who have made allegations against Weinstein have often talked about the power he had over them—to make careers and to destroy them, very definitely, but also, in an even more literal sense, his height and his heft. More than 80 women have accused him of sexual misconduct (Weinstein has repeatedly denied engaging in nonconsensual sex). And many of those women mention, in particular, the way he used his body against theirs, pinning them, weighing them down—making an accomplice, they have suggested, of gravity itself.
Read: The plan to make Harvey Weinstein a hero
So it is striking—and jarring—to see the latest images of Weinstein that have been made public: images of his body being uncooperative. The tubes; the walker; the tennis balls. The Post's images may well be journalistic recordings of the convalescence of the mogul, who was in a car accident in August. (Driving his Jeep, he reportedly told authorities, he swerved to avoid a deer, crashing into a tree.) The photos may well capture the aftermath of the back surgery he received this month to alleviate the resulting pain.
In combination with the defiant tone of his interview, however, the images suggest not merely documentation, but also argument. And so does the image that made news last week: Weinstein leaving a court hearing with the help of a walker, his body slacked over its handlebars.
Weinstein has changed, the photos suggest. The man who is accused of using his power against the women in his orbit? He no longer exists, the photos imply. These are not good arguments—they are approximately as viable as the argument Weinstein makes when he complains that people, in their rage at him, are ignoring all the good he has done for women—but they are arguments nonetheless. And they hint at the logic his legal team might use in its defenses of him during the trial. They suggest pity as a ploy. "I'm not here to say that he was not guilty of committing sins," Weinstein's lawyer, Donna Rotunno, told CBS This Morning in September. She added: "But there's a difference between sins and crimes, and I don't think he's a rapist. I don't believe he's a rapist."
The Post interview was apparently an act of damage control. "While refusing to speak about any of the allegations against him," Rosenberg wrote, "Weinstein said he only agreed to the interview, his first in more than a year, to prove that he hasn't been exaggerating about his ailments." That proof was necessary because of another recent photo: an image of Weinstein, leaked to the Post and published last week, walking around as he shopped at a Target in Mount Kisco, New York—without the help of a walker. ("Harvey Weinstein Spotted Without His Walker: Is He Only Using One for Sympathy?" the Post's headline went.)
The Weinstein story, with all the abuses—physical, psychological, economic—alleged against him, was never fully about sex. It was about power. The images depicting Weinstein's weakness both embrace that idea and turn it around: The story is about power, they suggest. But Weinstein is now the one who is powerless. He is the one who is suffering, who is struggling, who is "forgotten." In this interpretation, the many allegations against him are not evidence so much as overkill. Hasn't he suffered enough?
But suffering, of course, is not the same thing as justice. And Weinstein, even in his weakened state, remains powerful. Last week, another piece of news about Weinstein broke: The former producer and the board of his film studio—after two years of battling—had reached a tentative settlement agreement with dozens of his sexual-misconduct accusers. The settlement would provide $25 million to Weinstein's alleged victims. It would not, lawyers told The New York Times, require him to pay those accusers any of his own money. And it would not require him to admit any wrongdoing. Yesterday, 23 of Weinstein's accusers issued a joint statement in reaction to his interview with the Post. "Harvey Weinstein is trying to gaslight society again," it said. "He says in a new interview he doesn't want to be forgotten. Well, he won't be. He will be remembered as a sexual predator and an unrepentant abuser who took everything and deserves nothing."
We want to hear what you think about this article. Submit a letter to the editor or write to letters@theatlantic.com.
Megan Garber
is a staff writer at
The Atlantic
, where she covers culture.