The 5 Best Cookbooks of 2019
Food guides you'll want to read and, more importantly, cook from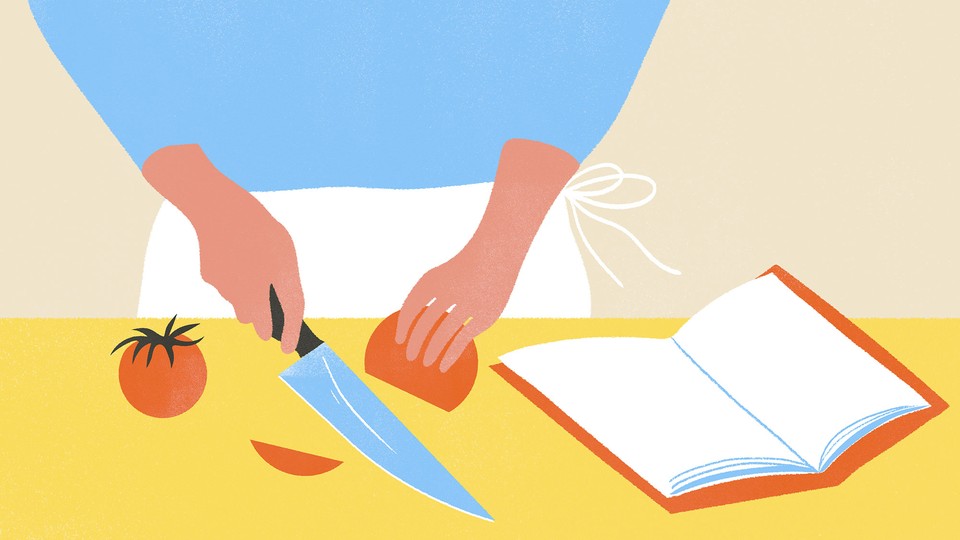 Okay, it's impossible to name the best cookbooks. This year, after all, featured a top-to-bottom run-through of The Joy of Cooking, at least one edition of which every household must own. Picture books? History? Chef extravaganzas? You'll find all of these below, as well as one very welcome dessert-book reissue. I try to read dozens of new guides a year; I want to cook from a much smaller subset. Here are five that check both boxes.
---
All About Dinner: Simple Meals, Expert Advice, Molly Stevens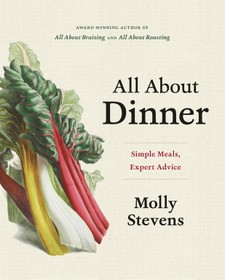 Certain earnest cooks lament that though they have good palates and, yes, refined taste, they just don't have the instincts that would lead to casually saying, "One of my favorite ways to serve an herb salad is piled on top of rounds of broiled or grilled eggplant seasoned with toasted cumin seeds and ground sumac, the lemony, sweet-tart, deep crimson spice." It's the kind of thing Sam Sifton calls a no-recipe recipe, and it's not the kind of thing I casually come up with. The eggplant suggestion comes from Molly Stevens, an infallible teacher and writer. All About Dinner is a simple, homey book whose forgiving recipes are undergirded by years of thought and learning by doing.
A fail-safe chicken-tortilla soup with chili-marinated thighs and home-toasted corn-tortilla strips; "skillet pasta," Stevens's term for the weeknight dinners Italians make by sautéing onions and vegetables, adding cooked pasta, tossing over heat to blend the flavors, and serving the dish straight from the pan; easy fried-egg sandwiches with cheddar, harissa, and bacon—these and many more are examples of an accessible book anchored in common sense. A busy friend recently took up cooking both as a way to unwind and to feed his modestly adventurous 15-year-old son, who more than excitement or novelty needs dinner on the table. My friend's birthday is coming up; I know what to send with the card.
---
Jubilee: Recipes From Two Centuries of African American Cooking, Toni Tipton-Martin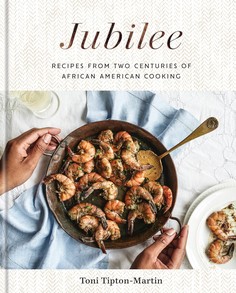 The lavish recipe book Jubilee has something most lavish recipe books do not: a backbone of deep scholarship and a field of reference that spans regions and centuries. No writer could be better suited to the task. Toni Tipton-Martin is the author of The Jemima Code, an illustrated and descriptive bibliography that documents her decades of research and intrepid collecting of texts by and about African American cooks.
In Jubilee, Tipton-Martin concentrates particularly on the black bourgeoisie, the milieu of her upper-middle-class Los Angeles childhood. But we see several centuries of prominent cooks, mostly women, as well, through their lives and their food. By the end, the reader may view as friends the mid-century Ebony food editor Freda DeKnight, the Oklahoma caterer Cleora Butler, and the matchless Vertamae Smart-Grosvenor, whose Vibration Cooking still makes for tangy, trenchant reading. You'll find pages for chicken pot pie, oyster loaf, catfish étouffée, and many kinds of gumbo. Some recipes are usefully accompanied by their historical source material—say, George Washington Carver's sweet-potato biscuits.
The book is well worth reading for the canvas Tipton-Martin creates—part of the reason it took years to write the book, she told me last year, was her insistence that the stylists and photographers be African American—as well as for stories like that of an enslaved cook named Aunt Marthy, who baked crackers at midnight with her owner's permission, sold them, and saved up to buy her own children's freedom. "Baking mattered," the author concludes. She shows us that cooking does too.
---
Eleven Madison Park: The Next Chapter, Daniel Humm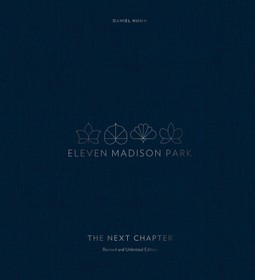 "I'm looking for a mind at work," one of the Schuyler sisters sings in Hamilton. That's what you'll see in the oversized, copiously illustrated Eleven Madison Park: The Next Chapter, a compilation of two volumes of the chef Daniel Humm's notes on the creative process. This "revised and unlimited edition" assembles two previous volumes of recipes and memoir; together they constitute a portrait of the artist as a young chef. For anyone hoping to scale anything like the heights that Humm has—he's the ambitious winner of three Michelin stars, four New York Times stars, and numerous James Beard Foundation awards—the amount of hard work involved will be illuminating.
Full-page watercolors on almost every spread make this an exceptionally beautiful book. You might be arrested by elegant flavor juxtapositions you wouldn't have thought of, like a surprisingly simple roasted-scallop glaze (mixed with chicken stock and simmered till thick) that you can spread on buttery rolls and oxtail braised with chestnuts. (I plan to make the black truffles optional.) Take note of practical tips such as, "A cake tester is a simple, perfect thing." Besides testing texture and doneness, it's useful for gauging temperature by touching it lightly to your lips. You might even adopt a practice from Humm's Eleven Madison Park chefs: Keep one in your front pocket, where other people put pens. Me, I'm thinking of using a cake tester as a boutonniere.
---
The Last Course: The Desserts of Gramercy Tavern, Claudia Fleming (With Melissa Clark)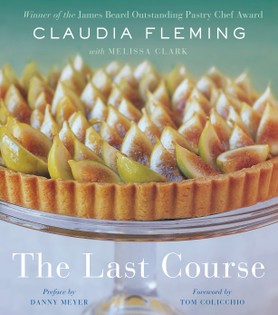 "No one likes to leave a dinner table overly full," Claudia Fleming writes in The Last Course, a book that I, like many others, kept on my bookshelf long after it was originally published, in 2001. The reason for buying the reissue of an 18-year-old book: Fleming aims for intensity of flavor and respect for seasonality and primary ingredients over show or unrelieved sweet richness. And no one has matched her originality, a reason that dessert professionals have paid a year's supply of Callebaut fondant for a used copy. As the pastry chef for New York's Gramercy Tavern (whose owner, Danny Meyer, and original chef, Tom Colicchio, both contributed warmhearted introductions), Fleming introduced not just diners but also a generation of pâtissiers to combinations like cornmeal-nut biscotti, blueberry-cornmeal cakes, roasted apricots with chamomile, fig-cornmeal tart, roasted-chestnut-honey pears, lemon macaroons, roasted pineapple with pink peppercorns, pumpkin clafouti with hazelnuts, sweet-corn ice cream, ginger ice cream, yogurt sorbet, and buttermilk panna cotta.
I pick this long list of dishes first because I want to taste them all again, but mostly because I want to show how accessible and independent of fancy technique or equipment Fleming's recipes are. Yes, there are pastry crusts and cookie doughs and fancy "signature composed desserts." But the clafouti, for instance, is no more complicated than a pancake batter and results in something so satisfying that, in fact, a modest number of bites will suffice. Fleming will change how you think about dessert, and give you easy go-to recipes you can proudly present to guests.
---
Pastry Love: A Baker's Journal of Favorite Recipes, Joanne Chang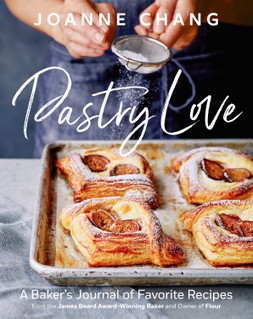 For out-and-out cake and cookie and pie and muffin and scone delight, buy Pastry Love, Joanne Chang's "baking bible," as her publisher calls it. Chang, the high-spirited creator of Flour, a string of now eight bakeries in the Boston area, is as thorough in her instructions—how long to mix a batter and in what machine or better by hand, for example—as she is generous in setting out all-too-tempting pastry cases. (Too few are the Tuesdays when I arrive in Boston to teach at the Tufts Friedman School of Nutrition and don't prepare for class with a fat wedge of lemon meringue pie, with its miraculously crisp crust.)
Finally, I can try making the vegan chocolate cupcake, lush and deep, that was always labeled "low fat" but now has adopted the label of vegan (it was always both). And if I'm really ambitious, I'll try Chang's take on kouign-amann, which generally requires laborious croissant dough, but is presented here in a more manageable version—plus, she gives it a glaze based on her sticky buns, which practically built all of Flour's locations alone. Simple and sunny sugar cookies in turn reflect the chef herself: meticulous in instruction but confident and forgiving. Maybe all it will take is a second batch to acquire those qualities.