The 50 Best Podcasts of 2019
The shows that kept listeners refreshing their apps this year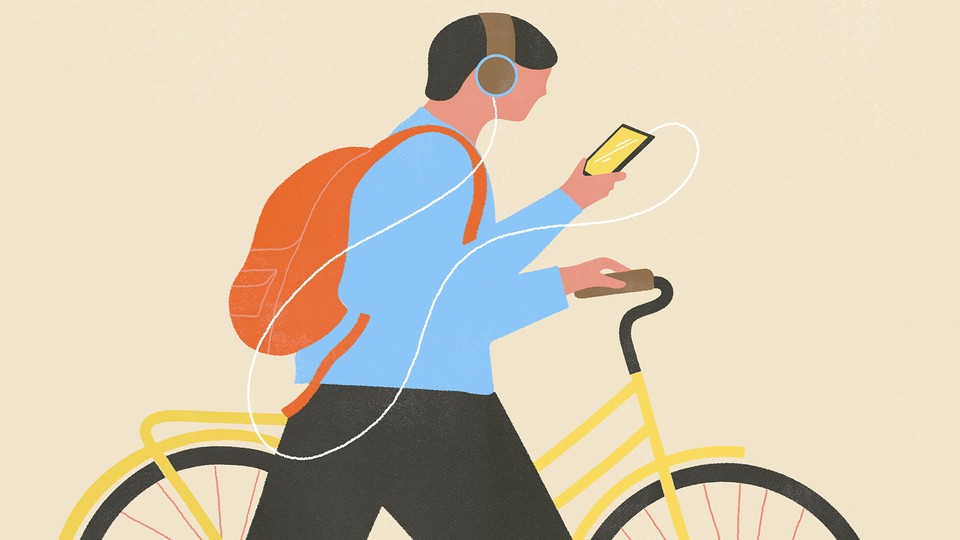 The scales have finally tipped: As of 2019, more than half of all teens and adults in the U.S. have listened to at least one podcast, according to one consumer survey. It has been a time of tremendous growth for the medium. This year, the industry welcomed new streaming services, such as Luminary and Spotify, the latter of which acquired Gimlet. Companies including Sonos and Sony sponsored or created original content that took sound design to new places. Oscar and Tony Award winners performed in audio dramas. More shows moved away from the traditional weekly model, with some publishing once or even twice a day and others being released as binge-ready collections.
This year, how a story came together was regularly featured in a podcast's plot. Creators processed grief, anger, and the nature of memory by using tape that felt refreshingly raw and gave listeners the space to draw their own conclusions. It became less rare to see a show land an interview with a famous or powerful person it was critiquing (think of Mitch McConnell in Embedded and O.J. Simpson's recalcitrant lawyer in Confronting). These trends point to one expectation listeners now have for podcasts: pulling back the curtain and revealing how people come to understand the truth—or, at least, one version of it.
Producers also turned their gaze toward people who transfixed the country pre-Internet: Tupac and Biggie, Dolly Parton, and Mister Rogers, to name just a few. Others centered on seeking reconciliation or justice for people who had been hurt by family members or by entire institutions. For example, 1619 looked back to the beginnings of the U.S. slave trade, while Man in the Window delved into the decades-long hunt for a prolific killer.
The shows below are emblematic of the year 2019, each a different version of what humans sound like or of what preoccupies our minds. Each has, in its own way, raised the bar for excellence in audio storytelling. Here's to this year's Top 50—and the 51 percent of Americans listening. (As usual, we've recused The Atlantic's shows from the list.)
---
StartUp might be one of the most meta podcasts out there. Since 2014, Gimlet Media's CEO, Alex Blumberg, has used the show to document the blunders and successes of the audio storytelling company, which sold to Spotify earlier this year. The final season chronicles a period that seems like it might be the beginning of the end for Gimlet. Tensions between Blumberg and his co-founder, Matt Lieber, radiate in interviews with Gimlet producers, and Blumberg records his own anxious musings during bouts of insomnia. The best part of the show is listening to Blumberg and Lieber talk through their feelings about art and money, and what valuing one over the other—especially when you have people's careers in your hands—says about the kind of person you are. It's just StartUp at its best.
Gateway Episode: "Our Company Has Problems"
---
One of the defining events in Atlanta's history as a musical mecca and an oasis for black culture was the legendary Freaknik festival. The annual gathering, which began humbly as a spring-break picnic organized by and for students from historically black colleges and universities, expanded throughout the 1980s and '90s into something akin to Woodstock—until it got so big that the city shut it down amid reports of sexual violence, and pressure from business owners. The host, Christopher Frierson, is a geeky, profane, unparalleled chronicler of the festival's rise and fall, uncovering its history and exploring Atlanta alongside listeners. Freaknik is an ode to a unique city, and an elegy for one of the greatest music festivals that ever existed.
Gateway Episode: "Prologue or: The Abominable Discretion of Youth"
---
The Last Days of August creator Jon Ronson has written both a book about online humiliation, So You've Been Publicly Shamed, and a podcast about the porn industry, The Butterfly Effect. That work led him to August Ames, an adult-film star who died by suicide a few days after receiving massive backlash for a contentious tweet. As Ronson investigates her death, a slew of contradictory interviews with Ames's family, friends, and fellow actors don't give any conclusive answers about exactly what led to her suicide, but do reveal some facts about her short life and her reasons for working in porn. At the very end of the series, sublime analysis of one of Ames's scenes from the podcast's producer, Lina Misitzis, brings the key insight of the project into focus: Porn is a brutal industry, and it's not equipped to support people who have mental illness or have survived abuse.
Gateway Episode: "The Last Days of August: Episode One"
---
The stories in Misha Euceph's Tell Them, I Am are all told by Muslim voices, but they're not explicitly about Muslim identity. Instead, they're about whatever defining moments or qualities the guests decide to talk about—a life-changing train ride, what it means to be innately competitive, or anything that might fill in the blank after "I am." Tan France of Queer Eye admits that he relishes saying "I told you so" to people. Reza Aslan, the religious scholar who's also known for calling President Trump a "piece of shit" on Twitter, talks about rule-breaking and authority. The episodes, which are less than 20 minutes each, came out every weekday of Ramadan, celebrating their guests' individuality during a month of reflection observed by millions of American Muslims.
Gateway Episode: "Tan"
---
The popular narrative show Snap Judgment used to devote several episodes to first-person ghost stories around Halloween. Now those stories have their own show: Spooked, also hosted by Glynn Washington. Though filled with common creepy tropes—picture frames flying off the walls, apparitions lurking near fatal crime scenes, and so on—the tales are far from clichéd. What do you do, for example, if your house is plagued with malevolent ghosts and you're not in the market to move? The way each person on the show reacts to being haunted is almost as interesting as what they're dealing with; meanwhile, the sound engineering gives a horror-movie-like feel to the listening experience. Spooked is a satisfyingly scary escape that allows its audience to dwell in the fantastic, hair-raising limbo between life and death.
Gateway Episode: "The Thin Place"
---
The title of Sooo Many White Guys announces not the subject matter but the framework: Sooo many white guys are interviewed and producing in the podcast space, and this show exists to counteract that by highlighting artists who are women and people of color. Conversations on Sooo Many White Guys often touch on obstacles that heterosexual white men are generally able to avoid—Reese Witherspoon describes being "the unpopular woman in the room" who talks to industry execs about fair wages, while Jameela Jamil discusses body positivity and how nobody listened to her until she was thin and famous. While these industry barriers stand out, the real heart of the show is its host, the comedian Phoebe Robinson. Listening to her gossip and joke with her guests is like sitting in on a chat between close friends—one of whom happens to be very famous.
Gateway Episode: "Phoebe and Padma Lakshmi Swim Through a Lake of Shit"
---
The first season of Mogul was hosted by Reggie Ossé, a hip-hop industry fixture and podcast legend who died from colon cancer shortly after the series wrapped in 2017. This year, Brandon Jenkins takes up the task of retelling hip-hop history, dissecting the rise of the genre in Miami. The main arc of the season follows 2 Live Crew, a boundary-pushing group whose provocative lyrics prompted numerous legal challenges—including one that eventually landed in front of the Supreme Court. The final episode expands to capture the general wildness of the early-'90s Miami music scene with a portrait of DJ Raw, who advertised drugs on the airwaves. Mogul captures the entrepreneurial spirit of its subjects even when their dreams are never realized and perfects the package with impressive audio-production values that are well suited to the show's new carrier, Spotify.
Gateway Episode: "S2 Part 1: The Walls Were Sweating"
---
In Scattered, Chris Garcia looks back at the life of his late father, Andrés, who fled Cuba during Fidel Castro's dictatorship at considerable cost to his mental health. Garcia is a gifted host, thanks to his experience as a standup comedian and his talent for impersonations, and he brings to life Andrés's ambitions, his goofy sense of humor, and his once-in-a-lifetime love for his wife. As Garcia retraces key events in his father's life—cutting sugarcane at a forced-labor camp, suffering through electroshock therapy, immigrating to California, and being laid off from a well-paying job in America—the story drives home the sense of loss that comes with leaving one's country. Scattered is a touching account of family, love, and sacrifice, shot through with the lingering bittersweetness of finally getting what you want in America, but finding that it's not quite everything you dreamed it would be.
Gateway Episode: "Soy Andrés, a Tus Pies"
---
The Love + Radio host and creator Nick van der Kolk has a knack for finding subject matter that's widely appealing, emotionally compelling, and, well, weird. This season, he's continued to diversify the topics, voices, and soundscapes featured on the show: "The Episode about Animals" features lighthearted animal factoids and trippy sound engineering, while "Gotcha!" is the surprising story of a radio DJ whose crank call opens his colleague up to love and grief. There are also headier episodes such as "Cathedrals Have a Body Count," in which a lawyer and performance artist discusses her work representing sex offenders. Love + Radio creates space on all sides of difficult issues, pushing listeners to consider even the ideas that make them uncomfortable, and this season might be its most provocative yet.
Gateway Episode: "Black Feminist Thot"
---
According to seismologists, the San Andreas Fault is a ticking time bomb: Radiocarbon dating has determined that a catastrophic earthquake strikes Southern California roughly every 100 years, and the next one is long overdue. In The Big One, the host Jacob Margolis draws on a mix of expert testimony and survivor accounts to project what that event and its aftermath would look like. Emergency services could be rendered useless, water pipes might burst, buildings could split in half, and fires might spread freely. But it's not all bad news; Margolis cites one sociologist's argument that people "operate at the height of their moral code" after a disaster. The show blends historical facts, best-guess scenarios, practical tips for survival, and well-paced storytelling, envisioning a reality that people shouldn't just consider, but also plan for.
Gateway Episode "The Earthquake"
---
The best podcasts find a way to combine entertainment with hard-core learning, and Rough Translation is one of the magnificent few that pulls it off. Every episode, the host Gregory Warner explores how a controversial topic in the U.S. is being debated elsewhere in the world, asking listeners to try on a different cultural context and see things from a new perspective. The theme this season is people fighting the establishment, such as the woman in "We Don't Say That," who faces the herculean task of adding words for blackness to the French language. The show is best when holding political roadblocks up to the light; take "Ukraine: Race Against the Machine" which, in 20 minutes, explains corruption in Kiev better than extended debate in Congress does. The format works so well, one wonders if the podcast should hire a team of foreign journalists to study the U.S.
Gateway Episode "Mom in Translation"
---
Each episode of The Open Ears Project begins with a guest discussing a piece of classical music he or she loves before the track is played in full. An episode that aired on 9/11 presents a moving story from a New York City firefighter who listened to Wagner's "Ride of the Valkyries" every day for months after digging at Ground Zero. A preschool art teacher describes playing Edvard Grieg's "In the Hall of the Mountain King" while the children in his class matched their brushstrokes to the frenzy of the driving chords. Celebrities such as Alec Baldwin, Jon Batiste, and even the podcast-famous relationship therapist Esther Perel also join the show, telling stories about their connections to classical pieces that give new meaning to the works. The effect is not dissimilar from the mood of a meditation app, but one that delivers thought-provoking stories as well as relaxation.
Gateway Episode: "On Conquering Fear"
---
The writer and podcast heavyweight Kai Wright (of The United States of Anxiety, Caught, and There Goes the Neighborhood) started The Stakes this year with a clear objective: to examine the choices that created today's America. While the concept sounds simple and broad, the show swiftly homes in on concrete stories. "Denial at Trump the Hotel" is about the people invested in stoking climate-change skepticism. "The Abortion Clinic That Won't Go Silently" uncovers how gerrymandering enabled Alabama to pass the most restrictive abortion law in the U.S. In "A History of Persuasion," the reporter Amanda Aronczyk writes to the Unabomber to learn more about what motivated him to violence; his response eventually leads her to explore how technology has commodified human attention. Filled with stark truths and collective regret, The Stakes is undeniably sobering—but fascinating all the way through.
Gateway Episode: "Editing Thomas Jefferson"
---
More than half of Americans aged 18–34 are single, which means stories about how people actually find love can seem like the stuff of myth. On The Moment, the writer and actor Ingrid Haas interviews couples from many different age groups, cultures, financial backgrounds, genders, and sexual orientations about what happened before they knew they wanted to commit to each other—which is to say, the good stuff. Their stories are exceptional and regular all at once, and because each installment focuses on an uncertain time in a relationship, listeners can feel the suspense even though the premise of the show guarantees a happy ending. It's a storytelling model that, as long as Haas can continue to find subjects as interesting as these, seems sure to stand the test of time.

Gateway Episode: "A Simple Twist of Fate"
---
Few franchises have haunted their fans quite like the NBA's Seattle SuperSonics. In the '90s, the team seemed to have it all: gorgeous uniforms, an exquisitely talented dunker in Shawn Kemp, and a finals appearance against Michael Jordan and the Chicago Bulls. The Sonics' performance was such a high-octane highlight reel that they even attracted die-hard fans from outside Washington (including Sonic Boom's host, Jordan Ritter Conn). Then, in 2006, it all came crashing down: The team's owner, the former Starbucks CEO Howard Schultz, sold the team amid a failed stadium negotiation with the city, and the Sonics were renamed and relocated two years later. Conn recounts this history from his point of view as a fan, delivering both a thoughtful critique of the cultural value of sports franchises and a podcast hymn to fans' devotion.
Gateway Episode: "The '90s"
---
The musicologist Nate Sloan and the songwriter Charlie Harding have produced smart, approachable takes about pop music since 2014. This year, their podcast featured more of the same lively discussions, with the addition of several guest hosts who explored pop in new ways during Harding's parental leave. One episode dissects how a song by Lizzo mirrors the chord progression from Phantom of the Opera. In another, the hosts reflect on the generational disconnect between themselves and then–17-year-old Billie Eilish, whom they describe as a "superhero super–pop star" for the current moment. The episode feed acts as a choose-your-own-adventure in pop music, providing deep dives on seemingly any artist or theme (such as "A Brief History of Men Singing Really High," which is pure bliss). The overall experience of Switched on Pop is like the kind of fascinating college class that always fills up too fast; its music lessons are so clearly delivered that any listener can feel as though they've earned top marks.
Gateway Episode: "Comeback Kids: The Jonas Brothers Are Back"
---
Slow Burn's third season veers out of politics to revisit the lives and deaths of Biggie and Tupac, two of the most influential artists of the '90s, who were murdered months apart in the midst of a rivalry between East Coast and West Coast hip-hop. The host Joel Anderson narrates what happened with the Tupac-versus-Biggie camps. He delves into how the media stoked the conflict by playing into narratives that were likely false, and the still-unsolved investigations into each man's killing. Along the way, Anderson considers broader questions about the origins of gangsta rap and the genre's misogyny. The host creates space for many possibilities without dizzying listeners, both satisfying music fans' nostalgia and shedding new light on the events of 20-plus years ago.
Gateway Episode: "Against the World"
---
The Dropout features the story of Elizabeth Holmes, the founder of the health-technology company Theranos, who developed a device known as the Edison that purported to deliver a battery of medical tests from a drop of blood. Wall Street swooned. Theranos negotiated a partnership with Walgreens and, by 2014, was valued at over $9 billion. But in reality, the Edison simply didn't work—and with false test results sent to real patients, the company claiming to save people was actively risking their health. The tech reporter Rebecca Jarvis brings listeners inside this start-up con game, interviewing insiders to understand how Holmes managed to pull off her sleight of hand. While plenty of other reporting on Holmes focuses on her youth or on the big names she allegedly defrauded (Betsy DeVos, to name one), The Dropout sticks to the machinations of Theranos, illuminating the story that lies between the genius and the fraud.
Gateway Episode: "What Now?"
---
The post-apocalyptic thriller Blackout, which stars Rami Malek as the radio DJ Simon Itani, expands the horizons of audio (just as a Sonos-sponsored show should). Countless moments showcase sound design so authentic, you'll search for the source of the gunshots coming through your headphones. Set in a small New Hampshire town after a nationwide power outage, the story covers some familiar ground with its Stephen King–esque setup of New Englanders fighting an unseen force that threatens humankind in the midst of an idyllic country landscape. Nevertheless, the whole affair is a pretty big thrill—not least because podcasts have never seen a freshly minted Oscar winner acting out an audio story. Listening to Malek's character confront a man with a gun, then take to the air to reassure listeners that everything is just fine, is worth putting aside any skepticism you might've had about the podcast fiction genre.
Gateway Episode: "Pilot"
---
Created by Steve Crossman and Joel Hammer, The Hurricane Tapes is about the complicated life of Rubin "Hurricane" Carter—his passions, his fears, and the crimes he did and did not commit. The famed prizefighter first went to prison at an early age for charges ranging from purse-snatching to assault. He soon found his calling in boxing, which allowed him to channel his rage and his disillusionment with institutional racism. Later, he was convicted twice for the same triple homicide at a bar in Paterson, New Jersey, before having his sentence overturned for good by a judge in 1985. An exhaustive amount of research comprises The Hurricane Tapes. It's worth listening to just for the particulars of the wrongful conviction, but the enthusiasm the hosts bring to this serious material and the allure of Carter as a character are irresistible bonuses.
Gateway Episode: "The Making of Rubin Carter"
---
Rund Abdelfatah and Ramtin Arablouei created the new history podcast Throughline for a specific purpose. "People in the East never forget, and people in the West never remember," Arablouei recalled someone telling him in an interview—and this quote is the perfect raison d'être for the series. While the episodes don't directly grapple with this binary, it infuses every story. "How the CIA Overthrew Iran's Democracy in Four Days" argues that understanding the current standoff between the U.S. and Tehran is impossible without the context of CIA meddling. Another episode looks at Americans who expatriated to Canada and Brazil because their own country had failed them. Throughline explains what actually happened, not what's misremembered, unremembered, and propagandized; listeners may be shocked by how much of the producers' fact-checking subverts expectations. We're not doomed to repeat ourselves, Throughline argues, when we wrest control of what history teaches.
Gateway Episode: "American Exile"
---
In theory, Mobituaries is a show about people and things that are lost to the past—hence the "obituaries" pun. In practice, it's a celebration of the pop culture and folklore that drive the host Mo Rocca's imagination, filtered through blunt-force nerd humor that will win over any listener. One riveting episode analyzes how various sitcoms have handled the process of writing off characters; in another, Rocca tries to get a man who poisoned two majestic oaks in the name of a college football rivalry to make amends. Nothing captures the ethos of the show quite like "Billy Carter: Death of the First Brother," which resurrects the story of President Jimmy Carter's younger brother—part cowboy, part poet, part drunk, now mostly forgotten. In 2019, Mobituaries showcased an unparalleled sense of wonder, spinning nostalgia into character-driven stories that are unsentimental love letters to Rocca's obsessions.
Gateway Episode: "Sitcom Deaths and Disappearances"
---
Embedded goes deep into the news of the day. This year, one of its featured stories was a five-part profile of Senate Majority Leader Mitch McConnell—and though many listeners may already feel burned out on congressional politics, bringing a subject that seems drab or exhausting to life is the host Kelly McEvers's specialty. The show combines conversations with journalists and people close to McConnell, exposition by way of Embedded's own reporting, sound bites from the audiobook of McConnell's memoir, and an interview with McConnell himself. The result is a character sketch that doubles as an analysis of strategy and semantics. McConnell's low approval rating and the controversies about his role in enabling President Trump all get addressed, but perhaps the clearest portrait painted is of what it looks like to value winning above all else.
Gateway Episode: "Mitch Part 1: 'Win This Thing'"
---
ESPN 30 for 30 follows up its previous excellent miniseries, "Bikram," by profiling the former owner of the Los Angeles Clippers, Donald Sterling. The self-made lawyer and real-estate tycoon bought the Clippers for $12.5 million in 1981 and was forced to sell them for $2 billion in 2014, after audio of reprehensible comments he'd made about black players became public. But even before the exposure of his racism, Sterling had a notoriously bad reputation as a team owner. The Sterling Affairs complements Sonic Boom in rethinking the ownership class in professional sports, as the basketball journalist Ramona Shelburne reports on Sterling's plantation mentality, the intrigue surrounding the tape of his racist remarks, and the changing landscape of the NBA. Shelburne accomplishes the difficult task of lifting the veil on an opaque old boys' club. You won't get many glimpses this good.
Gateway Episode: "That Tape"
---
Sick launches its first season by exploring the widely reported case of Donald Cline, an Indianapolis fertility doctor who used his own sperm instead of a donor's to inseminate patients. Until they stumbled on the truth through at-home DNA testing, none of the patients he worked with were aware that he had fathered their children, nor were those children aware of their parentage. Yet what Cline did wasn't technically against the law. The hosts and health reporters Jake Harper and Lauren Bavis explain the facts of the case, but what Sick does best is to give voice to the people affected by Cline's gross breach of trust, including former patients who feel violated and their grown children who are now struggling to make sense of their identity. Sick plays out a series of unthinkable what-ifs that will leave audiences riveted, outraged, and eager to hear more.
Gateway Episode: "50% Difference"
---
Gay Future presents a hilariously satirical vision of a futuristic dystopia: In 2062, everyone is gay except for one boy, Mikey Pence, who is called to save the world from the authoritarian gay agenda of President Clay Aiken. Mikey's superpower is his loud, "straight" voice, which he wields alongside his other straight-man skills of compartmentalization and telling himself he's awesome for no apparent reason. Meanwhile, nobody remembers how to make babies the old-fashioned way, and privileged gay men adopt and abandon kids thoughtlessly. The script skewers homophobia and takes stereotypes to their logical extremes, yet its tone isn't snarky or overly moralizing. Gay Future is a fast-paced, entertaining ride that pokes fun at heteronormative tropes and fears, subverting listeners' expectations over and over.
Gateway Episode: "Episode 1: Gay Academy"
---
When Hillary Frank created The Longest Shortest Time in 2010, nuanced and inclusive discussions of parenting could be hard to come by. Her podcast filled that gap, beckoning to anyone who is a parent, has a parent, might want to be a parent, or simply shares in universal curiosities about how kids grow up. Last year, Frank handed the reins to a new host, Andrea Silenzi, who brought a different perspective to the show as someone who doesn't have children but wants them. In the "Sperm Series," she contemplates how, if she decided to become a parent on her own, she might go about procuring sperm—a process that, as it turns out, is not dissimilar from dating online. Her story is told with humor and a feminist sensibility, and the intimate topics it addresses—partners, fertility, the desire to be a parent—bring out a unique kind of vulnerability.
Gateway Episode: "Sperm Series: I Download an App"
---
In 1968, the predominantly black and Puerto Rican community of Brooklyn's Ocean Hill-Brownsville neighborhood was exhausted by failed attempts at school integration. The parents' move to hire black teachers for their children set off a chain reaction that, after 18 white teachers were dismissed, led to a New York City teachers' strike that kept one million students at home. The School Colors hosts Mark Winston Griffith and Max Freedman, both of whom have relatives who worked in New York schools during this tumultuous period, trace a path from that strike to the city's current education landscape, where they argue segregation is entrenched in part by the charter-school system. By the last episode, the narrative has arrived in present-day Brooklyn, driving home the point that for many black and brown students, the false notion of "separate but equal" schools isn't a thing of the past.
Gateway Episode: "Old School"
---
The host, producer, and writer Karina Longworth narrates meticulously researched forgotten histories of Hollywood's first century, and this season, she dives into Disney—specifically the controversial 1946 film Song of the South. Longworth examines the movie's reception upon its release; its blend of live action and animation; the whiplash career of Hattie McDaniel; and the film's mid-century revision by Maurice Rapf, a known communist. Unlike other cinephile programming, Longworth's podcast doesn't require advanced viewing. The host goes to great lengths to recontextualize the earworm "Zip-a-Dee-Doo-Dah" and even raises questions about the insidious history of Splash Mountain, a now-sterilized feature from the movie. The podcast's arrival is especially well timed with the debut of the Disney+ streaming service, which doesn't include Song of the South. In the hands of Longworth, history doesn't get distilled or archived—it gets blown up.
Gateway Episode: "Song of the South"
---
Plenty of podcasts are peers of Why Is This Happening? with Chris Hayes: shows, hosted by white men of the intelligentsia, that cover current events and interview guests about their current projects and career trajectories. But Hayes brings an essay style to the form, following the intriguing threads that emerge from his conversations with subjects in real time. Guests on the show tend to be of a certain intellectual pedigree and have a political slant, but they aren't all ideologically aligned. The thrust of the discussion tends to be the collision of ideas, not necessarily the minutiae of facts—of which Hayes has many at the ready. For instance, a conversation about transgender rights leads to reflections on gender essentialism and how segregation plays into modern power structures, while an argument about climate change fixates on evangelism and rhetoric. Hayes sits outside of the boundaries of binaries, and it seems that most of his guests' minds do, too. This means that when you hit play on his podcast, you might know where the conversation starts but you'll have no idea where it will end up.
Gateway Episode: "Rethinking Identity with Kwame Anthony Appiah"
---
Months after Salman Rushdie's novel The Satanic Verses was published in 1988, Ayatollah Khomeini of Iran accused the British author of heresy—and called on Muslims to kill him. In Fatwa, the host Mobeen Azhar and producer Chloe Hadjimatheou home in on the impact of that declaration, examining the rifts that emerged in Britain between religious sects, secularists, immigrants, and nationalists. The controversy expanded well beyond censorship, and Fatwa tackles it with straightforward testimony from all sides. These stories are heartfelt, relatable, and often painful. One Muslim man, who describes himself as nonreligious until the fatwa was issued in 1989, recalls realizing that his white friends didn't just want him to affirm that Rushdie should live, but also to condemn the entire religion of Islam. To create something that expands its audience's understanding of morality is no small task, but this podcast pulls it off.
Gateway Episode: "Love Thy Neighbor"
---
Since 2002, the Radiolab hosts Jad Abumrad and Robert Krulwich have been unpacking the mysteries of the cosmos one episode at a time. This season took them from the depths of the ocean to early America, to outer space, and into the human brain for "G," a multipart series on intelligence that culminates in the hilarious talent contest of "The World's Smartest Animal." These six installments are Radiolab at its apex—this crew excels when studying the enigmatic places where science seems to morph into magic, making the mind ideal ground for the team to explore. The show strips away much of the artifice of audio storytelling, avoiding any lectures or self-conscious monologues from the hosts. Given all the stones this series has turned over, it's a surprise the producers and hosts have anything left to explore—maybe next year they'll reveal the secrets of their own creativity.
Gateway Episode: "G: The Miseducation of Larry P"
---
In Uncover: The Village, the journalist Justin Ling takes us back to 1970s Toronto, revisiting the cold-case disappearances of dozens of men from the city's predominantly gay neighborhood. The show continues a theme that runs through some of the best true-crime podcasts released this year: It reveals how law enforcement can sometimes overlook the humanity of marginalized groups. While that won't come as shock to many, it's still startling to hear police in Uncover use terms such as "homosexual murder" indiscriminately. The big break, which is addressed early in the series, comes decades after the crimes when police charge Bruce McArthur in 2018 for the murders of eight of the men. Yet there are so many victims with a similar fate that McArthur wasn't charged with killing. One detective implies the murders were unresolved in no small part due to a community that was too afraid to come forward; it's suggested, and likely, that many men wouldn't cooperate over fear of being outed. Uncover serves as a retort to the suggestion that closeted men stymied the investigation, arguing instead that society is safer when people can be who they really are.
Gateway Episode: "How Can You Not See This?"
---
At least one great serialized podcast comes along each year that tackles a pivotal moment in American political history. Fiasco, an original from Luminary, is that series for 2019. You might be familiar with the host Leon Neyfakh's work from the standout Slow Burn, which dealt with the Clinton impeachment last year. Picking up shortly after that trial, this show is set in the battleground state of Florida during the contested Gore–Bush presidential election in 2000, when the final tally between the front-runners came down to just hundreds of votes, and lawyers went to the Supreme Court to determine the fate of a recount. This story is irresistible, starring heavyweight insiders, pundits, a president, and a vice president—even the election board plays for drama. The plot twists—here's MSNBC calling the race for Gore—are still staggering all these years later, including some uncanny omens of our current political dysfunction. Great political potboilers like Fiasco never grow old.
Gateway Episode: "Homestead"
---
In Making Gay History's fifth season, the host Eric Marcus commemorates the 50th anniversary of the Stonewall riots in New York City using his own recordings from the event's aftermath. In investigating this crucial moment in American LGBTQ history, the show begins as a walking tour of Greenwich Village, but it also discusses the mood across the country, suppressive anti-gay laws, and the evolving language used to describe queerness. The famous lack of consensus about what exactly happened at Stonewall is the focus of the second episode, in which Marcus offers a mix of stories that don't perfectly align. But his take, a refreshing one, is that history has room for them all. While narratives about the riots were everywhere in 2019, this special series lets listeners hear about them from the people who were actually there.
Gateway Episode: "Episode 1—Prelude to a Riot"
---
Man in the Window chronicles the decades-long mystery of a masked criminal who terrorized California in the '70s and '80s: the Golden State Killer. The host Paige St. John reports on the man who allegedly carried out hundreds of home invasions, murdered 13 people, and raped 50 women. Last year, Joseph DeAngelo was arrested for these crimes thanks to controversial but effective DNA sleuthing, and his capture shed a bright light on the many failures of the original investigations. The Man in the Window details how rival agencies didn't communicate with each other and leads went unfollowed. Many local governments lacked sex-crimes units or effective rape kits. In the second episode, a survivor recalls being asked by a cop, "Are you really sure?"—as though she might've fabricated the attack. The Man in the Window never veers from the facts of the case, and what emerges is a portrait of how systemic ignorance and incompetence enabled a predator and doomed his victims.
Gateway Episode: "Phantom in the Fog"
---
The hosts Earlonne Woods, who was incarcerated when Ear Hustle began in 2017, and artist Nigel Poor bring listeners stories from inside San Quentin State Prison. Part insider testimony, part prisoner outreach, the podcast is almost unimpeachable in design and execution, and judging by the quality of its fourth season, it's not running out of ideas anytime soon. At the core of each episode is a yearning to be free or to belong. "Life Shows Up" introduces Chayne Hampton, who's about to be released from prison, dreaming about life outside and worrying about what kind of job he'll land. In "Respect the Paper," we look at the economy of stamps (one can buy you a coffee) in prison. What's most shocking about Ear Hustle are the ways in which convicts confront the basest struggles of human existence—the need to be loved, the hunger for food, the right to privacy. Outside of prison, a person writing a letter to a friend is a novelty act. For the people in Ear Hustle, it's the only way to communicate with loved ones, the only way to stay alive.
Gateway Episode: "Respect the Paper"
---
The first narrative podcast from the Pod Save America creators, This Land goes inside the Supreme Court (ideal for audio, given its no-cameras policy) to untangle a potentially ground-shifting case. An unresolved legal battle about a murder in Oklahoma led to an appeal over jurisdiction and turned into a debate about territory; the decision could confer massive parts of eastern Oklahoma to the Muscogee (Creek) Nation because of a 19th-century land treaty. The host Rebecca Nagle uses this matter to lay out the larger context of how the U.S. violates the sovereignty of native peoples. The story is personal for Nagle, a member of the Cherokee Nation who advocates for all tribes. She draws a straight line from President Andrew Jackson to President Trump to the oil and gas companies that today see Oklahoma as a pipeline for profits. Nagle brings us the heroes, too: the Cherokee leader John Ridge, who had to make a Sophie's choice during negotiations, and the public defender Lisa McCalmont, who toiled to ensure this case saw the light of day.
Gateway Episode: "The Case"
---
Much of the audio about Jeffrey Epstein this year aimed to make sense of the monstrous acts the billionaire sexual predator allegedly committed, by unpacking his history and career. Broken interrogates the context around him, asking—as the host Ariel Levy of The New Yorker does in the first episode—"Is the Epstein case exceptional or representative?" Levy dives deeper into loopholes that allow the rich to evade the law and considers how ingrained misogyny can play out at its most extreme. The Miami Herald reporter Julie K. Brown, who is largely credited with bringing the Epstein story to light, also appears to discuss the victims she's stayed in touch with and the difficult paths that some of their lives took. By the end of the show, it's clear that the title Broken not only applies to Epstein, but is also a succinct description of the systems that allowed his alleged crimes to take place.
Gateway Episode: "Their Day in Court"
---
Few works of journalism have This American Life's ability to inspire an audience's empathy through personal narrative. "Ten Sessions" follows the writer Jaime Lowe, a survivor of sexual assault, into cognitive processing therapy—a PTSD treatment also used for soldiers that requires participants to relive their trauma out loud. It's a life-changing listen. "Beware the Jabberwock" tackles conspiracy theories with a compassionate portrayal of one of their most infamous purveyors, the right-wing talk-show host Alex Jones. A line from the host Ira Glass in "Umbrellas Up," which follows a young woman to a pro-democracy protest in Hong Kong, reveals the show's main ethos when Glass explains one of the episode's motivating factors: "We felt like we weren't seeing many stories where we got to know anybody very well." It's so simple, and yet not a single person in the audio space has ever replicated the genius of This American Life.
Gateway Episode: "Beware the Jabberwock"
---
The Daily delivers its news with a human touch, as evidenced by its many retrospectives and profiles; its political series, "The Freshmen;" and standout episodes such as "A Third Grader's Guide to the Impeachment Hearings" and "When #MeToo Went on Trial." The show transfixed audiences from the start, and yet the host Michael Barbaro and his team keep outdoing themselves. This spring offered special-edition updates when the Mueller report dropped, and the impeachment hearings were covered daily through "The Latest." Strong global coverage included The New York Times' Berlin bureau chief, Katrin Bennhold, traveling all over the EU for her excellent five-part series on nationalism in Europe. And Ellen Barry's three-part "The Jungle Prince" in Delhi was one of the most beautiful pieces of the year, arriving at a profound question about what it means to be dispossessed. The Daily hit one billion downloads in September, averaging two million downloads per day—and there are zero reasons to question why.
Gateway Episode: (February 7): "The Overlooked Scandal of Priests Abusing Nuns"
---
For the New York Times writers and Still Processing hosts Jenna Wortham and Wesley Morris, what's popular transcends of-the-moment cool—it's the launchpad for everything worth talking about. A conversation about disposable straws detours into the testimony of Christine Blasey Ford. Their 20th-anniversary commemoration of Fight Club interrogates toxic masculinity while celebrating Brad Pitt in a dress. Staying in step with how this show gets from here to there is easy, but recreating Wortham and Morris's thinking on your own is impossible. The hosts' urgent, insightful criticism of subjects that others might skip is why we turn to Still Processing year after year. When you listen to Wortham and Morris give takes on Dave Chapelle's latest stand-up special, their arguments are so detailed and rich with context that it feels like they're drawing from some magic repository of ideas. The truth is, the hosts are just that good.
Gateway Episode: "Yeehaw"
---
Twenty-five years after her brother, Ron Goldman, was murdered alongside Nicole Brown Simpson, Kim Goldman is ready to confront everyone—jurors, prosecutors, detectives, O.J. Simpson and his lawyer. The series begins with Kim and her father recounting how they discovered that Ron had been killed, before Kim turns the mic to her brother's friends, who are now mostly in their 50s. At first, it seems like the show might just be a trip down memory lane. But by the second episode, listeners get to hear Kim's interview chops and realize what the show is really about: grappling with the stories we create to justify our choices and learning to make sense of a tragedy that unfolds in the spotlight. Though there have been many works about the Simpson case in recent years, Confronting manages to stay fresh, thanks in part to the deep involvement of the major players in the case and to Kim's commitment to interrogating the past.
Gateway Episode: "The Life and Death of Ron Goldman"
---
Cops has been on TV for 30 years. Even if you've never seen the reality series, you know what it entails: police officers making arrests, with some handheld cameras and producers in tow. Headlong: Running from Cops homes in on that dynamic, critiquing the ethics of a for-profit venture partnering with the government to make something that will eventually air on your local station. This is the third serialized installment in three years from the host Dan Taberski, a veteran who's somehow managed to not repeat himself while producing excellent work. A central question of his show—which interviews police departments, showrunners, suspects, and politicians—is why participants would allow their likeness to be used on TV.  The answer, according to Headlong, is often coercion or manipulation; meanwhile, police are given final say on what airs. Taberski takes listeners behind the scenes of both the criminal-justice system and reality-show stardom, revealing unexpected truths about American culture.
Gateway Episode: "The One-Celled Amoeba"
---
Root of Evil traces the tragic and twisted story of the Hodel family, whose patriarch, George Hodel, was a physician and a prime suspect in the 1947 murder of Elizabeth Short, a.k.a. the Black Dahlia. The podcast's hosts—and Hodel's great-grandchildren—Yvette Gentile and Rasha Pecoraro begin with their mother's search for her own biological mother, a journey that has many fascinating detours and leads to an awful revelation. At its core, the show is about choosing to share pain instead of keeping it a secret. Just about everyone featured in Roots of Evil suffered abuse that is difficult to describe, let alone fathom. Listeners are meant to serve as witnesses to this evil—and to the strength of the people who endured it and want to ensure it never happens again.
Gateway Episode: "Saved by the Ghetto"
---
The scripted musical Anthem: Homunculus features original tunes as good as anything you'd find on Broadway, which is unsurprising, considering the cast: John Cameron Mitchell (who's also the co-writer and director), Glenn Close, Patti LuPone, and the sensational Cynthia Erivo, among other theater notables. The podcast opens on a broke-artist type named Ceann livestreaming into the ether in hopes of raising money to treat the deadly tumor in his brain. His DIY telethon goes viral and catches the attention of people from his mostly distant past, offering the story a way to travel through Ceann's life—and even into his subconscious. Ceann's dry sense of humor comes across through Mitchell's and his co-writer Bryan Weller's superbly rendered dialogue, which underscores the point that people laugh because life hurts so much.
Gateway Episode: "Alone"
---
The investigative journalist and civil-rights historian Nikole Hannah-Jones launched the 1619 podcast to mark the arrival of the first people from Africa in what would become the United States. (Hannah-Jones also notably produced two stellar This American Life episodes about segregation.) This new series shakes up the traditional structure of an audio narrative, using a format that is more collage-like than linear. Hannah-Jones and her producers identify a few significant individual stories to help weave an intimate yet expansive tapestry of African American life. The first episode is set in the present time, at the exact location in Virginia where the slave ship White Lion landed in 1619. Another uses yacht rock as a lesson in ethnomusicology, showing how many of the songs we listen to are, predominantly, African American in origin. The last tale centers on a family of black sugarcane farmers who pursue the American dream—their own land, their own way to earn a living—only to have their labor and bodies exploited for profit. Of course, this last story takes place today, right now, not four decades or four centuries ago, encapsulating the long legacy of one of America's original sins.
Gateway Episode: "The Fight for a True Democracy"
---
During the divisive 2016 elections, the podcast host Jad Abumrad noticed that people of seemingly every ideology, creed, and heritage could get behind one thing: Dolly Parton. Based on her Q Score, she's one of the most liked celebrities, but she's also one of the least disliked. Abumrad's show about the singer concluded that Parton embodies an American brand of "irreconcilable contradictions." Take, for example, her glass-ceiling-shattering career and ostensibly feminist lyrics, but also the fact that Parton recoils at the "feminist" label. She would never abandon her gay fans, but she won't condemn the bigoted ones either. Abumrad's nine-part profile of Dolly Parton is less a portrait of a perfect record and more a look at the art of splitting public opinion down the middle. In addition to its careful analysis, this show has all the good stuff (including Parton's participation): the singer's music, a trip to Dollywood, her acting, and, of course, "Jolene."
Gateway Episode: "Sad Ass Songs"
---
You might think you know what to expect from The Ballad of Billy Balls. It opens in 1970s New York City and describes the death of the titular musician, before launching into an audio montage of conspiracy theories about what really happened. The host iO Tillett Wright tells you the goal is to find out the truth, 37 years later. You might think you recognize this story's shape: a narrative of sex, drugs, rock and roll, and murder, kicked off by love at first sight. But there's no way to explain why this first impression is wrong without ruining the joy of listening to the show unfold. Dumb luck made this podcast possible on so many levels—the magnetic attraction that brought a young couple together, the fact that they recorded themselves for us to hear, the senselessness of Billy's death, the way he was interned in a mass grave. But luck isn't the reason to listen. The show was made by storytellers who not only found the good stuff when they went digging, but also knew exactly how to use it.
Gateway Episode: "Billy Balls and His Babygirl"
---
Fred Rogers of Mister Rogers' Neighborhood fame doesn't need anyone to vouch for his character, but it's hard not to obsess over his kindness anyway. A man of profound emotional intelligence who used his PBS TV show as a way to mentor children, Rogers was cerebral, polite, and humble. Finding Fred and its host Carvell Wallace seek, most of all, to understand its subject's unique compassion. The series kicks off with Wallace asking why the "explosion of Mister Rogers nostalgia going around" is happening right now, even after the show's 50th anniversary. The series' success at answering this question is what makes Finding Fred the best podcast of the year. Wallace tells the writers and empathy philosophers that he interviews, such as Ashley C. Ford and W. Kamau Bell, how he feels about Rogers and asks them to do the same. The host and his guests channel the goodness of Rogers in every exchange and ask listeners to be better by extension, the way Rogers would have. "Oh my, this is a noisy world," the TV host once said. Fred Rogers has endured, the podcast wisely argues, because he tried to quiet the roar.
Gateway Episode: "A Genius of Empathy"