The 14 Best Music Moments of 2019
The year's most memorable songs, by Beyoncé, James Blake, Hot Chip, and more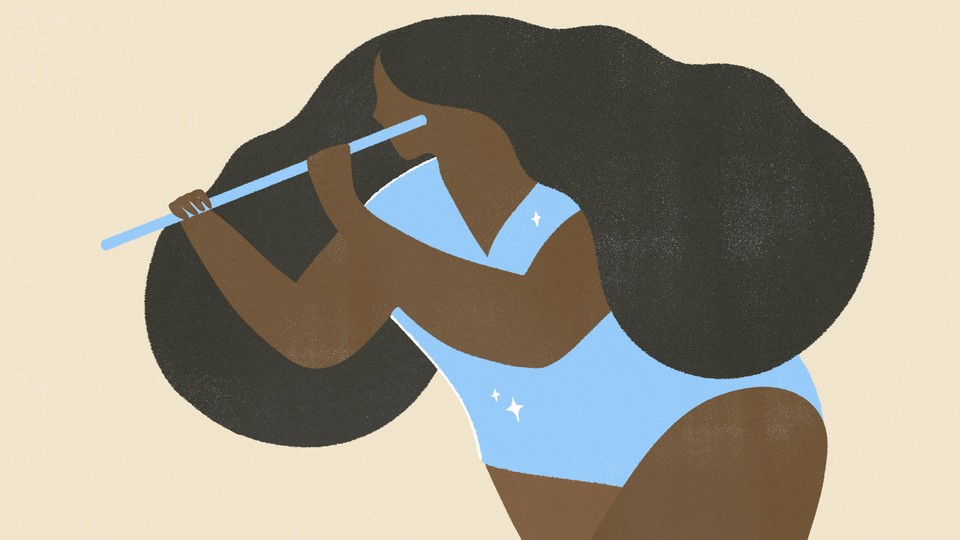 ---
Like our list of the best albums of this year, The Atlantic's roundup of 2019's notable songs results from some combination of our writers' personal obsessions and a sense of what mattered in popular culture. We've taken a yearbook-superlatives approach to describe what sounds will come to mind when we think back on these 12 months.
---
Best Bad Single: Taylor Swift, "You Need to Calm Down"
This song sounds so simple and satisfying—all bumps and burbles and uh-ohhs—that it should brighten up any bar it's played in. Instead it starts chair-smashing fights about where allyship ends and appropriation begins. Swift could have gone all in with her Pride-month advocacy and just written a series of vignettes about her queer friends. Or she could have scrapped the social content and sung an ode to her cat. The in-between zone, using other people's political struggles as a metaphor for her PR problems, doesn't work. That's tea, hunny! — Spencer Kornhaber
Wedding-Reception Starter of the Year: Beyoncé, "Before I Let Go (Remix)"

"This is one of the high points of my life," the singer Frankie Beverly said when asked about Beyoncé's decision to remix his indelible 1981 hit with his band Maze—and to premiere her version during Homecoming, her Netflix documentary special. Beverly's reaction paralleled the fervor with which fans had adopted the Homecoming song and sent the original version back up the charts. Dance videos appeared everywhere, and a whole new demographic discovered the legendary group. But nowhere was the interpolation more omnipresent than at weddings. If there's one thing the elders and the youth can agree on, it's the appeal of a good line dance. — Hannah Giorgis
Chipperest Take on the Death of Everything: Charly Bliss, "Blown to Bits"

May you greet every day of this rotting century with the aplomb of the power-pop band Charly Bliss. In the tone of a joyful cultist, the singer Eva Hendricks lists little everythings that give life texture: "karate lessons," "reality shows," "feeling so sure you're waking up tomorrow," and so on. Her band makes like the Death Star warming up its laser canon, and Hendricks fires: "It's gonna break my heart to see it blown to bits!" Whether the apocalypse she's referring to is environmental, political, or existential, you can dance in the debris all the same. — S.K.
Finally, a Song to Unseat "Boo'd Up" as the Official Crush Anthem: Snoh Aalegra, "I Want You Around"

If the British singer Ella Mai owned 2018 with the cloying feeeeelings of the impossibly earnest "Boo'd Up," then the Swedish musician Snoh Aalegra is taking a far more subdued approach to the art of the crush bop. "I Want You Around" is the best song on -Ugh, Those Feels Again, her August album. Warm and atmospheric, the song's production mirrors its tentative lyrics: "I try not to show how I feel about you / Thinkin' we should wait, but we don't really want to." The words suggest a desire for a love interest's attention, even as they stop short of promising a commitment to much more. Sometimes that's enough. — H.G.
Science-Fiction Story of the Year: Lil Nas X, "Old Town Road"
The job of critics is to help sort the evolutionary from the disruptive, and there's been plenty of continuity-spotting with regard to the No. 1 song of the year. Yes, "Old Town Road" is another novelty track and another look for the black cowboy. But there's almost nothing relevantly familiar about a gay Atlanta meme maker buying a beat from a Dutch teen who'd added trap rumble to a decade-old open-source banjo loop by a '90s industrial band, thereby forcing controversy about the definition of "country music," capitalizing on an emerging video platform, breaking Mariah Carey's most cherished chart record, and popularizing the term yee yee juice. Truly, we have ridden somewhere new. — S.K.
Rookie of the Year Matchup: Koffee featuring Gunna, "W"

Koffee, the 19-year-old reggae phenom, came into 2019 like, well, a Rapture. Her EP, a pulsing and compact sampling of her vocal styles, announced her as an artist to watch. The Atlanta rapper Gunna, whose debut album Drip or Drown 2 was one of the year's best, joins Koffee on this ecstatic song. In its music video, the two guide a choir, anticipate an incoming storm, and rhyme circles around some of their more seasoned peers. The contrast between their lyrics is particularly amusing: Koffee gives thanks and extols the virtues of hard work; Gunna leans into romance. — H.G.
The Lemonade Owning Your Rumors Memorial Award: Miley Cyrus, "Slide Away"

The very next New Music Friday after Miley Cyrus announced her separation from the actor Liam Hemsworth, this bittersweet symphony reasserted the human behind the TMZ headlines. The strings read as stately, but the producer Mike Will Made-It's chopped-and-screwed touches conjure the ghost of Cyrus's younger, twerkier years. Cyrus, meanwhile, completed her long-awaited molting into an arena-rock phoenix. When nasty rumors about her relationship's dissolution emerged, she issued an incredible series of tweets elaborating on the song's concise explanation for what really happened: "You say that everything changed / You're right, we're grown now." — S.K.
Best United Colors of Benetton Ad Masquerading as a Music Video: Ty Dolla $ign featuring J. Cole, "Purple Emoji"

The music video for Ty Dolla $ign's J. Cole–assisted "Purple Emoji" begins with a disclaimer: "REAL PEOPLE. REAL DAY 1's." A montage of couples soon appears. They're diverse in age, gender presentation, and skin tone. They smile, laugh, and caress each other. They smoke in cars and wander along a beach. If Ty and Cole were to disappear from the visuals, the video could easily serve as an ingenious marketing campaign for any number of goods produced by some socially conscious company: jeans, jewelry, hair products. The artists are welcome presences though, and despite its name, "Purple Emoji" is more charming than it is saccharine. — H.G.
Loveliest Time Warp: Hot Chip, "Hungry Child"

Tick, tick, tick goes the audio motif in HBO's Watchmen, and tick, tick, tick goes one of the many rhythmic gizmos in Hot Chip's masterpiece single. Not unlike Doctor Manhattan, the singers Alexis Taylor and Joe Goddard appear to experience time's continuum entirely at once as they grapple with the agony of love: "Been trying hard to pull you back / All my life, it's momentary." A house groove spirals down into some purple-black depth over six minutes, though any guess as to the song's length—between an instant and infinity—would feel plausible. — S.K.
Best Bruno Mars Song by Someone Who Isn't Bruno Mars: Lizzo, "Juice"
Oh, Lizzo. The singer and flutist's debut album, Cuz I Love You, kicked off a wave of dubious public acts from the artist, but she hasn't stopped racking up accolades. Among Lizzo's most notable achievements this year has been her domination of film and TV soundtracks. If there's a Strong Female Character Being Empowered on-screen, chances are there's a Lizzo song playing in the background (probably "Juice," if not "Truth Hurts"). It's an impressive accomplishment, one that evokes the wholesome fun of the energetic crooner Bruno Mars. Their music is funky but anodyne, just soulful enough to hold weight without losing its effervescence. — H.G.
Most Innovative Workout: Rosalía, "Aute Cuture"

With "Aute Cuture," the breakout Catalan star Rosalía makes her brashest attempt yet at bringing flamenco to bass-heavy nightclubs on the level of hips, hands, and feet. The producer El Guincho loops horns in a way that conjures 2010s trap and mid-2000s Beyoncé, but bent to Rosalía's itchy rhythmic sensibility. The delicacy of her trills belies the boldness of her stated goals: conquering venues from her homeland to the Hamptons, wielding "sangria y Valentino." The refrain bájale—"calm down"—makes a great joke on the jittering listener. — S.K.
Best Song About Tahani From The Good Place:* James Blake, "Power On"

On his latest album, Assume Form, the consummate sentimentalist makes one thing clear: He really, really, really loves his girlfriend. James Blake, whose sad-boy anthems have garnered him a wealth of collaborations and an enthusiastic fanbase, sings with tenderness and adulation about the actor Jameela Jamil. Best known for playing Tahani on The Good Place, Jamil is an ardent (if sometimes sloppy) feminist advocate whom Blake has credited with significant contributions to the album, beyond "inspiration." Indeed, "Let's go home and talk shit about everyone" is a lyric that evokes Jamil's famously uppity sitcom character. It's eye-roll-worthy, but it works. — H.G.

(*The only other contenders are also James Blake songs.)
Song in Least Need of Interpretation: Purple Mountains, "That's Just the Way That I Feel"

It is rare to be shocked by the clarity of a songwriter's vision, but I gasped when, in July, I heard the opening song from David Berman's first album in a decade. Over rollicking and tuneful Americana sounds, and in freakily hilarious conversational style, Berman described a sadness as powerful and unrelenting as gravity. Fans had more reason to gasp when the Silver Jews singer completed suicide less than a month later. What he left behind was an HD rendering of the sort of darkness that most art only hazily considers. Every line slashes the soul, but especially the line shrugging at the cliché that setbacks enable comebacks. — S.K.
Second Annual Golden Plantain: Jidenna, "Tribe"

This year brought plenty of #diaspora collaborations (some perhaps more cynical than others), but no one committed more to the continental aesthetics than the "Classic Man" himself, Jidenna. 85 to Africa, his prismatic album, spanned multiple genres in its exploration of the sounds connect African, Caribbean, and Black American musical production. The record certainly had its choppy moments (and some questionable choices), but Jidenna just seemed so giddy throughout. And nowhere is he more excited than on "Tribe," where he waxes poetic about feeling at home with other black people no matter where he is—and no matter who has a problem with it. Bless him! — H.G.