The 10 Best Films of 2019
Standouts from a thrilling year in cinema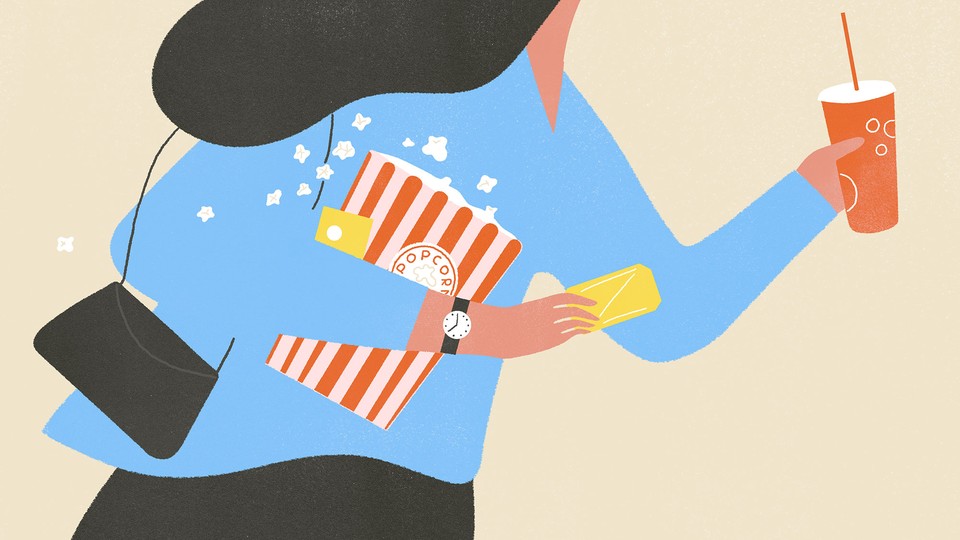 Perhaps fittingly for the end of the decade, 2019 was filled with thoughtful, retrospective works from master filmmakers who cast an eye on the past amid the rapid changes of the present. While veterans like Martin Scorsese and Quentin Tarantino wrestled with their moviemaking legacies, some of the other best works of the year were about the wrenching and rewarding labor that goes into a work of art, be it an 18th-century French portrait, an experimental student film in 1980s Britain, or one of the best-known works of American literature. By any measure, this was a thrilling year for the medium, featuring fascinating movies of all genres and styles to dissect, enjoy, and debate for decades to come. Here are my 10 favorites.
---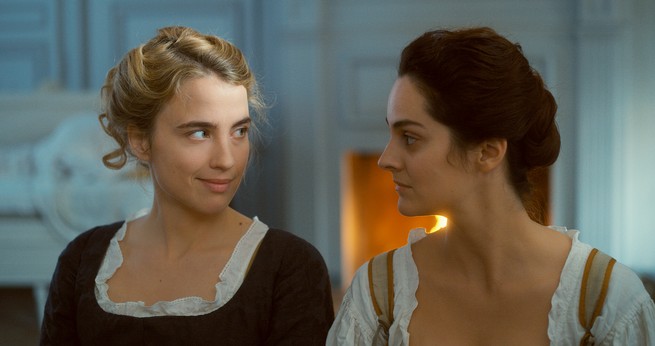 Céline Sciamma's romantic drama, in limited release this month before it enters wider engagements in early 2020, is a gorgeous blend of sumptuous visual storytelling and raw, tender humanity. Set on a remote French island in the 18th century, it explores a slow-burn affair between a portrait painter (played by Noémie Merlant) and her subject (Adèle Haenel), purely illustrating the ways in which art can capture genuine passion. Every shot is precisely composed, every image deployed for maximum impact, and yet the luxurious aesthetics never distract from the elemental tale being told.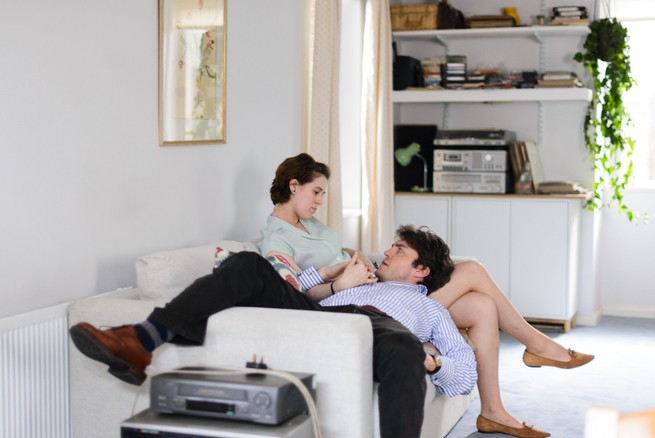 Another love story, but a bleaker one, focused on a 21-year-old aspiring filmmaker (Honor Swinton Byrne) in 1980s London, who gets drawn into an intense but toxic relationship with an older man (Tom Burke). Written and directed by Joanna Hogg, an undersung virtuoso of domestic dramas, the film is a semi-autobiographical work that excavates her most brutal recollections without being cringeworthy. The Souvenir is a darkly sympathetic coming-of-age narrative that catalogs the pain and pleasure of being young, occasionally stupid, idealistic, and openhearted.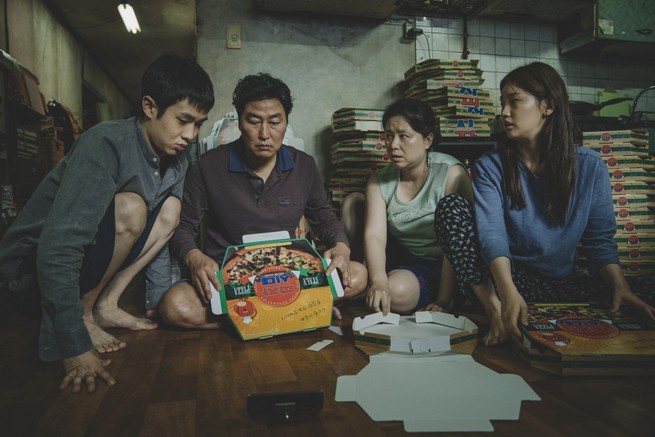 Bong Joon Ho is no stranger to tonal mash-ups. Still, when your movie might be both the comedy of the year and the thriller of the year, you know you've made something major. Even with Bong's sterling track record, this is the best film the Korean auteur has ever produced—a dizzying satire about two families in Seoul who struggle to co-exist under the same roof, and a salient tale of the gulf between the rich and the poor. Parasite can be madcap in one moment and sweetly sad the next, but always retains its humanity; though the wildly inventive script eventually erupts into violence, Bong somehow keeps every one of his characters from coming off as a villain.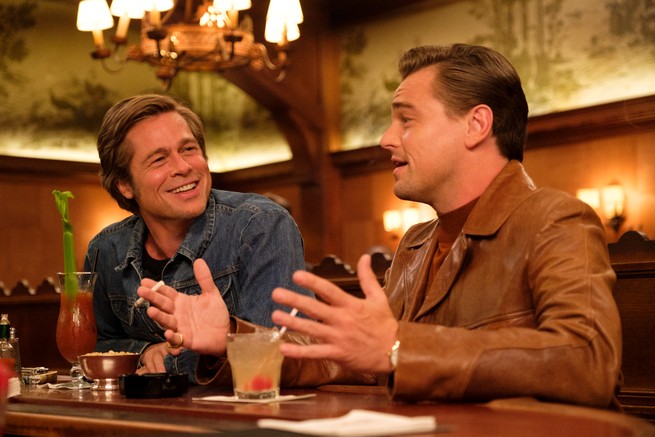 Quentin Tarantino's film swung into cinemas this summer feeling like both a celebration and a swan song for the traditional moviegoing experience. A shaggy tale of two actors in 1969 Hollywood—one on the rise (the very real Sharon Tate, played by Margot Robbie) and one in a professional spiral (the very fictional Rick Dalton, played by Leonardo DiCaprio)—Once Upon a Time in Hollywood could be a commentary about the end of any era, but it's especially fitting for today's shifting filmmaking landscape. Throughout his meteoric career, Tarantino has collected nostalgic objects from his pop-culture past and made them cool again; here, one can see him wondering how many more times he'll be able to pull off that trick.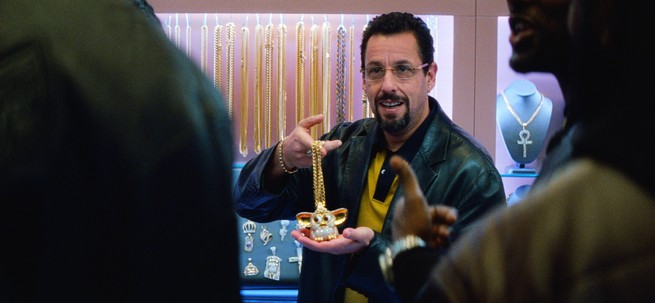 5. Uncut Gems
The Safdie brothers, directors of grimy indie yarns such as Heaven Knows What and Good Time, are experts in cranking up tension higher than I ever thought cinematically sustainable. Uncut Gems is as relentless and gritty as those earlier projects, while also possessing the weight of a Shakespearean tragedy. It's buoyed by Adam Sandler's never-better work as the diamond dealer Howard Ratner—an ambitious, compulsive fool who simply cannot get out of his own way—and by the Safdies' perfect sense of time and place. They turn the Upper East Side of the early 2010s into a neon-lit Dante's Inferno and elicit a charming supporting turn from the basketball star Kevin Garnett. What's not to love?
Martin Scorsese's supersize funeral for the gangster movie is another magnificently elegiac piece from a Hollywood titan. Netflix's The Irishman lacks the baroque energy of Goodfellas and other prior Scorsese triumphs, but that's by design: This is a cold-eyed look at the dehumanizing realities of life in the mob. The film's hero, Frank Sheeran (Robert De Niro), is a man given to mythmaking, especially when it comes to his fraught relationship with Jimmy Hoffa (Al Pacino). But Scorsese is more interested in stripping Sheeran's tough-guy image away, staging the film's best and most tense sequence around a very personal betrayal that is electrifying, and upsetting, to behold.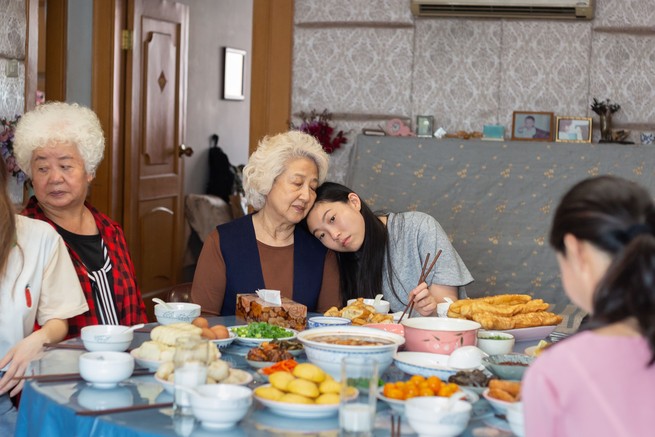 As smaller films get crowded out of the cinematic conversation, I was heartened to see Lulu Wang's quiet family drama pack more emotional wallop into a wordless hug than most movies could deliver with an expensive set piece. It helps that Wang was inspired by her own family in writing The Farewell, giving an authentic urgency to every little detail. The hook is an unbelievable true story: A young woman (Awkwafina) raised in the U.S. returns to her family's hometown in China to say goodbye to her terminally ill grandmother (Zhao Shuzhen)—while keeping the diagnosis a secret from the grandmother herself. Beyond that intriguing plot, Wang digs into complex questions about the psychic scars of immigration and what happens when a family is separated by an ocean.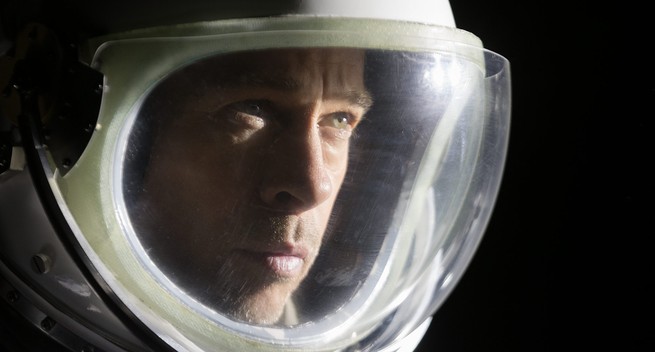 Only James Gray, one of the most exciting and under-acknowledged filmmakers working today, would make a big-budget, major-studio space movie starring Brad Pitt and have it be about the uselessness of Hollywood's masculine, cool-headed ideal. Casting Pitt as a soldier on a dangerous mission through the solar system, Gray uses his journey as a frame to reflect on humanity's increasing failure to connect and the depressing future our species faces because of it. Ad Astra is a hopeful tale, but a pensive and melancholy one, wrapped up in the splendid visuals of outer space.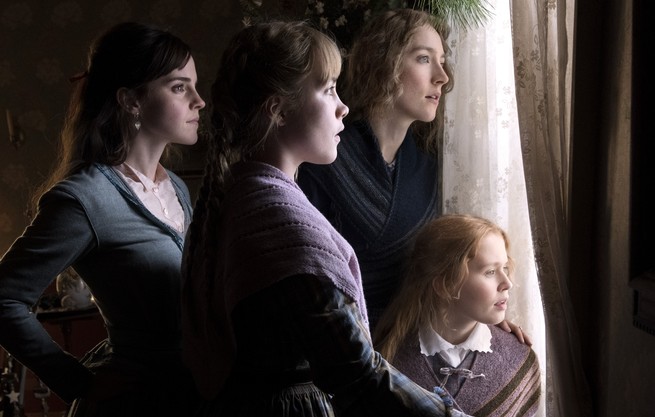 9. Little Women
Greta Gerwig's energy and verve as a director have not been the least bit blunted by the challenge of adapting a totemic and frequently filmed work of American literature. If anything, she's more emboldened than ever, cutting Louisa May Alcott's pages into pieces and reassembling them into a movie that's actively in conversation with the novel it's based on. Little Women is filled with admiration for Alcott's characters and story, though it's not afraid to boldly tweak some of the book's flaws. Most important, the talent Gerwig demonstrated in Lady Bird for making an entire ensemble crackle with life is on display here as well, with Saoirse Ronan and Florence Pugh giving the standout performances among the March family.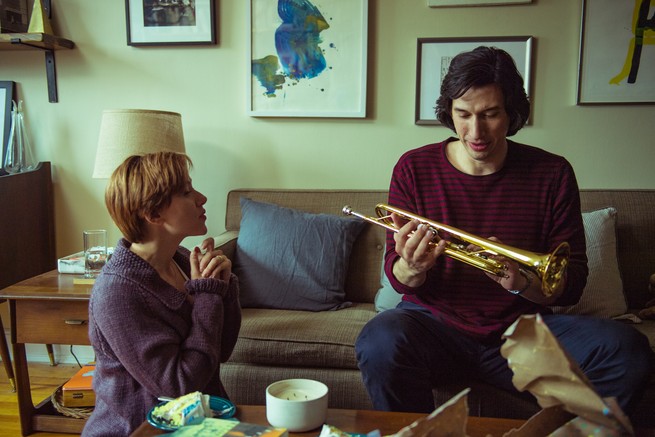 As a director, Noah Baumbach has always thrived on intricacy, picking apart little comic moments and family traumas with equal deftness. His newest theatrical tale is driven by Adam Driver's and Scarlett Johansson's portrayals of a husband and wife who have fallen out of love, and its power is all in the witty details. Even for Baumbach, who has already made an excellent film about divorce with The Squid and the Whale, Marriage Story is something special—a movie told with staggering force despite its intimate trappings.
Honorable Mentions
Pedro Almodóvar's Pain and Glory, anchored by a career-best Antonio Banderas, was a remarkable piece of retrospection from a cinematic master that inspired me to revisit many of his past works. Rian Johnson's Knives Out was a bold and brassy recasting of an old-fashioned genre, one of the most well-constructed and satisfying theatrical experiences of the year. Terrence Malick's A Hidden Life was a return to form, a wrenching tale of martyrdom in the Second World War replete with stunning imagery of pastoral life disrupted by war. Jordan Peele's Us was a rollicking horror ride that revolved around an endlessly rewarding metaphor, an ambitious follow-up for a rising filmmaking star. Claire Denis's High Life twisted the space-movie formula into a vision of futuristic prisons, mental and social rehabilitation, and love that endures in the most extreme of circumstances.