Taylor Swift Is Waging Reputational Warfare
By going public with rights disputes with her former label, she leverages her fame as an asset.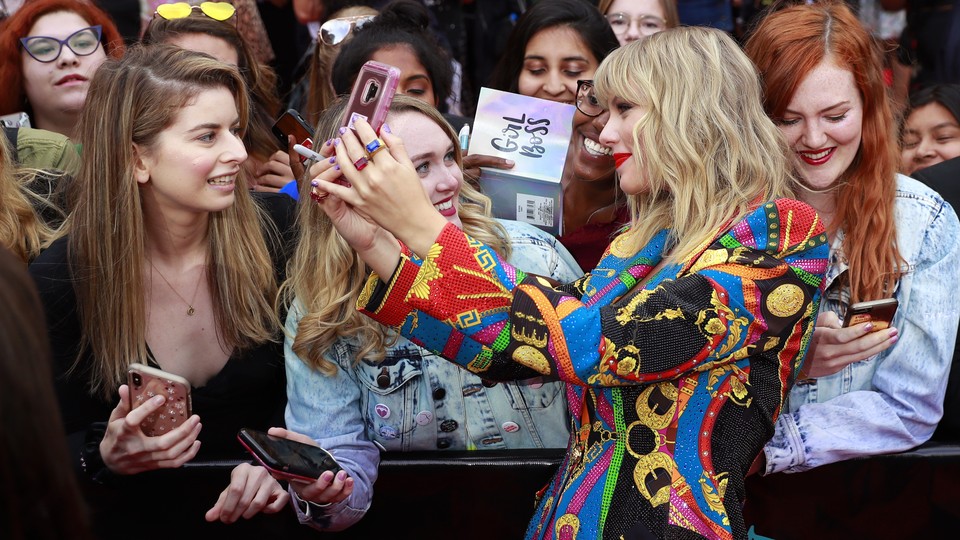 Leverage. It's one of those rare pieces of business jargon that actually means what it sounds like it. Money, assets, and rights all amount to force with which one moves something in the manner of a lever. So, it turns out, does fame. That's why Taylor Swift has elevated a behind-the-scenes financial dispute into a brouhaha that's collected the power of her fans, other pop stars, and even politicians such as Elizabeth Warren and Alexandria Ocasio-Cortez. After today's news that that gambit might pan out in the way she wants, maybe Swift will title her next album Leverage.
As the 29-year-old singer tells it, powerful men of the music world believe they have the goods to make her do what they want. In June, the record executive Scott Borchetta sold Swift's longtime label, Big Machine, to the firm of Scooter Braun, who manages Justin Bieber and Ariana Grande. The deal meant that the master recordings of Swift's catalog prior to 2019's Lover became Braun's to use and profit from. Swift was mad. According to a note she posted online, Borchetta had asked too-onerous terms for her to buy her own masters, causing her to walk away from negotiations. He then didn't directly inform her that he'd sell the label to Braun—a man who Swift said engaged in "incessant, manipulative bullying" of her over the years (largely by managing her nemesis, Kanye West). Borchetta replied publicly that he did in fact give Swift a heads-up through her dad, and Braun denied her claims that he'd bullied her.
Now, Swift says, the nightmare scenario she hinted at in June has arrived: Braun and Borchetta are using their leverage—her masters—to stymie her. In a desperate-sounding note posted online Thursday, she said that Borchetta and Braun threatened to block her from using her old songs at the upcoming American Music Awards and in a Netflix documentary—unless she agreed not to rerecord her music and stopped discussing Braun and Borchetta in the press. "The message being sent to me is very clear," she wrote. "Basically, be a good little girl and shut up. Or you'll be punished."
Big Machine Label Group's reply said the company didn't—and couldn't—block Swift from "performing live anywhere," though it elided the question of whether it would block TV producers from using her recorded songs. The label also said Swift owes "millions of dollars and multiple assets to our company" and asked her to come to the negotiating table ("To date, not one of the invitations to speak with us and work through this has been accepted"). Swift's publicist replied by asserting that Borchetta had "flatly denied the request[s]" about the AMAs and Netflix, and by saying that an auditor had determined that Big Machine owes Swift $7.9 million in royalties.
The fact that debt totals are in dispute is a reminder that, on some level, this scandal is a technical, behind-the-scenes matter whose facts the public has very little ability to assess. Swift, however, has cast the standoff as a moral affair. "This is WRONG," she wrote in her original note. "Neither of these men had a hand in the writing of those songs. They did nothing to create the relationship I have with my fans." The assertion of larger principles—the virtue of artists owning their work—is hard to argue with. It's also savvy: An impenetrable negotiation becomes something about which you can paint a protest sign.
After pivoting toward higher ideals in her note, Swift then presented her action items: "So this is where I'm asking for your help." She requested that fans contact Braun and Borchetta with their feelings, which sent #IStandWithTaylor immediately trending and led a host of marquee names to voice support. There were so many threatening calls to Big Machine's headquarters that the office reportedly shut down early on Friday. Swift's note also named the Carlyle Group, the firm that helped bankroll Braun's acquisition of Big Machine. That's why Warren and Ocasio-Cortez are involved: They latched onto the viral moment to broadcast their critique of private-equity groups. "Their leveraged buyouts have destroyed the lives of retail workers across the country, scrapping 1+ million jobs," Ocasio-Cortez wrote. "Now they're holding @taylorswift13's own music hostage."
The most splashy thing in Swift's recent note, however, was her plea to "several artists" Braun manages "who I believe really care about other artists and their work." In this, she's implying that Bieber, Grande, and other huge names should turn on their handler. Thus far, they've been silent or, in Bieber's case, amplified Braun's defense. But for Swift to sic her fans on other singers is no small thing.
That's because the internet has given rise to the age of "stans," highly devoted listeners who approach pop as a factional war waged in retweets and album sales. Few stan bases are more ravenous than the one that's gathered around Swift, who has built affection through unusually personal measures, such as delivering custom gifts to her diehards. Pop stars thrive on the appearance of universal appeal, and the likes of Bieber and Grande are directly competing for the sorts of listeners who gravitate toward Swift's sunny, middlebrow fare. If Swift swamps these performers' social-media mentions, it creates a real problem for those performers—and of course, it's the job of their manager, Braun, to solve problems rather than cause them.
It appears Swift's bid succeeded. Today, Big Machine Label Group announced that it and Dick Clark Productions, the producer of the AMAs, have "come to terms on a licensing agreement that approves their artists' performances to stream post show and for re-broadcast on mutually approved platforms." Swift isn't mentioned in the statement, and the status of her Netflix documentary remains in question. Still, it's hard not to read it as a victory for her—and a warning for Braun.
Until Swift went public with her concerns in June, there'd been little negative buzz about the manager: He was seen as a music-industry wizard, turning unknowns such as Bieber and Carly Rae Jepsen into mega-brands. But Swift's once-private beef with him has now become a major threat to his image. On Saturday, E! reported that Braun has been mad at Borchetta's handling of the Swift matter, with an anonymous source telling the entertainment-news site, "Scooter is frustrated because his name is being dragged in the mud. He doesn't run Big Machine or have operational control of company. He hasn't taken part in these negotiations." That quote clearly reads as an attempt to distance Braun from the firestorm, which might be a sign that Swift is right to think that her greatest leverage is something she knows plenty about: reputation.