Martin Scorsese's Warning
The director caught backlash for criticizing the reign of Marvel films—but he's not wrong about the threat they pose to the future of movies.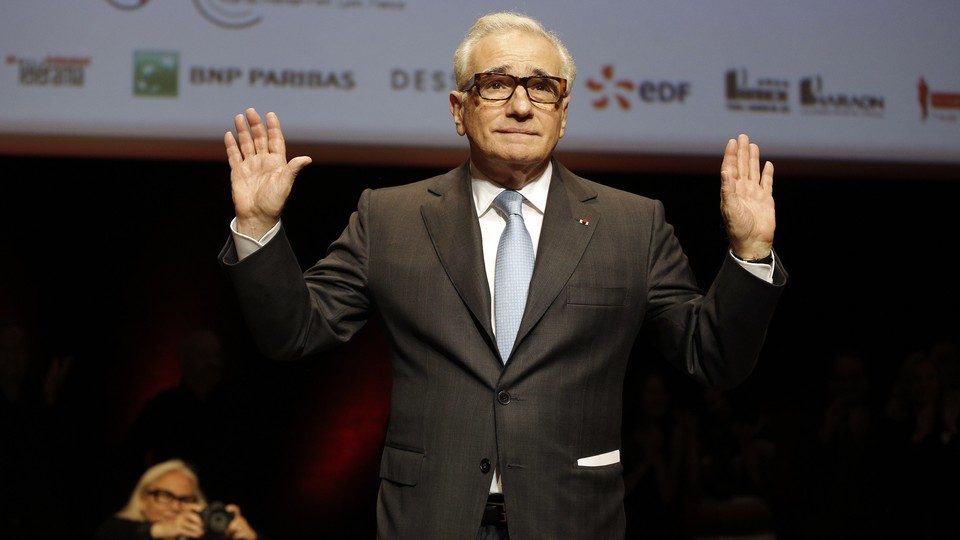 This has not been a good month for Hollywood blockbusters. For the first time since 2000, when the average price of a theater ticket was almost half of what it is now, the top 10 films for November's first two weekends have failed to add up to $100 million in total grosses. That box-office number is a standard metric for gauging broader cinema-going enthusiasm, and it's a metric the industry is falling short of. Audiences are rejecting studio offerings such as Terminator: Dark Fate, Doctor Sleep, and Maleficent: Mistress of Evil, all of which have underperformed relative to expectations.
What else do those movies have in common? They're all sequels trying to leverage the appeal of their better-regarded forebears. They're all from venerable major studios (Paramount, Warner Bros., and Disney) looking to attract a global audience. And they're all part of a new normal in movie commercialism that emphasizes safe and recognizable branding wherever possible. The director Martin Scorsese sounded a warning over this exact trend during an October interview with Empire Magazine, in which he said of Marvel movies, "That's not cinema." Unsurprisingly, given the popularity of the Marvel behemoth, Scorsese has been criticized on multiple fronts for that opinion. But as he clarified in a wide-ranging New York Times opinion piece, his comments were rooted in real concerns about Hollywood's future.
"In many places around this country and around the world, franchise films are now your primary choice if you want to see something on the big screen," Scorsese wrote. "It's a perilous time in film exhibition, and there are fewer independent theaters than ever … no matter whom you make your movie with, the fact is that the screens in most multiplexes are crowded with franchise pictures." While the director clearly has artistic objections to Marvel movies (he said he's tried to watch a few, but "they're not for me"), his more profound apprehension derives from their prevalence and the way other studios have embraced the model of never-ending sequels.
"Nothing is at risk. The pictures are made to satisfy a specific set of demands, and they are designed as variations on a finite number of themes," Scorsese wrote. "That's the nature of modern film franchises: market-researched, audience-tested, vetted, modified, revetted and remodified until they're ready for consumption."
To be sure, some sequels are more interesting than others. Mike Flanagan's Doctor Sleep (a follow-up to Stanley Kubrick's The Shining) is a flawed effort to grapple with the legacy of a horror classic that ends up too indebted to Kubrick's imagery. Terminator: Dark Fate is an attempt to reboot a flailing sci-fi series by bringing in legacy players such as Linda Hamilton and Arnold Schwarzenegger; but it, too, is decades removed from its superior forebears. Of the 10 highest-grossing films of 2019 thus far, only two are not sequels or remakes: Jordan Peele's Us and the stand-alone Joker film (which is nonetheless still part of the comic-book-movie trend).
The bottom half of the yearly box-office chart is also filled with sequels—supposedly safe bets by studios that ate up money that could have gone to other, original works. Big money-losers this year include Dumbo, The Lego Movie 2, Men in Black: International, Dark Phoenix, and the remake of Hellboy. Despite those flops, executives aren't too worried about sequel glut. In an assessment of Men in Black: International's performance, the Sony chief Tom Rothman admitted that "there was not a strong enough idea in the story" to pull audiences in, but he predicted the studio would take another crack at the franchise one day. "Men in Black remains a very important asset that the company owns, and I would be very surprised if that is the last movie," he told Business Insider.
Rothman's comments obscure the fact that there hasn't been a really well-received Men in Black since the first movie, in 1997. Though the series has had diminishing financial returns since then, with each film making less domestically than the last, Sony refuses to give up on it. The same goes for Dark Phoenix, the tepid conclusion of Fox's X-Men films that eked out $65 million at the domestic box office this year. That underperformance didn't trouble the Marvel Studios honcho Kevin Feige, who has already announced that the X-Men will be part of his Marvel universe, thanks to Disney's acquisition of Fox.
Feige's response to Scorsese is that while the Marvel movies are interconnected, they often belong to different genres and offer audiences new experiences within a familiar world. "We did Civil War. We had our two most popular characters [Iron Man and Captain America] get into a very serious theological and physical altercation," he said on a Hollywood Reporter podcast. "We killed half of our characters at the end of a movie [Avengers: Infinity War]. I think it's fun for us to take our success and use it to take risks." But in both of those movies, the dire situations are temporary. The rifts between the heroes are solved, and the deaths cosmically undone.
To Scorsese, the continued success of Marvel movies is a problem not so much because he doesn't like them, but because their profit-making reinforces for studios that sequels and remakes are the only sort of art they should pursue. Meanwhile, the original mid-budget dramas, comedies, and romances that used to be a huge part of Hollywood's bottom line are vanishing from theaters, mostly left to indie distributors and television. "If you're going to tell me that it's simply a matter of supply and demand and giving the people what they want, I'm going to disagree. It's a chicken-and-egg issue," Scorsese wrote in the Times. "If people are given only one kind of thing and endlessly sold only one kind of thing, of course they're going to want more of that one kind of thing."
That "one kind of thing," he said, is a movie without risk, one where individual character stakes don't matter, because the audience knows the story is never over. I personally derive plenty of pleasure from Marvel movies, but Scorsese is right to demand artistic responsibility from his industry's biggest financial gatekeepers. Even though franchise efforts can tell interesting stories, they tend to do so in the same formulaic manner. Established, Oscar-winning filmmakers like Scorsese will get to keep creating new movies not based on company assets; for the next generation of directors, the future of cinema looks far less certain.