'I Felt I Didn't Deserve to Be Unapologetically Joyous'
Kesha opens up about being back to party-animal mode despite her ongoing struggle with the producer Dr. Luke.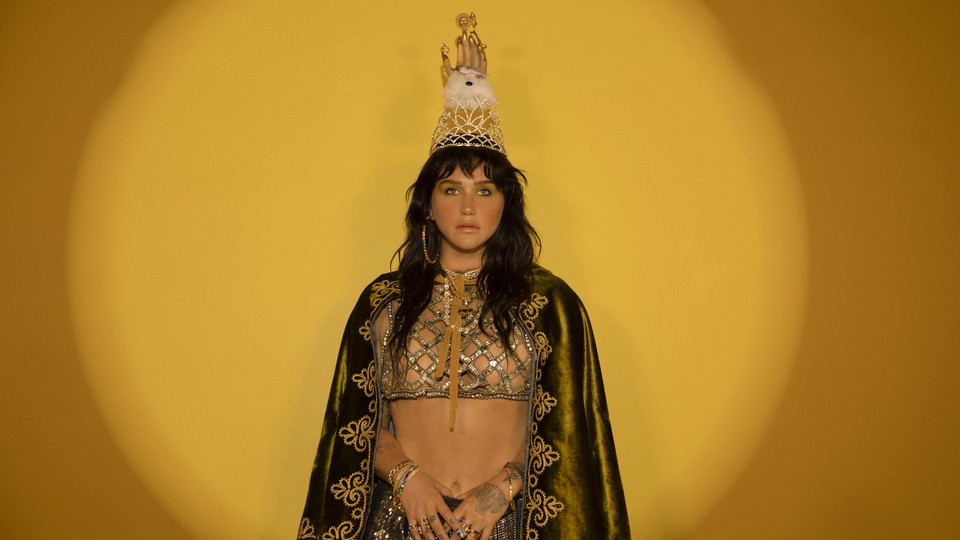 Put on your glitter eyeshadow and break out your DVDs, because the early 2010s may be up for a comeback. At least, that's how Kesha's forthcoming album, High Road, makes it seem. It was a decade ago that the Tennessee-raised Kesha Rose Sebert, in her smash "TiK ToK," reported waking up in the morning "feelin' like P. Diddy." Now one thundering song, "My Own Dance," opens with the 32-year old singing that she "woke up this morning feeling myself / hungover as hell, like 2012."
On a few levels, 2012's a significant year for her to reference. That's when Kesha released her second full-length album, Warrior, which was her last album to land megahits in turned-up nightclubs across the globe. It was the era of not just peak pop Kesha, but also Lady Gaga and Katy Perry, an era when Rihanna was still regularly releasing singles and encouraging listeners to pour it up. For Kesha herself, 2012 was a time of going out constantly, living the "couch-surfing life" in the Los Angeles neighborhood of Echo Park, she told me recently over the phone as she sat in Southern California traffic.
It was also, she has said, a time of trauma. In 2014 she sued her manager and producer, Lukasz Gottwald, a.k.a. Dr. Luke, alleging that he abused her—including by drugging and sexually assaulting her—throughout her rise from an unknown 18-year-old songwriter to an international sensation. Gottwald denied her accusations and pushed back in court, resulting in a legal and reputational battle that's ongoing. Judges have not ruled on the truth of Kesha's claims, but her bids to sever business ties with Gottwald have been dismissed on the basis of merit and statutes of limitations. The producer is seeking more than $40 million in damages from her for defamation and breach of contract, according to a 2018 motion filed by Kesha's legal team. Agreements signed early in her career with him remain intact. (Gottwald's representatives did not respond to a request for comment.)
Given that dark context, how does Kesha think back on her breakout phase? She studiously avoided mentioning Gottwald directly, because she's no longer discussing the saga in public. But her answer did hint at a complicated reality. "In most parts of my life, I've had beautiful moments," she said. "There were exhausting moments. There were moments that I quite frankly hated." As for her old hits, she said, "there are some songs that are not my favorite to play. But I don't want to get into that, because I don't want to ruin a joyous song for someone else. I know that a lot of fans might have a connection to a song that isn't my favorite memory of making it."
For a while now, understandably, it has seemed that Kesha was leaving behind the carefree sound of her early career. Her first album since Warrior, 2017's Rainbow, marked a rootsy sonic reset in which the Gottwald conflict loomed, unnamed but obvious. In the ballad "Praying," she showed off her underrated belting ability while serving up a #MeToo-era statement of overcoming. "After everything you've done," she sang, "I can thank you for how strong I have become." There were raucous songs, too, but they channeled rock and roll's defiance rather than EDM's escapism. "I felt like Rainbow was a time and place to address some more serious things," she told me.
Yet for High Road, Kesha's raging again—in the hedonistic rather than anguished sense of the word. The lead single, "Raising Hell," crosses gospel uplift with New Orleans bounce as she yowls, "I'm all fucked up in my Sunday best / No walk of shame 'cause I love this dress." Other forthcoming bangers address such topics as getting drunk, getting high, losing your phone before calling an Uber, and forgetting how to spell your own name. "I'm at a place in my life where I'm really okay with how much I love pop music," she told me. "I'm really okay if people think I'm a cheesy bitch—because part of me is."
Fans may cheer the return of this playful version of Kesha. But they may also worry about its sincerity. After High Road's January 2020 release, she'll reportedly be one album away from fulfilling the requirements of her original contract with Gottwald's production company—the contract that fans' #FreeKesha campaign has tried to nullify. According to a New York Times story around the time of Rainbow's release, Gottwald works "in an approval capacity, but not hands-on," with regards to Kesha's new material and is likely entitled to a cut of her publishing revenues. It would thus seem possible that her return to brash pop is happening out of expedience, or even under duress.
Such fears have faded for me, though, since listening to the six tracks her team made available from High Road. It's impossible to know for sure, but Kesha sounds like she's making the music she wants to make. Her new songs are not autopilot retreads of her early successes. They're pretty dazzling examples of synthesis: The naturalistic singing of Rainbow meets the sneers of 2010's Animal, with crassly funny lyrics that really only she could write. The struggle she's focusing on isn't about what happened in the past, or even what's facing her now. It's how to thrive regardless. "I don't have to live in being a tragedy, or being a party girl," she said. "I can be all of the things." Or, as she drawls in "My Own Dance": "Don't circumcise my circumstance."
---
Kesha said she initially wasn't sure how to follow Rainbow. Early songwriting attempts for her next album trended toward country. Then her brother called and asked why she wasn't making pop music anymore. "I had to do some thinking about it," she said. "I felt I didn't deserve to just be unapologetically joyous and happy, because as the whole world knows, I've been through some … traumatic things in my life."
The first crack at answering her brother's question resulted in "My Own Dance," a floor-shaking reckoning with the public pressure to shut up and sing. "The internet called and it wants you back / But could you kind of rap and not be so sad?" she sings on the track. I told her that the song makes it seem like she's flipping a middle finger to fan expectations even as she embraces them. "It was, like, reluctant," she said with a laugh. "Okay, fine, I'm gonna write a pop song ... And I ended up loving it ... It was making my life happier by making happier music."
High Road is not all pump-up material, though. "Resentment," a quiet collaboration with Sturgill Simpson and Brian Wilson, amounts to an impressively nuanced essay on the title feeling. "Father Daughter Dance" addresses her sadness about never knowing her own dad. The many moods are the point. "You can be a woman who goes out and you party, and you have drinks … and you smoke some weed, and then you get a tattoo," she said. "And then the next day you go for a run, and then you meditate, and then you go to the studio and write a song about a totally different emotion. That's just what being human is."
Kesha kept steering our conversation toward being "present," the existential-emotional state that she sought with High Road. To hear her tell it, this theme is the same one that underlay all of her old-school party fare. "Ever since I was young, I've had an affinity for writing almost nihilist pop music just about living your life while you have it," she said. "Something I am very much living in is trying to make use of every single day and appreciating that today is all I have for sure." That's indeed a classic pop sentiment (see Drake's early-2010s motto, YOLO, for example). But it's hard to avoid the thought that focusing on the right now would also be a helpful strategy for someone whose career path has been somewhat derailed, who has experienced what she describes as abuse, and whose much-publicized bid for commercial independence has stalled.
Though she won't talk about those struggles in any explicit terms, she will record tracks like "Rich, White, Straight Men," a sea-shanty-like protest song that she put online recently. "What if rich, white, straight men / Didn't rule the world anymore?" goes the merry refrain amid lyrics about immigration, abortion, and public education. "In one listen, you'll understand where I stand on a lot of social issues," she told me. "It is one of my favorite songs I've ever written … And talk about therapeutic."
The rich, white, straight man she's battling in court continues to operate in the music industry, albeit with controversy. Other artists, including Kelly Clarkson and Pink, have called him "kind of a bully" and "not a good person," respectively. Dan Reynolds of Imagine Dragons—who collaborated on Kesha's "My Own Dance"—tweeted a recent plea for musicians to boycott Gottwald until he releases Kesha from her contract. Still, a few up-and-coming artists, including the singer Kim Petras and the rapper Doja Cat, have been getting some public traction—plus criticism—with Dr. Luke–produced pop similar in spirit to Kesha's earlier music.
All of which is to say that the public is still talking about Gottwald v. Sebert, even if Kesha no longer is. Does she want her fans to keep tweeting #FreeKesha? Does she like that they continue to call out listeners of Petras, Doja Cat, and other apparent Gottwald allies on social media? As our interview drew to a close, I asked whether she had a message for her fans about how to feel about her lawsuit. The publicist on the line cut in: "I think we are just going to stay totally focused on the music."
Kesha said, "Cool," and paused. I thought she was going to hang up.
But she had an answer, though oblique, about what to say to her fans. "I love them, and I'm so grateful they've been by my side for what's been 10 years since 'TiK ToK' came out," she said. "I saw a sign at the last show that said, 'You saved my life,' and I just want them to know that in turn they've saved mine. I want them to know that."