Ford v Ferrari: A Rollicking Tale of Fast Cars and Capitalism
James Mangold's new film lays bare the greed and egotism behind a fabled auto-racing triumph.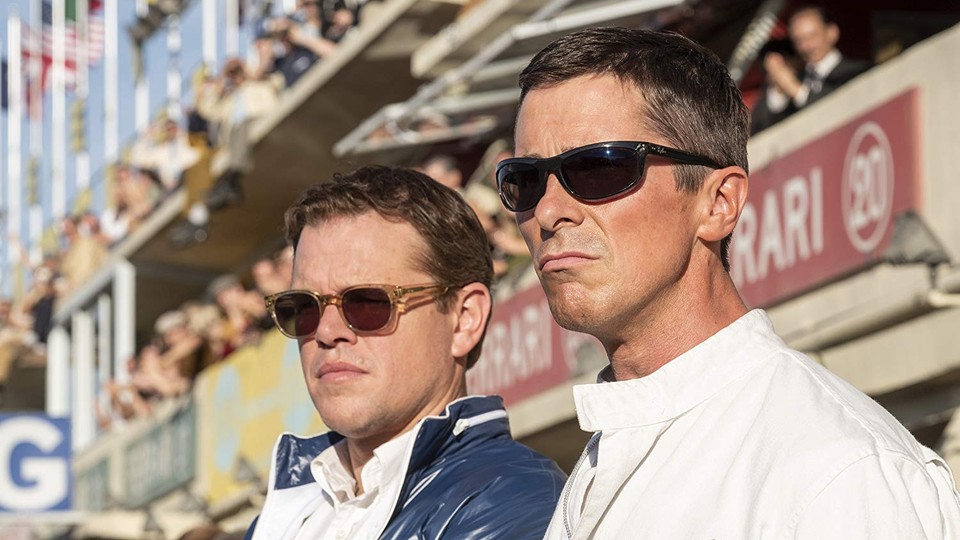 The title of Ford v Ferrari promises a satisfyingly simple us-against-them narrative. In the red corner, the stylish and snooty designers at Ferrari, casually sipping espressos as the venerated Italian carmaker cruises to victory year after year in the 24 Hours of Le Mans race. In the blue corner, the gritty heroes at Ford, combining American ingenuity and elbow grease to build an underdog auto that can win it all. Yet James Mangold's new biographical film about the two companies' fabled 1966 face-off is an epic that avoids such stereotyping. Ford v Ferrari takes the straightforward ethos of car racing—where the winner is whoever is the fastest—and lays bare the egotism and greed required for such a triumph.
It's also a breezy, throwback-style moviegoing experience: a robust and often funny drama about grown-ups, with nary a superhero costume in sight. Mangold has spent most of this cinematic decade in a comic-book world, delivering two movies about an X-Men character (The Wolverine and Logan) that managed to be memorable and inventive. Still, the realism of Ford v Ferrari is a welcome relief for a talented filmmaker with more than a little Old Hollywood in him; Mangold can't help but give his films, no matter what their ostensible genre, the swagger of a dark '50s Western. His police-corruption drama, Cop Land (1997); the teen memoir Girl, Interrupted (1999); and his Johnny Cash biopic, Walk the Line (2005), all feature characters brimming with bravado and self-doubt, trying to carve out lives in a hostile world. With its precise production design and rumbling racing scenes, Ford v Ferrari is as sleek and visually alluring as the vintage vehicles it showcases—but beneath its shiny hood is an engine with real complexity.
The film follows Carroll Shelby (played by Matt Damon), a retired driver turned engineer who is contracted by the execs Henry Ford II (Tracy Letts) and Lee Iacocca (Jon Bernthal) to build out Ford's racing division. Shelby brings aboard Ken Miles (Christian Bale), a stubborn Brit with a colossal chip on his shoulder and an attitude far from the anodyne politeness that's expected at Ford. Much of the movie's two-and-a-half-hour running time revolves around Shelby's corporate battles to convince his bosses that Miles belongs in the driver's seat. But the heart of the film is in the oily garages below the executive suites, where Ford's mechanics and drivers strive to create a machine worthy of challenging Ferrari's perfection.
Whenever Mangold and his cinematographer Phedon Papamichael are shooting racing footage, Ford v Ferrari practically vibrates off the screen. Car racing in the 1960s was still intense and raw (the technology behind functioning brakes was primitive at best), and Mangold works to convey just how death-defying and brutal the day-long Le Mans race was for a driver. Ford's offices, meanwhile, are burnished and beautiful tableaux of mid-century modernity, expensive-looking exhibitions of American wealth that are just as crucial to the company's image as the factory floor. Letts gives a quietly nasty performance as Ford II, emphasizing the CEO's vanity and churlishness as much as the resources at his disposal.
The biggest conflict in Ford v Ferrari isn't the automakers' contest, but Shelby and Miles's struggle to maintain their integrity while pleasing their corporate overlords. Amid all the testosterone, characters such as Mollie Miles (Caitriona Balfe), Ken's wife, have few opportunities to shine. Though the script (by Jason Keller and Jez and John-Henry Butterworth) tries to give Balfe a few scenes that assert her personality, she's largely confined to the stock role of "frustrated but supportive partner." Noah Jupe, who plays Ken and Mollie's plucky son, Peter, gets similarly lost.
Still, the climax of the film, which details all the unpredictable twists of the race itself, brings home the themes Mangold has been working to flesh out. Ford v Ferrari could have been an easy tale of a dark horse winning against a runaway sporting favorite, but the reality of the 1966 Le Mans contest was much stranger. The movie rejects hackneyed storytelling tropes to depict the limits of ingenuity in the face of capitalistic might, and the result is a rich crowd-pleaser with a pessimistic edge.